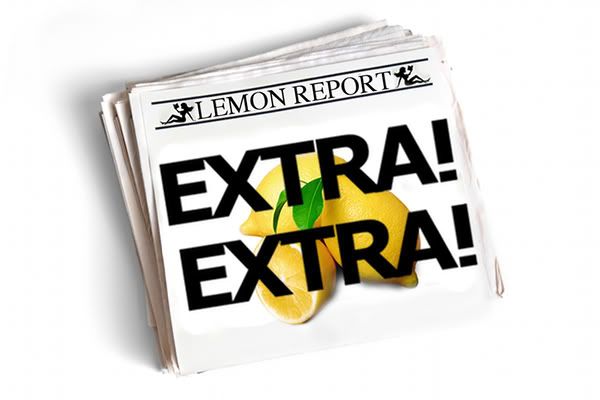 The Lemon Report - Fancy finding out what is on the FF bookshelves of the Pervy Girls of the PPSS? The lemon report lets you know our personal favourite updates of the week, and why you should give the fic a try.... It's a great place to trawl for new recc's and don't forget to share your favourite update with us by leaving us a comment.
---
Marvel
by Lou La
J/E AH/AU WIP Drabbles Slash
---
Emmy -
Oh. Ma. GAWD! Ch 35 killed me this week.. It described, in a single snapshot, the emotional intimacy and sensuality that has flared between Jasper & Edward for years to finally culminate. I swear this fic in drabbles is gonna end me. I am cheering on these two boys on the journey of exploration to love. Cute & verra verra hot.
---
Welcome to Paradise
by Suzie55
E/B WIP AH
---
Emmy -
We have recc'd this before in the Lemon Report - but this chapter (ch 19) bears special mention. Car sex and masturbation plus cuteness equals a verra verra happy Emmy. :)
Jess-
I could not agree more, Emmy! After all the drama these two have faced over the last couple of chapters, it was definitely time for a little lovin'!
---
McFearless
by Teambella23
J/E Slashy AH WIP
---
Emmy -
This is a bit of slashy fun, I enjoyed it when it was a contest entry, its now been ahem expanded into a WIP. I know that in the closet fics are pretty much a dime a dozen now, but I think the premise of this one is quite realistic, in that Edward and Jasper are normal blokes, who are confused by an adventurous and sexual turn of events at a party. They both act like right arses and have pretty much confused their nuts off! But I think its fun reading them battle with accepting both their raging hard-on's and the effect they have on one-another.
Chele -
I find this fic completely bizarre and I kind of love it. Unlike so many stories with characters in high school who are 18 going on 30, this really feels like we're dealing with two guys just about to go off to college. Oh, and in the heat of a drunken, emotionally unbalanced night, they hook up. It is at once hot and hilarious, and though it seems like it may be doomed for disaster, I can't look away.
---
Behind the Looking Glass
by readingmama
AU DarkFic Edward & ? O/S
---
Emmy -
I know, I am not telling you the pairing for this fic, as I liked not knowing as I read it. This is a vampy dark One-Shot, that I found quite delish. Its a short wee bit of fun. But it does contain sexy times as DarkWard and his feisty partner come out to play in exciting ways. Yum.
---
College Ruled
by allryans
Ed/Riley WIP AH Bit Angsty (but only a wee bitty so far)
---
Emmy -
Edward/Riley? Errrr Hello! I am THERE. TWO pretty boys with pretty hair and pretty mouths? mmmmh mmmmmmh mmmmmmmmmmmmmmmh! Anyways - whilst I feast on that visual I will tell you to read this fic as I have really enjoyed the first three chapters. Rarrrrr. I only found this story this week, but the writing is top-notch and drew me in from the get-go. I am particularly enamoured with the hesitation and nerves these two have in their, courtship of sorts. Oh my goodness the chemistry is electric between these two... The first time they touch? I almost died! Its off to a slow start this one (apart from a lemony flashback featuring Ed & another partner), but it is M and the tension is ramped so I have very high hopes for smutty times ahead. I am officially in love with this slightly lost Edward.
---
The Trip Home Outtake
by MsKathy
AH, o/s, Emmett/Rosalie/Alice
---
Jen
I was thrilled to find out that
MsKathy
was writing an outtake for her completed polyamory fic,
The Trip Home
, for Twilighted.net's. Friday Free For All (the outtake will be posted on
MsKathy
's ff.net account). The FFFA piece is about Alice, Emmett, and Rosalie, a trio who Bella 'met' online when she was searching for poly resources. She and Alice became friends, and Alice and her partners appear as peripheral characters in the rest of
The Trip Home
. Besides giving us a bigger glimpse into the life that Emmett, Alice, and Rosalie have created together, the FFFA outtake is fucking hot, with lemons galore.
Jess-
There are NO words for how excited I was to see this pop up!
The Trip Home
was my first polyfic, and I have adored this story from the beginning! It took me out of my comfort zone and broadened my horizons. Learning a bit more about this trio - Alice, Em, and Rosalie - was a special treat!
Kimpy-
All right, I'm a HUGE
The Trip Home
fangirl. I have been since the very first chapter; this is no secret to anyone who knows me. So when
MsKathy
mentioned she was doing an outtake for
The Trip Home
, I nearly peed my pants with excitement (okay, perhaps that is TMI)!!! I've always wanted to know more about Alice, Rosalie, and Emmett's story, and I was thrilled to get this lovely little gem. Aside from basic mechanics of sex between a huge dude, a tall, willowy woman, and a petite woman (my mind was caught in a wonderful feedback loop imagining the permutations there), getting the chance to see these three in action was such a rare treat. Thank you for a wonderful dose of your particular brand of magic, MsK.
---
Pound of Flesh
by Jaxon22
AH, WIP, B/E
---
Jess-
After 26 intensely UST-filled chapters, we finally, finally get the lemon. I was so impressed with how
Jaxon22
wrote this, especially given the build up. It was the perfect end to this chapter and very long (twss).
---
Let's Get Physical
by Lalina
AH, WIP, B/E
---
Jess-
I love this story for so many reasons. Edward, in this chapter (and the story as a whole), is absolutely divine. The way he loves her, and shows her how he loves her is absolutely beautiful. The sensual photo shoot and tender way he made love to her, with the lights on, was breathtaking.
Jen
Remember the lady in the deli in When Harry Met Sally? 'I'll have what she's having?' Yeah, that's what this fic makes me say. Not just for the crazy hot sexy times, but for the complete adoration that Edward feels for Bella. You know that Bella feels cherished during the photo shoot, and afterward as he explores her body before they make love.
---
Our Lives Unbound
by theladyingrey43
AH, WIP, B/E
---
Jess-
So, we have rec'd this story so many times, but after reading the update (early) this week, I just had to comment on how amazingly beautiful this chapter was.
theladyingrey42
left off last week with an intense cliffie, that had me begging her to fix it . She did... in one of her sexiest chapters yet. Unf!
Emmy -
I pretty much snot sobbed at this chapter. But it was beautiful and amazing and I am so in love with this fic. GAH.
Jen
-
Theladyingrey42 treated us very well today. Not only did she put us out of our cliffie misery three days early, but omg the heavenly things they said and did to each other.
Chele -
I am NEVER disappointed with this story. It is always brilliantly written and beautifully crafted, but this update was exceptional. The level of intensity that accompanied Edward and Bella's erotic expression of emotion was amazing. Love Love Loved it.
Kimpy -
Dear god in heaven,
Our Lives Unbound
just does wicked bad things to my heart. Almost makes me wanna hook myself up to an EKG and analyze the rhythm, because I'm pretty sure there's a lot of heart stoppage and quivering going on there. Erotica this good should almost be considered illegal, except then we wouldn't be able to read it, and that would be all kinds of wrong. Her damaged Edward and Bella pwn my heart something fierce, and I love them. No matter what happens, I am entranced and aroused by every single update. *fans self*
---
The Education of Professor
Cullen
by sheviking
AH, WIP, E/B

---
Chele -
They say the best revenge is a life well-lived. I say, that the best revenge just might be having explosive sex with your beautiful girlfriend while the woman who crushed your fragile ego years ago after you gave her your virginity looks on secretly in wretched envy of your mad skills. JS
Kitty -
AMEN & HALLELUJAH!
---
Jack and Jill
by Ilsuocantante
B/E, o/s, AH
---
Jess-
This little gem of smut was originally written for Smut Monday. It's got porn, masturbation, and some sexy times. Yummy!
Emmy -
H.O.TTTTTTTTTTTTTTTTTTTTT! Why do I find masturbation so hot to read? I do not know. I do know that I likey this though! ;)
---
First & Ten
by Nolebucgrl
AH, E/B, WIP
---
Jen
Can you resist a QBward? I can't. Add in a sassy, lacking a verbal filter Bella, loads of UST, and you get First & Ten. Bella and Edward finally, finally got it on (and on and on) last chapter. NGL, I was sad sad sad when Bella told Edward she was too sore for more loving the next night. Their bodies have different ideas, and Bella gives Edward some fun times in his giant bathtub. Edward reciprocates with one hell of a massage. Unf!
Jess
Unf is right! Bathtub blowjobs, a very sensual massage, and some sweet I love yous. And seriously, Bella's lack of a verbal filter will leave you cackling! It's hysterical!
---
Three Graces and A Muse
by FarDareisMai2
AH, Bella, Angst/Romance
---
Jen
About a year ago I read an beautiful tear-jerker of a love story by
FarDareisMai2
called
Just Like Chocolate
. I've been slowly working my way through
FarDareisMai2
's stories. An alert came in this weekend for
Three Graces and A Muse
, and when I had some time on my hands tonight I dove into chapter 1. Holy shit, how does this fic have not have more than 30 reviews per chapter? I honestly was reading with my mouth hanging open. It's freaking hot and the writing is amazing. The pairing is listed only as Bella, and so far she's had sex with two different men, and recalled being in love with a third. I have no clue who Bella will end up with--if she ends up with anyone--but this is probably not a Wussperv friendly fic, js. Bella's first sexual encounter in the fic takes place on a poolside lounge-chair after some skinny dipping. The next time she's having sex, it's maybe 36 hours later and she's on the other side of the world, fucking the daylights out of a different man. A day later, she's with the same man, still on the other side of the world, getting the fucking of her life in a cave. Yes, ladies, meet Cavesper. &@!#* I'm only on chapter 8, which means I have 11 more chapters of deliciousness until I'm caught up! I hope my husband is well rested and that we have plenty of AA batteries.
---
Died and Gone to Heaven
by DoUTrustMe
AH AU B/E Complete
---
Kitty -
I just love this little number, so effin much. It's a nice quick read and just a giggle and a half. I love that Bella can't remember Edward's name so she just keeps calling him different names that refer to the hot sex she keeps dreaming about with him. Heehee. Such a sweet little bit of fluff, it will make your insides all gooshy and your panties too!