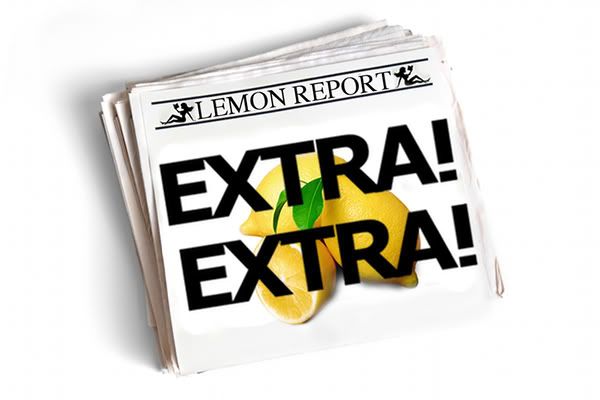 The Lemon Report - Fancy finding out what is on the FF bookshelves of the Pervy Girls of the PPSS? The lemon report lets you know our personal favourite updates of the week, and why you should give the fic a try.... It's a great place to trawl for new recc's and don't forget to share your favourite update with us by leaving us a comment.

In some cases, the Lemon Report may contain spoilers. Please read with caution.
Acronym Guide
AU - Alternate Universe
AH - All Human
WIP - Work in Progress
O/S - One Shot
OOC - Out of Character
WP - Wussperv
Slash/Femslash - Features homosexual characters and romance.
---
Harry Potter AU, O/S, Cedric/Hermione
---
Teal -
While I haven't delved into much HP fic, I was quickly drawn into
Book of Misremembrances
, a post-DH AU story involving Hermione and Cedric. Though too much to explain here and now, this particular outtake is quite simple: After a school year of dating, Cedric joins Hermione's family on a summer camping trip. It only takes a small charm to shield her parents from any sounds they may make, and a long awaited exploration begins. They don't rush into anything too dramatic, but what they share is hot and steamy, opening doors to many more things they can do together. Yum!
Jeanne -
Cedric...*nostalgic sigh* I'm an unabashed Cedric fangirl and shipper of Cedric/Hermione.
Book of Misremembrances
is like a special gift written just for me. While it's a great story, I'm a whore and I've been wanting some smutty fun times between these two from the beginning. This outtake fits perfectly into the story, but it can also be read as a stand alone. After all, magic or no, two horny teenagers camping is rather universal. What's awesome about this story is Cedric's hilarious and earnest inner monologue. You can see that this 'good guy' is trying his best to do the right thing with the girl he loves, even though his body is fighting him every inch of the way. Though, to be honest, my favorite part (other than the phenomenal dry hump) is seeing how much clearly Cedric sees Hermione and how intensely he loves her for who she is. This story has me swooning while my pants explode. UNF!
Chele -
Thank you to my awesome pervs for taking my Cedric virginity. What a beautiful, sexy, perfectly sweet way to make me fall in love with this boy. Loved this so much.
---
AH WIP E/B
---
Jess -
This story will mess with your mind. It's incredibly deep, extremely well written, and extraordinarily well written. The sex in this story borders on abusive - Bella to Edward - and is most definitely manipulative and dark. There are so many questions in my mind about what happened to bring Bella to this point, to make her like this. I look forward to more as we go!
Teal -
This fic is twisted and dirty, and I can't help but be fascinated. While the plot lingers in the shadows and dark alleys, you'll be captivated and want to follow Bella into the darkest corners of her mind. This simply can't tend well, but lordy is it hot stuff along the way!
---
Harry Potter, AU, Threesome, Harry/Ron/Hermione
---
Jeanne -
I love threesomes. I love the symmetry and balance, not to mention all the potential for sexual acrobatics. This short, but steamy little one shot doesn't fuck around. It gets right to business and gets you happy in your pants. Harry is shy and a little awkward. Hermione is confidant and a little bossy, but that's one of the things I like about her and the boys seems to love it too. Then there's Ron...GOOD GOD, do a love a well written Ron. While this story is short, the subtle characterizations are potent. Ron taking off his jumper had me panting. So by the time the three of them got down to business I was ready to hump the arm of my couch.
---
AU, O/S, Bella/Paul
---
Chele -
I am the luckiest whore in the world, because
MeraNaamJoker
made me a fuckhot birthday present in the form of some adorable, swoon-worthy Bella/Paul smut. First look at
this
, then go read. Swoon and Unf.
Jen -
I love when someone else's birthday results in a present for everyone, even more so when the birthday girl is one of the Pervs and the gift is an outtake from one of my very favorite fics. I will never stop loving
MQSTB
Paul. Bella's an adorable drunk, and Paul takes care of his wife in his usual sexy style. Unf!
Teal -
First of all, you need to see the gif that goes along with this. Holy shit. I am overwhelmed by the extreme hotness in such a small amount of words, and it's always amazing to see my favorite Bella & Paul at it again!
---
Harry Potter Fic, Complete, Hermione/Snape, Warning:QuestionableCon
---
Chele -
A beautiful tale of triumph, longing, and healing.
During the final battle at Hogwarts, Snape and Hermione are captured along with Remus, Tonks and Ron. Their captors, Lucious and Bellatrix are intent on forcing their captives to violate one another, but Hermione and Snape decide to claim their own fate and share themselves willingly instead. As a result, they open themselves up to a connection that is intense and undeniable.
I love the fantasy-feel of
Deslea's
writing. The pacing of this story is perfect, giving each character the time and circumstance to accept and embrace fate and their their love for each other.
---
AH WIP E/B
---
Jess -
There is something about this story that just makes me swoon and pant and all kinds of hot and bothered. This update was hot... like hot of epic proportions. Handjobs against the side of Bella's Cherry?! Yeah... get on it!
Trin -
This story is the perfect mix of hot and sexy with swoony eyes all at the same me. And YES! The handjob UNFITY!
Emmy -
How the feckity am I not reading this?? I am now!!!
---
Transformers Fic, Complete, Optimus Prime/Starscream, Warnings:Contains references to Rape and offspring death
---
Chele -
The warnings on this may seem a bit grave, but it is truly a story of healing and survival. Starscream's ability to carry sparklings (baby transformers) forced him to endure untold horrors at the hands of his leaders in hopes of creating an new generation of soldiers. At the end of the war, there is one sparkling left - the one he carries inside him. The hope of bringing this new life into a world of peace puts him in the hands of Optimus Prime and the Autobots, who help him to heal and teach him that the creation of new life should be pleasurable.
Great writing, wicked smut, and plot abounds. Everything this mech-loving girl could ask for.
---
AH WIP E/B
---
Jess -
Amishward does it!!!! LOL Seriously, though, this update was absolutely perfect! We watch these two finally take some very, very big steps into the Amish world, and the way it plays out was an absolute swoony delight!
Jen -
I cannot even describe how sweet this was. So tender and sweet, and just right for this Edward and Bella.
---
AH WIP E/B
---
Jess -
There is something powerful about love and grief. This chapter was full of some sad parts but so many other great parts that showcased just how amazing love, especially newly rekindled love, can be. This story is almost to the end... just on board and give it a read.
Emmy -
I cannot believe that this is done... Gonna miss this heaps!
---
AU O/S Charlie/Carlisle
---
Jess -
I'm almost at a loss for words when it comes to explaining how absolutely beautiful and heartbreaking this o/s is. Both Charlie and Carlisle are crippled by the deaths of Edward and Bella, and in the quest to bring comfort, to check in on an old friend, they find a single moment of reprieve from their grief. The moment they share is understated and not what I would call hot, by any means, but it just shows the powerful need that those suffering such a devastating loss feel. Absolutely beautiful.
Jen -
I love
sadtomato
for posting this even though she was worried about how it would be received. Yeah, there are tears, but what happens between Charlie and Carlisle is so beautifully intimate and provides the smallest bit of healing for two dads who are hurting beyond compare.
---
AH, O/S, Esme/Seth
---
Jen -
A few weeks ago Jeanne and Jess recc'd
I Possessed My Lover in the Garden
. If you didn't get to read this gorgeous Esme/Seth then, you should make sure to check it out this week. As a bonus you get a crazy hot second chapter, where Seth positively worships Esme, written for
dirtycheekymonkeys'
Squeeze My Lemon
feature.
Jess -
I'm so glad Jen mentioned there was an update to this, because I completely neglected to alert it. And holy hot mother this was just so gorgeous. Seth was all about giving... and worshipping... and loving. Just absolute sexy perfection.
Chele -
This is such an awesome pairing. I love the dynamic between these two, and hot love in the grass? This fic is summertime hotness at its best.
---
AH, WIP, E/B
---
Jen -
Edward in
Words with Strangers
is the master of the wank, especially since he hasn't even met Bella in person, let alone not being on the same continent at the moment. Bella's photograph sets him off faster than ever, complete with a hot fantasy.
Trin -
Oh how I love this story let me count the ways. I just love the banter and sexiness and the wanking!! I love in a story where the two characters are getting to know one another through other means. It gives us such insight to them as people.
Emmy -
Love this story. It is such fun! I cannot decide if I love Epov more. I *think* I do... I, like Trin, do love the wanky-wanking. Rarr fun!
---
AH, WIP, E/B
---
Jen -
Bella likes it when Edward talks dirty. So do I. UNF.
Jess -
I second what Jen said... and third and fourth it. That sexy hot lovin' was absolutely divine. The entire scene, which I won't spoil for you, from the request Edward made to the absolute end was just squirmy, panting good.
Emmy -
I adore this fic. Adore. Great update. This Edward is priceless and perfect and just unf. And adorable!
Teal -
Yes, I think we can all agree that Edward's dirty talk, by request of sweet, drunk Bella is pretty awesome. So is car sex. *drools*
---
AH, WIP, E/B
---
Jen -
Intermingled with sadness over a relative losing their battle with cancer, there are two people taking a chance, living for today. Edward and Bella's connection may have started out as a physical one, but it's so much more now. Luckily for us, it makes their physical relationship even hotter.
Jess -
This story started out with a bang, literally, and has just grown in intensity with every passing update. Get your swoon on, ladies, even in the midst of sadness and loss. It's absolutely beautiful.
Emmy -
I love these two authors together! I had been waiting to read this as I was scared it was going to be angsty. These two write beautifully. You must read it!
---
AH, WIP, E/B
---
Teal -
It has most certainly been an interesting journey with these two, watching them vacillate between love and hate, but now they're in to the cutesy and hot stuff. I find it was well worth the wait!
Emmy -
I have been obsessed with this witfit. I loved the split time narrative, their chemistry and how we saw it build. Love this Edward and his mix of fear, cocky, sexy and tender. Adorbs and yum!