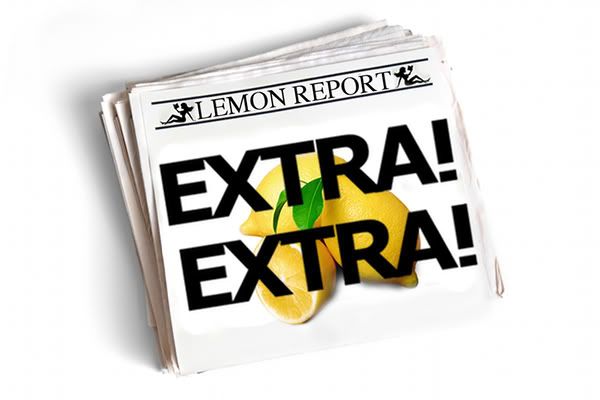 The Lemon Report - Fancy finding out what is on the FF bookshelves of the Pervy Girls of the PPSS? The lemon report lets you know our personal favourite updates of the week, and why you should give the fic a try.... It's a great place to trawl for new recc's and don't forget to share your favourite update with us by leaving us a comment. In some cases, the Lemon Report may contain spoilers. Please read with caution.
Acronym Guide AU - Alternate Universe AH - All Human WIP - Work in Progress O/S - One Shot OOC - Out of Character WP - Wussperv Slash/Femslash - Features homosexual characters and romance.
---
Twilight, AU, B/E, Complete
---
Nico -
I love it when I find a new story through twitter. Edward and Bella never met in Forks, Bella is now in College and runs into Edward. Has it always been fate that they will be together? I really enjoyed how Edward just jumped right in and saw more than he was bargaining for.... Might have been more than he was expecting but I love how it got his mind going. :)
---
Twilight, AH, WIP, E/B
---
Teal -
This chapter was hot, hot, hot when it came down to the lemons! Edward is getting a little neurotic around Charlie and dealing with the kitten, but he still knows how to give Bella the business. Being the little green-eyed monster he is in Bella's hometown, the next chapter should be an interesting little pissing match!
---
Twilight, Edward/Bella, AU, WIP
---
Corie -
We featured this story not too long ago and the last update brought us close to the end but also showed us how connected these two are and how unbreakable their bond is. Bella thought she wanted to see Edward take a human life but the reality was very different. I can't say enough about the beauty of the writing.
---
Twilight, AH, WIP, E/B
---
Teal -
Pregnancy always makes for some great hormones and shmoopy feelings, doesn't it? There's no lack of either here, and there's nothing wrong with that!
---
Twilight, Edward/Bella, AH, Complete
---
Corie -
I just got caught up with the ending of this and I have to say its a fantastic story. Real, sweet and funny. Great characters and the passion between Edward and Bella was off the charts. I love seeing these two get their HEA!
---
Twilight, WIP, Edward/Carlisle, age difference, Slash
---
Jen -
Carlisle makes sure that Edward has a perfectly imperfect first time. There's still so much mystery in this fic, I'm looking forward to having everything slowly revealed.
---
Twilight, Edward/Bella. AH, Historical, Complete
---
Corie -
Seriously one of the most heartwrenching stories I've read in a long time. Based on a true story this was a beautiful tale of life and how it can keep to lovers apart but when Edward said "Everyday of forever" he meant it. This isn't at all Wussperv friendly just a warning but its beautifully done.
---
Twilight, AH, Complete, E/B
---
Teal -
I'm so sad to see these two go again, but I'm just happy we were able to enjoy a little more of this crazy couple. Impromptu wedding and sweet, wonderful love are exactly what I would have imagined for these characters. le sigh
Corie -
Now that it's complete I know what I'm doing with my day! Love these characters.
---
Twilight, Edward/Bella, AH, Complete
---
Corie -
We reached the end of this sweet story about first love and how strong it can be. I loved the characters and I have to say the last chapter really left my heart full and also my perv ;)
---
Harry Potter, WIP, Harry/Charlie Weasley
---
Chele -
Found this gem on a fic dive after pondering what awesome chemistry Harry and Charlie would have, and how badly I wanted to read about it. Lo and behold,
hidingfromsomeone
must have reached into my pants when I wasn't looking and created this gem. Harry and Charlie have been dancing around each other for years - just long enough to both love and hurt each other deeply. When Harry is injured in the line of fire, his injury gives them both the opportunity to see what they've been missing, and what could have been so easily lost. Incendiary sex, beautifully written characters, and enough plot that you can almost forget you're reading porn. This fic makes you feel every emotion from elation to despair, and I can't wait to see what the next chapter brings. Note: Charlie is a dragon keeper for fuck's sake. There is nothing sexier than that. Nothing.
---
Harry Potter, Complete, Harry/Draco
---
Chele -
Harry and Draco find love on an internet dating site. With each other. Hilarity and hot times ensue. Special appearances by magical cockrings, inter-house couplings, and some wicked wine tasting. I could not have had more fun reading this. Couldn't put it down.
---
Harry Potter, O/S, Hermione/Sirius
---
Chele-
This fic is intense. The night before what is anticipated to be the final battle, Hermione insists on being divested of her virginity. In a house full of young boys and fatherly types, the only real choice is clear. The broody, dangerous Sirius Black. The only one she can count on to leave feelings and emotions out of it, right? Nothing is that simple. Such an amazing, authentic feel to this story. It was like sitting in the room. All of the nervousness, passion, and need felt like my own. Always a thrill to find something masterfully written for an unusual pairing. This was brilliant.
---
RPF, Novella (Complete), RPF, SLASH< BROLIN aka Bradley/Colin
---
Emmy -
I abso loved this fic. It was posted the same day as the Brolin-Sex-RiotTM occurred on Twitter. What a great combo! :) This fic is realistic and tentative and then super hot. I WANT A SEQUEL!!!!!
Jen -
Deliciously dirty.
---
Merlin, Modern Era AU, O/S, FISTING, SLASH, MERTHUR
---
Emmy -
I really love fisting fics. :) and this one is very subtle. Not overdone. And tender. God I love tender.
---
Merlin, O/S, Merlin/Arthur, slash
---
Jen -
I'm so so glad I happened to see sapphirescribe tweet the link to this fic. It's completely adorable. You will love reading about Arthur schooling Merlin on dating and all that it entails, including sexytimes. Love.
Emmy -
Ooooh I too loved this fic. Cute, fun and slashy. Perfect!
---
1D, O/S, Harry/Zayn, slash
---
Jen -
Love the balance of humor and the wee bit of angst here, not to mention super hot lemons.