Some may say we're easily distracted.

We say, "Why limit ourselves to just one fandom full of smut when there are soooo many other possibilities out there?!?!" And so we give you Fandom Hopping, a place to poke your nose into another universe, meet some new characters, and enjoy all the pervy possibilities when a writer fucks with the canon someone else created.
---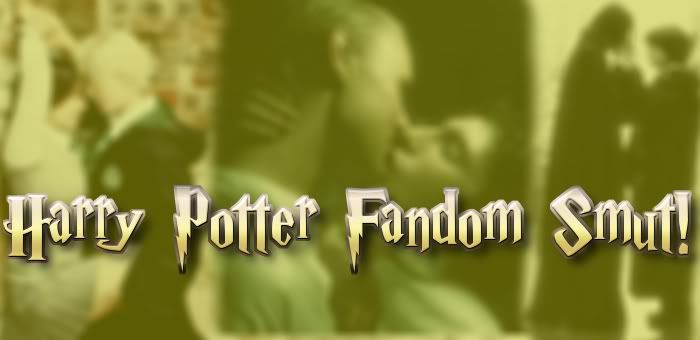 Today, the Pervs of Team Anything Goes are going to get a little kinky in the Harry Potter fandom... okay... A lot kinky.
We've got kinks ranging from age gaps to watersports, and everything in between.
Once you've had a chance to read our suggestions, make sure you check out the Kink fest going on here:
Harry Potter Kink Fest.
---

Jeanne
Butterflies and Scorpions by okydoky
Here we have a very different take on the teacher/student dynamic. Harry is in charge of training new Aurors and who is his newest challenging student? Why Scorpius Malfoy of course. Harry is divorced and out of the closet, finding support from his family (including his children) and friends. Still, he is trying to resist the ethical entanglements of becoming involved with one of his students. Instead he contents himself with wank (daily) to inappropriate fantasies about certain blond student, that resembles a prat he once knew in school. Ah, but Scorpius being a Malfoy and clever one at that doesn't take no for an answer. Thank fucking god he doesn't.
I love the humor and hot, taboo-sexiness too. Though since Scorpius is eighteen it isn't
that
taboo. Still, Harry is adorably awkward and chivalrous in his attempts to stay away. While Scorpius is charmingly unflappable in his pursuit of his sexy, shy instructor. This was an entry for the
Next Gen Big Bang
which demonstrates how truly vital and brave the writers of the Harry Potter fandom continue to be, even after the end of both the book and movie series. Check out this naughty little bit of awesome. I bet you'll love it. I know I do.
Happy Endings by kjmom
If you like you sweets with a little bitterness, than
Happy Endings
is the fic for you. In this AU post war story. We find that Harry and Draco came out, divorced their wives and started a relationship together. Together they created a home and even raised their children as brothers. However, sadly, even wizards cannot escape death. This story begins at the of Draco's battle with cancer. Scorpius watches his family grieve for his father, but in his grief he also struggles with guilt over the romantic feelings he has long felt for his father's companion.
In a moment of grief and desperation, Harry reaches out to Scorpius and Scorpius doesn't push him away. This is most definitely not a story for the faint of heart. The twisted, emotionally loaded relationship that ensues is far from easy, but it feels so real in it's flawed nature. While I don't know how I feel about the ending, I know that I'm still fascinated by the story and characters. This is a must read for the angst lovers and anyone who relishes in the borderline incesty feel of a young man's lust for a father figure.

Burnt Toast by: Bex Chan
Following the war with Voldemort, every survivor has a few experiences that keep them on edge. Is there a better way to exorcise those demons than in the bedroom... errr dungeon as the case may be?
Hermione and Draco. engage in some extreme captive fantasy role play. There is bondage, force, and consensual dubious consent. Wicked hotness. I love the way that
Bex Chan
gives us just the briefest of introduction to ensure that the participants are willing, but no tenderness to steal intensity from the scene that follows.
"Make no mistake, I am going to fuck you until you pass out, but I will have you begging for it. I will have you pleading for my cock inside you like the filthy Mudblood you are."
I don't think I'm giving anything away when I say that she does, indeed, end up begging for it. As will you.
Dark Ages by Aurette
Nothing is easy when you're part of a small group of survivors teetering on the edge of an apocalypse. Magic has disappeared from the world, and with it most of the trappings of civilized society. Hermione's been making a go of keeping her group alive, but when a straggling bunch of refugees joins their camp, Severus Snape among them, he brings with him their first true hope of survival.
This fic is edgy and intense. The world is a bleak one, where people trade their meager skills (or their bodies) for acceptance within small groups for protection, and many have reverted to their basest forms of being while scraping out an existence in caves and forests. Severus Snape, our knight in shining armor, is indeed a dark knight. He arrives cloaked in silence and despair, but when Hermione has to exchange her body to the current group leader in order to ensure her friends' safety, his rage and inherent sexiness speaks for itself.

Jen
Whom the Goddess Chooses by Aurette
Who else but Luna could convince Hermione and Ron to accompany her to a magical pagan ritual? Hermione and Ron go to the ritual with Luna and a few others, just for kicks. Little did they know it would change their lives. As Luna had explained, after the sun set, a huge fire is lit and all of the wizards and witches cast a spell. The spell causes each person attending to appear to others as colored light... and if you're lucky, you'll meet your Lunar mate.
Hermione and Ron enjoy the pretty colors of the lights and a few ales. Ron is dragged away by another person lit up with color, leaving Hermione on her own. She watches with detachment, until she feels the warmth of someone looking at her from somewhere in the crowd. She shares kisses (and a super sexy handjob) and passion like she's never known with this stranger. When it's over, she feels empty, and the feeling doesn't go away when Ron returns the next morning. Their engagement is broken off, and Hermione spends the time before the next ritual trying to learn more about these old ways. She yearns for the stranger she'd connected with, and returns to the ritual grounds at the summer solstice.
She finds her stranger, and they make magnificent love. Hermione wakes alone in the morning, and bides her time until the next ritual, the autumnal equinox. Will she find her Lunar mate and hold on to him? Will they still share a connection once their identities are revealed? It's a gorgeously written, very sexy, and satisfying one-shot.

Posy
Come For Me by frayach
I opened this fic up because I've read amazing stories by
frayach
in the past and love how raw and dirty and gritty the stories are. They are honest and deep, and most importantly, unapologetic. That, I appreciate more than anything. This was written for the
hp-kinkfest
, but it's a love story even though the kink in this fic is something not many people get in to: watersports. WAIT! Let me finish. First, I'm going to credit/blame
OnTheTurningAway
(I love you bb) for my
fascination with
ability to read this kink in the first place because of her tasteful and sensitive portrayal of the kink in
The Weight of Water
. But watersports are simply one part of
frayach's
tender story.
At the beginning, it is obvious that Harry and Draco are into each other, but Draco has responsibilities. Namely, he has to produce an heir. He leaves Harry heartbroken after one amazing, fuckhot night together. Harry searches for years for a man who can fill the place that Draco so obviously holds, with no success. Years later, Harry drives home on a stormy night and just avoids crashing his car. When he rounds a curve, he discovers a devastating car wreck. Draco is in a car, and Harry pulls him to safety, but only after his wife and unborn baby die. Days later Draco wakes in a hospital paralyzed from the waist down. Draco rages at Harry, blaming him for everything, but this moves Harry to give up on his hopeless dream so he can fall in love with someone else. Finally, he's able to move past the desire he's had for Draco for ages.
Until Draco invites him over to his house.
When you truly fall in love, there are no substitutes. Harry leaves his boyfriend to be with Draco, because he must. Their connection is palpable, so very,
very
palpable. I could feel the love these two men had for each other with everything they did. And that, my friends, is why the watersports is not scary. This is not done for humiliation or a power trip or any other reason beyond love. I'll leave you to discover how this starts in the first place, and more importantly, how it becomes a way for them to fully connect. I will say this: it is a very creative solution to a seemingly insurmountable, problem, and it turns into something that I actually looked forward to.
Please don't squick away from this, because it is truly a romance about two men who are willing to go beyond the "norm" to find new ways to show they love each other, and it makes perfect sense in the end.