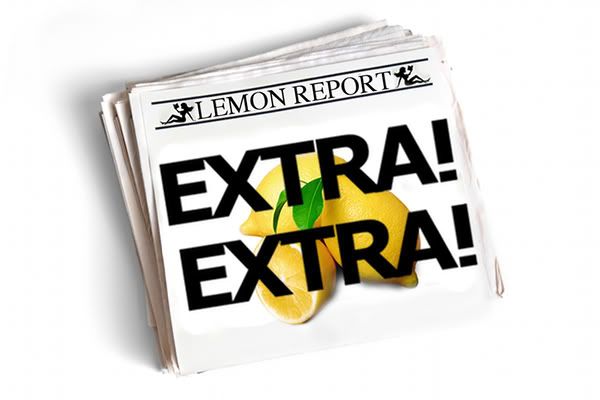 The Lemon Report - Fancy finding out what is on the FF bookshelves of the Pervy Girls of the PPSS? The lemon report lets you know our personal favourite updates of the week, and why you should give the fic a try.... It's a great place to trawl for new recc's and don't forget to share your favourite update with us by leaving us a comment. In some cases, the Lemon Report may contain spoilers. Please read with caution.
Acronym Guide AU - Alternate Universe AH - All Human WIP - Work in Progress O/S - One Shot OOC - Out of Character WP - Wussperv Slash/Femslash - Features homosexual characters and romance.
---
Twilight, AH, E/B, O/S
---
Nico -
There is just something so sexy about a hot man behind a bar and a woman who takes what she wants. Short and sweet making me wish to find an Edward like this of my own. :)
---
Twilight, AH, E/B, Complete
---
Nico -
All I am gonna say is that if this is what we get when Cosmo's Beta has a birthday I hope she has a birthday every week! :)
Corie -
Yes please I love it when Cosmo does it quick and dirty!
---
Twilight, Edward/Bella, Complete, AH
---
Corie -
Such a sweet quick fic about finding love unexpectedly and holding on with everything you are. With a opening like "I had sex with Edward Masen." I was hooked!
---
Twilight, WIP, Edward/Bella, AH
---
Corie -
Oh this fic is killing me. I adore the writing but I have to warn this fic is far from wussperv friendly. It is tear your heart out angst but so realistic and the last update had me dying seeing when these two were so happy and in love.
---
Twilight, WIP, Edward/Bella, AH
---
Corie -
Gemgirl65
is trying to KILL ME. Seriously the last update HOT HOT HOT. Some public on the beach loving discreetly under a blanket...yes please can I have some more.
---
Twilight, AH, One-Shot, Rosalie/Emmett
---
Teal -
This one-shot is a collab between CellaCullen and LyricalKris that was originally posted back in 2010, but it didn't come my way until
LyricalKris
posted it on her profile. It's a love/hate story for Rosalie and Emmett, filled with humor, sarcasm, and really hot fucking in a well-rounded, enjoyable one-shot. I needed a little Rose/Emmett...I just didn't realize it until I read this!
---
The Infernal Devices, One-Shot, Jem/Tessa
---
Teal -
While my heart aches for Will in this series, there is still something so undeniably endearing about Jem and Tessa, and
Majesta Moniet
has such a lovely ability to capture Cassie Clare's characters in believable, canon ways. For a TMI or TID fan anxiously awaiting the next release from Clare, this is a quick little treat.
---
Merlin, Modern AU, Complete, Olympics, Tennis, SLASH, MERTHUR
---
Emmy -
I just ADORED this fic. It was so wonderful. If you love tennis or sport, or just fit blokes you will love it. UST by the bucketfull and featuring a cheeky Gwaine tennis player (always win!) and a very driven and buff Arthur battling back from injury for Olympic gold...... With a funny and far-too-good-for-his-own-good Merlin. Whose determination to not get in the way of Arthur's gold medal, drives Arthur abso fucking insane with lust..... Great fic!
---
by Elirwen on the KinkMe
Merlin, Canon Era, Magical, AU, WIP, Kink-Meme, SLASH, MERTHUR
---
Emmy -
I found this fic on an old kink-meme, from someone else's comment. Its not complete but is still being updated. Its a very quick read and is abso fabby! Merlin ends up being hit with a spell aimed at Arthur (saving him yet again!). The spell causes various ahem physical reactions to Merlin when others say certain words.... Uther delights in making Merlin sneeze repeatedly. However Arthur discovers a different effect and takes his own delight. Such a great fic. A mix of humour and smut, and plot! A great combo, with lots of fun. Love!
---
Merlin, Modern AU, Complete, Paper Legends, SLASH, MERTHUR
---
Emmy -
Paper Legends is already amazing. I still have LOADS to read, but this was the first fic I read from it this year. Just an amazing fic, with amazing art from
Alby-Mangroves
. I simultaneously wanted to biff Arthur on the head and hug the feck out of him through this fic! Poor wee lost lamb. A beautiful fic, Merlin and Arthur are great friends but then, he Arthur catches Merlin wanking. To gay porn. WANKING. And its affect throws Arthur off.... Will they get friendship back? More? OH ARTHUR!!!!!! Gah. This fic gave me loads of feels.... Brilliant.
---
Merlin, O/S, Canon-Era, SLASH, MERTHUR
---
Emmy -
WANK FIC! MUTUAL WANKING! What more do you need? :D
---
Harry Potter, O/S, Harry/Remus Lupin
---
Chele -
The fic pairing that should give me Daddy issues, but somehow it doesn't. It's just lovely and comforting, and more than a little hot. Harry is suffering from nightmares, and finds that having Remus close helps to keep them at bay. The intimacy builds as these two war survivors share the road to healing.
---
Harry Potter, O/S, Harry/Draco
Chele -
Brilliant wit meets solid writing, and melt-your-pants smut. Harry's wand seems to be malfunctioning, but Ollivander's new apprentice, Draco, thinks that it may be less about the wand, and more about Harry.