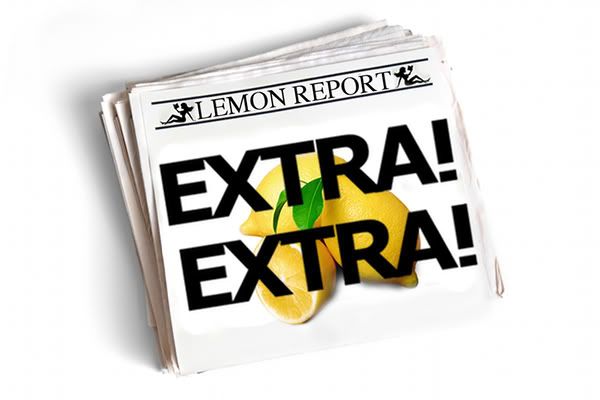 The Lemon Report - Fancy finding out what is on the FF bookshelves of the Pervy Girls of the PPSS? The lemon report lets you know our personal favourite updates of the week, and why you should give the fic a try.... It's a great place to trawl for new recc's and don't forget to share your favourite update with us by leaving us a comment.

In some cases, the Lemon Report may contain spoilers. Please read with caution.

Acronym Guide
AU - Alternate Universe
AH - All Human
WIP - Work in Progress
O/S - One Shot
OOC - Out of Character
WP - Wussperv
Slash/Femslash - Features homosexual characters and romance.
---
AH, WIP, E/B
---
Jess -
This story started out as a Twi-kink entry and has slowly worked its way in my heart. Bella discovers that Edward has cheated on her with her best friend. What follows is a lot of heartfail -- and we're still in it -- and I'm not gonna lie, it hurts. This chapter... I'm all sorts of torn up over it as it involves other a little baby fling and experimentation... my heart. SO good. Go read!!
---
AH, WIP, Jasper/Riley, Slash
---
Jen -
*flails* I love this story. I love Riley. I love Jasper. I love
stephk0525
.
Jeanne -
WNIQNEBALFIBAIHDBFHABDABGKDBOWUBIBVBDJBG!!!!!! *THUD* [Jeanne can't leave a review at this moment due to the fact that she overdosed on awesome. Please leave more sexy Riley/Jasper slash after the beep. BEEP!]
Emmy -
As a clueless Brit I have to say that the American sport stuff goes over my head. But I love this Riley. (I LOVE Riley fullstop!). So even if you have no clues about Sport. Do give this one a bash - yummy slashy!
Posy -
Oh yes! I totally agree with you ladies on this one. I love Riley, but Jasper is yummalicious. I love how perfect Riley thinks he is. It's so sweet. This most recent chapter was super hot, but I'm loving the tension created at the end of the chapter. I can't wait to see where this one goes!
Jess -
NGL, I flailed when I saw this update in mah box. LOVE Jasper and Riley... gah! NEED MORE NOW!
---
AH, WIP, E/B
---
Jen -
Hot angry sex is hot. I hope it'll be followed up with sweet make up sex soon!
---
AH, WIP, E/Garrett, Slash
---
Jen -
So glad these boys are back! They aren't able to play while Esme and Grandma are visiting, but I'm sure you can figure out what they did as soon as the visitors were on their way home. Loved it.
Emmy -
HOW CHUFFED WAS I TO SEE AN UPDATE OF THIS?!!! (the clue is in the shouty caps!) Yep. Verrrrrrah!
Nico -
I was so excited to see this update not once but twice! Nothing relieves post-parental visit stress like some good old fashioned sexin! I am so excited for the next update, I feel like I have been waiting for it since I started reading. :)
---
AH, WIP, E/B
---
Jen -
Definitely plenty of heartichoke hanging around these two. Fortunately what is always present as well is their deep need and love for one another.
Emmy -
I always brace myself to snotsob when this updates. Tough but pivotal chapter this one, I kind of went OH OF COURSE!!! When this chapter occurred. And then thought how very clever
aWhiteBlankPage
is. Or I am very stupid. But I got with her being very clever instead! ;)
Corie-
I was completely blown away this chapter like Emmy I thought it was clever and so heartbreaking. But also such a fantastic full circle moment. The love between this Edward and Bella is transcendent.
---
AH, O/S, E/J, Slash
---
Jen -
How the hell did I miss this Twikinkfest entry? I'm so glad I found the alert for
Hot Leather
, buried deep in my fic inbox. Just like it says in the title: HOT!
Emmy -
Jen, I have NO idea how you missed it! ;) LOL But yes yummy fun.
Posy -
Oh yes! Hot and yummy in an alley. Can you get better?
Corie-
I may need to reread *clears throat*
Jess -
This. x 10000000.
---
AU, WIP, Seth/Riley, Slash
---
Jen -
I'm completely in love with this fic already. Though the AU aspects haven't revealed themselves yet, I love the pairing and can't wait to see how the wolves & vamps come into play. Right now it's just two sweet boys and their first m/m explorations. Yum.
Emmy -
I love Riley (not as much as Edward's, but a lot!) So I love this fic. Plus Riley and Seth are super cute!
Posy -
I need to start from the top but chapter four most certainly had some hotness! :D
---
RPF, SLASH, 3-Parts, Complete, Bradley/Colin aka Brolin
---
Emmy -
Ok. Time to brace yourself folkies. I am reccing a Real Persons Fic. :) Yep run and take cover. As I am about to unleash on you the yummiest slashy pairing known to man. I have gone a bit overboard of reading them of late - what with their theatre
dates
visits and NTA's
mutual sexhair
appearance. Even before all this goodness and imagination inflaming yummyness, I was a teensy widsy tad bit obsessed with them. They are just so pretty
and in love
. Anyways. This was one of my many fave fics I have read of them. Gah slight angst and uncertainty. Fears and worries AND its set around THE RL road trip of joy and wonder. SO its instantly a winner in my book! Colin is quite complex and Bradders is more than a one dimensional puppy. He's very curious. So yes, read this. Its slashy and wonderful and made me flaily.
PS: Here are
PART 2
and
PART 3
You WILL want them....
Posy -
Oh yes! I'm not new to RPF, but it always frightens me a bit. It's bold to write about real live people who could come litigate your ass. Totally worth it in this case. I must, MUST read parts 2 & 3 tonight before I finally fall asleep.
---
E/B, WIP, AH
---
Nico -
Once I started reading I couldn't put it down, Edward is confident but sweet, Bella is cold but caring, put them together and umf it's just, yes more please. :)
Emmy -
Bizarrely (& coincidentally!) I have just started reading this. REALLY liking thus far! :)
Corie-
I love the dynamic between these characters the energy of this fic is so charged and always leaves me wanting for more!
---
AH, WIP (Drabblish), HS, E/B
---
Emmy -
Want some cute slightly nerdyWard sexy times? Yep? Well read this then.
---
AU, O/S, Angsty, SLASH, Carlisle/Edward
---
Emmy -
Ahoy there heartichoke!! A cold, hard, shattered heart of a story, with a tiny smidgeon of potential hope at the end? Or is that the WussPerv(TM) in me looking for something that's just not there.....? Regardless this fic is terribly well written. A real heart grabber. Edward is just a darling, and gosh do I feel for him. Bless his wee cotton socks. Hard and heartbreaking lemons.
---
AH, WIP, HS, SLASH, E/J
---
Emmy -
Love these sweet slashy, experimental boys. This Edward is adorable. Too cute together.
Jen -
Home theater + boys home alone = slashy good times. The rest of the chapter plays out adorably when Edward's mom and dad do get home. Jasper's a good boy.
Posy -
These boys are just so dang cute together. I do love me the innocence of these two not to mention how responsive they are. ;)
Jess -
I have loved these boys something fierce from chapter 1. Every update KILLs me with awesome.
---
AU, WIP, E/B
---
Emmy -
This is a very unique, and very well done VAMPIRE fic. Its set in a different time or place, but all your favourite vampires, or the ones you love to hate are featured, with some of the supporting cast carrying more interesting roles here in
elusivetwilight's
world. This most recent chapter is quite seminal, as it took us right back to the beginning of their story, and their love that fires the rest of the story, and particularly Bella's drive and fire to reunite. Gah. A beautiful chapter. The last chapter really elevated this fic for me. Really well done.
Nico -
I completely agree with Emmy! I love this fic and am always so excited to see an update. That reintroduction to each other caught me and I have been enchanted since. Each chapter has been written for a different Charity so there are pauses between updates but that just makes it that much more exciting when it does.
---
WIP, AH, E/B
---
Corie-
I am so excited to see where this brand new story takes us about betrayal and starting a relationship based on hate and lies. Edward is betrayed by the woman he has loved for years and his best friend and decides to turn things around by stealing the best friend's new girl months later. The only catch is it looks as though he's really falling for her. Can they survive a relationship built on deceit? Really gut wrenching lemon so far of Edward watching his world crumble.
Jess -
This may kill me, but I'm completely intrigued!!!
---
WIP, AU, Leah/Nahuel
---
Corie-
I have a confession. I was a pack virgin. I had never read a fic based off the wolf pack and when I saw the girls mention this story I was intrigued to say the least. I love the idea of canon Leah getting her happy ever after. I think it was something I missed from the original story. This is an amazing dose of that. The characters are very true to the story and also she really enriches them. I am on pins and needles to see how it all plays out. The heat and tension that is written between a wolf and imprint is mindblowing. Nahuel is pure sex in moments and in others the sweetest gentleman. This fic is a gateway drug; I have to say I am for sure going to be looking for more Leah stories!
Chele -
Just caught up in reading this story. I love that Leah's personality remains so true to her character even as certain painful wounds begin to heal. It doesn't change who she is, but allows her to grow, and it's fabulous.
---
WIP, AH, E/B
---
Corie-
This is my run to fic of the moment and the last update we got CITRUS! One of the most endearing HS stories around and the fantastic part is we are being told this love story through a series of flashbacks so we get some wonderfully sweet moments in their present time. Bella is original and quirky, Edward is sweet and slightly sad. I can't say enough about this story or the author. Just great storytelling.
---
Merlin fandom, Complete, Merlin/Arthur, Modern AU w/ Magic
---
Chele -
This story really turned me on to modern Merlic fic. The chemistry between Arthur and Merlin is intense, and reminded me of the connection between Jasper and Edward in
Mergers and Acquisitions
. If you liked that story you will LOVE this one.
The writing is tight, and not a word is wasted in this tale which I raced through in a day. It has a bit of a sci-fi vibe with the way that people with magic are being registered and controlled and treated as a subset of society, but it's the love and passion that will suck you in and keep you reading en rapt till the end.
Posy -
It's been a bit since I read this one, but I loved it. I loved the intensity that the binding contract created, but even more so, how sweet and tender Arthur was. I was reminded a bit of some of the Harry Potter binding magic that has been written over the years along with some of that darkness. I also love the relationship between Merlin and Freya. This was one I read straight through, pushing meals off and avoiding sleep.
Emmy -
Gah. This sounds right up my alley!!!! Wants to read NOW!!!!
---
AU, O/S, Leah/Rosalie, Femslash
---
Jeanne -
I love a strong, outspoken bitch, and in this fic I get two for the price of one. UNF! Leah happens upon Rose in a moment of anger and grief, the connection and subsequent relationship that ensues is mesmerizing and heartwarming. These two make so much sense together that it breaks my heart that there isn't more fic for them, or more chapters for this fic. *coughs and side eyes
sweetandsaltyff
*
---
AU, O/S, Leah/Rosalie, Femslash
---
Jeanne -
No, you're not seeing double this is another and totally different Leah/Rose femslash fic. This is awesome one shot if jam-packed with snark and sassiness. Here the claws come out and oh my fucking god is it hilarious to watch these two go at each other. Don't worry,
HoochieMomma
doesn't skimp on the sex. She even gives us another little surprise at the end. This is a must read for all femslash fans, and anyone who loves mouthy women with attitude.
---
AH, WIP, Carlisle / Edward / Bella, Slash, Threesomes, OOC,
---
Jeanne -
Where the hell have I been? I just found this fic and have been frantically trying to catch up with it. That's right, I'm still behind so no spoilers or I may have to kill you. *gives Jen a meaningful glare* Anyway, you all know I'm a whore for threesomes, but I also have a soft (moist) spot for
Professor
Cullen. NO! Not Edward, CARLISLE! SWOON! This fic is addictive, these characters have depth, intelligence and wit that knocks me off my feet. Not to mention the fantastic sex. Edward had my pants around my ankles the moment he opened his pretty fucking mouth. UNF!
Jen -
OMG read faster, woman! I'm good at keeping spoilers, though, I promise. I will say that I'm aching for another chapter of this hotness. These are three fascinating people.
---
AH, WIP, Alice/Jasper
---
Jeanne -
Someone call the paramedics, I'm reading canon pairing fic! I know, shut up already. I'm sure I'm not alone with my general meh feelings about this pairing, however I love
NinaQ
's writing style so I gave this new fic a try. Holy Balls am I glad I did. This Jasper has me swooning and this Alice has won my fucking heart. These two are spellbinding to watch and down right sinful when they finally get it on. UNF! I'm catching up with this one too, but I'm taking my time, savoring it. *contented sigh*
Jen -
Jeanne shared a quote from
Simple Mistakes
one morning last week and I proceeded to read all of the posted chapters before I even got out of bed for the day. That's definitely a first for an Alice/Jasper fic. They have such amazing chemistry.
---
AH, WIP (reposting to new account), Bella Jasper Edward, No Slash
---
Jeanne -
When
plummy
started reposting this story on her new account I decided it was time for a reread and I am so glad I did. I forgot how much I love this story and these characters. They are so full, and the story is so detailed. It's like you're walking into a whole different world, one that you never want to leave. *happy sigh*
Chele -
Reading this story again is like having a friend back. That friend that makes you feel crazy excited, and like anything is possible. Remains some of the best, most intense emotions I've ever read, and absolutely amazing erotic moments. The type of sex that both turns you on and tells you things about the characters you would never have learned otherwise.
Neverending Math Equation
is amazing, and I love it to an indescribable degree.
Corie-
Once again these beautiful ladies made me brave and I decided to venture out of my E/B bubble and HOLY FUCKING HELL am I glad I did. This story is visually stunning and the characters are well developed. The sensuality is the biggest factor in this story there is so many layers and relationships that are being sorted out and some very intense love scenes that have left me breathless so far. This is my first read through and I am excited and exhilarated all the things that good fic does.
Jess -
I'm not fully caught up, but I am IN love love love with this story. My heart is already all sorts of twisted. Pressing on...
---
AH, WIP, E/R
---
Teal -
Ohhhhh it's sooooo sweet! I can't even...GAH!! You just have to read and squee with me!
Jen -
Oh, this Edward. He's swoony just by the fact of his existence. But then he opens his mouth and says all the right things! All the things, ladies!
Jess -
I almost feel like there's nothing I could possibly say that would match the awesomeness of this story. I know I'm one for grandiose speech, but I can honestly say this is one of the best stories I've read. Edward and Rose are pure perfection... individually and together. So much UNF!
---
AH, SLASH, WIP, E/J
---
Teal -
Though this story isn't new, it's new to me! While
vampireisthenewblack
is most often an AU writer, she's exploring teenage romance and all its complications and confusion...through the eyes of gay young men. The writing is divine, and the excitement of firsts and discovery between these two keeps me clicking and eager for more!
Emmy -
I adore this fic. But even with Jaspers tentative step in the last update I still get heart fail for these two. Esp heart-on-his-sleeve Edward!!