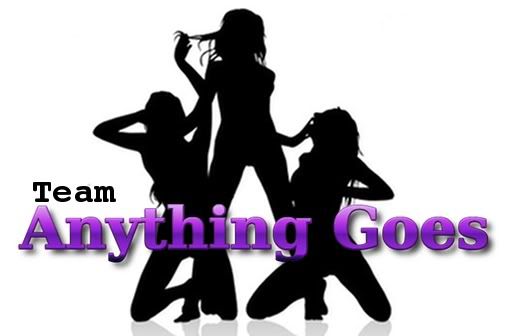 A fearless group of Pervs willing to read anything, as long as it's sexy, smutty and well written. We are brave and we dare you to be too.
The Team Anything Goes Pick is...
Title:
What Happens in New York
Author:
MyLifeandHis
and
sadtomato
(
alt story link
)
Chapters:
18
Words:
11,680
Reviews:
555
Summary:
Two years after their adventures in Zurich, Edward and Bella travel to New York for a steamy long weekend with Emmett. Part Three of the What Happens In ... series. M/M/F threesome. Collab between sadtomato and MyLifeandHis

This fic makes my poly-loving heart sing. Not only does it have a loving, committed couple who are open to bringing a close friend into their bed, but said close friend is EMMETT. Fuckhot, unassuming, European Emmett. Who speaks with an accent... and his huge cock. The brilliance of this fic is in the alternating writing by co-authors
MyLifeandHis
and
sadtomato
, which put us alternately in the heads of the three lovers as their experiences progress. The cadence, attractions and attitudes are clearly defined, showing intent and intensity by all participants.
"We talk about you sometimes while we're in bed," she whispers, her low voice barely audible above the music. "That night was so hot. Edward comes so hard when I ask him if he misses your cock in his mouth."
"Scheiße," I mutter, my brain too consumed with lust to bother translating.
"He wants more, Emmett. He wants you to fuck him," she says, her lips pressed up against my ear. "I want it, too. I want to watch the two of you together. It's all I can fucking think about."
I had been salivating while waiting for this story to post as I was a HUGE fan of it's prequel, What Happens in Zurich (And I highly recommend it to any perv). This story did not disappoint, and in fact surpassed my high hopes, delivering a concise, impassioned tale, impressingly heavy on the smut - just as I like it. If you have an open heart, and a dirty mind, you must read this now.

C
When Teal said she wanted to do this story for the TAG post I was super excited. It's been on my TBR list for awhile and it was just the excuse I needed to dive in, and holy smokes am I glad I did. I'm super picky about my threesome fiction, books or fanfic. I have to say this story delivers on so many levels. This is the 3rd in a short series about these 3 characters, who share friendship and sometimes more... I love the connection and love, between not only the engaged couple Edward and Bella but the respect and love with Emmett as well. The anticipation and build up is so well done I couldn't wait for the action. This trip to New York is bringing them to a new level in their physical relationship. My jebus THE ACTION its masterful what these 3 do to each other's bodies. Lines like these had me panting.
Bella looks between the two of us for a second, then smirks and stands up on the bed. She jumps down while pulling the zipper on the back of her dress and lets it fall to the floor. Her hands grip one of mine and one of Emmett's, pulling us both up to standing positions, and then she kneels between us.
"I want to taste you. Both of you."
Te
This little series of stories has been one I've loved so incredibly much, and each installment has just gotten better. Here is absolutely no exception. As the culmination of years of sexual tension, fantasy, and friendship,
What Happens in New York
is a threesome fic that is both in-fucking-credibly hot, but also tender and quite emotional (in a really nice, non-sappy way).
Bella scoots closer, kisses my shoulder, and whispers, "Wake him up." Her brown eyes are sparkling, her soft body is pressed against mine, and I can't think of a better way to start the day. I tilt my head and catch her lips, giving her a soft, sweet kiss. "Mmm. Now him."
She urges me up and I hover over Edward, brushing his arm with mine. His eyes are still closed as I lean in closer, but when our lips touch I know for sure that he is awake. He kisses me back eagerly, then his head lifts from the pillow, chasing my lips as I pull away.
"I'm definitely awake now," he says, his eyes on Bella giggling behind me.
"Kiss her," I say, my voice low and gruff. "Like you did on the dance floor."
Emmett pulls away from me slowly, almost reluctantly, before turning to Bella and holding her face in his large hands. They kiss while I watch, and the little numbers light up one at a time until the door finally opens. "Let's go." I pull them each by a hand out into the hall and grab our room key from my pants pocket. "Quickly."
"Well, we love you, Em. And we honestly want your happiness. Whether that involves a commitment to someone else or not, we just want your life to be full and happy." Bella grips my hand that still rests on her thigh, and I give her a brief smile.
"I'm very happy. My life is full of many things. Friends, family, pleasure. I'm a lucky man, Bella. Don't feel bad for me, okay? This wine is excellent. Shall we request another bottle?" Emmett dives back into his meal after summoning the waitress, and we eat and drink and talk about everything and nothing. It's perfect.