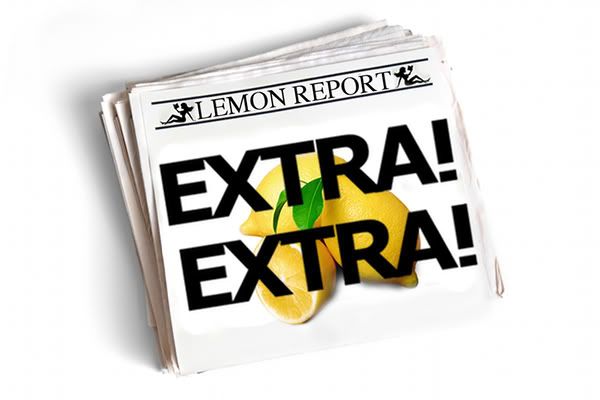 The Lemon Report - Fancy finding out what is on the FF bookshelves of the Pervy Girls of the PPSS? The lemon report lets you know our personal favourite updates of the week, and why you should give the fic a try.... It's a great place to trawl for new recc's and don't forget to share your favourite update with us by leaving us a comment.

In some cases, the Lemon Report may contain spoilers. Please read with caution.

Acronym Guide
AU - Alternate Universe
AH - All Human
WIP - Work in Progress
O/S - One Shot
OOC - Out of Character
WP - Wussperv
Slash/Femslash - Features homosexual characters and romance.
---
AH, O/S, Slash, Carlise/Riley
---
Posy -
If there's one thing (honestly there are a lot!) that completely sucks me in to Conversed's writing, it's her introspective characters that make me
feel
. While this was originally going to be "the kinkiest thing ever written," according to her, what came out was beautiful, sweet, and very touching. Hot too!
Emmy -
Well hello there Riley... There is no such thing as too much Riley. (But please more Edward/Riley? Please?!!). Another great entry into the KinkFest. I love the heart and soul of Riley in this tale. I love how caught up in his head we are. Its perfect!
---
AH, WIP, Bella/Edward
---
Corie -
Not many writers capture raw sensuality for me like
Cosmogirl7481
but this story is beyond that. There is an emotional vulnerability to these characters and their actions that bring this story to another level. It's a tale of what seems to be unrequited love, one that has lasted years but as the holidays bring them together yet again, the careful facade that both Edward and Bella have constructed comes tumbling down. With daily updates this is my drop everything fic of the moment.
---
AH, Rose/Edward, WIP
---
Jeanne -
Oh, holy fuck! This was a hot update. I swear this Edward is so fucking sexy and Rose is so
real
, I'm falling in love with both of them. On the other hand, Ed's parents do not impress. I love how Rose handles them, and how she navigates her own inner turmoil. It's so cool to see her progress and her relationship with Ed blossom. Updates for this story are like a visit from a beloved friend. I can't wait to see these two again.
Jess -
There is so much I want to say about this update, but it was the aching question and relief at the end that totally pushed me over the edge. LOVE LOVE LOVE!
Jen -
Oh, sexy, tattooed Edward. Rose is one lucky bitch.
---
AH, Jasper/Peter, Slash
---
Jeanne -
YAY! We got an epilogue and holy shit it was a hot one. Possessive Peter For the Fucking WIN! UNF! I love these boys and I'm going to miss them, but I'm happy that we got one last, sexy chapter with them.
Posy -
I'm a late comer to this story, but dove in head first falling in love, in love, in love! It has everything: angst, tenderness, hot boy smexing, and love. Not to mention, I truly heart a completed fic to swim around in.
Emmy -
My love for
Fr333bird
knows no bounds. Perfectly possessive Peter, made for the perfectly perfect and pervy end to this tale! (I would ADORE some outtakes though!) [Why yes! I
am
a greedy bitch!]
Jess -
I have literally loved every single chapter of this short little story, and good grief, possessive Peter just about killed me. GAH!
---
AH, O/S Edward/Bella, Voyeurism
---
Corie-
Every have a voyeuristic fantasy? Ever wished you were being watched while you were being fucked? Well this Bella has and this o/s is all about the moment her husband Edward gives in and fulfills that fantasy. Being watched by eyes they can't see behind glass barriers only adds to their excitement. I have to say I was FLAILING reading this there is some fantastic dirty talk and the emotional limits pushed in this only enhances it. I love when a kink is done showing a loving a devoted couple this does that so well. I felt the the way the author handled the alternating pov's heightened everything.
---
AH, Edward, Kink
---
Jeanne -
If there is anything that
TwiKinkFest
has taught us, it's that fucking isn't just about putting a dick in a hole. This fic is one of the great examples of the diverse shapes that sex and sexual desire can take. Here we witness Edward seducing, teasing, making love and fucking his audience with his music.
Autagonistophilia
is real and this is one of the most beautiful, respectful, not to mention creative portrayals of it that I have ever read.
Posy -
This was truly an amazing piece, especially if you have ever seduced an audience with music yourself.
ICMezzo
understands that feeling, obviously. This was truly a great O/S and one that stands out.
Corie-
I agree with the ladies above, this story is like nothing I've read before. I'm a huge lover of music in fic and the way an author uses a soundtrack and this was beyond that. I sat and read in rapt attention listening to the selected pieces
ICMezzo
recommends and was transformed in to that audience witnessing something erotic and mind blowing.
Jess -
I had no idea what to expect when I clicked this open. I did have to look up
Autagonistophilia
, though. LOL But seriously, this was so amazingly well-written, and when coupled with the music, it completely made everything pop and click and hot and so perfectly delicious. Seriously well done.
---
AU, Merlin/Arthur, Reincarnation, Slash
---
Posy -
I hesitate describing this story much beyond what I did above because the tale unfolds in a way that makes it stick with you for days after you are done reading it. This is a reincarnation fic, with college student, Anthony telling the story. He becomes curious about this outcast in his class who everyone refers to as Heinekin (his name based on a rumor). They have a very odd experience on the train home that somehow connects them back to Arthur and Merlin. Did something really happen, or what is a dream? I loved this story and the connections the men made with each other. Sweet and hot!
Emmy -
I LOVE MERLIN fics! As I am sure you al know by now! (Well the Merthur fics at least!). So I love getting new reccs! Thank you Posy! I haven't managed to get properly stuck in yet. Unfort. But am loving it so far! Thanks Posy!
---
AH, WIP, Bella/Edward/Jasper, Poly
---
Corie-
The long anticipated sequel to The Trip Home by
MsKathy
posted this week and totally made my day. I fell in love with these 3 the Summer of 2010 and have been on pins and needles waiting to see the continuation of their story. We have jumped 5 years in to their lives and see them as they take a much needed vacation to Greece, were they reconnect and love. Right out of the gate we get to see how well
MsKathy
handles the intimacy and emotional connection between these characters. I can't wait to see how this unfolds.
Jess -
The Trip Home 2
is the first and one of the only poly fics I've read in my time in this (or any other) fandom. I adore these three something fierce and look forward to their journey together!
Chele -
Yay! So glad that we're getting to ride along on the next leg of this journey.
MsKathy
starts treating us right from the first chapter, bringing us up to speed with the lives of our loving married threesome, and giving us a taste of the intense passion which is surely in our future. Unf and swoon.
Jen -
Looking forward to their continuing adventures in love!
---
AH, Alice!Alex/Jasper, Gender-Bending
---
Jeanne -
Yet another great fic that was born out of an imaginative a
TwiKinkFest
prompt and a creative writer brave enough to tackle it. While not everyone would think they could relate to Alice's desire to act out as Alex, I argue that they they actually can. I mean look at how many women read and enjoy slash. Here we see a woman that is expressing her sexuality as a gay man, and there is nothing wrong with that in my book. Jasper is sexy, real and even a bit vulnerable. Watching these two find their way in a world that feels it needs to inventory and label every aspect of our sexuality is painful, but also very rewarding. I would love to see more of these two and more fic like this one.
Posy -
Agreed, Jeanne. We should all be given the opportunity to peg a guy. Feeldoes for all! This story is told from Alice/Alex's POV, and we see how complex her sexual identity is. She truly is both Alice and Alex. Jasper's sensitivity came across so strongly that I felt bad for the lies, even though I understood them. Fiberkitty wove a tale that didn't disappoint.
Chele -
Such a rare treat to find a juicy bit of pegging. Jasper really steals the show for me with his sweetness and vulnerability. I love being in Alice/Alex's head as she expresses her desires, and was on edge waiting to see whether Jasper would be able to accept her for all of the facets of her sexuality. Such a unique story. Loved.
Jen -
We all love smut here at the Shack. I find that smut is even better when layered with emotions and psychological explorations. This definitely falls in the latter category.
---
AU, O/S, E/B
---
Jess -
This is dark and so freaking intense. Edward is a human blood-drinking vampire whose bloodlust after feeding is almost uncontrollable. Time and again, he succumbs to Bella's body, but this time... well, the ending will leave you screaming for more. So good.
Corie -
They really do a fantastic job of capturing his bloodlust and raw sexual desire. I might have yelled at the screen at the end LOL. Fantastic read.
Jeanne -
I know exactly the part of Breaking Dawn that inspired this fic, because that was my FAVORITE part of that movie. Red-eyed, human blood drinking Edward? YES PLEASE! This is sexy, edgy and intense. The sexy is rough and raw. Edward is extremely pragmatic and bad. Bella is just crazy enough to think that a relationship with a guy kills people before he fucks her. Oh yeah, this shit is balls-deep into bad!wrong, but in such a good way. I LOVE the ending.
Posy -
I'm so glad I'm not the only one who yelled at the computer. haha. I swear I kept reading faster and faster. SO GOOD!
Emmy -
Deliciously done. But total meanie-pants who tease to leave it there!!!!! ;)
Jen -
Delicious and intense.
---
AH, Ed/Bella, Bloodplay
---
Jeanne -
This is one of the more taboo subjects from the
TwiKinkFest
, but for me it's one I've been hoping to see. It is not easy to show the erotic, intimate nature of Bloodplay, but
mjinaspen
does it with ease. Here we have a
human
Edward with a lust for blood, and an equally human Bella who shares in his passion. Despite, the dark subject at its heart this is a lush, seductive story about finding your soulmate and sharing your desire with them.
Jess -
I couldn't agree with Jeanne more. I never would have thought I'd like this piece, but in like 850 words,
mjinaspen
managed to make this appear amazingly erotic and so full of love. It's hard not to find it sexy, even if it isn't my thing.
Corie-
I agree with everything above. I really enjoy how this is an honest look at a individual relationship and the desire that drives it. The way the author describes what each action does to fulfill that want in the characters is so well done.
Emmy -
MJ is an author with incredible class. Even when she is writing something more taboo or naughty, she still keeps her integrity. All her stories have a sense of sensuality and raw heat. Yet they are never crass or dodge! Hits the mark everytime. This is done so well!
Jen -
Absolutely sexy and sensual. Read it with an open mind if you're not inclined to read something like this and you'll be panting for more.
---
AU O/S E/Seth Dark Themes
---
Jess -
I got this update in my box and initially deleted it. The subject matter just seemed too dark for where I was at that particular moment, but then the Pervs included it in their
PackPerv
rec yesterday, and I decided it seemed too good to pass up. Boy, am I glad I took the time to wade through it, even the very difficult parts. This is a post-Breaking Dawn AU story where Bella has been killed and Renesmee & Jake are in hiding. Seth and Edward have been captured by the Volturi and are being tortured in order to get information on Ness' whereabouts. This story is hard to read, but the product of all that suffering is the realization and revelation of a love and devotion rarely seen. This is DEFINITELY worth the time to read.
Posy -
I couldn't agree more. Great read, especially for those moments of care and comfort that Edward gives Seth and the realizations that come to Edward along the way. I'm glad I read this one! Very much so.
Emmy -
This fic killed me. Beautifully done - brilliant writing and story conception. But cripes. WussPerv's do NOT read!
Jen -
As everyone has said, this isn't an easy read. But it's totally worth it to see the care and love between Seth and Edward as it comes to their attention.
---
AH, Drabblish, WIP, E/B
---
Emmy
This is a light and frothy fun of a fic! Its comprised of longer drabbles detailing Bella's run-in with a gorgeous stranger and how he immediately impacts on her life, particularly her sexual one!
---
AU, WIP, E/B
---
Emmy -
All I can say is:
"FINALLY!!!" Love these two vamps, particularly guilt ridden Edward. They are super cute, and I love the shift Bella's thinking has had to take. Very curious to know what is next for these two lovestruck love birds...
---
AH, WIP, E/B
---
Jess -
Set in the midst of a pandemic, Edward and Bella, once irritating neighbors, are forced to find their way in the very desolate and lonely world in which they live. Finally, after a very long buildup, these two get a little lovin'! So good.
**Full disclosure - I beta this, and love, love, love it. **
Jen -
The UST has been simmering for weeks now. When they finally break, it's not just physical, but emotional.
---
AH, WIP, J/Riley
---
Jess -
I'm pretty sure
lyricalkris
is officially trying to kill me with the sexy and the sadz. FBI agent, Jasper, is emotionally wounded, and FBI tech, Riley, is seriously lacking in self-confidence, but when they come together, it's so, so good!
Posy -
Agreed, Jess. Jasper is this beautifully tortured soul that everyone in the FBI thinks is A-Okay after being beaten by captures, but sensitive Riley sees that he's not holding up as well. How could he when his job is to rescue kidnapped children, bringing up his own memories again and again. I love the angsty feel of this story and the way it's told. I'm SO glad Jess rec'd this one and that I was able to read it in time for this report.
Jen -
I'm loving these two boys. Each one has an abundance of what the other needs. I hope that Jasper is able to share some self-confidence with Riley, and that Riley will show Jasper that it's ok to pay attention to your feelings.
---
AU, Outtake O/S, Femmeslash, Bella/Jessica
---
Chele -
What's this in my box? A little bit of drunken girlsex? Maybe even a face ride? Yes, please.
Hoochiemama has contributed a little outtake from when Bella was going through her rebellious streak, and Jess contrives to give Bella a little much-needed escape from reality. I couldn't be more grateful for a little girl on girl lovin'.
---
Harry Potter Fic, AU, Complete, Hermione/Snape
---
Chele -
This is by far my favorite Post-Hogwarts Hermione/Snape fic. It is lush and real and gorgeous and packed with beautiful eroticism.
Hermione accidentally discovers that Snape didn't die from Nagini's bite, but has spent the last ten years travelling and dealing with a wicked case of PTSD. She makes a project of bringing him home to Hogwarts, and the friendship she offers him is the first truly balanced relationship he's ever had.
Post Tenebras, Lux
(After Darkness, Light) is a slow build, and the UST smolders as the intricately woven plot is revealed. Once they stop resisting the undeniable pull toward eachother, the smut is explosive and will make you squirm.
Tuck yourself in a comfy chair and indulge in this amazing story of healing and love.
---
AH, O/S, Edward/Jake, Slash
---
Jen -
Not for the faint of heart, but worth all the heartache for those who dig some angst with their boylove.