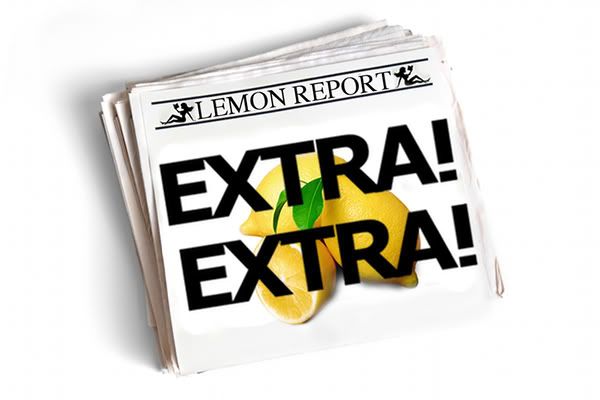 The Lemon Report - Fancy finding out what is on the FF bookshelves of the Pervy Girls of the PPSS? The lemon report lets you know our personal favourite updates of the week, and why you should give the fic a try.... It's a great place to trawl for new recc's and don't forget to share your favourite update with us by leaving us a comment.
In some cases, the Lemon Report may contain spoilers. Please read with caution.
Acronym Guide
AU - Alternate Universe
AH - All Human
WIP - Work in Progress
O/S - One Shot
OOC - Out of Character
WP - Wussperv
Slash/Femslash - Features homosexual characters and romance.
---
Please Welcome our Lemon Reporters!
While we Pervs are always working hard to find high quality, smutty fan fiction, it's a tough job to keep up to date on all the fabulous new fic posting every day. Even with all the diverse tastes of the Pervs, we are sure there is something we're missing, so the Pervs decided to reach out to the fandom for help.
---
AH, Ed/(Not Bella), CHEATING
---
Jeanne- This series of short drabbles has me by the short hairs, and it doesn't look like it's going to let me go anytime soon. I love non-canon het pairings. I especially like seeing how different stories address the issue of the canon pairing that must be severed in order to make a non-canon pairing possible. This isn't for the faint of heart, but it is sexy and intense as hell. just how I like 'em.
---
Harry Potter Fic, Hermione/Charlie, Infidelity
---
Chele - Nothing like a quick, dirty, insanely hot romp while no one's looking. I find Charlie Weasley one of the most underused HP characters in fic. He's a dragon wrangler for fuck's sake. These are the things my pant's dreams are made of! No wonder Hermione finds him completely irresistible.
Jeanne -
Holy Mother of FUCK! That was hot! Like Chele said Charlie is extremely under used in HP fic, which is fucking crazy to me. Since not only is he a dragon wrangler he is a fucking werewolf! Double UNF with a side of swoon! This fic has got all the taboo guilt and shame of a great cheating!fic, with a side of intensity, because this is Hermione. Her self awareness and intelligence that defies the often over romanticized cliches that some might use to justify infidelity. She knows it's wrong, but she can't stop herself.
Emmy -
Surprise! Emmy - wussperv extraordinaire has read this! Yep. How's that for a shocker. I have a wee bitty of a softspot for the older (barring Percy) Weasley boys.. Yep both Bill and Charlie... Take that as you will! ;) This is wonderfully done!
---
AH, Emmett/Rose, Transgender
---
Jeanne -
I'm an especially happy girl because yet another one of my TwiKinkFest prompts was filled. I asked for a Transgender Rose (male to female) and straight Emmett falling in love. True to form, the lovely
vbfb1
delivered in spades. Emmett is swoonworthy, sweet and sexy as hell. His determination to prove his love had me close to tears. Rose's sassiness and hidden vulnerability won my heart in a matter of seconds. Whether you're in to transgender romance or not, I urge to take a chance on these two. Their love transcends gender.
Posy -
Well, my transgender cherry has been popped and I'm so happy. I can see a new obsession brewing for me. I totally agree that Emmett is swoon worthy and love how he is able to shed his fears because of his love. The fact that Rose took such a huge leap of faith in sharing herself and her secret, opening herself up to rejection and hurt, made me want to practically stand up and clap. Taking risks for the possibility of love makes my heart melt.
Jen -
This is just so lovely.
vbfb1
really makes you feel Rose's fears, Emmett's confusion, and then his realization that it's Rose he loves, not any particular body part.
Corie -
I was blown away by the depth of emotion that this o/s gave me. You really go on a journey of love and feel the fear and confusion that these characters face. I love this Emmett he really is a swoony guy and shes a very lucky girl.
---
---
Jen -
Who can resist geekward? Who can resist a new story by
theladyingrey42
? Not me. Edward's just started to work up the courage to speak to the girl of his dreams, but not knowing her in the biblical sense doesn't stop him from having a good wank inspired by her!
Corie -
I was so excited to start this story I am such a fan of this author and to see her try something different yet so close to her heart hooked me. There's so much sweet wrapped up in these characters but there is also some real chemistry there as well. I have to say the wank scene nailed for me. Looking forward to more.
Emmy -
I really don't think that
theladyingrey42
can do ANY wrong! More perfection and cute and yum all tied up in a geekyish package! AND daily updates! We are being spoiled!
Jess -
I all flaily in love with this story. I adore geeky boys... and a physics major to boot. GAH! I just can't even with how adorable Bella is... and Charlie... love love love!
---
Jasper/Edward, Slash, O/S, Forced Feminization
---
Posy - Wowza! After Edward sees Jasper's eyelashes painted in mascara, he starts fantasizing about Jasper dressing up as a girl while he fucks him. For those of you who know me, I'm kind of an underwear fetish girl, not to mention a fan of cross dressing men, so this was right up my alley. The surprising part about this great fic was that I was fearful as I read it. Edward and Jasper aren't merely humans but strong vampires, and the anger that Edward reads coming from Jasper from his forced feminization made the story all the more dangerous and exciting to me. And hot! OMG, it was hot! Especially if you are into the sorts of things that this perv is. But the twist at the end...fuck yes!
Emmy -
Completely agree with everything that Posy says above! All the more powerful for being an AU tale... Wowser!!!!
---
AH, Slash, O/S, Jasper/Edward
---
Posy -
There was absolutely no way that I was going to be able to stay away from this story when it was based on a
Twilight Kink Fest
prompt that started off with "Rimming, rimming, rimming. Did I say rimming?" Hover, click, read! YES! Jasper has watched Edward, or Hot Leather, for weeks, always wondering what outrageous clothes he's going to wear to further torment him. This night he wears red leather pants that hug Edward's perfect ass in the most perfect way. As it turns out, Edward has been doing some noticing of his own
Corie-
I read this twikinkfest entry as soon as
Magnolia822
posted it. I have to say it has forever changed the way I will look at a man in leather pants. She does a great job of translating the pure desire and need of these characters through the story. It's one not to be missed.
Emmy-
Nice one! Got to love the leather kecks! A sexy, sexy slashy delight of carnal pleasure of the rimming kind...
---
---
Jess -
This is a fun little story that I love seeing pop up in my box. It's updates sporadically, but it's told almost like little vignettes. Undercoverward (what I'm calling him) is a special ops military guy, and good grief he's hot! This is fun and so, so good!
Emmy-
J'adore!! J'adore!!
---
---
Jen -
This little gem started out as a o/s for a charity compilation. Lucky for us
stephk0525
thought Jasper and Riley needed to spend more time together. This chapter is full of sporty innuendos and wet, hot bjs.
Jess -
I almost missed this update, but thank the pervy girls of smexy goodness they didn't leave me hangin'! Good grief, this update was EXACTLY what I wanted for these two! Cannot wait for more!
Emmy -
SO MUCH SLASHY RILEY!!! My heart pitter patters at the thought. This is just perfection! & I am still so giddy that my fave slashy boy is getting so much love! Go Team GAY-RILEY! :)
Posy -
This totally non-sporty girl just fell in love with two quarter backs. Shy Riley paired with Cocky Jasper is total win.
---
---
Jen - I have no words to properly express how much I love this o/s. So, so hot to see Emmett follow his body's cues and not his brain's thoughts so that he can have his way with Riley. UNF.
Jeanne -
OMFG I LOVE this fic. The pairing was what caught my eye first, then the prompted make me click and read right away. I love these two. From Emmett's relaxed, almost nonchalant acceptance of his attraction to roommate, to Riley's open sexuality. The sex is hot, but also sweet. I would love to see more of these boys. I bet a shopping spree at Victoria's Secret could prove to be very fun. UNF!
Emmy -
Cor blimey!!! From one Brit to another! I am not a huge Emmett fan. However I am a total slut for Riley. So I had to dive into this one!
Chele -
Ditto what mah pervs said. This was both witty, adorable, and hot. I loved it!
Posy -
I feel like I died and went to slash heaven. Cross dressing slash heaven. It's a wonderful place to be.
---
---
Jess -
I adore reading
Mskathy's
beautiful words, and these definitely fit into that category. But these also fall into the hot hot hot category!! Edward forgets the milk... Bella makes him pay. So good.
Jen -
We all know
Mskathy
gives good smut, but what I really really go crazy for is the background and psychology she creates for her characters. Seriously hot, and it's only made better by the emotional connection and understanding that Edward and Bella share.
Teal -
Everything MsK touches turns to gold...dirty, sexy, wordpr0n gold <3
---
AU, O/S, E/Alec/Caius/Demetri, Slash, Blood Lapping
---
Jen -
This o/s is the result of another Twikinkfest prompt. Besides the kink, there's a whole lotta mind-fuckery here. I am hoping that
RaindropSoup
continues the story because there's so much back story and amazing possibilities for what happens when Edward leaves Volterra. The situation, pairing, and kink may be hard limits for some, but it's so worth reading.
---
---
Jess -
Another goody from the Twikink fest... can I just say older Carlisle, younger Riley, bondage and guests downstairs? Teasing, Teasing, Teasing, and BAM, holy hot hell! Go!
Emmy -
Hello?!!! One of my fave slashy fic characters (RILEY!) and one of my fave slashy fic authors? You just know that this HAS got to be good! And it SO is. I partic loved naughty flirty Riley trying to make Carlisle's son Edward blush......
---
AH, WIP, E/B
---
Jess - If you aren't reading about Stella and Ned, grab a glass of wine and get on it. I love, love, love these two so hard, and now that things are on the up and up, I can't wait to see where we go from here!
Teal -
I said it before, but I just don't know why I didn't start reading this fic sooner! These two are so sexy and fun, and I had a big ol' squee when this update appeared in my box!
---
MERLIN, AU, Modern, Complete (novella-ish),SLASH, MERTHUR :)
---
Emmy - I have MssDare to thank for linking me to this gem... UNF! Set in Modern day Wales. BUT WITH MAGIC AND STUFF!!!!!! Merlin has a COMIC BOOK SHOP! He is geeky and perfect and adorable. He also has random sexy times with a stranger. He doesn't remain a stranger for long, but unfortunately in the worst possible way. Angst and hard on's and GAH follows! A must read!
---
AH, WIP, E/B
---
Corie - Have you ever wondered how Edward's canon ability to read minds would have affected him when or if he was human? I have and this fantastic story does a superb job of showing that and also reinvents the idea of Bella being his singer. Her thoughts are not closed to him, but are the loudest and most attractive to him including one phenomenal oral on the bar fantasy that may or may not come true.
---
AH, WIP, E/B
---
Jess - We are nearing the end of this crazy mess (and I say that in the most loving way possible!). Watching these two together - especially Bella - is like watching a car crash. You want to pull your eyes away, but you just can't... I'm DYING to see how things end for them. This latest update left my heart heavy, and the very angry, hateful, bitter sexy times were poignantly told. Is a HEA in store for these two? Good grief, it's a toss up. My heart wants it but my head says there's just no way... gah!
Corie-
I completely agree with Jess this story has me by the proverbial balls and I just can't look away. I am still holding on there is a way for them to come past all the hurt and pain, that not only they have caused but has happened all around. I fear that may be naive of me at this point. I think its beautifully written and it's for sure a must read in my book.
Teal -
What a fucking roller coaster. With more secrets exposed and the raw heat between these characters, there's no telling what direction this story will take. You can help but want to see characters end up with either happiness or some sort of closure at the end of a story, but neither may be possible here. That's what makes it worth continuing to read!
---
AH, WIP, E/C, Slash
---
Jen - It might be hard to imagine that a story about ex-lovers driving to a funeral in another state could be funny, but this story is. It's also sad, not only because Carlisle is going to bury his beloved grandmother, but because these boys still really love one another and can't bring themselves to talk about it just yet. They do let their bodies do the talking, however, much to me and my pants' excitement. I can't wait to see Edward break down and admit to Carlisle that he made a mistake all those months ago.
---
AH, O/S, E/B & Riley...
---
Jen - The Twikinkfest sure has brought out the voyeurs and exhibitionists in our fandom. Three cheers for that! Edward isn't able to be physical with Bella how he usually is, and he enlists Riley to carry out his every wish and command. Unf.
---
AU, Complete, B/S
---
Jen - An unexpected and most welcome treat. Same comes home from the grocery store absolutely desperate for Bella. Only good things can come of that; even better when Sam shares some information that leaves both of them relieved.
Teal -
Bella mentions "death by oral" and you know it has to be good! Rawr. I just want to eat this, or print it out and roll around naked in the pages. Gah...sofa king good.
---
RED (movie),AU, Cooper/Frank, Slash
---
Jeanne -
Ever since I saw
this fantastic fight scene
in the movie Red, I have by dying for Cooper/Frank slash. There is just something about two men beating the ever-living-shit out of each other that gets me hot and makes me wonder how much hotter it would be if they were naked. Call me a perv, and you would be right. If you like action, don't mind violence and love the understate beautiful of two very dangerous men in love, check out this great one shot.
---
AH, WIP, E/B
---
Jess - FINALLY! That's all I'm gonna say, because it was worth the damn wait. JS
Teal -
Finally is definitely the opportune word here! Reed Girl and cocky QB Edward have come a long way, and it was awesome to finally see them go wild. Sexy and very sweet. Oh, and it has a little bit of my own personal fantasy...wearing his jersey while fucking =)
---
AH, complete, Seth/Jasper, Slash
---
Jen - This angsty, three chapter fic has the sweetest Seth. He knows how he feels about Jasper, but when his best friend suddenly stops speaking to him, his heart breaks. What happens when they see each other after a long summer without even a phone call? I'll let you discover that on your own. It's both a coming of age story and a love story, and I know that Seth will steal your heart.