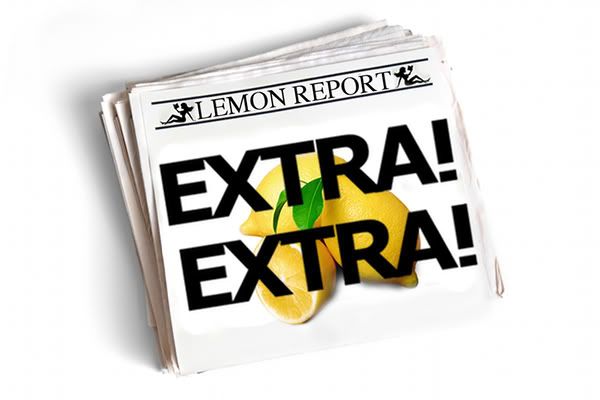 The Lemon Report - Fancy finding out what is on the FF bookshelves of the Pervy Girls of the PPSS? The lemon report lets you know our personal favourite updates of the week, and why you should give the fic a try.... It's a great place to trawl for new recc's and don't forget to share your favourite update with us by leaving us a comment.

In some cases, the Lemon Report may contain spoilers. Please read with caution.


Acronym Guide

AU - Alternate Universe
AH - All Human
WIP - Work in Progress
O/S - One Shot
OOC - Out of Character
WP - Wussperv
Slash/Femslash - Features homosexual characters and romance.
Twilight
Twilight, Edward/Bella, AH, Complete
---
Corie -
HOLY FUCKING SHIT. I about died reading this story. It's one of the hottest dirty Edwards around and he owns a sex shop should I even keep talking? Yes ok. Bella has been stalking Edwards Adult Book Store for months and then one night she has the balls to go in and that is when I DIED lol. Seriously fun, dirty, sex filled quick fic. So well done and complete!
Nico -
This is on my list to read and now after reading Corie's comments I am even more excited to jump in then I already was. :)
---
Twilight, AH, WIP, E/B
---
Teal -
Ermehgerd! Technically there was more implied smut than the real deal, but I
had to
mention this update. Soooo sweet!!!! I'm glad these two are getting their shit together and on their way to happily ever after.
---
Twilight, AH, WIP, Edward/Leah
---
Teal -
Aww, there's nothing like a wedding bring out the romance. Leah in a backless dress, all dolled up? I'd be waiting all night to hit that too ;)
---
Twilight, AU, E/B, Complete
---
Nico -
Savage does it again by sucking me in. It's complete and that last chapter packs some serious punches in all sorts of ways. ;)
---
Twilight, AU, E/B, Complete
---
Nico -
I really enjoy a story that pulls me in, gets me going and then finishes up in a great way. Edward is sweet, Bella confident and willing to push Edward past his comfort zones, but all in the best of ways. :)
---
Twilight, WIP, Modern AU, Het, E/B
---
Emmy -
It takes something special to tempt me back to Twi. And well this was it! A fic I had
LONG
given up for dead and abandoned was updated!!!! What a lovely shocker that was. A great update. And great progress for hostage in hiding Marie and her fake fiancee (but real love) Edward! Yay!
Chele -
Dude... This isn't abandoned?! Long live Twi-fic!!!!
Harry Potter
Harry Potter, O/S, Harry/Draco
---
Chele -
The ban on deathers having wands has just been lifted, and Draco wanders into Ollivander's in search of a replacement for the one he lost in the war. The wand chooses the wizard, as they say... and this wand, a uniquely shaped wand indeed, has chosen Draco. Hilarity and smut. That was so much fun to read.
---
Harry Potter, O/S, Harry/Draco/Severus
---
Chele -
That's right. For those of you who didn't get enough last week, I've got more Harry/Draco/Severus Threeway! This one is a bit less light-hearted, as all parties are very much in character. Severus is broody and intense, and I love the way they all interact with one another. The personality dynamics are perfect. This story is pushing this threesome to the top of my list. Unf.
Merlin
Merlin, O/S, Canon-era AU, REVEAL!Fic, SLASH, MERTHUR
---
Emmy -
I love this fic. Merlin returns after being banished for magic. In the 'chat' that follows, Arthur tries to get Merlin to take
them
seriously, and ends up insulting them in the process. So it looks like sex and love is off the table, or is it? My description really doesn't do it justie. Its a lovely mix of magic, and love, and desire, and love, and fear and hope and love! Lovely!
---
Merlin RPF, O/S, SLASH, RPF, Brolin/CODLEY
---
Emmy -
I have all the feels for Brolin at the mo. So I reread this this week. As I needed more Brolin in my life. Smutty, yummy delight that it is. Oh those boys.... gah. Endless scrummy kissing. LOTS of teasing. And jaysus! Dirrrrrrrrrty talking Bradders FTW!
Merlin, O/S, Canon-era AU, Magical, Threesome, SLASH, Merlin/Arthur/Gwaine
---
Emmy -
Yep I really did list a fic that is not just Merthur?! Shocker eh? But
Fr333bird
had assured it would be ok. And it was verrah hot!!! Lovely MAGICMADETHEMDOIT! fic. Not a proper Poly fic, but deffo threesome action until Merlin manages to calm Arthur down (with his cock!). **grins**
Chele -
I happen to think that all threesomes are magical, but this one literally is.
---
by Various
Merlin, PORN, DRABBLES, Various Pairings (mainly Merthur)
---
Emmy -
One of the things I love best about the Merlin fandom, is all the amazing commentfests that spring up. And all the challenges and gifts that are done as ways for people to either give something back to others, or to flex their writing muscle, normally both! The latest such thing to spring up is
Summer Pornathon 2012
. Don't have time to read a long fic? Or want a simple but quality hit of pure smut? Well never fear! The answer to both those questions is
Summer Pornathon 2012
. With each round having fantastic categories, such as fuck or die (giving rise to Zombie fics!), there is a great selection to whet your whistle! Jump on in and lift your summer!