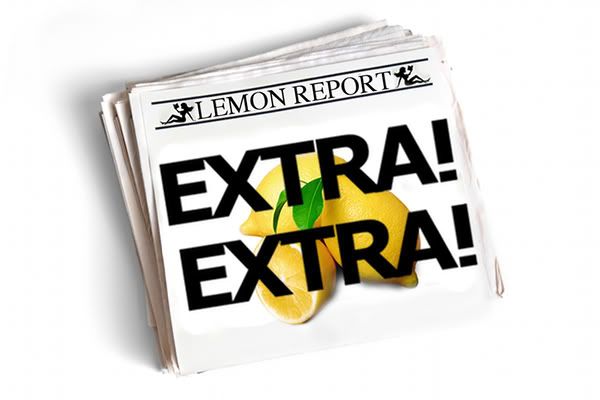 The Lemon Report - Fancy finding out what is on the FF bookshelves of the Pervy Girls of the PPSS? The lemon report lets you know our personal favourite updates of the week, and why you should give the fic a try.... It's a great place to trawl for new recc's and don't forget to share your favourite update with us by leaving us a comment. In some cases, the Lemon Report may contain spoilers. Please read with caution.
Acronym Guide AU - Alternate Universe AH - All Human WIP - Work in Progress O/S - One Shot OOC - Out of Character WP - Wussperv Slash/Femslash - Features homosexual characters and romance.
---
Twilight, AU, Complete, Edward/Bella
---
Corie -
I have to say I really really fell in love with this story. It had me laughing and crying and its so well written.
jandco
really does an amazing job at capturing canon Edward, I fell in love with him all over again and this story reminded me almost 3 years later why I started reading fic. This story picks up in the ballet studio and a Edward sucks the venom from Bella's wrist her blood turns out to be his antidote and Edward wakes up 3 days later human...What follows is beautiful and I just loved the journey it took me on
---
Twilight, AH, E/B, Complete
---
Nico -
Abstract Way gives us another addition as a Comic Con special so to speak. I love the truth behind this most recent update, the pain and love behind all that she bring out. Makes you just want to steal Edward from the pages more and more at his amazing ability to Woo. The lets not even mention his awesome sexy swoon worthy lovin, whew! :)
---
Twilight, AH, Complete, Edward/Bella
---
Corie -
I'm still on my complete fic kick and this was a sweet and endearing nerdward. I love the sweetness and beautiful love story that unfolds among the humor and life infused into this story.
---
1D, RPF, O/S, Harry/Louis, Slash
---
Jen -
Quick and dirty smut!
---
1D, RPF, O/S, Liam/Louis, Slash
---
Jen -
I really do want the boys in One Direction to be happy forever and ever, so I'm not really sure why my favorite stories about them tend to lean toward super angsty. The band fell to pieces a few years ago, due to Liam falling into a deep depression and Louis turning to alcohol. Louis is visiting London from his current home in the US, and wants to see Liam face to face for the first time in ages. They find their way back to one another, and also to the group. With lemons and FEELINGS.
---
by Various
1D, comment fic, RPF, Liam/Louis, Slash
---
Jen -
This thread is filled with every manner of smut starring Liam & Louis.
---
1D, O/S, Harry/OC, RPF
---
Jen -
sadtomatoff
added another vignette to the Harry-verse I put in the Lemon Report last week. Holy hotness, Batman!
---
Harry Potter, Draco Malfoy/James Potter, Complete, Infidelity
---
Chele -
This is some of the hottest, forbidden, smut in the entire fandom. James Potter takes a job at Malfoy's office, representing those recently arrested by the aurors. This leads to many a long day and late night, eventually combusting in a conflagration of flesh and guilt and love.
---
by Anon
Merlin, AU, WIP, Merlin/Arthur, Slash, Age difference
---
Jen -
While at first glance they didn't care for one another, the ust between private detective Arthur and client Merlin is intense! They've figured out that they're equally attracted to the other, and the sexy times begin.
---
by Anon
Merlin, AU, Complete, Merlin/Arthur, Slash
---
Jen -
This is just beautifully written. Arthur seems to know how to calm Merlin, and Merlin knows how to draw strait-laced Arthur out. While perhaps an actual homeless person would not start trying to trust people so easily, the connection they share is genuine, and it's a very hopeful piece.
Emmy-
This truly is a beautiful story. The author has left us in a lovely place. With a future not set in stone but looking good. I love both Merlin and Arthur in this.
---
by Anon
Merlin, WIP, Magical AU, Historical, Genderswap, Girl!Merlin/Arthur
---
Jen -
I love love love this story. Even if you don't care for genderswap, please do give it a try. It's gorgeous and I drop everything to read the updates. Morgana entered the story recently, and she's such a fun character. I'm constantly amazed at the different yet equally sexy ways author!anon writes lemons.
Emmy- Jen, you've convinced me to give it a go, with your weekly flailing! Its on my TBR after my thesis is in the bag! :) PS JEN REALLY DOESN'T LET UP! ;) LOL
Jen -
just part of my charm ;)
---
Merlin, Modern-AU, Novella, ADORABLE, Slash, Merthur
---
Emmy -
I really do love this slashy delight. I think it might be the most adorable fluffy without being saccharine slash story I have ever read. For all you Slash loving WussPervs out there, this is the perfect fic! I ADORE both Merlin and Arthur in this tale. I partic do love an oblivious!Arthur, and this is a particularly good one. And I want you all to read it so you can squee with me over things I cannot say here or I will spoil it! :) Plus it has a very hot fingering scene. :)
Jen -
Emmy emailed first thing in the morning about this fic; I could
see
her flailing all the way from England. I dove right in and proceeded to smile so hard it hurt until I finished reading. Great banter and joking. Simply adorable, adorable Merlin and, as Em calls him, oblivious!Arthur. You'll love it!
---
Merlin, Modern AU, O/S, Dirty, Cross-Dressing, DaddyKink, etc, SLASH, MERTHUR
---
Emmy -
Jen n I were chatting about this fic this week, and realised we hadn't recc'd it here for you lovelies yet. And we know just how much you love dirrrrty filthy smut. So here it is. As always with
TourDeFierce
its beautifully written, emotional and raw. If you enjoy this one, you must check out her AMAZING fic, that we recc'd back on a special a while back, the
Picture Maker
Jen -
omg I love crossdressing fic, and this is absolutely hot! Love debauched Arthur!
---
Merlin, 2011 Pornathon Entry (so a short piece), Modern AU, School/College, SLASH, MERTHUR
---
Emmy -
And since I am slipping in some dirty fics, I just had to erm slide this one in... You'll get the play on words when you read this dirty delight. Merlin gets something stuck. Arthur has to help him out of course! Just how much do you think he lends a hand? **winky winky**
---
Merlin, AU, 2011 Pornathon entry, O/S, Percival/Elyan, Slash
---
Jen -
We all know Percival is a big guy, but what if he isn't big all over. Elyan shows him size doesn't matter. Unf!
Emmy - Yes! This fic is really good. Lovely bond and chemistry between these two, gentle AND sexy. Love Percy's vulnerability and Elyan's caring side.