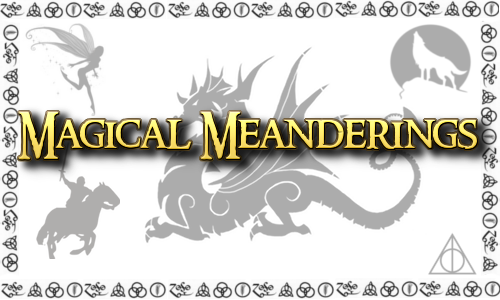 In our ongoing quest to seek out new smut fic to entertain and delight our readers the pervs have created the Magical Meanderings. Here we will spotlight sexy fics with a magical theme, from any number of fandoms. Fairies, dragons, wizards, shape shifters and even knights will take center stage in these magical and sometimes even mystical tales. Bring your imagination and prepare to be enchanted by some enchanting, erotic fan fiction.
---
Emmy

Blackbird
by
40_miles
Fandom: Merlin
Summary: A story about two men in London. One of them is tetchy. The other is quite hopeless. They're magic. Modern AU, MAGIC, Novella, SLASH, MERTHUR

I honestly don't think I could have picked a better story to present to you for our inaugural
Magical Meanderings
post. As the theme of magic throughout this beautiful, beautiful story is key. Merlin has magic, a very strong and a very natural magic. Yet its only when Arthur comes into his life that he, that they become
magic
. The imagery and description in this 3-parter is beautiful and lush. The way that
40_miles
uses his magic to illustrates Merlin's feelings for Arthur is just wonderful. So lyrical and evocative. Merlin's magic is organic, the effect that Arthur has on his emotions, causes happy, frothy magic to bubble up and out of Merlin, without him even noticing, enriching the world around them. But what happens if his love, his Arthur is in trouble? What will Merlin's natural magic, that responds to his innermost emotions do then? And what will happen if Arthur were to find out about Merlin's magic?
This fic is at times a wee bitty traumatic or angsty, which works so well as some other scenes are so light and full of warmth and hope, that the darker times contrast so well and you are aware of just what Merlin will lose. Although everything here is Merlin's POV, we get a wonderful sense of the complexities of Arthur too. And the initial impression Arthur creates is quite different from the man Merlin uncovers. The sex scenes are as beautiful as the rest of the fic, tender and warm, with little flashes of naughty that made my tummy clench. A perfect and magical mix of a fic.
Merlin watched until he merged into the crowds, his blond hair like a crown shining brightly in the distance. When he rounded a far corner—gone—Merlin touched his cheek. A rainbow arched from one end of the street to the other.
Chele

Stuck on You
by
SexySloth
Fandom:
Harry Potter
Summary:
An unfortunate misplaced charm puts Professor Hermione Granger, Spells Mistress and Charms teacher and fellow colleague Professor Snape in a rather...awkward position.
Whatever shall they do? Nothing like a bit of magic gone awry to give a couple the opportunity to explore previously unacknowledged feelings. Especially when that magic causes you to be stuck together in the most sensitive of places. Okay, it's not very highbrow, but there's something adorable about Hermione and Severus, two upstanding Hogwarts professors being subject to a poorly-cast sticking charm, and spending a bit of time joined at the hip. Literally.
Unsurprisingly, it's our brave Gryffindor who first gathers the courage to take advantage of their compromised position with a little clearly intentional maneuvering.
"Sorry, but I was trying to reach my wand. It landed somewhere by your desk after the explosion. I tried to accio it, but it seems that as I cannot see it, I cannot summon it properly." Hermione responded as she further attempted to shift her body in the right direction.
Give this one a read, it's a quick, fun, fluffy one-shot that will bring a little magic into your pants.
Corie

The Invited Series
by
astolat
Fandom: Labyrinth
Summary:
Three times Sarah invites Jareth in. AU, Jareth/Sarah
I have to thank Chele for making me dive Labyrinth fic. Seriously made my day when I stumbled upon this series of 3 o/s based on the movie Labyrinth. I think I have seen that movie over 20 times to be honest. I adore the music and the plot of the movie, but it was the tension between Jareth and Sarah, the feelings it creates within me that made me want to find some juicy fic.
I think I hit GOLD with this one. It picks up the day after Sarah has rescued her baby brother Toby from the mighty Goblin King. He lost her from his world but can't seem to let her go in hers and as the stories progresses we see Sarah grow up and Jareth is always there watching, wanting what he lost that day in the Labyrinth. She can't find fulfillment in other men, she's still lost in that blurry line between the ordinary and magic. Each O/S is a different encounter with them from an innocent touch of her cheek, to another dance that last an entire night. When they finally give in to one another, the tension and magic mingle so well.
Jareth never loses that slither like quality his character had from the movie. Sarah's character growth is sweet and realistic. Leather gloved hands in naughty places has never been more delish. If you're looking for something nostalgic, sweet and burn your pants sexy you found it.
"I'm not afraid of you. I won't be afraid of you," Sarah said, and hoped it was still true. "You were younger then," he said. "It's not your fear I want anymore."

If he wasn't trying to frighten her, she didn't know why she was shaking. "So what do you want from me?"

He smiled, his wicked mouth the thinness of a blade, and he leaned in—leaned in to—and then he turned his head to one side and his lips just brushed her ear. "What would you give me, Sarah?" he whispered.
Jen

We Get Around
by
novemberlite
Fandom:
Merlin
Summary:
The round table is useful for all sorts of things
Have you seen Arthur and his knights? Wouldn't you like to be fucked within an inch of your life by them? On the round table, no less? That's exactly what
novemberlite
says Merlin wants in
We Get Around
. To be honest, I have no idea if the round table ever comes up in Merlin, the tv series.
I don't really care if it does; I love that
novemberlite
uses this icon of the Arthurian legend as the site of Merlin's night of debauchery. The premise of this smut-o-licious one-shot is that after returning from hunting, the knights take turns fucking Merlin. At first you might think that the knights are in control, and that Merlin is simply a hole for them to use. I could not have been more delighted to find that the reverse is true. Merlin uses his magic on the knights fucking him to deny and delay their orgasms. He also prevents the other knights, who are of course watching Merlin in all of his glory, from touching themselves. Magical bondage FTW!
Merlin is completely wanton. He simply wants to be filled--with their cocks, with their come. Merlin is adorable--taunting the knights to show who's in charge. How Merlin even has the presence of mind to magically restrain Gawaine, Lancelot, and Arthur while he's being so well fucked by Percival, I do not know. I will have sweet dreams tonight, imagining the future adventures of Merlin and his horny band of knights!