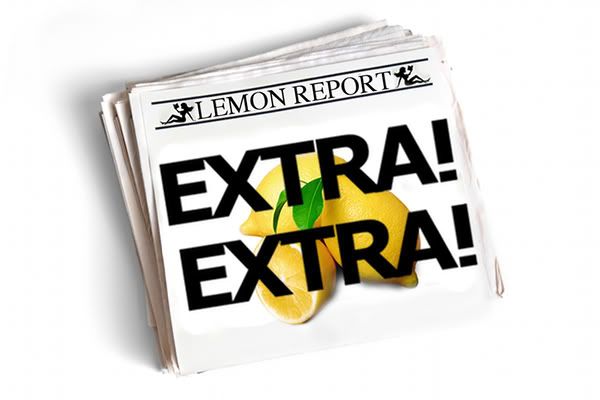 The Lemon Report - Fancy finding out what is on the FF bookshelves of the Pervy Girls of the PPSS? The lemon report lets you know our personal favourite updates of the week, and why you should give the fic a try.... It's a great place to trawl for new recc's and don't forget to share your favourite update with us by leaving us a comment. In some cases, the Lemon Report may contain spoilers. Please read with caution.
Acronym Guide AU - Alternate Universe AH - All Human WIP - Work in Progress O/S - One Shot OOC - Out of Character WP - Wussperv Slash/Femslash - Features homosexual characters and romance.
---
Twilight, Bella/Edward, AU, Complete
---
Corie-
This story was just marked complete last week and in my opinion if you're a vamp lover and haven't started reading this one its AMAZING. I loved the characters, the background the AU world she created. Intense, sexy and bloody what more could I ask from a vamp story.
---
Merlin, Modern AU, Merthur, Slash
---
Jen -
I didn't have a chance to check out
There Are No Gays in Football
when some of the Pervs recc'd it a while back. I started it yesterday and I think I broke the flail-o-meter. Everything about this story is perfect and amazing and wonderful. Sexy and so full of the feelings.
---
Harry Potter, Harry/Draco, Complete
---
Chele -
Brilliant Post-Hogwarts fic.
Pushdragon
does a great job of keeping both Haoory and Draco in character, but giving the reader compelling illustrations of why they are compatible, and incendiary. The story is predicated upon Harry's seeing Draco in a pub wearing glasses. The image is sexy, both to the reader, and to Harry, and this simple change effectively allows Draco to be viewed in a fresh way. Awesome, intense, and erotic. A great read, and perfectly paced two-chapter fic.
---
Merlin, Canon-era, AU, O/S, Slash, MERTHUR
---
Emmy -
Wow! This was such an original take on the Merthur world and the legends of the once and future king and excalibur. A really earthy, feely fic, that grabbed me and kept me thinking for AGES about it. I am dying for a sequel.
YOU CAN'T LEAVE IT THERE!!!
The dynamics in this fic are so good. Arthur is a servant like Merlin, yet Merlin can still not be honest or open with Arthur about his magic. And the lemon is just gorgeous. Merlin is so innocent, and Arthur is so gagging for it. Gah. Perfect. Yeah, love this fic!
---
One Direction, RPF, Louis/Harry, Slash
---
Jen -
LittleMousling's
fics are like potato chips. You cannot stop at one. I read one, and then I had to read them all. This one is simply adorable. Louis knows he's gay, but has no one to experiment with. Enter Craigslist and lovely first times with Harry ensue. The ending made my heart all squishy.
---
Merlin, Modern, AU, Angst, Infidelity, SLASH (some het), Merthur
---
Emmy -
Ouchy. This hurts. But is SO WELL DONE! I actually read this through more than once. Painful and prickly yet pretty and beautiful.
---
Twiliight, Bella/Edward, AH, Complete
---
Corie-
Looking for a fun, super cute story? Then this is a must read for you. When Bella needs to find a new place to live, she answers the only semi normal ad she can find and in walks Edward into her life. They fall into an instant friendship and flirtation only problem is a fiance named Sam... I spent a morning with these characters and just had the best time reading this story. It is a complete story but the author has some outtakes planned and EPOV to look forward too!
---
by Various Anon's
Merlin, Multiple Pairings, Slash and or Het, Some Underage
---
Emmy -
This fest is just fabbio! With more fabby fics being added all the time. So ruddy good! I've only read the Merthur fics, so cannot vouch for the other pairings or het.
Jen - I am loving this fest. It's got everything- some gorgeous art, fluffy happy adorable fics, fics with a touch of angst, and of course loads of smutty, smutty high school loving.


Chele - Love everything I've seen from this fest so far. I'm normally not a fan of high school fic, but these are so well done it's like a breath of fresh air.
---
Twilight, WIP, E/B, AU
---
Nico -
I love when I fall behind in a story, jump back in and right away I get rewarded with some lemony goodness. What I really like about this Edward and Bella is that the roles are kinda reversed and Edward is just so sweet and quiet I can't decide if I want to eat him alive or snuggle forever. :)
---
Merlin, Canon-era, AU, O/S, Fluffy, Slash, MERTHUR
---
Emmy -
Warm, cozy, romantic fluff, of the cozy under the bed-covers kind. Merlin has so many feelings for Arthur, and can never let him know. So instead he pours it out whilst he is asleep.
Chele -
Swoony and adorable.
---
Divergent, Tris/Four, O/S
---
Corie-
I'm an uber fan of this series of books by Veronica Roth so it's only natural I went fic diving and boy and I'm glad I found this. Its perfectly canon FourPOV that could be a missing scene from the novels.
SippingCoffee27
does a phenomal job at keeping the characters voice and staying true to who they are, all the while bringing us the intense sexual relationship between them that I was craving.
---
Merlin, Modern AU, Merthur, Slash
---
Jen -
Oh my dog, the FEELINGS in this fic. A gorgeous exploration of emotional infidelity, with so so so much longing. And when our heroes are able to be together, finally? Oh, yes, please.