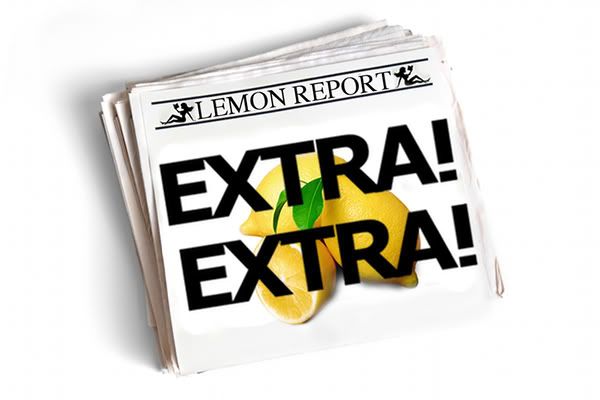 The Lemon Report - Fancy finding out what is on the FF bookshelves of the Pervy Girls of the PPSS? The lemon report lets you know our personal favourite updates of the week, and why you should give the fic a try.... It's a great place to trawl for new recc's and don't forget to share your favourite update with us by leaving us a comment.
Acronym Guide
AU - Alternate Universe
AH - All Human
WIP - Work in Progress
O/S - One Shot
OOC - Out of Character
WP - Wussperv
Slash/Femslash - Features homosexual characters and romance.
---
AH, O/S, Bella/Jacob
---
Chele -
For those of you who, like me, were a little hearbroken after Jacob rejected Bella in the rain, here a little heart-soothing one shot with healing, hotness, and humpage.
Jeanne -
Holy Hotfuck, Batman! I have now learned my lesson to keep
MeraNaamJoker
on author alert, cause this lady never fails to fucking blow me away.
Effective Communication
is no exception. This sexy, steamy little one shot left me aching and panting for more.
Jen -
Is it clear yet that we love
MeraNaamJoker
and her porny, wolfy heart? Well, we do. Short, sweet and ends with a bang (twss).
Teal -
Ahhh, another tasty treat from one of our favorite wolf girls! Although I'm not sure canon Bella would reallllly let things play out as they did in this particular scene, I'm not complaining about this hot little number. Rawr!
---
AH WIP E/B
---
Emmy-
**Swooons** I just adore RancherWard. Especially this RancherWard. He's the loveliest, deepest, strong and silent type of yum. He's a gent and he's mighty might fit!!! These two have both been battling their individual pain and hurts whilst proving to be the balm and motivation the other needs to get past the hurt. The kissing is hot enough. So the Lemon? Divine. RancherWard is a man of few words, he only says the right ones - but boy is he a man of action and grace!
Jess -
I did a little happy dance when I got not one, but two updates from this story in my box. I had been missing this little gem of a fic hard core with all the FF.net fail. It's no secret I love me some Rancherward... and
Elusivetwilight
has written a super hot, super believable man. He's quiet, unassuming, and so freaking hot with a beard... and then not... they finally did it. And it did not disappoint.
---
AH Edward/Jake Complete
---
Jess -
It's no secret the Pervs love this story, but after getting through to the end, I feel so much more than that. This is a glimpse at two friends who push the boundaries of their friendship to discover something new and beautiful together. It's not without its challenges, but the journey is sweet and prize is even better. The lemons - intense, beautifully written, raw, real, and pushing to new frontiers - will rock your face off. Get on it, girls.
Jeanne -
What a way to end a fic! Bittersweet has never been more accurate. I love these boys, and I will miss them now that the story is over. However I am hopeful that we might see them again. Really, if you haven't read this yet, you really should.
Liz -
Ohh my gawd I haven't been this sad to see a fic end in a very long time. I hope we get to visit with these boys again some time, because I will surely miss them. This was a great story of love and discovery. Oh, and the lemons were INSANE.
Chele -
I am so swoony and in love with this fic and these boys. So excited to know that
sadtomato
has a few extras up her sleeve.
---
AH, Multichapter Complete, Jake/OC
---
Jeanne -
Okay, this isn't a "he's so hot he turns her straight" story. This is a these two people share a sexual connections that goes way beyond the confines of sexual orientation. I don't usually like Original Characters (OC) they are usually either boring or a self insert of the author. Well, if Justine Brenner is a self insert I will be the first in line to fuck
Pavarti
. Holy hot shit, she is sexy, confident and a very believable as a lesbian. Seeing her interact with Jacob is hilarious and such a turn on. Jake is equally as confident and sexy, so much so that when these two come together it sets your monitor on fire! *fanself and goes back to reread*
Jen -
I checked out
Pavarti's
ffn profile last week because of a teaser she put in the
Fictionators
Teaser Monday
for a
yet-to-be-posted fic
. I figured I'd read some of her other stories while waiting on the new one, and
Grindcore
was the first one I checked out. Gotta say, I'm pretty damn jealous of Jake. This fic is hotttt. This girl can write smut; I'd put her on author alert if I were you.
Teal -
I read this mini fic after hearing my fellow Pervs flip for it. I could definitely see why. This OC takes all the preconceived fanfic notions about lesbian characters and shows us how it's really done. Throw in an irresistible asshole in the hot sexy package that is the Jacob in this story, and things get intense, desperate, and unbelievably steamy!
Chele -
What an awesome little fic this was. It's like the perfect hook-up: low commitment, high intensity, and clever conversation. Bonus? A surprising amount of depth and eroticism. Total Win.
---
AH, O/S, Slash, Jake/Ed
---
Jeanne -
Edward is a stiff professor, who has a dilemma. One of his most promising students is also one of his most challenging students. Jacob is always late, often sleeps through class, but when he participates in class his insight often leaves Edward speechless. So when Jake gets a bad grade on his paper and offers to earn a better grade with a blowjob, Edward is understandably shocked, and deeply shaken. This story is subtle, and careful. Edward's anxiety, fear and confusion are so real that it often left my stomach in sympathetic knots. The sex is hot, but more than that the story of these two men finding their way is compelling and beautiful.
Emmy -
What the feck would I do without Jeanne? Not just cause I love to love on her, but because she recc's the yummiest slash to me...
This fic is great (although my coothy WussPerv heart, got a little sad that Bella couldn't float his boat in the opening of the chapter! Christ - I am SO LAME!) But I pushed past that momentary tizzy!
This fic is tingly burny hot to me. But as Jeanne so beautifully puts it above - this fic is so much more than just someone trying to get their end off as they are hot for teacher or have a power fetish. Beautifully done.
Jen -
I really adored this Edward. There just something so endearing about his type A, by the book personality. Even though he's thrown back on his heels by Jake's very forward offer, he doesn't completely shut him down and he's completely genuine in his offer to help Jake. It's this that allows them to develop a real relationship, and not just have steamy hot sex.
---
AH BDSM E/B and Carlisle WIP
---
Jess
This LR should really be called the "Jess loves
sadtomato
report, because I am beside myself with admiration for her talent. This little AU of her AH fic, originally part of the FoxyFics compilation, is a glimpse into what happens when Edward gives Carlisle the power to be with Bella. It's intense, lemony to the core, and will leave you wanting for more.
Jen -
Oh, please, Master Carlisle, give it to me. UNF.
---
AH Angsty Edward/Jasper WIP
---
Jess -
So, I am soooo late to the party on this story. I have been getting updates on it for months and only just started this last Sunday. I have literally been reading it (these chapters are looooooong) in every spare minute I've had. It's left me turned on, heartbroken, twisted, and achy. There is so much hurt and pain, but the love that's buried right under the surface is so rich and real it's breathtaking. The lemons in this story are intense and have left me needing a minute on several occasions. Hot boy love... unf!
Liz -
There are a handful of writers that never fail to produce work that sucks me in and won't let go, and Touchstone67 is one of them. Her deep love for these characters, and penchant for bringing them through terrible, wrenching pain (trigger warning!) only to emerge stronger than before, is evident in every chapter. Jasper and Edward are survivors, and Touchstone67 surrounds them with amazing secondary characters that aren't just throw-away place holders. You'll fall in love with Jasper and Edward, but also with Peter, Riley and eventually Spencer.... and you'll BEG for more Seth.
Emmy -
This is a brilliant fic, but I am going to tell you WussPerv's now - this fic gives me constant heartichoke. BUT its so worth it. Each chapter I have to do a wee skim read first - just to check my heartfail quota and then if safe I will read all the way through! Yup Emmy *is* that sad! I have to make myself wait tons for this fic, but then normally cave after getting fed up waiting..... These two (plus supporting two!) are on such a journey. I feel for them so much. AND worry about them so much. Poor wee lamb's! I comfort myself by rereading the original one-shot and the pretend-future-take and trying to convince myself that the latter really will come to be! (A WussPerv has to comfort herself somehow right?) Anyways. You must read this. Jasper is so much more than a 'tart-with-a-heart', he's had an incredibly tough life and is now trying to find a way to his happy-ever-after - something that prior to Edward he couldn't even comprehend. He's obviously well versed in sex and the streets, but he is incredibly vulnerable and innocent in so many ways. Edward on the other hand is repressed to within an inch of his life. How these two manage to find a way together makes wonderful reading. But oh I feel for Peter. The poor bastard.... **prays that TouchStone has a way to get them all a big messy, wet and sloppy happy ending.... **
---
AU Femmeslash Sulpicia & Didyme Complete
---
Jess -
This is a heartbreaking love story that is beautifully written. Originally written for the "In the Closet" competition, it won second place for femmeslash. The tender touches, the knowing glances, and their lovemaking is simple and touching.
Trin -
This is such an amazingly written story, it is lyrical, lovely and heartbreaking all at the same time. The chapters are very short and they span centuries but they tell of a forbidden love that seems be a fire in both women.
Liz -
It takes a lot to get me to read vamp/canon these days, and nearly as much to get me to read femme slash, but my swooning fellow pervlings convinced me to give
Arcana
a try. The delicate, evocative way
Solareclipses
weaves the story draws you in, sharing with us a forbidden affection between two women that fits perfectly, and sadly, within canon.
Jen -
I got the alert for this story from the
Femmeslash & Polyslash Recs C2
sometime last week. It's not a new posting, but I'd never read it before and the pairing of Sulpicia and Didyme was intriguing. It's gorgeously written and is so very believable--both in the canon sense of believing it could have happened this way and in the real life sense of a woman trying to make sense of what loving someone means.
Chele -
This story is stunning. Beautifully written, achingly erotic, and a bit devastating. Loved it.
---
AH E/B WIP
---
Jess -
Four words: Parking lot and fingers. So freaking hot.
Emmy -
I think what I love best about this fic, is how sexuality and emotions cause sanity and rationale thoughts to leave the building. Or certainly the supposedly 'fake' engagement Bella and Edward have going on. SO much sexual tension, so many unresolved feelings on both sides... It all adds up to a delicious fic!
Teal
I don't know who these characters are kidding, but
nothing
about their relationship is pretend!
---
AH O/S E/B
---
Emmy -
This one-shot is a lovely treat for a cool spring night. Bella is holidaying in Alice's Beach House - she's there lost in her memories and urged away by her family and friends. There she meets Edward at a beach-side cafe. A casual meeting turns into a sexy and saucy night of passion, which leads into a week of romance. Their coupling is interspersed with Bella's memories of her childhood and the man who claimed her heart. Its beautifully done and very hot. What happens when Bella and Edward's holidays are over and reality calls?
Liz -
Oh Mah Gah... where has this little gem been hiding? The sweetest little recollections of youthful love, interspersed with the present-day telling of a sweet and easy, but unexpected, summer romance. The sexytimes give you all the hotness and tenderness you could ask for, but as the story unfolds you begin to wonder about those recollections, and fear for what will happen when Bella has to return home. So so good.
---
AH Novella Complete Angsty(ish) E/B
---
Emmy -
This is a beautiful two-parter. A vulnerable and edgy Bella meets a shy and awkward Edward in a tattoo parlour. The first chapter sees delicious lemony action as Bella watches Edward get a personal piercing. The second and final chapter moves things along a little - what's hiding behind Bella's tattoo's and what draws Edward and Bella together? Oh plus there is some more sinfully hot but also beautiful lemony action. Such a good read! Don't miss out!
Liz -
Heh. If there's one thing I love, it's a good tattoo parlor. Better than that? Hot guys, tattooed girls, piercings, mysteries, angst and intense sex. Yep. This one's got 'em all. If you're not happy-crying at the end like I was, I'll be amazed.
---
AH, WIP, E/B
---
Emmy -
So I should totally listen to Jenn! She recc'd this last week in the Lemon Report - I read this one night following both that recc and a twitter recc from CiaoBella27. This story is great. SO hard to describe without coming across like a crack pot and a crack-fic. But seriously this is so good. Perky and Adorable are just great to read and behind the giggles there is a real journey and a real plot. Yes some of the plot is slightly far-fetched but the character developments and real emotions involved in this story make it engrossing and believable. One who considers herself trash and one who believes in her worth, but is in over his head. How will it ever come good? Don't be alarmed at the number of chapters. This fic is such an easy read. You will breeze through it!
---
AH, WIP, slash, J/E
---
Emmy -
So this was yet another one that Jenn raved about last week! OMG it was SO good. Funny, sexy and cute. Poor Jasper struggling with the most annoying of best friends in Bella - as they both lust over the same new boy, whilst Bella is oblivious to Jasper's sexuality... I love fics when Bella and Jasper are best friends, its a dynamic I really like. It works so well here. I also love Riley in this fic and how Riley causes Edward to react. Oh what tangled webs we weave! This is another quick read and is just wonderful. I love poor confused and experimenting Jasper. Just brilliant! Thanks Jenn for another great recc!