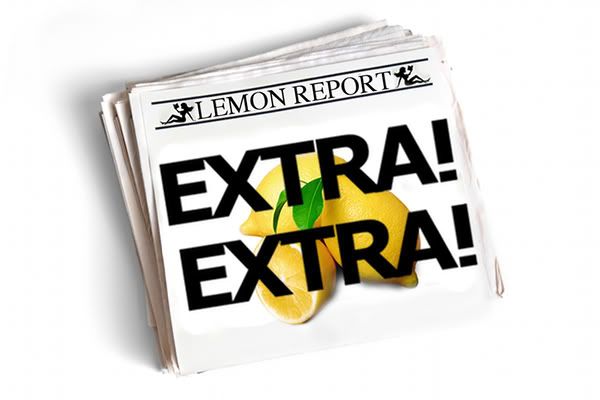 The Lemon Report - Fancy finding out what is on the FF bookshelves of the Pervy Girls of the PPSS? The lemon report lets you know our personal favourite updates of the week, and why you should give the fic a try.... It's a great place to trawl for new recc's and don't forget to share your favourite update with us by leaving us a comment.
Acronym Guide
AU - Alternate Universe
AH - All Human
WIP - Work in Progress
O/S - One Shot
OOC - Out of Character
WP - Wussperv
Slash/Femslash - Features homosexual characters and romance.
---
AH, O/S, Slash, Carlisle/Edward
---
Chele -
Oh. Sweet. Yes. I completely love the way this story unfolds. Full of masculinity, car talk, and hot, hot Carlisle. Smooth, charming, brilliant Edward made me pretty happy too. Combine all that sexy and send it down the road in a classic car that Carlisle rebuilt with his own hands and I'm completely dead. Watch out, though, there are some bumps in the road with these two, and a fairly sharp turn in the end which blew my mind.
Jen -
A hot vintage car. Flirty young Edward. Dr.Carlisle. Hot sexy times and one epic twist at the end. Yes, please.
Jess -
Cars. Boys. Sexy dinner complete with shrimp and sucking of fingers. Making out in dark corners. Road head. Hot hot sexy times. And a crazy ass twist at the end... that I'm still wondering about and praying there's more!
Emmy -
OMFG. I missed this! HOW THE FECK DID I MISS THIS??? HOOOOOWWWWWWWWWWWW. Thank fuck for the Lemon Report!!! I have now read and thoroughly lurrved this! Although it did make me heartichoke a wee bitty.
---
Bella and Jasper have been friends for ten years. One night and one confession changes everything. AH, O/S, Jasper/Bella only.
---
Liz -
I love stories where the two main characters have been friends for years, and it finally turns into more. Bella and Jasper met in middle school, and now run a cafe together. Jasper hears her brush off a customer's advances by claiming Jasper is her boyfriend. Perfect wonderfulness ensues, aka beach sex with surfer Jasper. Yep. You read that right.
Jen -
I read this when it was first posted, and I was completely, head over heels, swoony-pants for this Jasper.
---
AH, WIP, Slash, James/Riley
---
Jen -
This drabble fic makes me laugh so hard, even when it is also making me squirm. Each update is hotter than the previous one. I know I shouldn't project fic onto real people, but all I can see behind my eyes is Cam and Xavier getting it on. UNF!
Liz -
Oh my unholy hotness -
Punk and Perv's Excellent Adventure
is an unexpected treat these last few weeks! Full of crazy, ridiculous hotness as "Punk" Riley teases, and finally ensnares, "Perv" James, his neighbor's roofer. The teasing and chasing and WTF?ing and sweaty unf! The warehouse beej? Jeeebus - and pierced peen! Then the bathtub? I can't even - and there's SPANKING. That put me over the top of my happy perv-land rainbow, let me just say. And it's still going! With multiple updates per day!
Emmy-
I love this fic so much. Each little update in ma box makes me smile. Riley is a total fruit loop - I love his crazy, teasey, wind-up merchant ways! GREAT fun! They are finally getting smutty, with spankies and wankies... & slurps....
Teal -
This drabble fic is completely ridiculous, but in a fun way. With frequent updates and over the top testosterone, it's a fun, naughty little treat to get you through the day!
---
Edward and his boyfriend, Emmett, meet a backpacker in Trafalgar Square. They invite him home for a hot meal and a shower. What they get is more than either of them had planned. AH, O/S, SLASH E/Em/J 3some.
---
Liz -
I was honored to be part of the recent Eurofornication Contest, and was amazed at the quality of entries. One that didn't win, but deserves to be read is
Traveller
. Edward discovers traveller Jasper Whitlock, freezing and alone before Christmas. He and his partner Emmett take him home to give him a hot meal and place to sleep, and get more than they bargained for.
I saw his eyes drift over me and then Emmett. "Phew. You English boys sure are handsome."

I gulped. Emmett laughed. "Do you like handsome boys, Jasper?" Emmett asked, with his standard forthrightness.

Jasper looked down at the floor and then back up at us with a grin. "Well, yes, I do, as a matter of fact. Never turned away from a pretty girl, neither." He shrugged. "I don't really believe in unnecessary limitations."
Yeah. Go read it. Oh, and by the way? Emmett watches. That's not all he does, but jeezopete did that get my motor running.
I also
highly
recommend People's Choice Winner
Eat Laugh Fuck
and Judge's Choice Winner
Spanish Moss
Hell - go read them all!
Emmy -
I haven't had a chance to read these properly yet... However I have been enjoying
Pandora Galacia
's J/E story for my Pervy Picspirations feature. I am saving these contest entries for the weekend! Expect me to wax lyrical in the Lemon Report next week!
---
AU O/S E/B
---
Emmy -
I stumbled upon this, when I read mabarberella's entry into the Curvy Contest, and wanted to see what else she had written. I really enjoyed this experimenting fic... This is set in the period between New Moon and Eclipse, and shows Edward and Bella getting to grips with one another and their sexual desires for one another. It stays canon in that they don't do the do, but they certainly develop some carnal knowledge of one another... Delicious! I love VampWard and when he's having to show restraint of both blood and body lust!
---
AH E/J Slash WIP
---
Jess -
This story owns my heart so freaking bad... even though we were left hanging in a BAD way. Let me just say this about this update... hot, like really hot car make out scene and so many other divine sexy times in this chapter. Just get on it!
Emmy -
Yes this was our tit-for-tat feature this week! Did you read it? YOU REALLY SHOULD! Our
Tit-For-Tat
feature, has lots of yummy pics, good links and a much more detailed exploration of this fabbio and heat-wrenching slashy love story. Off you go! (gah the cliffie this week! )
Jen -
I'm ignoring the cliffie and focusing on the hot, hot, hot wank in the truck. UNF! These boys!
---
AH E/B WIP
---
Jess -
I have loved this story from early on, but this update seriously pushed me over the edge. The sound of hearts beating literally playing over the loud speakers at Edward's installation sight while they make out, complete with BJs and all. It was freaking hot!
Trin -
GAHHHH...how I love this story. Artist Edward is always a favorite for me but this was just so amazing. While reading this story you really MUST go to her profile and listen to the beautiful songs she has to accompany each chapter. It's the cherry on top of a delicious hot fudge sundae.
---
AH E/B O/S
---
Jess -
I read this a while back when N posted it, but I couldn't say anything until after the Sportsward contest. This is a super fun and hotter than hell read! If you love QBward, then you are going to love his cocky ass in this one. Edward Cullen crashes into Bella Swan aka Reed Girl on the sidelines. What follows is a heated argument and a fun little tryst in the locker room! You know you want it!
Emmy -
Everything Jess says! Brillo fun! :)
---
AH E/B WIP
---
Jess -
I love this story and have since I read the initial entry in the Cherry Exchange Contest. This chapter had me all over place wondering what the heck actually happened to Edward's parents, why he's so scared to talk about it, and then all gushy gooey over them finally doing it again. It took a bit of persuasion and a little extra time to "open" things up, but when they did, he just slid right in! Unf!
Chele -
I love the way that
LizLemonBennett
portrayed the difficulties with intimacy between Edward and Bella. Under the circumstances, I would be shocked and suspicious of everything went perfectly. I felt that it really added legitimacy when it took time and communication to get to the point where they were able to move to the wicked hot sexytimes, which were.... wicked hot.
Emmy -
I adore this Edward SO bad! Such a cutie... (although I DO wish he would start to fess up!) I love his tenderness, passion and patience with Bella. Beaut!
Jen -
I will never grow tired of Edward and his insatiable need to make intimacy good for Bella. So hot.
Teal -
I'm gonna have to agree with Jen here. Edward is incredibly sweet, though he's so real and believable in the vulnerability he's so afraid to share with Bella. There's one thing he's not afraid to share with her (if you know what I mean), and that makes the story even more UNFy.
Liz -
I usually turpentine when stories have recurring religious themes, but this Edward is so genuine and sincere I couldn't help but fall in love with and root for him. And gotta love a man that gives such incredible O!
---
AH E/B WIP
---
Jess -
I love how Edward is finally admitting his love and trying to prove it. And I love happy love sex even more. So yummy!
Trin -
Like Jess said, happy love sex is the hottest!
Emmy -
LOVE love love love their reunion loving... (but I am well feart for James to re-emerge...)
Liz -
SO SO glad their reunion didn't take a bazillion chapters of angst! Our lovebirds are back together and humping happily away. Now we just gotta worry about James....
---
AH O/S WP E/B
---
Emmy -
This is just a delicious slice of lovely WP friendly fic. Bella and Edward run into one another years after a single night of fun. Both still bitter about what might have been.... Cue angry locker-room sexing. Well hello! ;)
---
AH O/S SLASH Angstyish Ed/?
---
Emmy -
Woah. This is hot and angstyish. Edward is in a "thing" with in-the-closet or experimenting jock about school... After he can't take anymore he ends it. Only to start fooling around with new jock in school.... After some yummy nummy between Edward and the new boy, old boy wants him back. Edward has a decision to be made... Who does he plump for?........