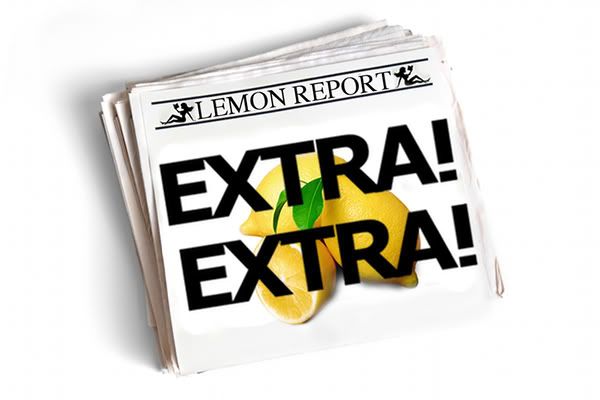 The Lemon Report - Fancy finding out what is on the FF bookshelves of the Pervy Girls of the PPSS? The lemon report lets you know our personal favourite updates of the week, and why you should give the fic a try.... It's a great place to trawl for new recc's and don't forget to share your favourite update with us by leaving us a comment.
Acronym Guide
AU - Alternate Universe
AH - All Human
WIP - Work in Progress
O/S - One Shot
OOC - Out of Character
WP - Wussperv
Slash/Femslash - Features homosexual characters and romance.
---
AH, WIP, E/B/J
---
Jen -
We're reaching a turning point in
Underworld
.
Lyricalkris
has me hanging on a thread, ending the last chapter where she did. Despite
the cockblocking
the fact that this is setting us up for the next part of the plot, this was a super-sexy chapter. It's just Jasper, Bella, and some toys as Jasper gets Bella ready for Edward. Unf!
Emmy -
Hubba Hubba, yum-yum. This story goes from great to greater imho! I love the wee twisties and complications
Lyricalkris
has thrown their way.... I also love how Edward and Bella seem to getting into something that neither of them quite accounted for... Jasper is quite the wee mastermind... (or wee shite-stirer as we would say round these parts!) Hot three-some action. A mix of boy-on-boy and two-boys-on-girl play and some role-play and punishment play thrown in for good measure (PHWoAR). Perfect sexy reading - with lots lurking under the surface.
---
AU O/S E/B
---
Jess -
I am consistently amazed at the quality of
theladyingrey42's
writing. She has such a gift with words, and as she unfolds five critical nights in Bella and Edward's sexual exploration, you can feel every touch, smell every scent, taste every bit so viscerally. This little o/s will leave you panting and sated all at the same time.
Emmy -
Like Jess, I really don't think that
theladyingrey42's
can put a foot (or in this case a pen or keyboard) wrong! Her writing is always on the money, heartfelt and real. Gah this is no exception. Who doesn't love AU experimenting fics??? I most certainly do! Her attention to detail as ever is exceptional - in the sense that all the dates she chooses are most significant. But very importantly
theladyingrey42's
also pays attention to the emotional details, which makes each and every fic a success! Bellissimo!!
Liz -
I think that
theladyingrey42's
's fics are always insanely amazing. This little gem gives us the pre-wedding 'practicing' we all dreamed about when we put the books down, and probably the reason many of you looked for fanfiction for in the first place. Steamy, heartfelt, definitely not fade-to-black, and so perfectly in-canon - this is the stuff you *wish* was in the books.
---
AH WIP E/B
---
Jess -
And so continues my love affair with
sadtomato
. This was a fun little bit of smutty ballet fun! A good pounding with Bella's leg up on the bar... yeah, go read.
Emmy -
Another beautifully written gem from
sadtomato
. I love how Edward got under Bella's skin before he showed her what he was really after. Crackling chemistry = cracking fic! Superb.
Jen -
Quick and smutty: wham bam thank you ma'am. And it plays to my love of smutty dancer stories.
---
AH WIP Angstyish E/B
---
Emmy -
OK! We have been left with a wee bitty of a cliffy in the current chapter. BUT OH MY GOD! You
MUST
read this story! Its a beautifully crafted story, that is so genuine and convincingly done. Bella and Edwards love grows and develops so naturally, Edward is a total diamond of a mystery writer who takes the mysterious and frightened wandering Bella under his wing. Bella finally let down some walls and took Edward in. And boy did they show physically the depths of their love for one-another. Perfect lemony action for such a lovely love story. Let's hope for a speedy and happy resolution!
---
AH WIP E/B (& Other canon pairings)
---
Emmy-
This has been a cracker-lacker of a tale! I LOVE the energy of this story. The motley crue on the run in their crapped-out old van are up to all sorts of fun as they find themselves and the meaning of freedom and teenage spirit. I have a horrid feeling its all going to end in tears... (especially if Jandco is involved as she writes pain like no other can!). This story has ingenious ways for our renegade crew to find one another. Their adventure started off with Jasper, Emmett and Bella and Edward. The latter pair had previously been a couple until a very hurtful and bitter split a whiley previous. Along the way, mental escapee Alice and hooker with a heart Rosalie join the merry band and Bella and Edward finally start communicating again. When you go on the run, what have you got left to lose? Edward and Bella open up to one another once again - their hearts but also their bodies. A sizzly sexual reunion happened last chapter - well you have to get pleasure when you can right?
---
AU Vamp/Wolf O/S SLASH Ed/Jake
---
Emmy -
Oooh this was a nice treat this week. Good to get a proper AU fic. I particularly liked the difference in how Edward and Jake interacted before Jake and the Pack undergo their 'changes' compared to after said 'changes'. This Edward and Jake suffer for their differences and Jake forces an exile for them, after they had explored their physical feelings for one another. A neat wee twist resolves their situation and they get their smutty ever after! Phew!
Jen -
Absolutely love this take on an AU romance between Edward & Jacob. It's a little bit Romeo and Juliet, except this couple get their happy, sexy ever after.
Jess -
The girls really already said it. This was just great... and continues my new lovefest with Edward/Jake fics.
---
AH, WIP, slash, E/J
---
Jen -
Today's update to this drabble fic was 100 words of sexy yum. Make-up sex FTW!
Liz -
I gobble this fic up as soon as it posts, every day. Today's drabble? Oh hell yes.
---
Alice has an "orgasmic" vision and decides to make it a reality, with Jasper's consent. AU/Eclipse, Complete. M for SMUT. AlicexJasper with a surprising twist.
---
Liz -
Alice has a powerful, and very sexual vision she can't ignore. Trying to work out her frustrations with husband Jasper, the vision comes back, stronger and more intense than before. Jasper agrees to let her see it through for 'one night only.' Who has she been having this vision about? Who's bed does she sneak into? Well, that's the twist!
Teal -
Guuuuuuuuuuh. I love this story and have since it was first posted. I may also prod at
Dahlia J Black
regularly to write a followup, because seriously, the hours and hours of Jaspergasm and THEN the, umm, surprise are non-stop squees and clenches!
Chele -
One of my all-time favorites. Truly. So hot, and so happily AU.
---
AH, O/S, Poly, Bella/Paul/Sam
---
Jen -
If one hot boy from La Push is good, aren't two better? Fuck yes. From the Friday Free for All on Twilighted.
Chele -
I love a story that doesn't depict the heroine as a wanton whore (not that there's anything wrong with wanton whores) in order for her to be able to share her love with more than one person. And in this case? Sam and Paul? Swoon, swoon, Unf.
Teal -
I had the privilege of prereading this
very
sexy treat from the FFFA, and let me just say... *KABOOM!* Bella isn't slutty in this story - just your typical teenage girl - but she's bold, and when the unexpected opportunity arises to turn two very good friendships into a night of fuuuuuuun, she takes her chance. Gimme gimme more!
---
AH, WIP, slash, Ed/Em
---
Jen -
Ok, angst is on the horizon, but I'm going to take solace in the good loving in this chapter. Edward wants to make it all about Em, and he does. And Em returns the favor. These boys know how to treat each other right.
Jess -
I was so glad to see this update in my box. I've been missing these two guys something fierce. There's nothing hotter than these two acting out of desperate need for each other... BJs and some very hot sexy times. Angst... I feel my heart already aching over these, cause it's definitely coming (and not in a good way.)
Liz -
I agree 100% - you can feel there's badness somewhere in the future, but man oh man has this been a long time coming and WOW is it hot.
---
AH, O/S, E/B
---
Jen -
I wasn't quite sure how
Yellowglue
was going to pull off this Little Mermaid x Twilight crossover, but she did. It's more in the vein of a spooky fairy tale than a Disney-fied one; I was pretty worried for Bella for quite a while. She gets her legs, her man, her voice... and she gets some hot sexing on board Edward's pirate ship.
Chele -
I am dying to read this. Think I'll be carving myself a little private moment iykwim.
---
AU, O/S, Jacob/Bella
---
Chele -
Such a beautifully plausible, and lovely AU. This takes a canon moment with Bella and Jacob, and infuses appropriate teenage hormones, and gives them the bravery to be daring and love one another out of their respective virginities. I drew a big puffy heart around it and stuck it in my Trapper Keeper.
This o/s is shockingly fluffly, considering its author,
audreyii_fic
, who is the recently coronated queen of hurting my heart. I may never have found this little snippett nestled among
The Jacob and Bella Drabbles
(which is an awesome collection of hurt & hilarity) if I hadn't had her on author alert, so I suggest that if you have a soft spot for pack fic, you alert her as well. You're not going to want to miss any of her beautiful words.
---
Dirty Talking Jasper Contest Public Vote Winner: Edward's roommate thought he knew him pretty well, but Jasper brings out a side of him that no one would have expected. AH, Complete, E/J slash
---
Liz -
Straight from my spank bank to you is this crazy hot little bit of something you won't soon forget. Emmett's roommate Edward is a complete book-worm nerd, presumably with no sex life, according to uber-straight Emmett. That is, until one night when Edward comes home with "study buddy" Jasper, and Emmett is stuck listening to their sexytimes. The lemon, told voyeur-style from Emmett POV, is insanely hot. I'm not sure if I was more worked up by the lemon, or Emmett being stuck listening.