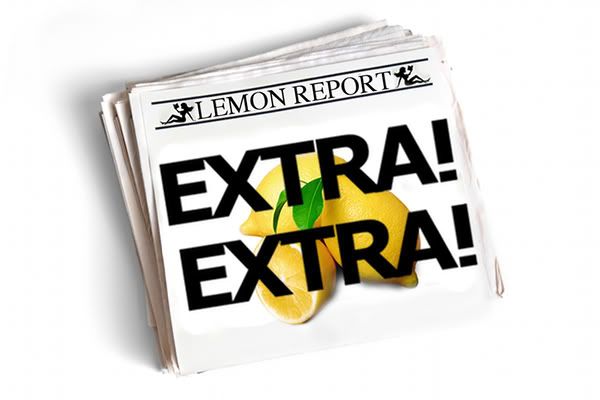 The Lemon Report - Fancy finding out what is on the FF bookshelves of the Pervy Girls of the PPSS? The lemon report lets you know our personal favourite updates of the week, and why you should give the fic a try.... It's a great place to trawl for new recc's and don't forget to share your favourite update with us by leaving us a comment.
Acronym Guide
AU - Alternate Universe
AH - All Human
WIP - Work in Progress
O/S - One Shot
OOC - Out of Character
WP - Wussperv
Slash/Femslash - Features homosexual characters and romance.
---
AH, WIP, E/B
---
Teal -
Crystal Beachin'
, AKA
Heart
is one of the storylines in
Rochelle Allison
's current WitFit prompts thread. This one in particular began in Chapter 5, and has been completely silly, indulgent, and goofy from the beginning. These two crazy characters finally decided to get busy, and I enjoyed the lemony little gigglefest. Ro is such a great author, and her ability to pull off something like this makes me love her even more!
Jess -
I adore Crystal Beachin' and was at the beach with Ro when this story line was envisioned! The black hoodie boy, squeaky sand (seriously it did), the window shower, drunken late night encounters, and the guys next door made for serious entertainment. This storyline is sweet and sassy and hot!
---
AH, OS, Jasper/Bella
---
Chele -
Bella's never really been sexually satisfied by a man. Jasper ends that losing streak with his filthy mouth. This is the perfect combination of sexy and funny, equal parts lol and Unf. Yes please. This is my choice this week for quick and dirty.
Jess -
There is seriously something hot about dirty talk. Enuf said. Unf!
Jen -
One-handed read, anyone? FY.
---
AH ,WIP, Jake/Bella
---
Jen -
Jake and Bella have been toeing the line of will they or won't they for a few chapters. Jake's been willing from the get-go. Now that Bella's on board? Oh, my. You will need a change of panties after this chapter. UNF!
Chele -
So glad Jen shared this fic with me. I am enthralled. This last chapter was steaming hot. So awesome. I feel impending heartache, but I have faith in the awesomeness of the pairing and the undeniable pull of Bella to Jake.
Jess -
I've been convinced to read this. I'm on it! Stat!
---
AH, WIP, E/Jasper SLASH
---
Jess -
This story has owned me from the minute I started reading it. There was so much goodness in the most recent update, but the scene between Edward and Riley and Jasper (you just have to read to understand) was hot and so intense. There's something really beautiful about the connections between each of these boys. The other scene, the one at the end where Edward and Jasper are essentially saying goodbye was heartbreaking and beautiful and made me so sad. We are in a very sad part, and I expect it to get worse before it gets better. But if you aren't reading this story or
Touchstone67's
others, do yourself a favor and get on it like right now. Her words are beautiful.
Chele -
The intensity and openness between these boys when Riley is involved is really stunning. It made my heart swell.... and my pants.
Liz -
This one is killing me slowly, but in a way I'm happy to endure. The sexual intensity leaps off the page, and the emotional intensity squeezes your heart in a vice that never lets go. The love scene - and that's exactly what it is - between Beautiful and Riley is so tender and passionate it just breaks your heart. Then the real heartbreak kicks in, when Jasper and Edward make love one last time before Edward has to leave.
---
AH, WIP, E/B
---
Liz -
This fic was written as a contest entry last fall, but
BettefechtiG
is expanding it. Her chapters are so wonderful that I gobble them up as soon as they show up in my inbox. The last two chapters have been very powerful as Edward and Bella get swept up in the intensity of their bond, and Edward struggles with oversharing with Esme the intimate nature of his relationship with Bella. Beautifully, sensitively, passionately written.
Jen -
I am so looking forward to seeing how
BettefechtiG
handles the blooming love affair between Edward and Bella and what is bound to be a very interesting conversation between Esme and Bella.
---
AH, WIP, E/J SLASH
---
Jen -
PandoraGalacia
was inspired a few weeks ago by a picture in Emmy's Pervy Picspirations. That original o/s turned into five chapters, then another five chapters of an alternate ending.
The Story of E
is a continuation of the alternate ending, and chapter 7 is 1,735 words of complete and utter hotness. I'm talking zero to horny in two minutes. So. Damn. Hot.
Emmy -
I love it when someone keeps going from my
Pervy Picspirations
. I love how this story is pure smutty fun, as Edward and Jasper discover just how compatible they truly are...
---
AH, WIP, E/B
---
Jess -
I have a soft spot for period stories. I blame it on all the historical romance novels I read in my "formative" years. At any rate, this story is full of fun sexy times, but I particularly loved this update because Bella took the initiative and woke Edward up for a little fun. For a woman as unsure as Bella in the medieval era, this was a huge. Not to mention there's armor and sword fighting.
---
AH, O/S, Jake/Bella
---
Jen -
Absence makes the heart grow fonder, right? This hot o/s has Bella counting the minutes til her paramedic boyfriend Jake finishes a week of night shifts. After a restorative nap, they get down to some serious sexytimes. Oh, and Emmy- two words for you: cum play.
Jess -
And so continues my new love for Jake/Bella stories. This one was a small little bit of hot, sexy times. Fun!
---
AH, Complete, E/B
---
Jen -
kyla713
has given the no longer long-distance lovers the send off they deserve in the epilogue. The last line is perfect, and so totally them, I just loved it. Oh, and there's birthday sex. Yum.
---
AH, O/S, Carlisle/Riley SLASH
---
Emmy -
Single Strand is one of those authors I have only recently discovered, this is a great wee fun slashy slice. Carlisle is older, wiser and completely smitten by his little bitchy tease of a boyfriend Riley. Games ensue. I love how Riley is finally getting some slashy fic, love... More of my fave pairing of Edward/Riley please folks.....
Jen -
I am seriously wondering how the hell I don't have
Single Strand
on author alert yet. *runs to fix this* I plan to read this and another recently posted o/s ASAP!
Jess -
Word! Ditto to Jen!
---
AH, WIP, E/J SLASH
---
Jen -
Perhaps I'm the last person on the planet to jump on the
Twinned
and
Seventeen Men
train, I don't know. I do know that every time Edward comes to spend some time at the ranch, there is some amazing boysecks. Add points for when Jasper says 'purely.'
---
AH, WIP, E/B
---
Jess -
We've been humping this fic since what feels like the beginning, but as it wraps soon, I wanted to take a second and love all over this last chapter. To me, watching Edward take in what he looks like bound and flushed and wanting and seeing what Bella sees... and then the intense hot, fast, hard sex that came after... perfection!
Trin -
I am just going to pretend that Jess didn't say this was wrapping up soon...I'll just get all sad thinking of that. However, this last chapter was AMAZING! Utterly fantastic.
Emmy -
I know I always love all over this story and
Theladyingrey42
's updates. But seriously. This is so good. Edward's growth, he's come so far. No longer ashamed of his sexuality and sexual needs.
Liz -
it has been such an amazing journey to watch this story, and Edward, come full circle. It made me understand this lifestyle an such an intimate and personal way. It almost seems trivial to describe what he and Bella share as a "lifestyle" when it is such a core aspect of their personalities and their bond to each other. I will truly hate to see this one end. Even if BDSM isn't your thing, there is so much raw emotion and amazing personal growth I think you'll still find it an amazing read.