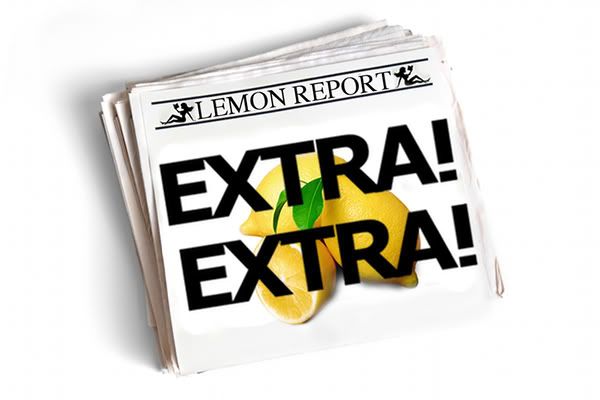 The Lemon Report - Fancy finding out what is on the FF bookshelves of the Pervy Girls of the PPSS? The lemon report lets you know our personal favourite updates of the week, and why you should give the fic a try.... It's a great place to trawl for new recc's and don't forget to share your favourite update with us by leaving us a comment.

In some cases, the Lemon Report may contain spoilers. Please read with caution.

Acronym Guide
AU - Alternate Universe
AH - All Human
WIP - Work in Progress
O/S - One Shot
OOC - Out of Character
WP - Wussperv
Slash/Femslash - Features homosexual characters and romance.
---
AU, (all the Cullen men, Jacob, Seth and Quill), Masturbation, Male bonding
---
Jeanne -
I am still trying to catch up with all the awesome fics that came out of the TwiKinkFest. This one is so fantastic, so sexy and funny, I could barely contain myself as I read it. Sure the premise is a bit of a stretch, but that's half the fun. It helps that
Tuesdaymidnight
keeps these boys grounded in canon, even as they engage in some VERY NC-17 actives. This fic is silly, dirty, sexy fun.
Posy -
OH MAN! I loved that bit of pervy family tradition. Funny, hot, and wonderful to see this future take about how things might be.
Emmy -
I think you can't help but love this fic. So much smutty fun.
Jen -
I just adore this. I would love for everyone to get a turn in the center of the circle.
---
AH, WIP, E/B
---
Jess -
First, if you are not reading about Stella and Ned... you are SERIOUSLY missing out. This story has owned me from chapter one, and I LOVE LOVE LOVE these two. Second, the chemistry between them is like WOAH, and after a lot of family time, these two finally get some alone time... and thank the lord they do. UNF!
Emmy -
I am SO pleased Jess put this in here, as I had somehow missed the last update!!!! Sacrilege! ;) Its a cute and fun read again (after the angst storm invaded and left), and leaves me with that warmth that only good friends and family can provide.
Teal -
LOVE these two! Every update is a treat =)
---
Merlin, Slash, Merlin/Arthur, Merlin/Arthur/Elena
---
Posy -
"Being fuckbuddies goes well for an entire semester. Until it doesn't." Merlin likes to have sex, a lot of sex, so when he and Arthur seem to be headed toward domestic patterns, Merlin freaks out and tries to spice things up with a sex contest, seeing who can have the most sex … with other people. It doesn't go as planned. The lemons in this are hot and dirty, but even better, it's romantic and fulfilling. Like really good sex with someone you love.
Emmy -
Gah! I loved this fic. So ruddy good. Got to FLove it! So well written. I wanted to simultaneously shake and hug Merlin's socks off. Bless these lovely boys.
---
Merlin/Arthur, Slash, Spanking
---
Posy -
This is story set in the world of
Like It's 1999
. *points above* "I want you to spank me," Merlin tells Arthur. Arthur is a bit reticent at first, but as he sees his hand print pinked on Merlin's ass, Arthur put himself fully into the experience. Such hot, lemony goodness.
Emmy -
Nummy nummy nummy fic. A fabbio follow-up to the fic above. Short, sharp and oh-so-sweet.
---
AH, WIP, Charlie/Carlisle (as teenagers)
---
Jeanne -
I should note that this story is a prequel to the Carlisle/Edward fic
Rainbows and Storm Clouds
, which I have not read yet. I actually found this story while fic diving for Charlie smut, and I am SO happy I did. This is the story of two gay teenage boys, Charlie and Carlisle, finding each other in a small town. I won't spoil the story, but OMFG is it good. Well written, with adorably hilarious and intensely sexy moments. These two will have you squirming, smiling and tearing up within the first chapter.
Jen -
I can't wait to have a minute to sit and read this! I flove Charlie sexytimes.
---
AH, WIP, E/B
---
Nico -
Bella might have started with Carlisle but now it's all Edward and I mean all. Whew, Edward is so sexy, take charge and such the right combo of daring, demanding, and passionate that he will have you begging for more. :)
---
AH, WIP, E/B Outtake
---
Jess -
Oh what a treat we got on Valentine's Day from
Abstract way
. If you ever wondered what was going through Bella's mind when she went into the computer store to get that power cord then CHECK THIS OUT!
Corie-
I loved getting this peek at her. Such a sweet treat this week!
Nico -
Geeky role play at it's best. Who knew shopping for computer equipment could be so fun. :)
Emmy -
A nice return of these two, I do love a good peek into future worlds..
---
AH, WIP, E/B
---
Jess -
If you haven't read this little gem, do it! It's short and sweet and so fully of unfy goodness. The last two chapters were... ahem, delicious. JS
Corie-
HOLY sweetness. I just loved every bit of this story falling in love has never been sweeter. I adore how much these characters love each other. Did I mention I love it lol.
Emmy -
Like Corie, I have really enjoyed this fic. Cute, fluffy, fun with a sexy edge.
---
AU, WIP, Seth/Riley, Slash
---
Jen -
Before the scary, angsty, bad vampy times set upon Seth & Riley they had the chance to be each other's first. And it was good, so very good. I'm in love with these sweet boys and hope that their ever after is happy.
---
AH, Outtakes, E/B
---
Jess -
I have loved every part of this story - the main part and the outtakes - and this one didn't disappoint. I don't even know what to say about it except that it's hot and you should read it!
Corie-
UNF
troublefollows1017 can write a lemon like NO ONE else. I just can't get enough of how much Pennyward worships Bella in this story and this fun little Valentines Day outtake reminded me of that.

Emmy - I was so chuffed to see this outtake. I didn't realise how much I had missed these two and their engaging and absorbing, if fantastical adventures. PennyWard and his love for Bella is epic.


---
Star Trek Fandom, O/S, Kirk/Spock/McCoy
---
Chele -
My Star Trek fic obsession continues. This time, we have a wickedly pervy oneshot, wherein Spock tries to prevent his Captain from brazen public sexual displays with Dr. McCoy, only to be caught up in their tractor beam of lust, and reeled in for a night of fucking. Jim is a cockslut, Bones is an experienced top, and Spock is almost virginal, but a very quick study. Quick, dirty, fun Smut. Yum.
Jen -
Oh my dog was this hot. Kirk & McCoy are dirrrrty when they're drunk. Unf! And Spock's inner dialogue as he observes these two horny boys is just hilarious. It goes from hilarious to hot when Spock gets possessive of his Captain.
---
AH Complete/Outtakes, E/B
---
Jess -
When
sparklnfade
mentioned surferward I was all sorts of curious. She didn't disappoint, as I knew she wouldn't. The main story and now the outtakes have me swooning and panting. SO good!
Corie-
This story from start to finish had me flailing. The characters are original and lovely and the chemistry between them off the charts. Plus that last outtake of sweet preggo sex left me panting and swooning.
---
AH, WIP, E/B
---
Jess -
The build up to these last few chapters has been KILLER. These two are so crazy intense and I'm just itching for them to finally do it... which is saying a lot since I'm always more into the UST than the lemons. Good sweet mercy, when it finally happens it's going to be INTENSE. That's all I'm saying.
Nico -
I'm with Jess, the build up is just amazing. I love Bella's internal discussions with what she wants and then how she tries to hold back for him. When they both finally go for it at the samet ime it's going to be awesome. :)
Emmy -
I have really enjoyed this story. Poor Edward deserves some normal teenage sexual experiences ( and so does Bella!). Great for them to get some time together and some fun times!
---
O/S, E/B, AH
---
Corie-
I have no words that would accurately describe how hot this 2 part o/s is. Jebus its out of control the tension that these virtual strangers have. There is this unbelievable scene that left me BREATHLESS. I can't say enough about how sexy this is.
Jess -
I loved this the first time I read it! So so good!
---
Complete, E/B, AH, OOC
---
Corie-
This maybe one of the most beautiful love stories I personally have read. I loved every thing about it. Its such a true love story that was beyond time. I say if you haven't read it yet you should check it out! Primarycolors just hit complete on it this weekend with a fantastic epi.
Nico -
This story just pulls at your heart strings from the start. If you want something that will suck you in from start to finish go for it you won't be disappointed. :)
Teal -
I am SO SAD this fic is over. I truly hope we see more from Primarycolors because this one was incredibly creative, original, and unpredictable. The love story was beautiful, and the end was amazingly bittersweet. I'll miss these characters so much!
---
AU, outtakes for var fics, Bella/Jake, Bella/Paul, Bella/Sam
---
Jen -
I read these three chapters on Valentine's Day, and they were a most delicious calorie free treat! These chapters are outtakes of three of her stories--Better Now, Miror Quaenam Sis Tam Bella, and Holding Sam. It would be cruel to ask me to pick a favorite. Just read them and get your happy on.
---
MERLIN, AH, Longer-length O/S, Modern, Angsty,SLASH, Merlin/Arthur
---
Emmy -
Gah this fic made me flail something rotten. I've actually read it through 2.5 times now.... Thank you so much
otta-ff
for reccing this to me! I seriously cannot tell you how much love I have for this fic. HURTS so bad. Arthur and Merlin meet, and Merlin falls in love. Shame Arthur marries Gwen instead, Merlins good female friend.... Heartichoke ensues. SO well written. I still cannot write eloquently or even cohesively about this fic. It is FUCKING AMAZING. Go read it!!! Nowwwwwwwwww.
---
AH, WIP, E/B
---
Emmy -
I have been really enjoying this fic, with its daily updates. We don't know (& won't know!) much of the backstory of how and why Edward and Bella split up - a long time ago. But we do get ringside seats to how Bella's visit back home for her HS reunion brings her and Edward back together again for the first time in a long time... The most recent chapter? Who needs conversation when your bodies can do the talking....... mmmmh.
---
AH, WIP, Ed/Rose; outtake is Emmett/Tyler
---
Jen -
I just love this sweet yet sassy Rose, and there's something so endearing about older next-door neighbor Edward. There's also a very special outtake posted, featuring Emmett and Tyler. So funny and hot! (confession: I harassed
jadedandboring
to write the Emmett/Tyler action which is referenced in the main fic. I needed details!)
---
AH, WIP, E/B
---
Jen -
Finally! Gentleman-ward consummates his marriage with Bella. She's a very strong woman who's been through a lot; his tenderness and care toward her (and her virginity) are so very sexy.
---
AH, WIP, Ed/Leah
---
Jen -
This is a heatbreaking story, but I'm hoping that this chapter's happy times mean that things are turning around for Edward and Leah.
---
AH, Complete, Carlisle/Edward
---
Jen -
Ngl, I made a squeaky~squeey kinda sound when this alert popped up. I love all of
sadtomato's
boys, and this chapter of lingerie wearing Edward and his loving partner Carlisle does not disappoint. Such yum!
Emmy -
I love this collection so much. I love how both are written and the intimacy and trust between them. Just precious.
---
AH, Complete, E/B
---
Jen -
An adorable read posted for Valentine's Day, but would be a delicious treat for any day. Love Bella's dirty talk.