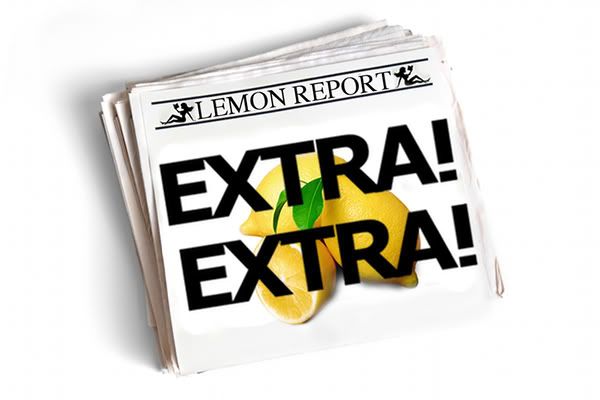 The Lemon Report - Fancy finding out what is on the FF bookshelves of the Pervy Girls of the PPSS? The lemon report lets you know our personal favourite updates of the week, and why you should give the fic a try.... It's a great place to trawl for new recc's and don't forget to share your favourite update with us by leaving us a comment.

In some cases, the Lemon Report may contain spoilers. Please read with caution.
Acronym Guide
AU - Alternate Universe
AH - All Human
WIP - Work in Progress
O/S - One Shot
OOC - Out of Character
WP - Wussperv
Slash/Femslash - Features homosexual characters and romance.
---
MERLIN, AU, long O/S, Dubcon(ish), SLASH, MERTHUR
---
Emmy -
This fic isn't a smuttactular, but its so damn cute I just had to put it in. Cute, if cute to you means lots of fighting, lots of sulking, lots of cat and mouse between Merlin and Arthur. And cute as in destiny fulfilled and a fabbio dragon. There are elements of dub con at the very beginning. And there is such an interesting storyline and push me pull me dynamic between these two. And I SO WANT A SEQUEL/EPi type affair for this fic. As I want druid prince Merlin to properly be Arthur's Queen.... Although honey kisses is also a perfect end.
To make up for the lower than average smut levels in a Merthur fic recc from me, please see my recc below [it features t-shirts so worn from washing, you can see
nipples!
through it..] from the same author! :D Enjoy! :)
---
AH, Ed/Leah
---
Jeanne -
This story has had me in its grip from the get go. It often leaves me all achey and whimpering after an update, but it's a good hurt. The kind that makes you think and feel long after you've finished reading. The sex in the most recent update only seems to compound this feeling for me. These two needed this connection so badly and I hope it is sign of good things to come.
Jen -
A new Ed/Leah from
IdPattThat
? Yes, please. This one is full of heartichoke, but like Jeanne says, there's reason to think things are looking up for them.
---
AU, Modern Magic, Novella-Complete, HS (at times, SLASH, Merthur
---
Emmy -
Again I think this is super cute. BUT only in parts as there is lots more to this fic. Modern magic, war, jealousy and lots of heartbreak... Don't be a div like me and think it was complete at the end of chapter one! You need to read all four to realise the full scale and epicality (Is that a word? It should be!) of this fic. Gah! and Unfff!
---
Kim/Seth with a little Jared on the side, KinkFluff
---
Chele -
Adorable, fluffy, kinky. Kim invites Seth over for a tutoring session. Jared watches her teach him a bit more than Seth had bargained for. Unrepentant smut and hilarity.
Audreyii_fic
's take on Kim and Jared's relationship as loving, devoted kinksters is now canon in my pants.
Jen -
What she said! So good.
Jess -
This was just fun and unfy good! I adored Kim in this!
---
Harry Potter Fandom, Draco/Hermione, BDSM Light
---
Chele -
This is a quick, smutty multi-chap. Hermione is looking for some no-strings attached kinky sex, what she finds is Draco, and her desire for more. Relatively fluffy BDSM centric story. Mostly smut without too much of that plotty stuff getting in the way.
---
AH, E/B, OS
---
Nico -
An older Edward and younger Bella meet on Valentine's Day at a bar both drowning out their sorrows however, after a risky proposition it turns out to be a Valentine's Day neither will ever forget. :)
---
AH, E/B, WIP
---
Nico -
I love it when a new fic already has you grasping the handrail within the first few mins of reading. By the end of the chapter I was already begging for more. :)
Corie-
This set me on fire when I read it. Nothing turns me on more than dirty talk and this Edward owned it. I can't wait to see where this story is going with its daily updates!
---
WIP,E/B, AH
---
Corie-
I am a complete historical fic whore I love it and this is one of the best WIP to me out right now. I love how rich and vibrant the characters are and this weeks update had a hell of a fantasy wank that left me panting.
Emmy -
I have this fic on my ever increasing HUGE to-be-read list! But Corie's recc above has just bumped this to the top of my pile! Sounds fabbio! (I do love me some wankity!)
Jess -
I am so behind on this story but love love love it! ::runs to catch up::
---
WIP, E/B, series of O/S drabbles
---
Corie-
This is the perfect dose of naughty drabbles based on picture prompts. It's fun and dirty and sometimes its the innocent touches that burn me the most and this is full of that.
Jess -
What Corie said. Love!
---
E/B, AH, O/S
---
Corie-
This O/S has everything that sets me afire in it but the biggest one is Bella is a voyeur and loves watching the man that lives with his bedroom window facing hers. There is such intensity in this and just feels like watching a fantasy come to life. It was written as a birthday gift for PAWsPeaches I have to say her obsession for watches made for a great fantasy.
Emmy -
Oh how I adore
Rochelle Allison
's writing!
Such beautiful sexy prose. This delicious one-shot is no exception to her amazingly high standard!
Jess -
The Pervs were just talking the other day about forearms and watches and then
Rochelle Allison
posts this unfy o/s. So so good!
---
Harry Potter fic, Complete, Hermione/Snape
---
Jen -
The dam finally broke and I've been dipping my toe into HP fic. I am utterly and completely captivated by Hermione/Snape. They might be my OTP of OTPs.
The Love You Take
is abso-fucking-lutely smut-tastic, but it is definitely not PWP. I ignored all else so that I could plow through every last word. The writing is wonderful, sexy, and angsty, just like I like 'em. Check out this
PPSS post
for a full review of this amazing fic.
---
AH, O/S (outtake), A/J
---
Emmy -
I absolutely adore the WIP She gives me Religion. This outtake featuring the lovely Alice, still struggling from her injuries, and Jasper, Edward's strong best mate, is wonderfully written. Alice's anxieties over her injuries and how this affects Jaspers feelings for her are explored realistically, and the love shines through. Sexy and oh so sweet and tender.
Jess -
How did I not see this?!!!!
---
AH, Complete, HS, E/B (other pairings mentioned)
---
Emmy -
I was TOTAL fail on this fic, it took me far too long to start it! And then once I had started and devoured it, I forgot to report back here! So in case like me, you put off starting this fic, don't dilly-dally any longer! Get stuck in! Great (hot) fic.
Nico -
I couldn't agree with Emmy more, I was a late starter but once I started I didn't want to stop, if you haven't jumped in go for it. :)
Jess -
This story is hot and sad and so good! I loved watching things change as they went along! Unf.
---
E/B, AH, WIP
---
Nico -
I am such a sucker for an Edward with internal scars and external tats, this has both as well as the latest installment has just mouthwatering, delicious, give me some of that smexin in it. :)
---
Spartacus: Vengeance, AU, Agron/Nasir, Slash
---
Jeanne -
You've got to love good gladiator slash! UNF! If you've been following this season closely, as I have, this pairing should not a be a surprise. The UST has been building between these two ever since they first met. This fic capitalizes on that, and makes slashy subtext context. Here Agron and Nasir flirt and plan for the future. Their sexy banter is great and masturbation/voyeurism scene had my eyes crossing from the hotness.
---
AU, WIP, Ed/Carlisle, Slash
---
Jen -
This is one of the most painful, heart-hurty fics I've read. It's only fitting that this lemon is hot and angsty in equal parts. Such a wonderful fic--great writing, intensely felt emotions. I want to cuddle Edward and strangle Carlisle.
---
AH, WIP, Drabblish, E/B
---
Emmy -
Jenndema
took a bit of a risk with this evocative and lovely fic. She's written an Edward who goes against many of the fandom stereotypes. He's not some rich smoothie. He works hard, manually to just get by and provide all he can for his daughter. Its been a wonderful slow build to this point in the story. And when it comes to the romancing and loving, he's as realistic as he has been all story. No magic leap to turn into UberEdward in bed. He's real and their love is more real for it! Not super sexy or smutty. Just real love and real sweet. Edward is a total sweetie, and sexier for it. I love this story!
Jess -
Emmy said it so well above. I love this story because it's so real, as is
Jenndema's
style. It feels like we're in the homestretch, but there's still a good deal of stuff to resolve and I'm anxious to see where we go! Love love love this story.