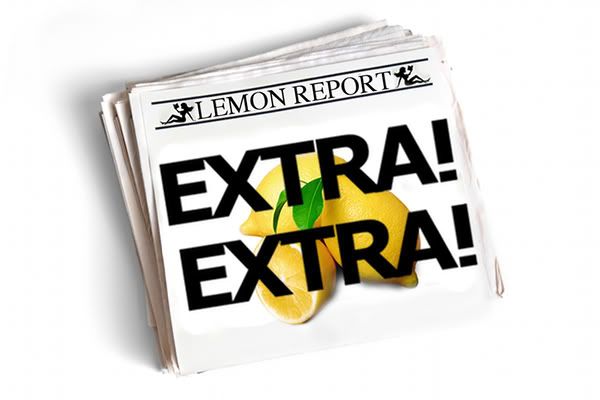 The Lemon Report - Fancy finding out what is on the FF bookshelves of the Pervy Girls of the PPSS? The lemon report lets you know our personal favourite updates of the week, and why you should give the fic a try.... It's a great place to trawl for new recc's and don't forget to share your favourite update with us by leaving us a comment.

In some cases, the Lemon Report may contain spoilers. Please read with caution.
Acronym Guide
AU - Alternate Universe
AH - All Human
WIP - Work in Progress
O/S - One Shot
OOC - Out of Character
WP - Wussperv
Slash/Femslash - Features homosexual characters and romance.
---
AU, E/B, WIP, OOC
---
Nico -
I love a frisky Bella or should I say Izzy, and need I say more then Mile High Club? Oh yeah I didn't think so. :)
Emmy -
This sounds super interesting and different. I've book marked this and am deffo gonna check this one out!
---
E/B, WIP, AH
---
Nico -
What could make a horrible business trip the best trip of your life? How about having a convention of men in kilts in your hotel? There is just something about a guy in a kilt that makes me swoon and immediately think "gee I wonder what's under there?" :)
---
AU, AH, RPF, Two-Parter, SLASH, Colin/Bradley
---
Emmy -
This is probably the darkest RPF fic I have read. It's really interesting and engaging, Oh and sexy too. Colin is quite the dangerous one, well he has an interesting edge. An edge that has drawn Bradley in. Bradley is a fully developed character, one who starts off purely with an interest to protect and look after Colin, and ends up with a shed load more! I love fics that deal with experimentation and embracing who you really are sexually. This fic has it by the bucketload. Really hot with a gritty edge! Love love love this fic!
Part Two:
HERE!
You
know
you want it! (part 2 smuttier than part 1!)
ETA: IMPORTANT NOTE: You might want to read this fic purely for The Beard Sex, that is all.
---
Merlin/Arthur, Slash
---
Posy -
Hot, gritty, dark, dangerous, tragic, lovely, sweet, and romantic. I LOVED this!!! The writing is superb and pulls you into this fast paced, noir world. Merlin and Arthur are assassins who keep running into each other in various places around the world. This isn't a story with super in-depth lemons, but that's what I loved about it. I got to feel the passion, the fevered desire between these two through their numerous encounters. Don't miss this one.
Emmy -
Wow! The tension in this one!!!! Gah. Soooooo good. I stayed up mega-late reading this last night. Just love. Really different to all other Merthur I've read!
---
E/B WIP, AU
---
Corie-
I am a proud fangirl of this author. I will read any and everything she writes so when I saw this posted I jumped on it immediately. I am SO glad I did. It contains one of the most erotic scenes in fic I have read in chapter 2 no less. Its poetic and dark and deals with things like death and love so beautifully.
Jess -
I couldn't agree with Corie more. This is only three chapters in and I am already dying for more. So, so hot and good.
---
E/B, WIP, AH
---
Corie-
I spent all last week flailing all over twitter with every update. What a fantastic story of young love and how complicated it can be. We got some of the most attention getting lemons last week that left me panting with Bella. JESUS. The quiet moments between these characters kill me and the sweetest damn surfing daddyward around.
Emmy -
I am loving the daily updates to this fic. And I always adore Surferward. I do fear HF befalling young Bella due to the prologue. But I hope the erotic sexing carries on!
Jess -
All I have to say is
SparkInFade
gives good swoons and steamy, squirmy lemons. I was all sorts of wow last week. Unf and more please.
---
E/B, WIP, AH
---
Corie -
WE HAVE SEX. Sorry I just got really excited lol. I adore this story and have from the start a passionate broken Edward meets a sheltered sweet but sassy Bella is always a good time right?? Well this last update we got the lemon we have been waiting for and it was passionate and tender and beautifully written!
Emmy -
This is another of those fics that I have been watching and haven't started reading yet. Deffo jumping up my list now! :)
---
Merlin Fandom, Arthur/Merlin, canon
---
Chele -
Beautifully written, magical, plotty, with just the right amount of smut fic here. Arthur has to fight to regain Camelot, but little does he know his secret weapon in doing so will be an insufferable boy who makes him crazy, and might be just a little bit magic. Too bad Arthur hates magic, and loves the taste of Merlin's lips.
Emmy -
this was brilliant. An amazing fic. I fell really hard for this one. Loved the contrasts in their characters. Loved the premise - and magic, and loved the chemistry
Posy -
I must read this! Can't wait.
---
AH, WIP, E/B
---
Teal -
This story is so sweet and lovely. The writing is tremendous, the details are enchanting, and the characters - both leading and supporting - are well developed and interesting. While Edward and Bella taking their time with their physical relationship has been practical and right for them, it has also been torturous as a reader! At long last, they've had their big, romantic moment, and it was absolutely perfect! I'm so tickled!
Emmy -
Yep. Like the perfect piece(s) of chocolate this fic, is soft, sweet and melty, but with depth and substance. Don't write it off as fluffy air from my analogy (I don't excel at analogies!) there is so much to this lovely fic.
Jen -
I just finished reading this chapter and I'm swooning. The writing in this fic has pwned me from the very first chapter--it's absolutely sumptuous. This chapter that I've eagerly awaited is no different. A positively beautiful chapter.
---
AH, WIP, A/J
---
Jess -
I think the girls rec'd this last week, and I wanted to check it out. I'm so glad I did. It's heart-hurty but so, so good when they finally come back together. My heart is full of swoons right now. LOVE!
---
AH, WIP, E/B
---
Jess -
I jumped on the bandwagon for this little gem late, but thank goodness I'm fully caught up (even if I am review fail). The scene between these two post-baseball game... KILL ME DED. So hot.
Corie -
I just got done with this last update and FLAIL and DED and every other funny fandom word for sweet sexy times between sweet college kids that make your bits sing.
Emmy -
This is such a charming wee fic. I love how it's built up. From infatuations and crushes to flirting and so so much more. A fluffy and sexy delight.
---
AH, Complete, Riley/Jasper, Slash
---
Jen -
I love these FBI guys; Riley with his dark suit and geeky black glasses, Jasper super sexy, heroic field agent. I can only hope that
Lyricalkris
will see fit to give us a glimpse into their future, because I need some more of this hotness.
Jess -
What is there not to love about Riley and Jasper, together, giving in to each other? SO freaking hot. Every damn time.
Emmy -
I adore the dynamics with these two. This is top class smut. Classy, engaging, interesting and yummy. Riley was adorable.
Posy -
I love this story. Jasper is amazing, and I totally fell for Riley.
---
AH, WIP, E/B
---
Jess -
I spent all weekend catching up on stories I have been wanting to read. This one did not disappoint. There is a level of angst, driven by the uncertainty of Edward's thoughts and potential actions, and it has me on edge. There is a very uncomfortable distance between them, happily married for over 20 years, but when they are on, they are ON. Check this fic out if you haven't started it already. So good.
---
AU, WIP, Seth/Riley SLASH
---
Jess -
As per the usual, I'm behind the power curve. The girls have been lovin' all over these two for a while... and for good reason. Good grief, I can't even tell you how much I'm adoring watching these two explore and find their way in the midst of what is going to be a problematic vamp situation. SO SO good.
---
AH, O/S Edward
---
Jess -
Well hello dirty dirty smut. And keeping it a secret... unf and yes!
Nico -
Ohhh this is on my list! Now I am even more excited to read it. :)
Corie -
Totally have this in my read next box and can't wait!
---
Merlin, Slash
---
Posy -
Magnolia822
claims this short story is PWP, but even in just over one thousand words, she got me to care about the characters. This was written for
tuesdaymidnight's
made up holiday, International Glory Hole Week, to "celebrate trust in anonymity." :D Can you go wrong with such things? I think not.
Emmy -
Hello! I am here! I was all over this fic, as its fucking delish! Perfect smutty yum.
---
AH, O/S, A/J
---
Jess -
So, I rarely read A/J fic. I'm not sure why, because when I do, I really love it. This LR has two on it that I've read... and wow, I wish I could even quantify how much I loved this. It was so well written - the pacing, the flow, the building of A/J's relationship... I could go on and on. The sexy times in this is absolutely perfect. I just... go read. I'm going to sit over her in my corner and flail.
Jen -
Like Jess, I don't tend to read A/J stories. I was surprised to see an alert for one in my box, especially since it was written by
MeraNaamJoker
. This is like nothing she's written before (it's AH and no one from the Pack stars in it, among other things). Oh, one small thing is the same as her other stories: it's amazing. *joins Jess in flailing*
---
AU, WIP, Leah/Nahuel; Chapter 30 is Jake/Ness
---
Jen -
Beauty and tenderness can come out of something dark and ugly, as evidenced by this amazing lemon. Jake and Ness have a special (not to mention freaking hot) first time, even while held captive by Nahuel's freaky vampire dad.
Corie -
What a scene the fear and love and how they mingled so wonderfully. I love the tenderness and I have to say
Vivienne67
is fantastic at creating that imprint bound its astounding. I can't say enough about this story.
---
AH, WIP, E/B
---
Jess -
And we have the big O! Good grief, the tension between these two was SO intense. Thank goodness Bella finally got a little... release. The next chapter... I cannot even wait!
Emmy -
I've been loving on this story since the get go. The dynamic has always been great. I particularly adore how like canon, in this Bella is Edward's safe haven from all that he doesn't like about his life. But she is also his greatest temptation. I won't use the monster terminology as Edward is deffo no monster here.