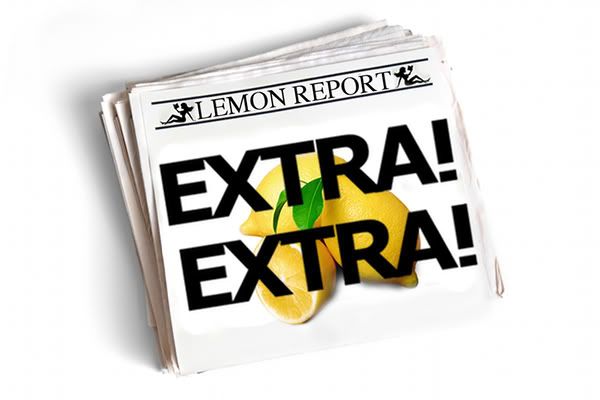 The Lemon Report - Fancy finding out what is on the FF bookshelves of the Pervy Girls of the PPSS? The lemon report lets you know our personal favourite updates of the week, and why you should give the fic a try.... It's a great place to trawl for new recc's and don't forget to share your favourite update with us by leaving us a comment.

In some cases, the Lemon Report may contain spoilers. Please read with caution.
Acronym Guide
AU - Alternate Universe
AH - All Human
WIP - Work in Progress
O/S - One Shot
OOC - Out of Character
WP - Wussperv
Slash/Femslash - Features homosexual characters and romance.
---
AH, O/s, Carlisle/Rosalie
---
Chele -
Love a fic where Rose is given the chance to break the cycle of abuse before her only salvation is death. Love it even more when Carlisle gets to love her without having to save her. This pairing makes so much sense to me, and
mjinaspen
has written is beautifully, with just a lovely taste of smut.
Jess -
I had never actually read this pairing before, but like Chele said, it definitely makes sense. I found myself lost in the beautiful way
mjinaspen
tells this story. Rose is strong and brave and confident in spite of her abusive past. The progression of her and Carlisle... just blissful.
Jen -
I swooned so hard over this when I read this in the FGB compilation. It's beautiful and sexy, and as always,
mjinaspen
gets it just right.
Jeanne -
Carlisle/Rosalie HELL FUCK YES! With a non-canon pairing like this one it could easily be a throwaway smut fic, but this is a universe away from that. Don't get me wrong there is some mindblowing sex, but for me it's about the emotions. Fuck! These two are fucking magnetic. I could read 50 more chapters about them, but I'll make due with rereading this for the millionth time.
---
AU WIP Mike/Edward
---
Jess -
This chapter was SO huge. So many MAJOR events occur in this chapter. I can't even touch on any of it except to say hot and wow and WTF and OMG.
Jeanne -
HOLY SHIT X 2! That's right TWO updates this week that left me dumbfounded and blew my pants off with hottness. I have no clue what's going to happen next and I LOVE that feeling.
Emmy -
Christ.
The girls raving on emails and on their Team Slash pick, made me give this a whirlie, even though it might just kill me. Ruddy hell. You need to read this fic.
Jen -
nothing to add here but ditto and Yay! I'm so excited Emmy is reading. You should be too!
Teal -
Wow. So much happening in just a few chapters. Never predictable; always exciting. Get reading!
---
AH Complete E/B
---
Jess -
This smutty little story was written to celebrate
marvar's
birthday. This story will leave you panting and swoony and hearthurty (just enough to make this story delicious), and then swoony and panting some more. Go. Read. It's short, but Edward isn't.
Jen -
This is the answer to every 'good girl's' fantasy of crazy hot sex with someone she doesn't really know, with the added bonus of an hea. Oh, and smut. Loads of smut.
---
AH, WIP, Bella/?
---
Jeanne -
OH MY GOD! *THUD* I made a wish that a certain character that I love would make an appearance in this fic and oh my did he ever. I love the depth and diversity of sexual practices and philosophies that we see in this story. Not many people would expect a story with this much concentrated sex would also inspire conversation about life, culture and even spirituality, but it does that for me. Not to mention it shed light on some very under used sexual positions. UNF!
Chele -
So awesome that
JenJadeEyes
continues to take this one step further in opening up Bella's perspective regarding sex. Could not have asked for a better spiritual sex guide than Felix. Unf.
Jen -
Unnnnf. I was crossing my legs so much that we'd get a Felix chapter, and get a Felix chapter we did. Holy squirming sex yogi!
Jess -
Ditto to everything they said. This chapter was INTENSE, and the promise of more *ahem* exploration *ahem* is on the horizon. Yes!
Teal -
Bow chicka wow wow. Nuff said.
---
AH WIP E/B
---
Jess -
I love this story. And this chapter was a whopper in terms of forward progression. Amishward's fun in the hayloft of the barn was the perfect respite from an overall intense update!! Love it!
---
AH WIP E/B
---
Jess -
I adore this story. It's got the perfect amount of mystery and intrigue to keep me coming back every single week. There is soooo much UST (and you know how I am a total sucker for it, every damn time) in this story... this chapter practically killed me. And then we get a very intense shower wank... holy hotness. If you aren't reading this story, you really, really should be!
---
AU, O/S, SLASH, E/Alec
---
Emmy -
I do love a good non J/E pairing. This is a belter!! It has Vamp Edward off to Volterra to see if he wants to join Aro's guard. . . . He meets young in appearance Alec and they become very good friends. Given their early ages at time of change they can relate to one another in ways that the others cannot but is friendship all they have? A fluffy, tender , see wee AU tale showing a very different path for Edward.
Jen -
Ooh! I saw this when it was posted on the LJ community for which it was written. Knowing
Vampireisthenewblack's
Edward/Alec love I strongly suspected she'd written it. She comes through again with a sweet (yes, Alec is sweet!) love story. I can truly imagine Edward's life following the AU path of this o/s. Delicious.
---
AH, Witfit WIP, E/B
---
Emmy -
The malicious story within
RochelleAllison
's latest witfit story thread is my favourite! I am loving the dynamics and the mystery of what has happened and what is really felt between these two. Bella saves his life, but there is bad blood between them after they got to know each other intimately! Cannot wait to see where this one goes! Sultry is very good too (her first story in the series, but Malacious has me hooked!)
Jess -
Like Emmy, I loved Sultry... and I'm just as hooked on this one! After the shower scene... and their now awkward convo, I have SO many more questions. I'm anxiously looking forward the unfolding of this story.
Teal -
I love everything that
RochelleAllison
writes, and this is no exception. There's so much to find out about what went wrong between these two and so much room for the growth of friendship (and more). I love watching it unfold. And questionable drunken hookups in the bathroom? K, I'm hooked =)
---
AH Complete E/B
---
Jess -
spanglemaker9
gives such good swoon. I adored every word of this story. So, so good!
Emmy -
I am now in official
spanglemaker9
withdrawal. All I can do is hope for some new words soon. Love her writing and stories. This was a great end to a great story.
Teal -
My heart is sad for the end, but this was such a wonderful fic. Hot, hot smut, unexpected romance, and two hearts getting where they need to be. Lovely.
---
AH E/B BDSM
---
Jess -
Buttsex but not in the way you think... intense and FTW!
Emmy -
Anything that
theladyingrey42
writes is beautiful. How do you write beautiful buttsex? Just ask
theladyingrey42
......
It was great to revisit these characters again and see how perfect for them, their life is. Thank-you.
---
AH, OS, SLASH, E/Carlisle
---
Emmy -
This is a very short but very sweet tale of Carlisle lusting over the local builder whilst renovating his house. I SO want a sequel which shows how the gentle lusting, fantasies and wank turn out..
---
AH, WIP, E/B
---
Emmy -
This is a fic I always do a full out squee to see an update for! Its always such a treat. This chapter contains sleepy morning shenanigans of the lemony sort! Perfect. Yet still so much unexplored...
Jess -
Mmmm sleepy mornings and very nice wake up calls!
Trin -
I did a full on happy dance when I saw this update waiting for me and it did not disappoint. It was so lemony and delicious!