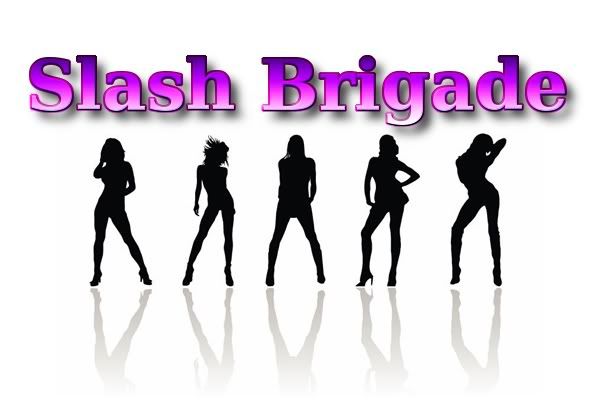 ---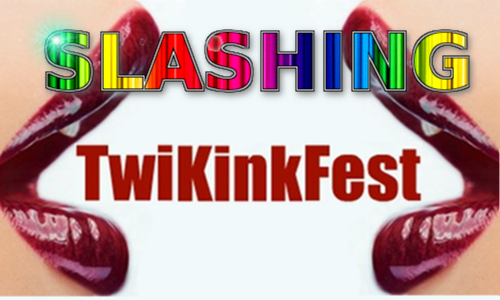 What Perv doesn't love sexy man on man action? The truth is so many of us Pervs love slash fic that we can't just be called a team. We're the whole damn brigade! Batten down the hatches, stock up on supplies 'cause the ladies of the Slash Brigade are here to rec some slash fic. This Slash Brigade Pick is...
---

Chele
The TwiKinkFest has brought a veritable avalanche of edgy, super-sexy, boundary pushing fic into the fandom. We Pervs here at the Shack couldn't be happier with all of the quality smut that has been working its way into our boxes, and Team Slash was dying to share some of our favorites.
---
AU, OS, First time, toy play, rimming, felching, snowballing, withholding orgasm, rough sex, mild breath play. Edward/Jasper/Carlisle/Emmett
---
Somehow,
PolkaDotMama
snuck in my pants and asked them what their fantasies were, then wrote them down in the form on this story. Amazingly hot group of men living on a commune growing their own food sharing a house and a beautiful open-sexuality? Yes, fucking, please. Sweet love and affection and edgy, intense, emotional sex between said parties? Yes, all of that.
Snowballing? Felching? Ummmm...... That took some convincing. My pants needed a bit of a nudge, but trust, they got everything they wanted. The craziest part, is that these kinks aren't even my kinks, but in the context of this riveting and intimately crafted story, even those things which generally don't turn me on are sexy and needful and a necessary expression of love and sexuality. This is the beauty of this fic, and so many others in the KinkFest - When talented authors craft a story, they can make almost anything truly sexy because of the passion of the participants.
---
AU, OS, Dub-con, vampire/human sexual relations, double penetration, threesome, felching, snowballing, Emmett/Jasper/Mike
---
This is a story of consumption by creatures who are anything but tame vegetarians. Emmett and Jasper's predatory nature as vampires is channeled into sexual exploration and conquest in
End Game
. It is amazing to see bloodlust transformed this way, still a manifestation of physical need: the hunt, the chase, and finally, the taking of prey. Mike truly didn't stand a chance once Emmett and Jasper had chosen him as their target. Their meticulous locker room seduction is designed to drive him insane with lust. Between Emmett's self-love floor show, and Jasper's empathic lust cocktail, this game was over before it began. They completely conquer him.
Though the majority of this story takes place in the shower, it is a dirty, dirty fic. There is an abundance of ejaculate, Jasper's filthy mouth, and cocks doing things that push the boundaries of physics, If you love a good vamp fic, and are willing to push your own boundaries a bit, read the warnings, then give this a try. Then replace your pants, as you might notice that they have caught on fire.
---

So there were LOTS of slashy fun in the TwiKinkFest. I liked the TwiKinkFest ALOT for this fact alone. However, choosing which fics I could recc was ruddy difficult. We had wee (friendly) squabbles amongst us for which fics were being recc'd by who... But no blood shed, so here are
some
of my favourites from the TwiKinkFest... Go read. Enjoy. And do remember to go review.
---
AH, O/S, DirtyTalking, Slash, E/Riley
---
So we have a filthy, filthy, filthy, dirty talking Edward. Thats really all I need to say here isn't it? No? Want to know more? How about knowing that his boyfriends is a very innocent appearing, blushing Alec? And Edward likes to drive him insane by turning him into the middle of a chocolate fondant style goopy, dripping mess by using his mouth. His dirty, dirty mouth. And then he makes good on his promises, and more than delivers.
---
AH, OS, Auto-erotic asphyxiation, Slash, Edward/Jasper
---
This was one of those stories that, like many in the TwiKinkFest, was much more than a kinky story. It explored one man's need for his kink to get off and the serious consequences this almost had. It also explores the burgeoning relationship between flatmates, and how through being there for Edward, Jasper shows Edward just what friendship, love and acceptance can be. All this being said, it is at times unbearably sexual, with the tension so amped it made me tingly all over. Erotic, emotional and thought-provoking. Everything a good exploration of kink should be. Bravo!
---
AU, O/S (but can be read as part of a story series), Scars, Slash, Jasper/Garrett
---
What can I say about
DellaTerra
's writing? It is always divine, evocative and packs such a punch, yet somehow manages to be delicate and clear. So her writing for the TwiKinkFest? I knew it would be golden, and something very special. This Jasper, in my mind, is canon. It details his struggles after leaving Maria, and how he manages to find a way through his pain. Thanks to Garrett, their shared intimacy and desire and the acceptance Jasper finds through Garrett of his battle scars. Beautiful, intense and hopeful.
---
AH, O/S, BareBack//Desperate, Slash, Jasper/Peter
---
Ok. Anyone who knows me, knows that I am a slag for comeplay in fics. I adore it, and think there is a distinct lack of it within the Twilight Fandom! So this is my call to arms (as it were!) for MORE PLEASE! But back to this fic, one of the reasons I love it, is that it is full of comeplay. It has a delicious Peter and Jasper pairing who are GAGGING for each other. They are needy, desperate and bareback. And so they indulge in all the ways they can. Its hot, horny and messy. Just the way I
LOVE
it! Scrummy.
---
AU - Vamp/Human, O/S, Bruising, Slash, Demetri/Mike
---
I know what you are thinking! What an unusual pairing for Emmy to pick?! I know right. I AM normally an Edward slag. But this story is SO good, I just couldn't resist! There is something dangerous, and illicit in the pairing and their shared love of seeing exactly how Demetri's strength manifests itself in the marks left on Mike's body. Gah! Such sexy writing.
---
Slow Burn
AH, O/S, Figging, Slash, Edward/Carlisle
---
I have never read a story featuring Figging before. Prior to reading
Slow Burn
I wasn't too bothered about reading anything featuring it. What is so good about this story is the slow (see what I did there?) build up to the actual act of figging itself. Edward is a whiny, rich, spoilt and arrogant (albeit sexy and attractive tosser and Carlisle is his beautiful and classy older boyfriend who periodically has to put Edward back in his place. The fact that Carlisle won't take his shit is one of the many reasons Edward is with Carlisle. The latest way he teaches Edward a lesson, is very hot (again, like the pun?!)to read about. But the burn he makes Edward feel leads to hot, hot, hot and sexy times and pleasure a-plenty for the both of them, and for us as readers!
---
AH, O/S, Voyeurism/Threesome, SLASH, Edward/Jasper/Riley
---
This story contains part of my fave slashy pairing. Edward and Riley! Although the main coupling is Edward and Jasper, a wee peeping tom in the form of Riley, spies the two supposedly straight boys engaging in toy play in the bedroom at a party. They convince him to join in. There are elements of dub-con, but Riley is obviously hard and highly enjoying it, once he is co-erced to taking part. So its a hot and heavy threesome, with a very in control Jasper, and a very needy Edward and special guest player Riley. Sexy, dirty fun.

I love this fic fest, but most of all I love all the brave authors that took on the prompts and brought us some fantastic fan fics. I especially enjoyed how many AU slash fics we got and I'm going to high two in particular that stuck out to me.
---
AU, O/S, Slash, Edward/Seth, Warning: Torture, graphic descriptions of violence. Some elements of sexual abuse/non-con although this is not a big part of the fic
---
The Whipping Boy
is not for the faint of heart. The daring duo of
beckybrit
and
Fr333bird
took on a very dark prompt, that few would attempt to tackle. These two talented authors brought us a compassionate, dark, but ultimately beautiful love story about second chances. Here we see both Edward and Seth in all their canon glory as prisoners of the Volturi, and struggling to keep the location of Nessie and Jacob secret. Marcus tortures Seth, in graphic detail, in a attempt to get Edward to talk, but he underestimates the the strength of these two men's connection. So do they. Seth is in love with Edward, and here we see the slow development of Edward's feelings for his friend. I love this story so much. Their pain only serves to strength the depth of their love, so that when we see the final climax of their journey I nearly passed out of relief and happiness. This story is a treasure that I have reread many times.
---
AU, O/S, Slash, Emmett/Felix
---
GAH! I love Felix, many know this, but I especially love him paired with Emmett. These two strong, vampire men are made of sexy awesome. In this fun and a little fluff vampslash fic, we get to see a secret friendship that sparked up after the battle that didn't happen. The boys have taken to meet up once a year to compare strength and speed, but their little competition takes an unexpected and sexy turn.
We see the story from Felix's POV, and his nonchalant attitude highlights the moments of genuine affection he feels for Emmett. The sex isn't tender, but it is incredibly hot. God, I LOVE manly men fucking each other, especially when they're vampires.
---

There have been so many amazing TwiKinkFest stories that it was almost impossible to decide which ones to talk about. I ended up choosing four that have an unusual pairing or a kink not usually seen in Twific.
---
AU, O/S, Edward/Carlisle, Slash, Fuck or Die
---
Do or Die
is a story in which Edward will not live if he doesn't have regular doses of vamp cum. This story is so many things- it's heart breaking, full of some feral sex, and it's absolutely left me yearning to know what happens after
vampireisthenewblack
hit complete on the o/s. Can there ever be happiness for Edward, Carlise, and the rest of the Cullens? I need to know like Edward needs spunk.
---
AH, O/S, Carlisle/Alec, Slash, Public Sex
---
Oh my word this o/s is scorching hot! Carlisle and Alec can't keep themselves from getting it on in public. It's clear that Carlisle gets off on having sex in public, and Alec is surprised to realize that it turns him on too. It's hard to choose, but I think my favorite encounter takes place on a train on their way to a club. Holy hot blow job, Batman! I'm a happy woman knowing that these two are going to live a long and happy life together, fucking in public.
---
AH, O/S, Carlisle/Charlie, Slash, Chastity Device/Erection Denial
---
Charlie & Carlisle make me swoon hard, and there are not nearly enough stories with this pairing. I was so excited to find them together in
In and Out of Control
. Carlisle and Charlie have been together for 25 years, and just the thought of their long commitment makes me happy in my pants. Carlisle is a CEO, and under his business attire he has a secret. After Carlisle confessed to feeling that he was feeling the pressure of being in control of so much, Charlie bought the cock-cage and started taking control of Carlisle's erections and orgasms. This is not a story about Carlisle suffering this sexual denial; this is a story about the way that Charlie cares for his partner.
TwiSlashFF
does a beautiful job describing all the ways Charlie cares for Carlisle after spending a week wearing the cage. I hope other authors will be inspired to write more Charlie/Carlisle!
---
AH, O/S, Edward/Seth, Slash, Watersports
---
One of the best things about the TwiKinkFest is that many of the stories are
so much more
than pwp. People are reading about kinks that they might never had considered or read about before. On top of that, the stories are filled with beautiful examples of love and care.
The Weight of Water
is definitely one of those stories for me. NGL, watersports squick me, but
The Weight of Water
is such a wonderful piece of writing, it helped me see the kink in a different light. The kink takes a back seat to the loving relationship that develops between Edward and Seth. Edward is seriously self-loathing because he thinks being turned on by watersports is wrong. Seth is so smitten by Edward, he isn't put off by the fact that Edward is clearly hiding something from him. When Edward's kink comes out, Seth admits he doesn't really understand it, but that he's willing to explore it with Edward. I find Seth's acceptance and openness to trying something he hadn't considered before really sexy.