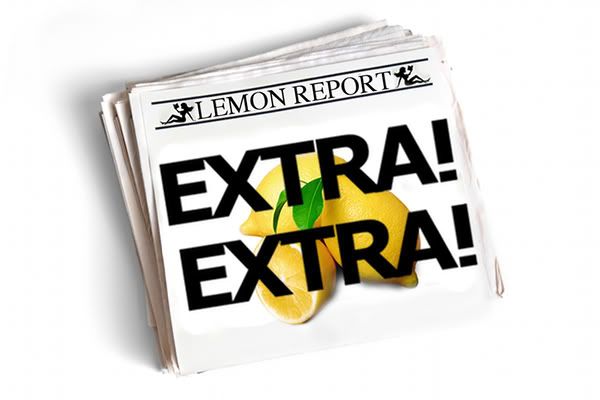 The Lemon Report - Fancy finding out what is on the FF bookshelves of the Pervy Girls of the PPSS? The lemon report lets you know our personal favourite updates of the week, and why you should give the fic a try.... It's a great place to trawl for new recc's and don't forget to share your favourite update with us by leaving us a comment.

In some cases, the Lemon Report may contain spoilers. Please read with caution.

Acronym Guide
AU - Alternate Universe
AH - All Human
WIP - Work in Progress
O/S - One Shot
OOC - Out of Character
WP - Wussperv
Slash/Femslash - Features homosexual characters and romance.
---
Merlin O/S, Slash, age disparity, dubcon (but I'm not so sure of that)
---
Posy -
I don't even know how I found
littlesleepfic
but I'm sure glad I did. I'm reading everything written. This little citrusy one shot is super hot. Will and Merlin are riding home on the crowded Tube after footie practice and Merlin just so happens to bump up against hot, hot Arthur. Will is loud and obnoxious, telling Arthur, "If you want to cop a feel, go right on. He's into gits like you. That...blond, old as fuck thing does it for him." Oh, it just gets better! I love raw fiction that is just plain old hot, and this is funny to boot.
Emmy -
I had been recc'd
littlesleepfic
's fics on Twitter. But can't remember who. Probs MssDare. She's my dealer! Merthur smuttttt dealer that is. Like Posy says above, I don't think its really dub-con. Both seemed to be gagging for it to me. But there is age difference and stuff that might squick people out. But not me as it was done SO well! Yum.
Chele -
Soooo dirty/naughty/hot. I'm also burning my way through
littlesleepfic
's and loving it all.
---
AH, Complete, Edward & Bella
---
Corie-
I gobbled this story up loved it. Such a fun look at an Edward I hadn't read before a South Boston hard core neighborhood loving, beah drinkin, cop. I feel in love with him. It's quick wit and dedication to showing the area and people this story is based off of was refreshing and well done. I loved the love hate relationship between Edward and Bella and it only fed to create fantastic tension for the lemons.
Emmy-
I just read this, this week too! I'm not sure how I stumbled upon it, but I am glad I did. Its cute, very easy to read and BostonWard is not an Edward I have read before. He's quite, how shall I say it, uncouth. But yet charming and sexy! Hilarity and cute times ensue. Deffo worth a read to beat the Winter blues!
---
AH, WIP, Edward & Bella
---
Corie-
I am so freaking excited for this story. Just started posting last week and I can't wait for more. We dive right in to a lemon and its sweet and entrancing. I love fics that tackle canon traits but put a new twist on them and in this we find Bella has gift of seeing the future. The way the author translates that to written word I think is phenomenal. I can't wait to meet more characters!
Emmy -
I had not stumbled upon this one. But oooh thanks Corie. Its deffo on my TBR list now!! **bookmarks**
---
Merlin, AU, Novella-Complete, Slash, Merthur
---
Emmy -
A fan of boys wanking? Then this fic is for you! Want SHEDloads of UST?Want wonky wanky magic? Check and check!!! Yummy, scrummy fun that somehow also turns out to be tender and heart grabbing.
Posy -
Yes, exactly what Emmy said! Such hotness.
---
AH, Complete, Edward & Bella
---
Corie-
I spent sometime this weekend rereading this story and fell in love all over again. This is a superbly written story by a talented writing duo. What is the driving force behind it for me is the complexity of the characters and the way the authors hold no emotions back. This story left me crying, panting and most of all just brought a smile to my face. The intense physical relationship from the start only drives this love story further.
---
AH, WIP, HS, E/B
---
Emmy -
This story has no sex yet, but lots of wanking. (hmmmm wanking is a common theme for my reccs this week isn't it?!). This tongue-in-cheek HS fic has got lots of tension of the sexual kind, as sort of sex addicted Edward more like highly sexual Edward aka HandWard find his new school,
'hard'
and even
'harder'
once new girl Bella arrives. He just doesn't know that she's a horny wee thing too.....
Corie-
I just picked this story up this weekend as well and good lord the amount of tension in poor Edward is going to make ME explode lol.
Jess -
This little story owns me in a big, big way. Edward's pain and "restraint" (if you can call it that) and Bella's very overt thoughts are just totally made of win!
---
AH, WIP, E/J, Slash
---
Jen -
Sweet, sweet high school boys in their first relationship. Lots of dry-humping and wanking. A wee bit of bully drama, but that just opened the door for Jasper caring for his boy in all the best ways.
Posy -
I read this last week after it was rec'd. I do love young love. Perhaps it's the innocence of it or the newness of sex to these characters. I'm not sure. I just know I love reading stories like this. I see there's a new chapter since I read, so I know exactly what I'm going to be reading in bed. Yay!
Jess -
I cannot with how much I love and ache for these boys. New explorations and love... the struggles of high school, coming out, and parents that just don't quite get it has made me all sorts of heart-hurty, but when these two come *ahem* together it's pure magic.
Emmy -
All I want to say is I love. Oh and night time visits ftmfw!!!
---
AH, Novella-Complete, E/B
---
Emmy -
Too long since Christmas for me to recc a christmassy set story? TOUGH TITTIES!!! I am doing so anyways. A sexy santa countdown and lemony goodness makes this a great read on a cold wintry day. Sexy fluff. As we all need that sometimes. (except perhaps our Jeanne, unless said fluff is between Felix and Edward......)
---
AH, WIP, E/B
---
Emmy -
A lighthearted and easy to read fic, in short (but not annoyingly brief) chapters. Edward has lots of layers, a stoner, a geek?, a brother, a lover? Who will Bella discover when she lets her curiosity get the better of her? A great first time scene of a lemon and lots of playing around keeps this fic fruity!
---
Harry Potter Fandom, Complete, Hermione/Severus, Warnings: dub-con, angst
---
Chele -
This story is aptly titled, because it is very, very dark. Set in a post apocalyptic Britain, wizards and witches have lost their magic, and travel in nomadic groups scraping out the most meager of existences. Reason and knowledge no longer rule, having been cast aside for brute strength and basic survival.
Hermione travels with one such group, trying to keep her companions alive while dodging the advances of its current leader. One day, Severus Snape arrives, bringing with him the promise of magic, and changes everything.
This is a sci-fi/fanstasy two- chapter fic. It's sexy, but at times revolting. Completely intense. I loved.
---
AH, WIP, Em/Ri, Slash
---
Jen -
Riley and Emmett sittin' in a tree, K-I-S-S-I-N-G. I love these guys and can't get enough. Riley and Emmett have moved way past fooling around. Their feelings for one another makes their loving even hotter--tender Emmett just makes me swoon.
Posy -
I agree. Emmett is so sweet I just want to eat him up, but Riley is great too. What started out as a fun little kinky one shot has turned into a really rich story. I love these guys together, but especially how open and playful they are with each other.
---
AH, WIP, E/B
---
Jen -
These two. OMG. The cuteness kills me every chapter. But just because they're cute doesn't mean they're not sexy or hot. I can't get enough.
Jess -
What Jen said to infinity. It seems like every chapter just pushes me a little further, twists me up a little more, and I'm just tight as a spring ready to burst with love over these two!
Emmy -
Still have recent update to read. But oh this story is so good. I really loves it. What a beautiful heart this Edward has. And his pov is perfect.
---
AH, Complete
---
Jen -
rpgirl27
brought us a three part future-take of everyone's favorite mountain man. And the third part had exactly what I was hoping for- some super hot loving between Edward & Bella, many years and many children after their wedding. Unf!
Jess -
This was awesome! Loved getting this glimpse into the future!
Emmy -
This was one of my fave fics of last year. In fact it was one of my picks in our smuttdown! (did you read that last week?!) This little novella adds so much to it. Bringing our story pretty much full circle. Bloody love it.
---
AH, WIP, E/J, Slash
---
Jen -
arn24601
gave us the sweetest, sexiest Christmas gift. The UST had grown
thick
(twhs!) between Edward and Jasper, despite only knowing one another for three days and the huge differences in their lives. On Christmas night they finally get to open the one toy we've all been waiting for.