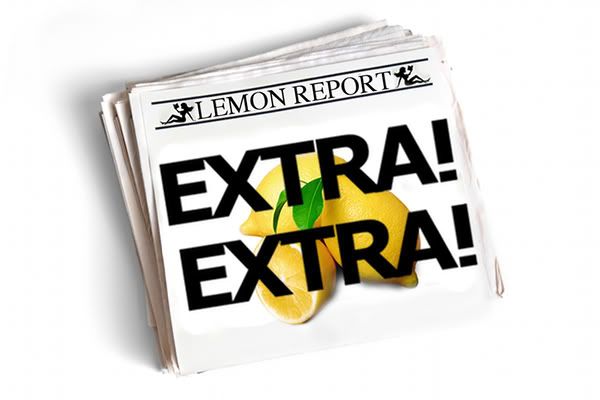 The Lemon Report - Fancy finding out what is on the FF bookshelves of the Pervy Girls of the PPSS? The lemon report lets you know our personal favourite updates of the week, and why you should give the fic a try.... It's a great place to trawl for new recc's and don't forget to share your favourite update with us by leaving us a comment.

In some cases, the Lemon Report may contain spoilers. Please read with caution.

Acronym Guide
AU - Alternate Universe
AH - All Human
WIP - Work in Progress
O/S - One Shot
OOC - Out of Character
WP - Wussperv
Slash/Femslash - Features homosexual characters and romance.
---
by Anonymous
Harry Potter, AU, Post-War, Hermione/Scorpius, Hints of Hermione/Draco
---
Jeanne -
Oh how I LOVE fic fests. This was part of the
Kinky Kristmas HP Fic Fest
. The premise is simple and the fic is short, but holy shit is it hot. Hermione is on vacation after divorcing Ron, when she runs into Draco's son Scorpius and they begin an affair. I love how she exerts control over him and how he thrives under her attention. I love the subtle ways he reminds her of his father, and the relationship she once had with him too. It's all so hot and naughty and awesome. I wish there was more of it.
Chele -
Hot, naughty, Mrs. Robinson (Grainger) fic. This is a pairing even I never dreamed of, but wow, it's lighting my pants on fire. Loved it.
---
AH, Ed/Leah
---
Jeanne
This outtake made my holidays! Happy Leah and Edward makes me so happy in my pants, but then they have sexy times and I nearly die from UNF!
Jess -
Per the usual, I love love love these two! So good!
---
AH, Bella
---
Jeanne -
Happy Holidays in my pants this was awesome! Take about a rough, raw fuck! GAH!! I swear this fic and the hotness is going to be the death fo me, but oh what a way to go.
Jess -
One word. Carlisle. ::ded::
Chele -
Damn, I love a fic that finishes strong, and this one promises to keep us panting till the last word.
Corie-
I about died when Carlisle told her to leave or he would fuck her. I was so screaming DON'T YOU FUCKING LEAVE.
---
AH WIP Drabbles E/B
---
Jess -
Physicsward slays me. Every. Time!
Posy -
That was lovely. If only all mornings could go like that. ;)
Corie-
This story does such a fantastic job of balancing the nerdy and sexy and when I say sexy I actually mean HOLY SHIT lol.
Emmy -
I think that
theladyingrey
writes the most adorable Edwards and the strongest Bella's. My heart aches for them both in this. And I really hope that Edward can open up to Bella the way that she has to him......
---
AU, Carlisle/Bella, Warning: Cheating, Angst
---
Jeanne -
Good Lord this one hurts, in all the right ways. This brutally beautiful one shot tells the story of Carlisle doing the wrong thing for all the right reasons. His love for his son and his family, not to mention his compassion for Bella drive him to this end. Oh what an end it is. This is like a gorgeous, sexy slow motion car crash. I couldn't stop reading, even as my heart ached for Carlisle and Bella, not to mention their mates. Even with all the emotional turmoil and soul-rending angst this is one of the sexiest, sweetest sex scenes I've read in a long time. I don't know how
Zoya Zalan
does it, but I thank her for sharing it with us. UNF!
Chele -
All the times I've read a fic where someone offers to "help" Bella with her sexual needs while Edward refuses her, and never have I had one tear at my heart like this. Somehow, Carlisle is noble in his infidelity, even as he tears himself in two to keep his family together. Beautifully written, perfectly done.
---
Harry Potter/Draco Malfoy, Slash
---
Posy -
Dysonrules
Dysonrules (on LiveJournal) is one of my favorite Harry Potter authors. This story is set about 10 years post war in Seattle. Draco sees a familiar head of messy black hair while he's having his cuppa at his usual morning spot. Turns out Harry is in the US working for the auror's office on a case. The story is mysterious and sweet with nice lemony moments. I honestly just sigh when I think of her Draco. I lurve him so, especially during the last scene.
---
Twilight/Harry Potter X-over, Edward/Draco, Slash
---
Posy -
You know how sometimes you start a story and when life gets too busy, you easily forget it and move to another story closer to the top of your inbox? Not with this one. I couldn't get it out of my head and it was the first thing I read when I finally had some time to read again.
This is a multi-chapter fic that is only awaiting the epilogue, so if you are like me and enjoy a completed fic, this is a great time to read. Edward did a very, very bad thing (which is kept a mystery for quite some time) and has basically sequestered himself inside a remote cabin in Scotland that Carlisle let him know about. As it just so happens, the cabin is located in The Forbidden Forest, near Hogwart's School of Witchcraft and Wizardry.
As Edward is getting used to his new home and existence away from his family, trying to come to terms with his bad deed, a young wizard comes near his cabin. They begin to talk, and Edward can even read Draco's mind, but Draco has the ability to shut Edward out of his thoughts. Nonetheless, Edward hears that Draco is in distress, on some mission that frightens him. They form a fast friendship, albeit rocky, Draco even bringing Edward books on the wizarding world so that he has something besides two-hundred year old medical texts to read.
For those of you familiar with Harry Potter, this takes place during the sixth book, Harry Potter and The Half-Blood Prince. If you have never read HP,
Magnolia822
does a beautiful job of leading you into that world. For that matter, I believe she does the same for the Twi virgins as well. It's a wonderfully written, angst-filled, and sensually erotic story that brings these two worlds together in such a rich telling that I had to share this with you.
---
Merlin/Arthur, Slash, Kink
---
Posy -
I'm bringing you another Fuck or Die fic. I've been sucked down the rabbit hole that brought me to Merlin slash, and it's really lovely over here. Honestly. If you haven't given Merlin/Arthur a chance, try this one.
Arthur is given a gift by Prince Edward, a new ally. That gift happens to be Merlin, who is collard and led around by Edward on a silver leash. Arthur is confused by the
gift
, unsure what to do with the slave boy, but also wanting to help him get away from Edward's cruel treatment. Merlin becomes
bound
to Arthur. What that means is unclear initially.
There is much animosity between Arthur and Merlin, but it soon becomes clear that Merlin needs Arthur's release, to drink it down or to have Arthur come inside of him. Of course, due to the odd circumstances of all of this, it leads to a lot of awkward sexual moments where both men feel off balance and out of their element. I think that's why I loved this one so much. I love vulnerability in characters, and how much more vulnerable can you get than having to fuck or die?
Chele -
This author is amazing. The words are beautiful, even when the story doesn't seem to be. However,
Bend All Your Notes For Me
is so much more than it seems. This fic has sucked me down the rabbit hole of Merlin fic, and I never want to climb out. It had rekindled my love of fantasy in the way that Twilight re-ignited my love of fiction.
Emmy -
Well all you know that I am a resident Merlin whore. This fic is so good. As Posy says, it is the vulnerability of both characters in this fic that kills me. Oh so good.
Seriously if you love slash and haven't dived into Merlin fanfic by now, then you are SERIOUSLY missing out!!
---
AH, WIP, J/E
---
Jess -
I'm pretty sure
Sadtomato
is going to kill me with these two boys. So much love and hotness in their new beginning. I can't wait for the next update. Mama Cullen is here.
Emmy -
I have said it before, and I will say it again. I love everything that
Sadtomato
writes. This is no exception! Exceptionally cute with a liberal dose of sexy exploration. Beautifully done. Though the end of the most recent chapter made my heart leap into my throat.
---
AH, O/T, J/A
---
Jess -
I loved getting this glimpse into Jasper and Alice's marriage. Their connection is intense, and watching Alice take control, even if tentatively, was beautiful. So good.
---
AH, WIP, E/B
---
Jess -
Some serious stuff is about to go down, and I'm all twisted up inside. Christmas lovin' and some very happy times with these two. Love!
Corie-
I fell a bit behind on updates with the holidays but I spent today getting caught up and I have to say when things are good between these two it's steamy and sweet and so fantastic.
---
AH, Complete, Em/R
---
Jess -
I have enjoyed this story immensely. The journey these two took, the healing and hope, the love and adoration, was perfect. The final chapter made me all sorts of happy and it was well worth the wait.
---
AH, O/S, E/B
---
Jess -
This was one of the most beautiful one-shots I've read in a long time. I loved the flow, the pacing, the way the whole thing was constructed. Watching as truths were revealed and relationships were formed and progressed... perfection.
Corie-
I so enjoyed this O/S I love everything this author does but the way she captured those innocent moments that mean so much more was divine. Also she captured the time period and the way people thought and destroyed each other with "morals" so well. Such a thoughtful look at first love.
Emmy -
Oh my word! I adored this fic! Such amazing writing. Like Corie said the time period is spot on, not just for the physical setting, but for the emotional and moral backdrop too. Perfection.
---
AH, WIP, E/B
---
Corie-
I adore this story. The storytelling is so superb and the chemistry between characters jumps off the page both in the present and the past which alternate chapters in this story. We get to see how they fell in love as he painted her day after day and and also how she completely wrecked him when she left him and where his life went when he abandoned his art. We are right in the middle of getting all the answers with this last update and I can't wait to see how this plays out.