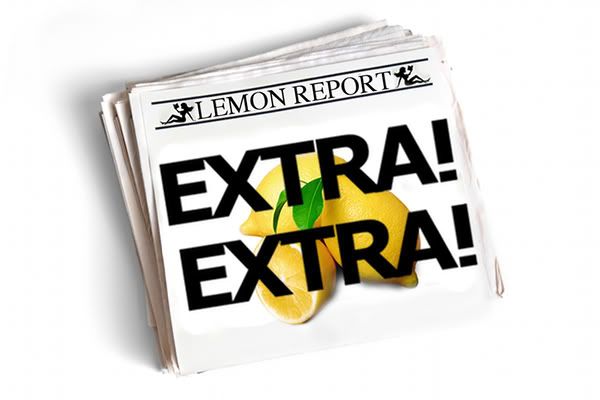 The Lemon Report - Fancy finding out what is on the FF bookshelves of the Pervy Girls of the PPSS? The lemon report lets you know our personal favourite updates of the week, and why you should give the fic a try.... It's a great place to trawl for new recc's and don't forget to share your favourite update with us by leaving us a comment.

In some cases, the Lemon Report may contain spoilers. Please read with caution.
Acronym Guide
AU - Alternate Universe
AH - All Human
WIP - Work in Progress
O/S - One Shot
OOC - Out of Character
WP - Wussperv
Slash/Femslash - Features homosexual characters and romance.
---
AH, WIP, E/B
---
Jess -
This story has had me all twisted up from chapter 1. It's not angsty in the traditional sense, just more heartclenchy and hopeful. The lemon is subtle and perfect for these two, and I just love love love this Edward and Bella. So good.
---
AH, WIP, E/B
---
Jen -
I love this story at all times, but never so much as when this eternally selfless Edward takes what he needs. Yummy, yummy post-sort-of-first-date sexing.
Emmy -
I don't think I could love this fic or Proudward more.
jennde
has written a beautiful, and above all, realistic portrayal of a single father, who would do anything for his daughter - learning to let others in and how to have some happiness of his own. Precious!
Jess -
There's no doubt I love love love this story. As Emmy said, it is so realistic, and that is what I adore about
jennde's
writing. She never feels the need to force the situation, and instead lets it flow. So so good.
---
Merlin Comment Fest, Mixed pairings, mainly SLASH, mix of AU and AH etc
---
Emmy -
This is not new, but it was new to me when I stumbled upon it early in the week. Lots of yummy, very clever and brilliant Merthur and Merlin authors filled prompts by others on kinky yummyness of different varieties. My fave is probably
OneLittleSleep
's fic,
The First Lesson
where Arthur does't have a scooby what he's doing when it comes to carnal affairs. So Merlin has to guide him through it. **pants** Very delish! Oh and there is a fabbio 'rim or die' fic too - go read them all!
Chele -
This is a cache of kinky smut right here. Still working my way through it, but the rim or die fic? Made even this h00r blush.
Posy -
The rim or die fic was fricking amazing. It was wanton and dirty and it made me swoony. Yep, seriously swoony, because it's totally obvious how much Merlin loves Arthur. Poor boy needs a jaw massage.
---
AH, Carlisle/Edward (Emmett)
---
Chele -
This is a beautiful fic. Though written for the KinkFest, I am hesitant to call it kink, though I'm sure if you get off on voyeurism, or age disparity, this will do it for you too. It's a love story about two men in an unfortunate circumstance who truly go beyond making the best of it in experiencing passion and shared pleasure. Having had a close friend with erectile disfunction whose glaucoma prevented him the benefit of the highly lauded "little blue pill", this really hit home for me. It is ache and triumph (and a bit of Emmett in the middle didn't hurt my feelings), but mostly, it's just lovely.
Emmy -
Yes this really is a beautiful and lovely fic, not something I would have considered before I read this. But touching and realistic and even though I am not an Emmett fan, this fic left me fluttery.
Posy -
I loved this because it deals with real life issues that no one is willing to talk about. I love secretive stuff. I especially love blowing the doors off and letting the world understand, and this story totally does that.
Corie
I saw all the beautiful things the other girls had to say so I ran and gave this and read and the subject is handled with such care and love. I really have to say it was everything they promise sweet and loving with some very hot moments between all three characters.
Jess -
I read this after Jen raved over it a while back, and I still love it. Heartbreaking and beautiful, and a very interesting solution to work through a very difficult problem. So good.
---
AH, Jasper/ Alice
---
Chele -
So great when an AH fic can thoroughly weave in canon characteristics that you truly feel these could have been alternate human lives of your favorite Characters. This is Jasper and Alice's story, and it's so sweet despite each character's difficult pasts and current demons. The intimacy is lovely and rather than being smut for smut's sake, it truly feels like a connection and coming together of these two.
---
Merlin, Elena/Merlin/Gwaine
---
Posy -
This is a short outtake from the story
In the Dust and the Shadows
that I recommended in the Lemon Report last week. Merlin gives Gwaine instruction and a demonstration on how to kiss a woman between her legs. It's not even 1400 words, but it made me fall in love with all these characters again.
---
E/B, WIP, AU
---
Corie-
I mean it when I say I love a great vamp story and I spent the weekend with this one and I was BLOWN away. It's erotic, dark and everything I love about a good twilight vamp fanfic. She takes so many what if moments from canon and flips that shit on its head. I can't say enough about the writing and imagery used. I was kicking myself for waiting so long to dive in. Don't make my mistake you do NOT want to miss this Edward.
---
E/B, WIP, AU
---
Corie-
This is a brand new AU from and author I enjoy and only 4 chapters in the heat and sex is already amped up. After this last update I can't wait to see where that cliffy takes the story now!
Jess -
Like Corie, I'm already enjoying this story. It's something different from
Lady Gwyndedd
and I'm anxious to see where she takes it.
---
Spartacus Fandom, Agron/Nasir, Slash
---
Jeanne -
What's better than gay gladiator love? A hot, kickass gladiator taking it in the ass from his equally hot former body-slave boyfriend. That's right kiddies. Here the stereotypes of who tops and who bottoms is turned on it's head, literaly. If you've been curious about this fandom and this CANON gay couple this is the perfect fic to start with. Read it, you know you want to.
Chele -
Sometimes a title is the best summary. Two gorgeous masculine warriors, making love. PWP in its purest form.
That sucking sound you heard this week was Jeanne flushing me down the Spartacus fandom rabbit hole. Watch out, or you'll get caught in the undertow... Fuck it. Jump in. The water is warm and there are gladiators here.
---
AH, E/B, WIP
---
Nico -
Going back to your high school reunion to face your past and possibly your future is a lot to put into one weekend. Bella and Edward see each other after years of being apart and having other lives. However, once they are back on the same turf sparks fly and it's just yummy to see where there they are going along the way. :)
---
AU, Seth/Riley, WIP
---
Jess -
I continue to love this story and these two boys as they navigate their way through wolf-vamp love. There are little bits of canon that have changed, and I sort of like that! Lots of yummy goodness in this one!
---
Spartacus Fandom, Ilithyia/Lucretia, Femslash
---
Jeanne -
Femslash FTW! I love these two and honestly one could make a good arguement that they are a canon couple. Part of what I love about them is how they show how easily the emotional connection between two women can shift to something deeper. Plus they are just so fucking hot together. This is just a little rif on a scene from the latest episode and it gets hot and heavy really quick. If you're a fan of girl on girl action this is the fic for you. UNF!
---
Merlin, AU, O/S, Merlin/Arthur, Slash
---
Jen -
As the summary says: Glory-Hole Romantic Comedy. Need I say more? Wet warm blow-jobs, tingly magic, longing, and a wee bit of angst. Yum.
---
Merlin, AU, Merthur
---
Posy -
I think I just fell in love with being in love. Over the span a year and a half, we get glimpses of the love and passion that Arthur and Merlin share. Five days of tenderness, hilarity (ducks, ftw!) and totally swoon-worthy moments. So beautiful.