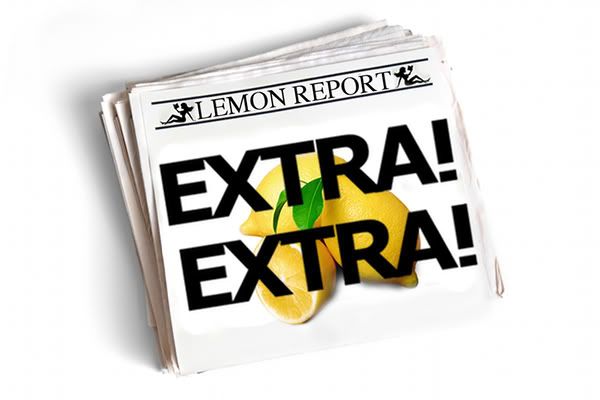 The Lemon Report - Fancy finding out what is on the FF bookshelves of the Pervy Girls of the PPSS? The lemon report lets you know our personal favourite updates of the week, and why you should give the fic a try.... It's a great place to trawl for new recc's and new fandoms, so don't forget to share your favourite update with us by leaving us a comment.

In some cases, the Lemon Report may contain spoilers. Please read with caution.

Acronym Guide
AU - Alternate Universe
AH - All Human
WIP - Work in Progress
O/S - One Shot
OOC - Out of Character
WP - Wussperv
Slash/Femslash - Features homosexual characters and romance.
---
Harry Potter Fandom, Harry/Scorpius, Slash, Age Disparity
---
Chele -
Harry takes on more than he bargained for when he promised Draco that he'd talk to his son about Scorpius' apparently wicked ways. Scorpius' seduction of Harry is heady, hot, and entrenched in mystery.
Jen -
Chele finds all the dirty things. All of them. Unf.
---
Twilight Fandom, AH, WIP, E/B
---
Teal -
It feels like things may be winding down in this fic, but these two are keeping the fire burning bright. There's nothing like letting go of your inhibitions and trying something new with the person you love...certainly nothing hotter!
Nico -
I love how just when you think you might be hitting a lull in these two's exploration they find something new to try and explore. I am so excited for the next part of the journey. :)
---
Spartacus Fandom: Vengence, Agron/Nasir, Slash
---
Jeanne -
Happy gladiator blow jobs to make injured boyfriends feel better! SQUEES AND DIES HAPPY! I am now fucking around when I say that slash fans should have these boys in their pants RIGHT NOW!
Jen -
I really, really want to read this. Need. More. Hours.
---
Twilight Fandom, AH, WIP, E/B
---
Teal -
It's all getting ready to fall apart, but the hotness is still there. Gah. I hope we get more smut before the severe angst kicks back in!! Such a great story!
Jess -
What Teal said... and as Edward begins to fall hard (heh) it's just going to hurt worse!
Corie -
These two kill me. I just can't stop thinking about how he can fix this.
---
Harry Potter Fandom, Harry/Severus, Slash, Age Disparity
---
Chele -
Harry returns to the Shrieking Shack to save Snape, but his aid is needed for several months to counter the effects of Nagini's venom. Snape's convalescence gives the two time to grow closer, and their time spent brewing together quickly becomes an aphrodisiac. There is much stirring of rods if you know what I mean.
---
Twilight Fandom, AH, O/S E/Carlisle, SlashDescription
---
Chele -
Quick and Dirty smut-shot. Student Edward, professor Carlisle, naughty means of extra-credit.
---
Merlin Fandom, Arthur/Gwaine/Merlin, slash
---
Posy -
Merlin is hardly in this little story at all, but you can tell how much he's loved by Arthur and Gwaine by how much they revere his sleeping form. Arthur and Gwaine do, however, have needs that they must satisfy. ;) Yum.
Emmy -
I am ALWAYS and FOREVER the WussPerv, so I do have some issues when Gwaine joins in..... But as always, as this is
LolaFeist
, its amazing... and so worth a read.
---
Twilight Fandom, AH, WIP, SLASH, Ed/Garrett Jasper/Riley
---
Emmy -
HOLY FUCK THIS UPDATED WITH THE CHAPTER I HAD BEEN WAITING FOR!!!!!!!!!!!!!!!!!!!!!!!!!!! I am incoherent. But ruddy thrilled!!! ***fans self***
Jen -
please someone go get the defibrillator; I have flatlined___________
Jeanne -
1NINQRBIUBEVIANWNERALKEBFAJBELIUBLIUBR!!!!!!!!!!! [I'm sorry, Jeanne can't comment right now because she is dead from the hottness.]
---
Twilight Fandom, E/B, WIP, AH
---
Nico -
Don't let the fact that this story is already on chapter 127 deter you. The chapters are short and fly right by. Bella is a hair dresser and meets Edward as a nervous walk in. I wanted to be Bella from the start just so I could play with Edward's hair, and then it just gets better from there. :)
---
Twilight Fandom, E/B, AH, WIP
---
Nico -
So we have finally made a full circle back to chapter one and wow, it's even hotter the second time around and leaving you dying to know what next. :)
---
Merlin Fandom, AU, Magic, Long-Length O/S, SLASH, MERTHUR
---
Emmy -
I read this thanks to a recc on Tumblr. It's not a new fic by any stretch. But its ruddy good! What does Merlin have to do with an Elfin Contest to find their true heir? And how does Arthur get sucked in to it all? Love the power shifts in this tale and how true love bloomed and shone out for all to see...
---
Twilight Fandom, E/B, AH, Complete,
---
Corie -
I have to say I fell completely in love with this sweet story. I just couldn't get enough of the relationship between this Edward and Bella, from the banter to the complete accepting friendship. They are complete opposites in every outward appearance and yet they make the easiest best friends that fall head over heels for one another. If your looking for a short lovely story about friendship and food dashed with some great Friends jokes look no further then this.
Emmy -
Corie's review has made me read this tonight! Love how the importance of friendship and nonsense and laughs in love is emphasized.
---
Twilight Fandom, E/B, AH, BDSM, WIP
---
Corie-
When I generally think of BDSM fic I don't think I will laugh out loud reading it but I so did reading Collared over the weekend. It has some of the most intensely funny and steamy moments. Edward and Bella are FBI and DEA agents looking to infiltrate The Volturi Brothers organization by posing as a D/s relationship in their high profile BDSM club. They have to commit fully to this undercover assignment and what happens is so fun. Totally a funny, sexy burn your panties off danger filled story!
Nico -
I haven't read this one yet but after reading what Corie is saying I can't wait to jump in. :)
---
Merlin Fandom, O/S, Modern, AH, SLASH, MERTHUR
---
Emmy -
Not quite sure how I found this fic, or this author (have read all of hers now!!!) (all are great - and there are some fab non-smutty but mega cute ones), but I am super chuffed I found her as I am loving her stuff!!! Merlin and Arthur are casual fucks. They meet up they shag and thats all it is.... Isn't it?...... Well maybe. Yummy sex and cute boys!! Perfecto! A follow up one shot is
HERE
!!!!!
---
Twilight Fandom, AH, WIP, E/B
---
Emmy -
This type of story doesn't normally appeal, but this story was recc'd to me when it was only a chapter or 2 in. I immediately liked the non-sensationalist approach to telling the story of Edward who was found alone in the wilderness as a young man, without social skills and suffering from trauma. This story is much more believable than others of the same genre, and the supporting cast's stories are believable and interesting too: particularly Carlisle and Esme, and Charlie and Tanya. The story has been very well plotted and the pacing is ideal, as Edward has so much to learn and discover. Rushing them into a lemon would have been nonsense, so instead the author has let their story unfold as Edward develops and learns..
The last couple of updates have taken us into lemony territory! Hurrah. Edward is suddenly discovering what his body is capable of, what Bella really means to him and what frustration is......
Nico -
I'm a couple of chapters behind on this one but now I am even more excited to catch back up then I already was. Edward is so sweet and it's fun to watch him discover himself and what love and his body is all about. :)
---
Merlin Fandom, O/S, Gwaine/Percival, Slash
---
Jen -
I wish there was a way to put post-its on my tabs, so that I could keep track of where I found a fic recc. I haven't a clue who or what led me to this lovely story. The emotion builds gradually, and everyone is pretty much fit to burst when it's finally time to resolve some sexual tension. Bonus for angst lovers: little teasing glimpses of the love between Arthur and Merlin, a love which they are unable to satisfy.
---
Twilight Fandom, AU, WIP, E/B
---
Jen -
Things are wrapping up in this former Team WussPerv rec. Everyone is getting their happy ending. Edward and Bella sharing their bodies after all kinds of worries throughout her pregnancy is soooo delish.
Emmy -
Like Jen says seeing these two have time to be together as they finally should is just beautiful. Lovely.
---
Twilight Fandom, AH, WIP, Carlisle/Bella
---
Jen -
The Patron Saint of Lost Causes
is a collection of o/s that give us more background on Izzy & Carlisle's relationship in
Fall to Ruin One Day
. This chapter is hot and spicy, yet also gives us a lot of insight into Bella and how much being in a relationship with Edward stifled her sense of worth.
---
Harry Potter, WIP, Draco/Hermione
---
Jen -
Honestly, I never thought I could love Draco Malfoy. I'm glad I decided to take Chele's advice in a Lemon Report from a while ago and started reading this. Just as Draco slowly sees more to Hermione than 'mudblood', I slowly fell in love with this Draco. You really feel how much he needs her, particularly when they're separated. My heart! Their sex has such a desperation to it. I can't wait for another chapter.
Chele -
I'm so glad Jen's reading this so I have someone to squee with when it updates. It's so very intense. I suggest reading buddies for everyone.
---
DC Comics/Smallville, AU, O/S, Bruce/Lex, Lex/Clark, Clark/Bruce, Slash
---
Jeanne -
Where do I fucking start? First off, if you love angst pull up a chair and bring a bottle of bourbon, cause you are in for a bumpy ride. Bruce secretly watches his former lover Lex on another night of debauchery in Gotham, but tonight is different. Tonight, Lex has hired a male prostitute by the name of Clark. Yeah, we are not in Kansas anymore, kids. LOL The majority of this one shot is about Bruce and Lex's tumultuous history. There is a lot of blood, tears and soul shattering sex. Both these boys/men are so beautifully fucked up it is hard not to fall head over heels for both of them. This is the very definition of hurts so fucking good.
---
Twilight, AH, Complete, E/B
---
Jess -
This story is finally complete and ended on an absolutely lovely note, and with lots of good B-Girl lovin'!
Nico -
Edward might have started out this story having no woo but now as it wraps up he's the king of woo and so much more. :)
Corie-
This story had me smiling from start to finish. No one woo's like Toonward.