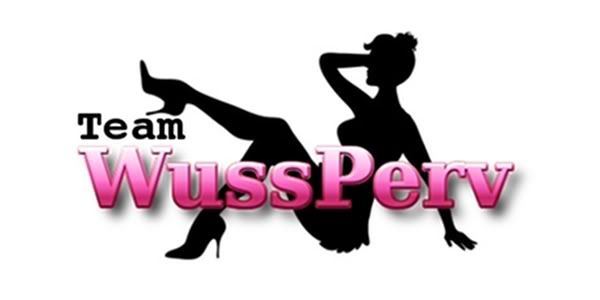 I'm sure you're wondering what the fuck a wussperv is, right? A wussperv is someone that is...

A) Tragically canon
B) Loathes angst (when in massive doses)
C) Loves smut
D) Needs a Happy-Ever-After

We love to read new fluffy recc's. :) Please feel free to let us know your favourite WussPerv friendly fic. It might be Team WussPervs next recc!
---

The Team WussPerv Pick is...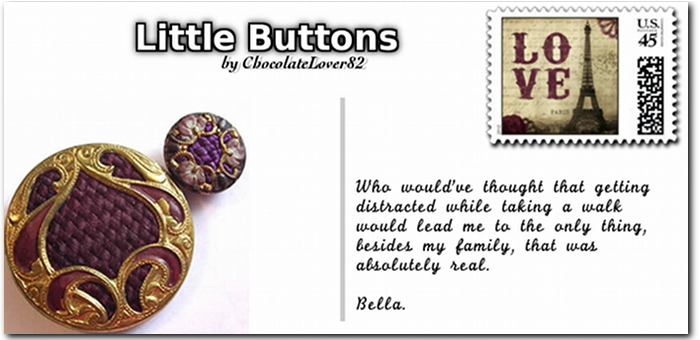 Title: Little Buttons
Author: ChocolateLover82
Chapters: 21
Words: 149,020
Reviews: 395
Summary: A fortunate encounter while wandering the city may lead Edward to realize that, perhaps, not everything is lost. But is he ready? AH, ExB.

---




Corie


When this story was picked as the Wussperv story this month I knew it was a chance to knock it off my TBR list for sure. I was enchanted chapter one. The story is a love affair between Bella and Edward but also with these character and the city of lights. I felt immersed in the textures,
food, and love that ChocolateLover82's has for the city of Paris. She brings this story to life with color and beautiful imagery. It's a fascinating story of true love after major loss and failures. I love that she really builds a love story from the first moment they meet to the very first brush of skin and we get to experience it all. The sweetness makes the sexy all the more special. I for sure say this is a story not to be missed, it will make you hungry for pastries and love.






Emmy


What beautiful writing. Gorgeous, subtle, evocative and just so so beautiful. Each word creates a beautiful sketch of love, of Paris, of hope, of joy, of fear, of passion, of trust. I think it was Jen who first drew my attention to this hidden gem. And I thank her for it most sincerely! As I was smitten from the beginning.
This story is the perfect WussPerv pick, due to its lush storytelling and the strength of their love. Like most people, this Bella and Edward have a lot of things they have to work out about themselves, so that they can work as a couple together. But like good couples, or good matches. What the other offers to them, helps them each to be who they want to be. Bella the seamstress, who lives above the delectable bakery, and Edward the distrustful couture designer are the two main characters to this delightful story. But the third main character is just as important and just as interesting, adding a crucial layer of magic and love to the story. That third character? Why the beguiling and breathtaking city of Paris of course! These two Americans, are happy in Paris, and by chance of fate are drawn together to truly find their happiness.


As I've already waxed lyrical the writing in Little Buttons is just beautiful. This extends to
the sexy stuff too! Its very sensuous and warm rather than smutty. Its full of love scenes that start in your heart and tummy, and bloom into a a tender blazing warmth rather than a quick fire that comes and goes quickly! (pun intended!) The settings, the language, the story all build this up to create romantic scenes free from cloying cliches. Edward is a giving and warm lover, and his love, their love shines through every one of their touches, or kisses....


The room is warm though and the windows are already a little foggy, but I don't care about that at the moment, All I can think about is about how she feels against me and kissing her lips again.
We should never stop.

My hands settle on her hips, bringing her closer. She moans at the combination of feeling me hard underneath her and the calluses of my fingers on her skin. I love it when she shivers from those. She says she likes to feel the contrast of them on her. She all but threatened my life when I offered not to touch her that much if I was too rough.

I wouldn't have stopped anyway.

Her chest is pressed to mine and her arms wrap around my neck. I take the opportunity to kiss her neck and whisper words that I know drive her crazy. I've learned so much about her and what makes her respond this past month. I'm always learning though, and she always surprises me with what she discovers about me. Half the time I didn't know myself.

Like that little nibble she does to the shell of my ear while she hums. Damn vibrations drive me crazy.

My hands move higher and higher until they hold her breasts; her hands move lower and lower until they scrape my abs. It's a mixture of pain and pleasure and I touch the soft skin of her breasts in the same rhythm that her hands are moving over me.

Her skin is heated and she starts rocking on my lap, creating friction that makes me wonder why am I not taking her right now.

My hands start moving from her chest, to her ribs to her back as my mouth kisses across her chest. I lick and give her little bites that make her giggle, squirm or moan. I can't decide which one of those three I like the most.

Who am I kidding? I like them all.

I hope you can see what I mean?!
ChocolateLover82
draws out their love from every scene, cleverly using Paris to amp up their romance. I am sure you will fall in love with this tale, the way it's easy to fall in love with Paris, and the way that Edward could not help but fall in love with Bella. Go on, treat yourself to this classic in the making: It's the perfect time for love, after all it's spring time in Paris!
(remember to go review!!!)






Jen


Little Buttons first caught my attention in a teaser. In just a few sentences, ChocolateLover82's writing captivated me, and I've been along for the ride ever since. Little Buttons has some of the most gorgeous and romantic writing that I've ever read. ChocolateLover82 describes Edward's Paris so well; you really can picture it as though you were there.


As Em says, Paris is the third main character of the story. Edward and Bella explore the city as
they get to know each other, to learn one another's deepest wounds, and of course, they fall in love as they visit special places in Paris. Both Edward and Bella are involved in the fashion industry, and they both have an eye for detail. Descriptions of food, places, buttons found at the flea market; they all transport you to Paris.
Edward is quite introspective. I love his observations of himself, the way he notices how knowing Bella changes him, helps heal him of his past hurts. They are each able to lean on the other as they share their wounds, and the care they take with each other helps to heal them both. Although they don't talk about the attraction they clearly feel for one another, it is clearly there, and all of their relationship firsts--first kiss, first ILYs, first time making love--just make my heart sing. How can you not love this?


Our lips touch and it's sweet and soft and warm and a thousand times more than that. I move my hands to her shoulder blades and she brings hers to my neck and even like this, the closeness is not enough. I want to feel only her and in return, I want her to forget everything else and feel what caring for someone really is, that she can let go as well and let me take care of her for a change. It's only me and Bella here and now. No ex-wives, no pasts ... nothing. Just the blissful warmth of our mouths and our bodies.

And this is only a kiss.
This is truly a perfect TWP pick; there's a little bit of angst, but it is more worry for the characters as individuals than worry about something that might tear them apart. It is far from being a fluff piece, though; the characters develop slowly, as does their relationship. Little Buttons is romance and you won't want to leave ChocolateLover82's world.


Sometimes, a slow burn is just what you need. This story unfolds carefully, with a man and a woman who clearly each have their own ghosts of the past that still linger...but there's so much good in both of them. It's that light and goodness that keeps them coming back to the other, captivated and at times almost addicted. It's beautiful to see Edward open himself up and take a real look at the world and people around him for the first time in years, and it is Bella who inspires and challenges him to do so. For Bella, she's secluded herself, but her desire and want to trust Edward is clear each time they meet.
Their path takes time, but you'll appreciate the detail and natural progression of their relationship. These are not damaged people who meet their "other half" and magically let go of all their fears and hesitations for the sake of love and lust. They take the time getting to know one another, meet family and friends, and work past the demons who try to hold them back. It's lovely. It's charming. It's amusing. At times, it's heartbreaking. Through it all, they grow closer, and they flourish in their romance, their personal lives, and their respective careers.

Set in Paris, ChocolateLover82 creates a detailed and intriguing home for these characters. They are both perfectly placed there, thick in the fashion world, and the descriptions of their work make this fic all the more interesting, unique, and fun to read.

I've completely fallen in love with these characters, where I've been since I first started reading when there were only a few chapters. Each update has been a thrill I would compare to the excitement when I first joined the TwiFic community. Come along, WussPervs...read along with us and tell us what you think!