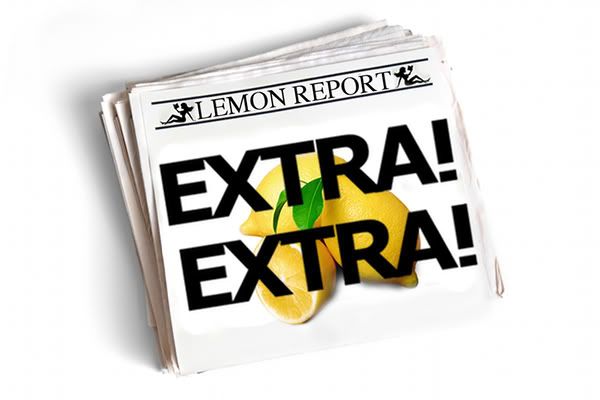 The Lemon Report - Fancy finding out what is on the FF bookshelves of the Pervy Girls of the PPSS? The lemon report lets you know our personal favourite updates of the week, and why you should give the fic a try.... It's a great place to trawl for new recc's and don't forget to share your favourite update with us by leaving us a comment.

In some cases, the Lemon Report may contain spoilers. Please read with caution.
Acronym Guide
AU - Alternate Universe
AH - All Human
WIP - Work in Progress
O/S - One Shot
OOC - Out of Character
WP - Wussperv
Slash/Femslash - Features homosexual characters and romance.
---
MERLIN, AH, Novella-WIP, SLASH, MERTHUR
---
Emmy -
Oh how I adore experimental slashy prep boys! This has lashings of all the things that make prep boys divine! Confusion, mutual masturbation, exploration, deeeeeeep deeeep desire and yummyness!
Jen -
I know jack about the Merlin fandom, except that the actors are adorable and that there's an amazing abundance of smut of all kinds. Em said it so well: experimental slashy prep boys. What's not to love?
---
AH, E/B, WIP
---
Jess -
And we have blast off, people! Finally! Finally! Finally! And full of all the unfy goodness I had hoped for!
Nico -
I just thought it was so adorable and sexy all at the same time! I was smiling so big. :)
Emmy -
Waiting for the other shoe to drop. But very glad they getting to have the healthy and natural fun they deserve!!! Bella's a lucky girl if that's her first time. Swoony.
---
Merlin Fandom, AU, Magic, long-length O/S, SLASH, MERTHUR
---
Emmy
In which Merlin is confused, then embarrassed, then randy, then rejected, then sated. And Emmy is very very happy! Merlin doesn't understand what his new title Lord of the Bedchamber actually means. He finds Morgana's and Gwen's concern confusing, then once he realises the expectations he wants to know why he isn't being asked to fulfill that role. Tons of UST, a smidge of humour and a shed load of yummy, sexy. Oh and a blushing, blustering, hiding, enamoured Arthur! Plus one of THE best titles ever!!!!
---
E/B, AH, O/S
---
Corie-
I have to say this 2 part o/s had me laughing till I had tears. Extremely cute characters and family hilarity. The sexual chemistry is off the charts even if it gets them in some sticky situations.
Emmy -
Everything Corie says. Great fun filled frolicking fic read!
---
Harry Potter Fandom, Snape/Hermione, Warnings: Age discrepency-Student/teacher
---
Chele -
After hearing of the horror of death eater revels, Hermione takes her sexuality into her own hands and chooses who will be her first partner before the choice is taken away. I'm so glad she chooses her professor, and that he chooses his desk for the location of said tryst.
Unsurprisingly naughty, intense, and erotic. Very surprisingly sweet.
Jen -
Holy shit. Talk about hot and dirty. Unf.
---
O/S's (two), RPF, Angsty, SLASH, Colin/Bradley
---
Emmy -
Oh do be still my beating heart! Wowser, this is quite the piece. Heart achey (as in painful!) in places, sexy (but always with that ache) and just divine. Bradley tries so hard to not think about what he and Colin had. He can't make sense of what they had and why its gone. He can't bear it. And neither can I! But it is just soooo good. You must read them both!
---
AH, WIP, E/J, Slash
---
Jen -
Jasper is a sexy, dirty bastard. Edward's pushing his sexual boundaries. Will the chemistry between them be enough, or will they both realize it's not the right time for them?
Emmy -
I have a horrid feeling this will all end in tears. But it's going to be a sexy journey!! I worry for Edwards heart. (& my own!)
---
Merlin Fandom, AH, Arthur/Merlin, Slash
---
Chele -
Arthur fell in love. First, with Merlin's fingers. Then, with the rest of him. Sweet, poetic near obsession, followed by wicked hot humpage. Not to be missed, and a super quick smut-take at just over 1k words.
Emmy -
Gah. I need more of this! MORE I tell you.... WHERE IS IT?!!! GIVE IT TO MEeeeeeeeeeeeeeeeeeeeeeeeeeeEEEEEEE. Chele said the accurate pretty things about this lovely and teasy-sexy fic. Read it.
---
Harry Potter Fandom, Harry/Draco, Slash
---
Jen -
These two are adorable. Who knew playing Muggle games could lead to so much dirty fun and exploration.
Posy -
I loved this sweet little story about Harry and Draco's eighth year interhouse unity nights. It started as a one shot but then
Fr333bird
added a second chapter of lovely, cuteness. They're too darn adorable for words.
---
AU, WIP, E/B
---
Jen -
Absolutely loving this AU. A little UST relief also provides some relief from the suspension and tension of their situation.
Nico -
I love the unique ways she has built the characters. Edward and Bella coming together and learning about each other, I just always want more. :)
Corie-
This vamp story has me by the balls and the tension and love building between Edward and Bella is so good.
Emmy -
I just started this based on the girls praise above! I see exactly what they mean. Great fic! :)
---
AH, O/S, Charlie/Emmett, Slash
---
Jen -
I did a happy dance when this popped up in my inbox. Emmett is a teasing teaser who teases, and the Chief finally breaks and demands that Em put his money where his
abs are
mouth is. Unf!
Teal -
dlahopweithlkdngaldkjf … That is all. Because my brain has imploded. !!!!!
Jess -
What Teal said... because that gibberish is all I've got after finally getting Emmett's POV. LOVE these two something fierce.
---
MERLIN, AU, O/S, SLASH, Percival/Gwaine
---
Emmy -
Rarrrrrrrrrrrrrrrrrr! Huge thanks for me discovering this hot-achey-yum of a fic to the awesome < ahref=http://www.fanfiction.net/u/1722602/BadJuJuBoo>Badjujuboo (also known as the top bird who has a
thing
for
Gwaine's/Eoin's hair flicking
.... ) Anyways this is pure filth, featuring hot sex between a huge hunk of love-muffin (Percival) and the hair-y and deviant (Gwaine) who loves a jolly good forceful rogering and being man-handled. Just as well Percy is well
equipped
for the job. Major rarrrrrrrrrrrrrrrrrs and yummmy. My second favourite pairing behind Merthur/Brolin.
---
Merthur, Slash
---
Posy -
LolaFeist has done it again, written another amazing fic, that is. This is a new way to read Merthur. They've gone to the wild west where Merlin is a whore and Arthur is the new lawman in town. I would suggest reading up to the epilogue, then hop over to
Like a Wildfire
to read a new addition, and then pop back over for the epilogue. There is hot sex, but an entire universe that I fell in love with. They guys are so amazing together.
Emmy -
Gah I had this recc'd repeatedly to me this week. I dies. Total tip-top fic. Who's have thought such an AU setting would work for our love muffins?!
---
Vampire Diaries, Stefan/Elena, OS
---
Nico -
This one shot popped my Vampire Diaries cherry! If you watch the show it really ties into the last few episodes and naughty Stefan is just HOT, well who am I kidding Stefan is hot naughty or otherwise. :)
---
AH, E/B/J, WIP Poly
---
Jess -
Let's just say I was glad Jasper didn't fall asleep this time. And that things feel like they might be on the upswing. My heart can't take anymore Jasper heartbreak.
Corie-
I totally agree with Jess this ones been pulling my heart so much. I am super invested in the characters and so glad to see them get back in to the swing of things inside and outside the bedroom.
---
J/E, Slash
---
Posy -
I feel very lame for never getting around to read this revisitation of one of my all time favorite stories. Well, no longer. I'm cool again … er … was I ever cool? But chapter 1 is a lovely little wank scene where Jasper has some very descriptive fantasies about Edward in his sinfully delicious leather pants.
Emmy -
I can never resist the opportunity to love on this series. Still one of the best slash around. And certainly a great kinky delight!