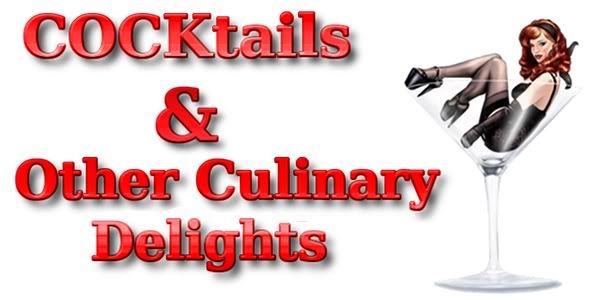 Who doesn't love a good COCKtail or a decadent sweet treat? COCKtails and Other Culinary Delights is a special feature full of fabulously pervy recipes and how-tos for COCKtails, sweet treats, and other food-related pleasures. We'll have all sorts of smuttastic ideas for a girl's night out on the town or a "quiet" evening at home.
In honor of Halloween, let's talk about a sweet treat that most of us love - Chocolate!
Through the ages, chocolate has been linked to love and romance. In fact, the Aztecs and Mayans thought it invigorated men and made women less inhibited, making it the perfect gift for men and women once it made its way to Europe.
Chocolate contains chemicals associated with feelings of happiness, love, passion, lust, endurance, stamina, and mood lifting, thanks to its effect on neurotransmitters and endorphins (the "feel good" chemicals) in the brain.
Countless studies have been done to try and determine whether or not there is any real merit to the aphrodisiac-like effects of chocolate. For now, it appears that there is no real scientific evidence to support it, other than the generally positive feelings people have after eating.
Regardless of the science, indulge a little in whatever form you like and enjoy the very pleasant side effects, because we all know, chocolate can be very fun to play with.
SEXY CHOCOLATE AVOCADO PUDDING
1 avocado
1/4 cup coconut milk (Thai Cuisine – organic and full fat)
3-4 tbsp Cocoa Camino powder
Agave nectar to sweeten as desired
Pinch of sea salt (to bring out the sweet)
Mix everything in a mini blender. Serve in a chilled wine glass and top with berries or eat as is.
Images of hubs swirling his finger around the inside of the glass, getting every last bit before sticking his finger out for me to suck clean... hot damn!
Lady Godiva Chocolate Martini

2 ounces of Godiva Chocolate liqueur

2 ounces of Creme de Cacao

1 ounce of half-and-half

2 ounces of freezing Goldenbarr Chocolate vodka

1 tablespoon of shaved white chocolate

2 well chilled, classy looking martini glasses

Combine the Godiva Chocolate liqueur, Creme de Cacao, and Goldenbarr Chocolate vodka into a cocktail shaker half full of cracked ice. Shake for one full minute. Add the half-and-half to the shaker and gently swirl (circular motion). Strain your fine chocolate creation into your martini glasses. Top each martini with shaved chocolate or dip the rim of the glass in cocoa powder.

This drink is perfect for a girls night in! Whip this baby up and unwind!
Double Chocolate Cupcakes

~Cake~

3oz instant chocolate pudding mix

16oz sour cream (not low fat)

2 C semisweet mini chocolate chips

1 Devils food cake mix (pudding in the mix)

3 eggs

1/2 C water

1/3 C canola oil

Heat oven to 350 degrees Fahrenheit. Line a standard 24-cup muffin tin with cupcake liners. Miix all ingredients, except chips. Fold in chocolate chips. Bake for 15-20 minutes. Cool 15 min them remove from pan & cool on a rack. Swirl dark chocolate ganache over the top and refrigerate. Top with fresh raspberries.

~Dark Chocolate Ganache~

2 cups heavy cream

1/2 cup confectioners' sugar

1/8 teaspoon salt

1 pound bittersweet chocolate, roughly chopped

In a large saucepan, bring 2 cups heavy cream, 1/2 cup confectioners' sugar, and 1/8 teaspoon salt to a boil. Remove from heat; add 1 pound bittersweet chocolate, roughly chopped, and let stand, without stirring, for 1 minute. Whisk just until combined. Refrigerate, stirring occasionally, until spreadable, about 1 hour.


If you love chocolate cake (and even if you don't... like me), this recipe is for you! It will have your mouth watering, and you'll be begging for another one. Enjoy this sweet treat after a nice dinner for two at home, then grab a glass of wine and head upstairs for a little sexy time.
him
("I have a heart on for you.") and for
her
("Eat your heart out."). As soon as your partner puts on this thong, the heat from his/her body will begin to melt the chocolate heart. This is a thong for two people... Lick away!