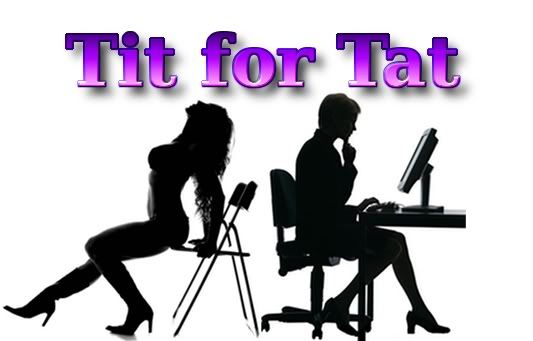 We here in the Shack love reading smut and looking at pretty porny things, but we also love you. Yes, each and every one of you -- reader, writer, blog follower, and Twitter pal. That's why we feel it's important to take pause every once in a while and get serious. Don't worry, though, we have some fun in store!
Twice a month, we're going to bring you some pretty bewbies from around the fandom. Take a look. Guess who you think they might be. Then join us to raise awareness about issues that are important to everyone. At the end, we'll tell you whose tits are whose =)
Of course, this is an interactive feature! If you'd like to show us your lovelies, you can send your pic to SweetDulci@gmail.com. All are welcome! Our only rule is that we cannot see your face and that your beautiful bosom is covered. Please include your FFn name with your photo!
Now, on to the fun . . .
For our inaugural game of
Whose Boobs?
, we're featuring some of our very own Pervs! Can you tell who each delightful rack belongs to? Your volunteers this week are:
Chele
(Chele681),
Jen
(mycrookedsmile), and
Kitty
(BooBoo_Kitty33).
#1
#2
#3
Rawr. Make your guesses, keeping reading, and meet us at bottom for the answers!
Unless you've been living under a rock, you know that
October is Breast Cancer Awareness Month
.
Now is the time to be honest with yourself. Do you perform monthly breast self-exams? If you're thinking, "Why should I do that so often?" here are a few staggering reasons:
* The US government estimates that there have been 207,090 new breast cancer cases in women and 1,970 in men in the United Sates -- in 2010 alone. In addition, they estimate 39,840 female and 390 male deaths this year.
* Yes, men can get breast cancer, too.
* Breast cancer is the most common cancer among women in the US.
* At this time, there are no known definitive causes of breast cancer. It is believed to be caused by a variety of genetic, lifestyle choices, and/or reproductive factors, but scientists and researchers are unable to pinpoint a cause, thus making the search for a cure all the more challenging.
* The earlier breast cancer is detected, the sooner treatments can begin, and the higher the survival rate. Self-exams are a crucial part of early detection.
* While all women should perform monthly self-exams, but these are not a substitution for clinical breast exams, which should be performed by a medical professional at least every 3 years for women 20-39 and every year for women 40 and older.
* American Cancer Society and Susan G. Komen for the Cure® both recommend yearly mammograms for women 40 and older. Women who are at higher risk or have breast cancer cases in their family should consult their medical provider for a specific plan, which may include more frequent exams, beginning at a younger age.
* You probably know someone who has or is currently fighting the battle against breast cancer. Perhaps they weren't a survivor. Perhaps it's someone near and dear to you. If not, it's likely that you know someone who has suffered any form of cancer and therefore know how devastating it can be.
* And finally, on a more personal note, think of your loved ones. Your children, partner, friends, and family. If not for yourself, remember that there are people who care for you who would be affected if you became one of that growing number.
You can find more information about breast cancer, including instructions for performing self-exams and resources to find a doctor in your area, if needed, on the websites for
American Cancer Society
and
Susan G. Komen for the Cure®
.
---
Now, we challenge you to get involved. It seems as though everywhere you turn there are pink products. From make-up to appliances, and groceries to NFL apparel, there are endless numbers of companies and organizations doing their part and making donations toward breast cancer research. Many businesses, including Belk department stores and Bank of America are also involved in fundraising. Throughout October, NFL players, coaches, and referees are wearing pink gear to show their support. Team specific merchandise is available for purchase, and the pink game day apparel and accessories will be auctioned with proceeds going to American Cancer Society.
Another option is to participate in a Breast Cancer Walk or Relay for Life, sponsored by the aforementioned non-profits. If you're outside the US, Google "breast cancer" and see what can be done in your community to take part in the fight against this disease. Whether you give your time, your money, buy products, or simply wear a pink ribbon, your contributions and support
do
matter.
Take care of yourselves, pervlings, and do whatever you can to help find a cure!
Thanks for joining us for the first edition of Tit for Tat! Since you're probably dying to know if you matched the beautiful boobies above with the right Perv, here are your answers . . .
#1 - Jen
#2 - Chele
#3 - Kitty
Tell us how you did in the comments below! And don't forget to send a photo of your rack in to be featured in future additions of Tit for Tat!
---
Disclaimer: American Cancer Society, Susan G. Komen for the Cure®, the NFL, KitchenAid, Yoplait, and Estee Lauder are not affiliated or associated with The Perv Pack's Smut Shack in any way. All information and images were taken from their respective websites and used to inform and educate others about breast cancer, Breast Cancer Awareness Month, and ways they can be a part of finding a cure. No copyright infringement intended.

References: The American Cancer Society, Susan G. Komen for the Cure®, National Cancer Institute, Estee Lauder, Yoplait, The National Football League, KitchenAid.