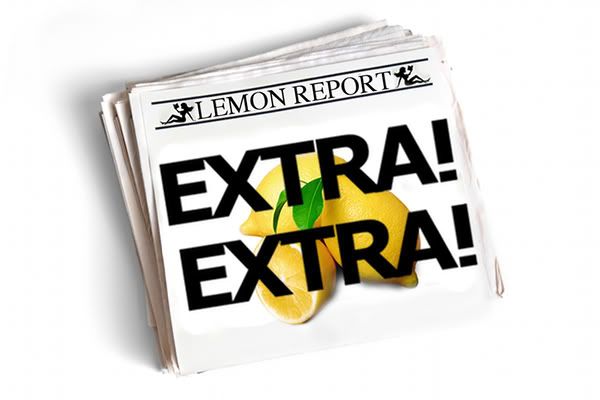 The Lemon Report - Fancy finding out what is on the FF bookshelves of the Pervy Girls of the PPSS? The lemon report lets you know our personal favourite updates of the week, and why you should give the fic a try.... It's a great place to trawl for new recc's and don't forget to share your favourite update with us by leaving us a comment.
---
---
Chele - This is a love story about Edward and Bella who find in each other the perfect match. We get a voyeur's eye view as they explore their proclivities for dominance and submission in their delicate new relationship. The characters are strong, and the intimacy is intense and very well-written. Dominant Bella makes me want to say, "Yes, Mistress, anything you want."
Emmy - Again I have waxed lyrical on this one when it was a full PPSS pick. But each chapter it just gets better and better. The intensity between these two is HEARTBREAKING. Her EPOV is pitched perfectly and we feel every emotion with him, whether it be heartbreak, hope, acceptance or the burning pull of pure carnal lust.
---
---
Emmy - I just read this today I think? Its a beautiful bitter-sweet tale of love lost and found. An evocative B/E fic where Bella loses her innocence and her heart in a summer's meadow with Edward - her father's stable hand.
---
---
Jeanne - This story just gets better and better, the deeper we get into Jasper and Edward's complex relationship. What started as a PWP has now become one of my all time favorite examples of how sex can be for the sake of character development. Fabulous writing, and characterizations aside, I just plain LOVE this story. Jasper and Edward are so raw (smirk) and real in their interactions. They show that sexuality is such an integral part of who we are as human beings. GAH! TuesdayMidnight owns my ass with this fic.
Emmy - Gah Jeanne - I too adore this. I know I wax lyrical on this fic when it was a full PPSS pick, but seriously it gets better and better each update. **whispers - I actually like this Jasper** Seriously the emotional connection that is being woven between these two HOT-TO-TROT boys is owning my heart & slaying my soul - oh & making me girlie parts sing....
Jennifer - The emotional attachment between Jasper and Edward is really starting to sizzle, though neither boy realizes it. I am surprised to find myself saying that I'm about as turned on by watching the boys' relationship change as I am by the spanking and fucking--and that's pretty damn turned on.
Jess - There are no words for how much I love this story. I could go on forever over how much I love watching these two boys grow together and as individuals. TuesdayMidnight has turned this into one of my faves, and I literally drop pretty much everything to read it!
---
---
Jeanne - Mjinaspen just posted the last chapter of this heart-wrenching, beautiful, and realistic story. I already loved the idea of Edward and Leah as a couple before I started reading HotD, but this story helped me fall in love with Edward and Leah as human beings. Now that it has ended I feel a mixture of satisfaction and longing. It's a good feeling, in fact, it's kind of freeing. I cannot recommend this story enough. Stories like this change you forever.
Jennifer - I read the last chapter of HotD just a few hours ago. I haven't been able to think straight since. This is a bold, brave, and beautiful story that deserves the attention of the fandom at large, and not just a handful of non-canon lovers. Give it a try, you won't be disappointed.
---
---
Teal - Have you heard that B.O.B. song "Magic"? I love the line where Rivers Cuomo sings, "I've got the magic in me. Every time I touch that track it turns into gold. Everybody knows I've got the magic..." That's how I feel about everything Rochelle Allison writes. This high school fic makes me flail so hard, and the lemon-squeeze of this chapter was a dry hump that had me squeeing...loudly. For fuck's sake, Bella is in her pajamas & Edward opens his jeans
just enough
to make said dry hump really fucking good. *died and iz ded*
Emmy - OMFG! Teal I am soooo in love with this fic too. It squeezes my heart with every update.... But I am well feart that as Edward gets older he's gonna break B's heart... **sad panda**
---
---
Jennifer - I'm eternally grateful to the person who tweeted about a new polyamory story a few weeks ago. This is a f/f/m story; I won't tell you who makes up this delicious pairing because the players are not introduced until the second chapter. This is the story of an established couple who brings a third into their relationship. The sexing is steamy, and is definitely on my 'fic I wish was my life' list.
Jeanne - I'm not even reading this yet, but Jen's rec, and the fact that I'm a h00r for poly fic, I am sold. I also took a peek at the characters, and my pants nearly exploded. *runs off to hump this new fic*
---
---
Kimpy - MissBettySmith's lovely British Edward is my latest obsession. His father (Carlisle) is studying snails in the Washington Peninsula. Bella and Edward fall in love, but he's only in Washington for 12 months. They meet up again later in life, but a huge fissure has grown between them. The thing I love the most about Betty's stories is not only that they are smart, well researched, and well written--they're genuinely interesting--but OMG, this lady knows how to do UST. Bella and Edward have only gone as far as heavy snogging, and damn, it is muy caliente. It is very angsty at the mo, but Betty PROMISES there will be an HEA. My wussperv heart, along with my 12YO boy horndog brain, is appeased.
---
---
Kitty - Bella is looking for something to put on her college applications so she volunteers at Forks General Hospital. She meets Edward when she's assigned to the mental ward, a patient that refuses to interact because he believes he's a vampire...or is he really what he claims to be? So different and so gripping with the feelings she has for this troubled boy.
---
---
Trin - I'm a sucker for good banter, but good political banter during sex... I'm dead. I also enjoy the forbidden love aspect and a good cocky Edward too. This last chapter had a lovey lemon that made me fist-pump in the air when I was done.
Jennifer - I adore a fic that can make me laugh, and The Cullen Campaign does that often. I love it all--the banter, Edward and Bella's intense attraction, a wonderfully zany Alice and her husband Jacob. I cannot wait to read this current chapter because things were getting serious last time.
Jess - There is nothing like sexy political banter, and Belladonna does this like no one I've ever seen. She has managed to make legalese and polisci super sexy. Watching the forbidden love affair between Edward and Bella is like... well, just read it and see for yourself.
---
---
Jess - This story is chock full of lemons and all kinds of yummy goodness. I love the ocean. I love hot weather and hot boys in board shorts carrying surf boards. Surferward makes me swoon when he's not being an ass, and this Bella is strong and independent. I even like Jake and Rose (no, they're not together) in this story. We've hit some rough waves as of late... but it looks like the tide's about to turn!