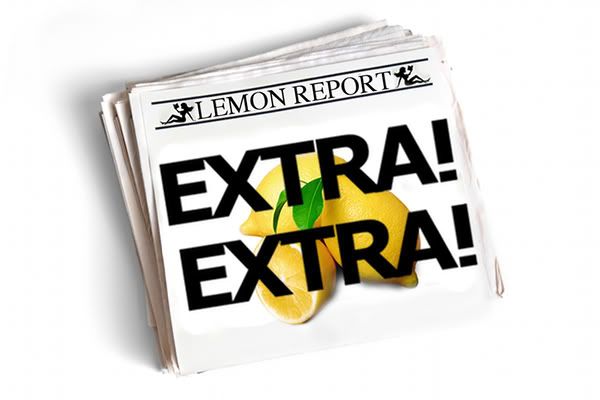 The Lemon Report - Fancy finding out what is on the FF bookshelves of the Pervy Girls of the PPSS? The lemon report lets you know our personal favourite updates of the week, and why you should give the fic a try.... It's a great place to trawl for new recc's and don't forget to share your favourite update with us by leaving us a comment.
---
Ride
by Kris Salvador

---

Chele - This is my latest guilty pleasure fic. I consumed it one morning in a single sitting unable to look away, equal parts titillated and entertained.
Edward's on parole, all tatted up and bursting with pent up sexual aggression. Bella's a good girl with a naughty streak and they meet pressed up against each other on a crowded train.
I will admit I'm not exactly sure where it's going, but I'm definitely enjoying the Ride.

Teal - I'm with Chele. This is a fun read when you just want something smutty and non-srs bsns. Hey, I don't knock it; I write plenty of pr0n myself =) I love that the author even pokes fun at the smut vs. plot thing in her A/Ns, too. Very cheeky, indeed!
Kitty - I have been listening to the chatter about this fic and I have promply put it in my TBR box!

Kimpy - Chele was being the epic ebil h00r that she is and pimped it to me, and I was compelled to read. As in, could not stop. As in, OMG, these were some of the best, hottest, most ridiculously yummy lemons I've read in a while. It required some alone time, if YKWIM. Oh dear lord, the lemons!!! Just the thought of Edward and Bella involved in frottage is drool-worthy. If you need some good, hot action? The Ride is your new ride. Trust.
Jennifer
- I'm with Kimpy- if you don't feel the need to rub up against something after reading the first chapter I'm not sure I can be your friend, js.
Jeanne -
I've just started this fic, thanks to Chele, evil temptress. Even though I'm just a few chapters in, I really like this Edward and the smut. It really scratches the itch, if you know what I mean. Though, I will warn that anyone that actually lives in the Seattle area, the regional descriptions are a little in accurate and can be distraction. That is until dirty talking ex-con Edward starts talking, then you don't give a fuck. UNF!
---
Dear Agony
by TwiBoy
(AH, WIP, 6 chapters, Slash, Em/Jas)

---

Chele
- While this didn't update this week, I just found it, and was completely blown away by the level of emotion
TwiBoy
has made me feel emotion through his words. This is a story about Emmett and Jasper who are leaning on each other to cope with a terrible loss. It is starting to drip with sexual tension. The lemon in the last chapter was intense, and after it was over I felt like a guilty voyeur. It also happened to contain one of my favorite lines from slash fanfic. Ever. Note: This is ANGSTY. It hurts a lot, but it hurts because it is effective.
Jennifer
- I first read
Dear Agony
when it was a o/s for the Black Balloon contest, and have loved each angst-filled chapter. It just keeps getting better and better. I think the UST will be off the charts in the next chapter.
---
The Secret Admirer
by CherBella
(AH, Femslash, B/?)

---

Teal
- For the love of fuck, go read this right now. I adore
CherBella
something fierce because she can do sweet and dirty both sooooo well. This story? It's definitely dirty. I mean like...
dirrrrrrrty
. Or if you prefer,
durrrty
. Point being, I am died over this FFFA. Bella is an unashamed slut (no, seriously), but at the same time, you can't help but love her rocker-chick persona and how the mystery man in this one-shot manipulates her thoughts over and over. And the end? I fell off my chair. Perfection.
Jen - I have always been the good girl. But I do so enjoy living the bad girl's life vicariously through stories like The Secret Admirer. As Teal says, Bella is a tough girl rocker chick, and it is fun to see her caught off guard by the mystery man who's pursuing her. The ending is beyond delicious.
---
The Longest Summer
by lexiecullen17
(AH, WIP, 26 chapter, E/B)

---

Teal - I have one word for you: Campward. I was a summer camp girl, camper and multi-year staffer, so this story gets to me in all the tastiest ways. Though I do recall their being more responsibility/involvement with campers and MUCH less time fucking while I was at camp, this is the best kind of indulgence. The writing is top notch, the blend of Geekward/UNFward is perfect, and the supporting cast actually have personalities! Call me a snob, but that can make or break a story for me. I've had to catch up on a few chapters of this story with my busy schedule, but I always, always, always squee when I see Campward in mah box.

Emmy - Oooh T, folks have recc'd this to me before... I am gonna have to have a sneaky peaky at it now! ;)

Trin - My love of this CampWard/Geekward is growing everyday. I am late to the party with this fic, but have been devouring it as quickly as I can. I went to church camp growing up...I really wish I would have had a CampWard like this. Might have been a little more fun than just trust-falls and daily devotions.
---
Secrets, Lies & Family Ties
By IdPattThat
(AH, WIP, B/E)

---

Emmy - I had forgotten about this story until it updated this week! Doh me! I have a severe and very soft spot for DaddyWard's - so this story is great for that. Its an unassuming read about an Edward (in Australia) who has never gotten over his HS love - Bella who he left behind in Forks. He doesn't know however that he has a son back in Forks....The last update was sensual and beautiful! A fluffy, cute dose of Daddyward.
---
Art School Confidential
by Farkle
(AH, WIP, B/E)
---

Emmy - You should all be bloody better reading this, as it was a previous recc and is AH-MAZING, but jic you aren't... ASC updated this week & the update was perfect. Farkle is not taking the easy way out of E/B's heartfail at all. This chapter was beautiful, smart and unique. With reminders of E/B's killer bonds of sexuality, intimacy and intelligence. GAH. I am dead again.
Kimpy
- Oh god, ASC continues to pwn me.
Farkle
, my dear, you have no idea how much I love your Edward and Bella!! I'm delighted to see the angst starting to resolve, but still. The smoking, passionate intensity of both these characters kills me dead. This is definitely a story that smokes off the screen, it is so hot. UNF. READ.
Jeanne -
Every update kills me, in such a good way. This story still captivates me, even with long pauses between updates. I love Ed, and Bella, but what I love the most is not having a fucking clue what's going to happen next. Most of all I love
Farkle
's description of Bella's paintings. I can see them in my mind, and I feel their meaning even though Bella doesn't understand it yet. My passion for this fic borders on fanatical. So, tell me again why aren't you reading it?
---
If on a Winter's Night
by Touchstone67
(AH, Slash, E/Jas)

---

Emmy - I really shouldn't be reading this.... Its angsty angsty. But something about the premise to this fic pulled me in this week - yes I am slow & only read this this week!. Edward and Jasper are at High School, in love but in the closet to everyone around them. Hogmany(what we call New Year's Eve) they are due to consummate their relationship but instead Edward is involved in a terrible RTA (Road Traffic Accident). He is forever changed by it. Can their relationship ever recover from this? Its bittersweet - with lots of happy reminiscing from Jasper in particular as he struggles to help his boyfriend. I particularly like how the author has written Edward and how he tries to survive. I find it (due to personal experiences) extremely on the money and believable. So even as a WP I will be continuing with this great fic. Give it a shot if you can cope with the sads..
Jennifer - On the day before the next chapter was scheduled to post, I tweeted Touchestone67 to tell her that I was looking forward to having my heart ripped out with her beautiful words. This story is truly as beautiful as it is heart wrenching. Edward and Jasper are just lovely; while you understand why Edward is pushing Jasper away, you'll be rooting for Jasper in his attempts to get Edward to open up to him again. Despite the sadness there are reasons to smile, like Emmett, who's an orderly in the hospital, being kind and humorous as he and Edward discuss the realities of physical and sexual health with a spinal cord injury.
---
The Disillusioned
by PhoenixRising25
(AU, WIP, 16 chapters, E/B)
---
Emmy - Last week Miss Kitty recc'd this. So I read it! I was INSTANTLY absorbed in the tale.. I think Edward's characterization is very interesting and I cannot wait to see where it goes.. Bella's actions seem a little irrational this last chapter, but circumstances are against her. Deffo worth reading....
---
Welcome to Paradise
by Suzie55
(AH, WIP, 14 chapters, E/B)

---
Emmy - Jess recc'd this in last week's Lemon Report. So I read it! :) - Hello charming surferward... rarrrrrr. You can ride my wave anytime....
---
Minuet in F You Major
by Lightheartloreli
(AH, WIP, 8 chapters, E/R)

---

Jen
- During FGB I helped out as a moderator on the author chat threads. I was fortunate enough to be assigned to
Lightheartloreli
's thread and was intrigued by a prompt idea
fngrcufs
proposed. I pooled my donation with five other ladies to get
Lightstardusting
and
LoreliD
to write a Roseward based on the prompt. The UST has been ramping up in the last few chapters which made their first kiss really explosive. I can't wait till we get to the crescendo!
Chele - If I rub up against this fic, can I nudge Edward and Rosalie toward the sex I've been wanting them to have for the last three chapters? The air is THICK with UST, and I'm not going to lie: I want them to obtain that level of satisfaction. I want it to be graphic, and to feel their hands, calloused by strings and keys, play each other. Hoping they'll lock the pets in the living room.
---
His Hands, Her Heart
by Word Ninja
(AH, O/S, E/B)

---

Jen - This o/s was rec'd on Twitter. It's a longer o/s at 15,925 words, but you won't be able to stop reading until you get to the end. It's a very sweet love at first sight story--with a major bump in the road. I'm not going to say any more, as I don't want to spoil the plot for anyone. I will definitely be reading this feel-good story again.
---
Dead on My Feet
by Cesca Marie
(AH, WIP, 20 chapters, E/B)

---

Kimpy
- A boy who nearly died from cancer and is now in the very early stages of recovery is not typical lemon report fare, admittedly. However, there is such an intensity in the relationship between this Bella and Edward, and the UST is just... GAH. Makes me crazy. This week's chapter, sees Edward ask to "see" Bella again, and they're dancing around with each other, never quite getting to the point where they can really be together. Edward is finally telling Bella that he wants her, "that way," and they are driving me nuts, in a totally delicious, amazing way. Plus, this story is incredibly
we
ll crafted, complex, and unique. I beg of you to give it a chance. SO. WORTH. IT.
Jess -
There are no words for how freaking hot PAW (PunkAssWard) is! This story is on Chapter 23 and has some of the best UST I have ever read. Thank God we're finally getting somewhere. A girl can only take so many cold showers!


---
---



Kitty -

The basics are, Edward did die in 1918 and is a ghost in his family's house that Bella and Charlie move into. The premise grabbed me right off the bat because I totally dig this kind of stuff and the connection between Bella and Edward gives you the warm fuzzy and the lemons made me happy in my pants! Yes, it's an older fic, but it's complete and just made me giddy as an idiot the whole time I read it.


---
---



Kitty -

While I do love the unusual fics and pairings I do like to bring it back to where it all began with a lil old school Bella and Edward trying it out for the first time. There's some dry humping (always win in my book) some oral action and straight on to the bumpin of the uglies! Yeah BOY! PLUS it's all EPOV and God knows I love the EPOV *swoon*
---
---



Kitty -

Last by not least was a little step out of my comfort box. It's not big secret that I have never been a major slash fan, so in an effort to expand my reading spectrum I found a little bit of Edward and Jasper slash in White Blaze and Lone Star by ArcadianMaggie
I gotta say, I likey this! Edward and Jasper meet whilst backpacking on the Appalachian Trail and whew Lord Brokeback Mountain ain't got nothin' on this bad boy! Hot dayum! I think I have crossed over into the darkside and I gotta say, I am lovin' the view! (AH E/J Slash Complete)
Emmy -

oooh Kitty. I too love this one. Its right-rarrrrr(and raw) delish! Yummo yummo yummo! Good pick!
Jen -

Yay, Kitty! Excellent choice for coming over to the slashy side. I adore Arcadian Maggie and this o/s is definitely a tasty place to start!
Chele -

All these things you said. Unf.