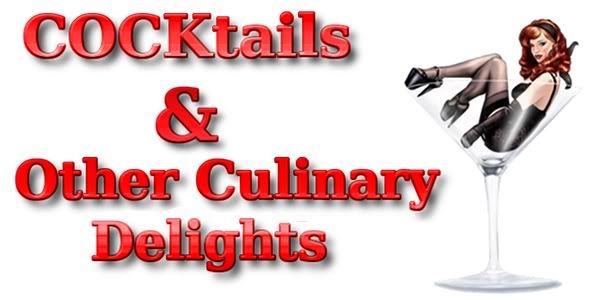 Who doesn't love a good COCKtail or a decadent sweet treat? COCKtails and Other Culinary Delights is a special feature full of fabulously pervy recipes and how-tos for COCKtails, sweet treats, and other food-related pleasures. We'll have all sorts of smuttastic ideas for a girl's night out on the town or a "quiet" evening at home.
---
With Thanksgiving just around the corner for those of us in the U.S., I thought I'd take a little time to share some of my favorite baked goods. Everyone knows that Thanksgiving is all about how much food you can make and stuff inside your body, and one of the highlights is of course dessert.
But this is the Perv Pack Smut Shack, which means we won't be focusing on the traditional stuff. Oh no, we'll be focusing on all kinds of smut-rich goodies.
Feel free to use a standard cake mix and your favorite (non-store bought) frosting for any of
these cakes. Note, you can order pans or just get your hands dirty and free hand it!
Peen Cakes
Peen cakes have become a staple at many bachelorette parties, and here are a couple that I really love! Sadly, I searched long and hard (heh) for a Parkapeen cake, but to no avail... so all you bakers out there, get on it!
I loved both of these, because they were different than some of the more basic (ahem) peens I've seen. Cum and get some with this "my orgasm was so intense, I exploded inside her" cake.
And what about this Dom/sub peen cake! "Yes, Mistress."
For those of you brave enough to try this at home, you can get a peen pan
here
. They have all kinds of goodies, including peen cupcake tins for the teeny men in your life!
And if it's not obvious how to do this peen cake making, check out how to video.
Pussy Cupcakes
I first saw these cupcakes when my darling
Subtlepen
shared them with me. She knows all about my love for baking, and in a conversation at a sex toy party, she told me about these. I'm desperately trying to find a reason and event to make these! I love that these come in all shapes and colors... just like all of us.
Oh my darling, petal...
Ass Cake
Given this fandom's love for the buttsecks, I've decided to include this image of an asscake. The Pack rec'd
Sweet Tooth
by
Macflan
in August during a
OSW
post. MacFlan included this in their story, and I had to share it with all of you!
To be completely honest, I'm minorly horrified by this cake, but I couldn't not include it.
Boob Cakes
What man (or woman) doesn't love a good pair of boobs? So for a bachelor(ette) party or any other fun event where a good pair are needed, try making something like this!
After a long day at work, take it all off... slowly.
Or enjoy a little peep show with these cute little bras.
Just like with the peen cakes, I'm including a
boob cake pan
for you to get your bake on.
Lastly, since it's Thanksgiving, and we all love a little pie...
Happy Thanksgiving from The Perv Pack!