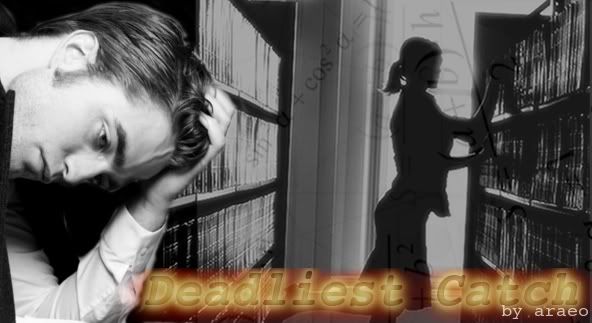 Deadliest Catch
by araeo
Edward has a big project to do. Bella's been sentenced to community service. Add in some promiscuous parasites, dusty books, and maple doughnuts, and you get my entry for the AwkWard Contest. Rated M for language and adult content. AH/AU.
Oneshot, WP Safe, E/B
"My name is Edward Cullen, and I have crabs."
Yes, folks, when I, Trin, read that very first line of this story I choked on my Dr. Pepper and was hooked. Of course, as you read the story you learn our golden boy doesn't actually HAVE the pesky little pubic dwellers, but is writing a paper on Phtirius pubis for his parasitology class. UNF. How I love a man with a big...brain.
In
Deadliest Catch
we have a smart, nerdy and HOT Edward who refers to himself as, "Just Edward. Like the old man on the corner. The one who obsesses over his grass."
Oh and yeah no biggie, but he also named his cock...EDDIE MUNSTER! *Fist Pump*
There is also something else that I adore about
araeo's Edward in this story, he isn't looking to just settle for any girl that will show him her Heynow. He is looking for a girl that he can talk to as well.


"I supposed it was kind of a mood killer when I busted out the Red Queen Hypothesis and the evolutionary arms race on the first date. That didn't stop me from doing it, or something similar, every single time. It was my way of weeding the garden, so to speak. If I couldn't have an intelligent conversation with a girl, why would I want to spend time with her?"
Both of Edward's and Bella's internal dialogue made me feel like they were the kind of people I would want to call my friend. They are self-deprecating, but not to he point that they can't see they have something to bring to the office and well let's face it...they are HORNY!
Some of Bella's Gems:
"I'd hit that based on the happy trail and abs alone!"
"I could stomach a little itching and some RID shampoo if it meant I got to get up close and personal with the package he was hiding in those fuck-me jeans."
Edward refers to Bella as "Bella the Library Goddess." Are you swooning yet? I know I was. For a month he returns to the library every Saturday under the guise of working on his project for class, even though he had actually finished it the first week. Each time Edward and Bella learn more and more about one another and their feelings grow quickly.
As if all of this wasn't enough, the nerdy little twist on this cannon quote just made my heart pitter-pater.
"You should breathe. Gas exchange is sort of necessary for life."
The lemon in this story is so hot, sweet and adorable I could barely handle it. I'll never be able to see a maple Long John without needing a nice pounding in the great outdoors. Even as the "inner frat boy" is ready to get right down to business the sweet geeky Edward prevails and treats Bella with such tenderness.
"Some chivalrous part of me must have been somewhat coherent, and I managed to grab my discarded shirt on the way. Tossing it to the soft grass, I grabbed Bella with both hands and bore her to the ground, making sure she was protected from the dirt"
Deadliest Catch
is a quick fun read that will have you laughing and swooning all at the same time. It also reinforces a very important fact about a nerd. They aren't just attentive in the classroom...they are attentive EVERYWHERE.