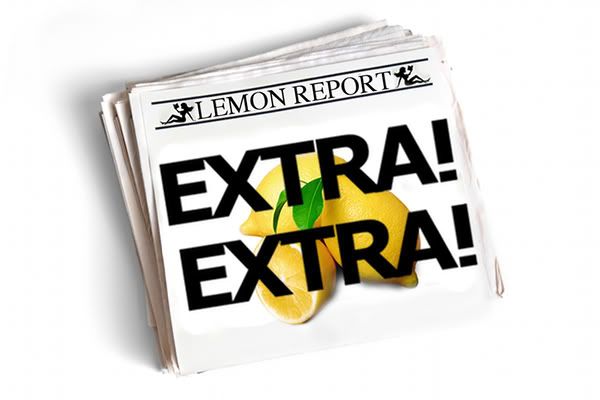 The Lemon Report - Fancy finding out what is on the FF bookshelves of the Pervy Girls of the PPSS? The lemon report lets you know our personal favorite updates of the week, and why you should give the fic a try.... It's a great place to trawl for new recc's and don't forget to share your favorite update with us by leaving us a comment.
---
The Virginity Pact
by tiffaninichole
AH, O/S, Bella/Jasper
Voter's Choice in The Loving Bellsper Contest
---
Teal -
Two weeks ago, I read this one-shot while it was still an anonymous contest entry, and I immediately ran to my fellow Pervs, flailing about like a freak because I
knew
I couldn't rec it while the contest was still open, but I
reallyfuckingreally
wanted to. It was difficult to contain myself. I left a teensy little review, instead, then ran to twitter to post the link (as well as the links to several other entries because, let's be serious, it was a Jasper/Bella contest!). Little did I know that my sweet friend Tiff was behind this gem! First of all, it's hilarious. Second, there is Geeksper. Add in a "Drive Me Crazy"-esque estranged BFF-ship (Fuck Yeah, Adrian Grenier pre-
Entourage
!), and top it off with awkward/awesome lemons, and I am completely fucking died . . . and obsessed. If you love Jasper/Bella, this is a must, must, must fucking read, dear pervlings =)
Jeanne -
When I saw a tweet about this fic being a winner in the Bellsper contest, I immediately clicked on the link. Teal had me all worked up for this contest last week, but this was the first entry that I've read. HOLY SCHNIKIES it is awesome! Bella is hilarious and snarky, her internal monologue had me rolling. Jasper is geeky, hot and heartclenchingly vulnerable. The sex is realistically clumsy, comically awkward and so fucking sexy it made my toes curl. Even if you're not a fan of this pairing, I recommend you read it. You will laugh your ass off, and maybe even fall in love.
Jen-
When Jeanne gets jumpy-clappy about something, you read it. I was bored, waiting for my daughter to get her nails painted, so I clicked right away. I was biting the inside of my cheek so I wouldn't laugh out loud and scare the other people at the nail place. I love a snarky Bella, and this Bella brings it in spades. Jasper is just adorable, and together they're bumbling and awkward and totally turned on. Their sex chatter is hilarious and real. It's fun to see Bella, who has sort of ignored Jasper the past few years, realize that he's become hot while she wasn't paying attention. Perhaps the thing I loved most about this was the neener-neener the good, smart kids give the popular kids.
Kitty-
ACK! I read this last night!! Not my favorite pairing, I'll admit, but listen to Jeanne, READ IT! So awkward and yet, oh so right. I haz teh love for this Jazz sooooo hard!
Trin-
*deep breath* I need to preface this by saying Bella and Edward will always be my end-all be-all pairing. That being said I was told about a snarky Bella and an AWKWARD Jasper and well....I was in. This is one of my favorite kind of geekish stories because the geek/nerd/dork/socially awkward individual comes into their own and makes others take notice. I guess I really loved seeing Jasper as a bit of a nerd as well because in so many stories he is so smooth and suave. It was a great read.
Jess -
This has the most awkward cherry pop ever, and I loved it! I found myself immediately sucked in and laughing the entire time! Hysterical!
---
by grrlinterrupted
AH, O/S, Ed/Bella
---
Jeanne -
I nearly peed my pants laughing so hard while reading this fic. The set up seems kind of crackficish, and in a way it is, but that doesn't stop it from being really fucking hot too. Bella is sassy, funny and sexy. Edward is believably shy, and fucking hot. When they get into their (cyber) sexy scene my glasses were fogging up. I love anything that can make laugh while also turning me on, and this fic did it.
Emmy -
Jeanne kept badgering me to read this! AND IF JEANNE IS BUGGING MY TITS TO MAKE ME READ AN EDWARD/BELLA FIC YOU KNOW ITS GOTTA BE GOOD! ;)
She did not let me down! it was funny, a wee bit cute & a lot of sexy. I would LOVE for there to be more from their realm. I totally can see a novella with these two in. Its too much fun to just leave here. I want more of their shy & hornball convo's.. Gimme MOARRRRR.
---
by Rosmarina
AH, WIP, Ed/Em Slash
---
Jen-
I have so much love for this story. Emmett and Edward are athlete and journalist, respectively. They meet when Edward is doing a profile on Emmett and finds his assumption that the decathlete would be a homophobic jock challenged. In fact, Edward is startled by his instant attraction to Emmett. I absolutely adore the characters that
Rosmarina
has written, and you may find you wish you could be friends with them. Don't worry, though, these two nice boys know how to get it on! I still shudder when I think of Em's post orgasm line from chapter 9, "Come here you beautiful, dirty boy." The lemons are hot hot hot--and the boys have only shared handjobs and blowjobs so far. Every time there's an update I'm so thrilled that
Rosmarina
continued this past the original one shot!
Chele -
I really love what
Rosmarina
is doing with this story. The way she has written Emmett makes me happy in my heart and my pants. This chapter is a perfect build of their relationship, and full of erotic romance between them. Additionally, it reminded me to re-read the previous chapter which contained the most awesome BJ turned self love hand job in possibly the history of forever. Unf. So good.
---
by Adorablecullens
AH/AU E&B Multi Complete
---
Jen-
There's not a whole lot to say here:
Adorablecullens
+ epic UST in a completed fic + FGB Eclipse prompt = lemontastic explosion. That is all.
Emmy -
Adorablecullens
actually owns my soul. Seriously! Thanks to BEL &
The Mirrors
I can't get enough of her writing. This is a genius story and the outtakes are just magnificent. I was so pleased to be on Team Adorable Cullens for FGB and get sneaky peaky earlier reads of these. I would have gone spare without them I think. SO ruddy good. An amazing piece of work from an amazing writer.
EEEP
Trin -
I don't want to be too redundant but
Adorablecullens
just blows me away and I love this story. The writing is so well done and you feel the need to devour every word on the page.
Teal -
This is what everyone has been waiting for . . . wondering if they'd ever get here . . . biting their nails believing that it wouldn't work out in the end. But it did. FUCK TO THE YES IT DID. Okay, I'm a little spazzy, but in all honestly, this conclusion to Tips reminded me why I adore (*giggle*) sweet, sweet AC and her wonderful stories so much. She has a gift with true connections and romance, and I can say without a shadow of a doubt that this is officially in my Top 3 Greatest and Most Romantic Love Scenes in Any Fic EVAR. After everything these characters had gone through, as individuals and together in the growth of their friendship and love, this was the absolute perfect culmination of it all, and the loveliest conclusion I could imagine for them. The real "end" is open, but the future is bright!
---
by Belindella
AH/AU/E&B/WIP
---
Kitty-
This one updated today and I know I've reported on this one before, but sweet baby JANE this fic makes me so stupid. I mean, complete giggling like a looney toon, piglet squealing stupid! GAH! This Edward makes me squirm so damn hard with the way he talks to Bella...y'all, I have to read this when I'm all alone at home because I literally squeal out loud when I'm reading because I'm so excited. I swear, I'm going to lick Emmy all over for bringing this fic into my life!
Emmy -
Kitty & I have started a mutual love-in for this fic. We have a serious addiction/obsession problem with it. I literally cannot wait for each new update. Their chemistry is off the Richter Scale - STILL! Week on week it keeps escalating. I was telling the girls that I love how stupid these two are too. That stupid youth (blessing or curse?) of not seeing the bigger picture, and not seeing the reality behind words and actions. Makes for a fabbio fic!
---
by Lou La
J/E AH/AU WIP Drabbles Slash
---
Emmy -
So this is just a wee treat that is currently being updated thrice daily in drabbles. Its not lemontastic yet - but there are hints of delish still to come. Its a TOTAL boost to get this in my inbox a few times a day. Being a perv I particularly enjoyed ch 18 - when (in the closet) Jasper is fixated on his BF Ed's briefs he sleeps in... & the bulge.. ;) rarrrrr
---
by Cesca Marie
E/B WIP Angst/Drama

---
Chele -
Please let the latest chapter of Dead on My Feet serve as exhibit "A" in my longstanding argument supporting sex for the sake of character and story development. This story is so very powerful, and I am amazed at the way
Cesca Marie
has completely incorporated Bella and Edward's sexuality into who they are and how we see them. Edward's battle with cancer is portrayed with sensitivity and realism. His struggle with his body image following treatment and his frustrations with his inability to find sexual satisfaction have been breaking my heart.
In this update, Edward lets his guard down enough to try to move forward in his physical relationship with Bella. It had me sitting on the edge of my chair, wringing my hands and begging for it to go well.
The results are meaningful, sensual, and shockingly intense.
Jess -
Finally... we got a little lovin' here! I loved this update so freaking much and how gentle and sweet Bella has become with Edward. Watching these two grow together has been hard, but I'm hoping we're moving on to sunshine and rainbows.
Kimpy -
I've been waiting for this chapter for ages, and I was absolutely, motherfucking, 100% blown away with the incredible tact and grace with which the lovely
Cesca Marie
handled this subject matter. I've been giving her crap since about the 3rd chapter about how wretched it is for an adolescent boy to suffer from sexual dysfunction ON TOP OF cancer. She portrays the entire cancer recovery process with absolute perfection, so I'm not really upset with her per se (just so we're clear on that). Can you imagine anything worse than being 17, surviving cancer, looking like a concentration camp victim, puking your guts out constantly, having no body hair, and THEN, "Oh, by the way, you can get erections, it doesn't even feel good to attempt to snuff one out, and when you ejaculate? Oh, yeah, it's going to feel like you got kicked in the nuts." I certainly cannot.
Edward finally gets to experience a good orgasm in this chapter, and the connection he and Bella share is intense, beautiful, and poignant. Really, I can't squee loudly enough. Did I deafen you yet? Sorry about that. Believe me, this is epic stuff here, and
Cesca Marie
very appropriately explores and expresses everyone's right to experience the full spectrum of human sexual responses.
Teal -
All I can say is . . . wow. I never expected anything like this, but even in between all the technicalities and compromise, this was just such a sweet chapter. I can't wait to see Bella's perspective on doing what she did for Edward, and especially what will come next for these two! It's been a long ride getting to this point in their relationship, but it's totally been worth the wait!
---
by Dirtybrat
E/B, BDSM, Complete

---
Kimpy -
This alluring little number has some good people behind it. Our lovely Chele commissioned this chapter via the Fandom Gives Back auctions, and our equally lovely Dulci betas for
Dirtybrat
. Let me start by saying that when DB uses a word like "
Edgeplay
," she means it. These chapters are emotionally rough and raw, but incredibly well-written with a perspective that both respects and appreciates the individuals whose sexual play involves a darker side than most of us are used to. Edward is Bella's Dom in this story, and they have a very well-defined D/s relationship. What intrigues me so much, what makes their experiences so captivating, is the fine line that they balance, skirting the edges of danger, pushing the boundaries just enough to be scary. Edward is always in control, but he has a remarkable ability to use Bella's mind as part of his sexplay. After all, the brain is the most important player in a sexual tryst. When you are unable to see what is happening, it's amazing to learn the places your mind will go. While this isn't a story for everyone (dude, there is NO vanilla sex here!), it is erotic, engaging, and beautiful.
Chele -
It goes without saying that I completely loved this. It is refreshing and intensely erotic to read a story that just seems to get things so very right. It is edgy and not for the faint of heart, but it is completely awesome and I echo every word that Kimpy says, and I have a few I'd like to share with her in private over our mutual love of this fic.
Teal -
UNF UNF UNF. DirtyBrat is indeed dirty . . . and fucking amazing. I mean, really, throwing Garrett into the Edward/Bella dynamic? Fuck yeah. Seeing Bella process the mental repercussions of subbing, which leads to an even stronger bond and love? Beautiful. I'm privileged to beta this talented author.
---
by DoUTrustMe
E/B, Romance/Humor, Complete

---
Kimpy -
All right, all right, I know I'm the last person in FFn to read this story, but I finally did, and I'm so excited about it, I had to include it here. This gem is completely unique, utterly hilarious and light-hearted, and full of incredible and fun sex. Bella suffers memory loss due to an accident and she rediscovers who she is, and about her life, via a series of ongoing questions. I rarely become so engaged in a story, but from the very first sentence, I was hooked. In fact, I was so hooked that I pledged to get a quickie divorce from my husband in order to marry this story; yes, it is absolutely that good! The dialogue is brilliant, and the first few chapters are so full of UST I was almost dying on Bella's behalf. However, suffice it to say that once she starts having sex again, she makes up for lost time, and it is erotic, ridiculously funny, sweet, and endearing. It is a short fic, only 9 chapters, but it is one of those stories that will remain a classic. While it is highly original and just plain adorable, it has a heart and soul, too, and there is an underlying sadness barely palpable beneath the surface, all due to her memory loss. There is an outtake to read after you finish the complete story that is just as lovely, but totally tears at the heartstrings. GO. READ. NOW. Honestly, it's sublime.
---
by Touchstone67 and Domward's Mistress
AH, Ed/Jasper, WIP

---
Jen-
Mergers & Acquisitions
never fails to make me happeh in mah pants. It also takes my heart in it's hands and squeezes hard, but a little angst never killed anyone, right? Jasper is a hooker turned high priced escort. Edward is the closeted client who has fallen in love with him. Jasper has other clients, of course, and their sexual appetites cover a wide range of human sexuality. Peter is one of those clients; as much as you're rooting for Jasper and Edward to somehow, someway make it as a couple, you'll no doubt fall in love with Peter. Riley is a hooker who knows more about Jasper's past than anyone else. There is *a lot* of sex in this fic, and it is always hot and dirty, and, more often than not, pushes the boundaries of what types of scenes and sexual activities turn me on. On top of all that,
Touchstone67
and
Domward's Mistress
are taking us on quite an emotional journey, as Jasper tries to come to terms with what he's feeling for Edward and Edward struggles with remaining closeted.