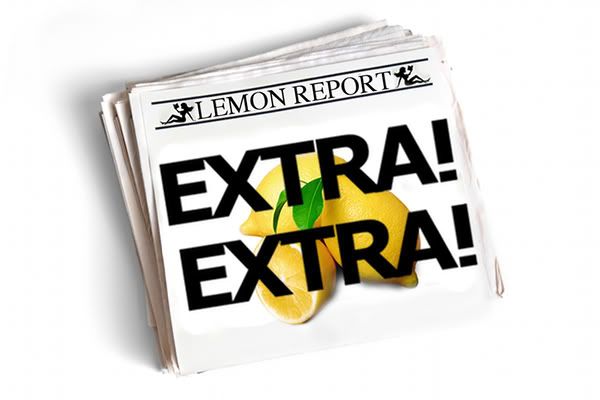 The Lemon Report - Fancy finding out what is on the FF bookshelves of the Pervy Girls of the PPSS? The lemon report lets you know our personal favorite updates of the week, and why you should give the fic a try.... It's a great place to trawl for new recc's and don't forget to share your favorite update with us by leaving us a comment.
---
Forever Young
by dellaterra
Em/Ro/??, AU, Poly, O/S
---
Jeanne -
I picked up this one shot after being badgered by several people on twitter. In fact, Chele and Teal recc'd it on the Big Gay Emmett edition of Going Deep. Now, don't let that fool you. This isn't a slash fic, not exclusively at least. This is bisexual, vamp Emmett. Oh yeah, this is in character, well written and so fucking sexy.
Forever Young
is a refreshingly original fic idea, and it shows us a lot of unexplored details about Rose and Emmett's past. The sex pushes boundaries even as it dampens panties. I am so glad that I finally got a chance to read it.
---
Take the Ice
by bellamarie117
E/B, AH, Multi-Ch, Complete
---
Emmy -
I had BellaMarie on author alert due to an excellent O/S she had written, but I hadn't dived into this brillo fic, even though tons of folk I trust were reccing it to me & going ga-ga on twitter over it.. STUPID ME!
I finally read it this week. I really enjoyed this fic once I dove in. Edward is ADORABLE in it. So ruddy cute. the sex scenes are fabulous and I loved how natural Bella's sexual development was. This is a long fic, and if you are reading it as a complete fic, as I did, the chapters do feel pretty long, so break it up a wee bitty. But the last chapters you will probably like me desperate to read in a oner to find out how their dreams pan out. Cute, fluffy & yummy.
---
Hi, Honey I'm Home
by Luvorink
E/B, AH, O/S

---
Emmy -
I read this the other day & its just a wee bit of fun, but its cute & sexy. I like the atypical slice of domestic bliss it presents. Its not smutty, its suggestive & made me feel quite warm and happy. Cute.
---
When Fiction Become Reality
by Bittenev
E/B, AH, WIP
---
Emmy -
I CANNOT tell you how thankful I was that this fic was updated this week! I had given it up for a lost cause! But huzzah! We got an update instead. An update that gave our poor leads some alone time at last, in a library no less. Who doesn't enjoy library make-outs? I cannot wait for more, This E/B go through years of misunderstanding of each others feelings. Making their confessions all the sweeter to me. Bliss!
---
One Weekend
by Storm Dragonfly
B/C, AU, Complete!
---
Chele -
Oh Holy Shit how did I not know this was out there? It's like
Storm Dragonfly
reached into my pants and pulled out this awesome AU Bella/Carlisle reality where they get a free weekend pass. Okay, nothing is free. The emotional weight of Edward's request that Carlisle give Bella the sexual experience he knows he can't is what makes this so intense and lovely. I was thrilled by watching them grow closer and establish their intimacy in anticipation of coming together sexually. The level of love and trust between Carlisle and Bella makes the experience incredibly hot. Like, panting, lip biting, holding your breath while you read hot. I am SO thrilled that this was suggested by one of the Going Deep girls, and couldn't wait to share it with my fellow non-canon shippers.
---
Source Code Compatible
by Naelany
AH, Em/Jasper, Slash, O/S
---
Chele -
I was so, so happy to see an Emmett / Jasper fic tucked into the
Thirty Days of Emmett
project which is loving up my inbox for the next month. It's Emmett's first day on the job, and Jasper is his boss. Will they let propriety get in the way of chemistry?
Naelany
does such a beautiful job with these boys, and while I would have been perfectly satisfied with unmitigated porn, she gave us a beautiful, simple, drabble prompted story. Oh, and some intense lovin'. Unf.
Jen -
Drabbles are like flourless chocolate cake, so rich, so delicious, and so perfect in a such a small package. I'm often blown away at the depth of emotion and character that an author can convey in so few words. Nae does a beautiful job here, and you will not feel cheated by a lemon via drabble. So hot.
---
I Wept Not
by Arcadian Maggie
AU, J/E, WIP, Slash
---
Jen -
Arcadian Maggie
kills me on a regular basis with this story. She does such a fabulous job of retelling the Saga, and her words... I wish I could roll around in her words, like they were 1000 thread count Egyptian cotton sheets. Gorgeous, lush writing. This chapter brings the NM portion of the story to a close and we get a lemon for these two sweet boys who have been apart from each other for too long.
Chele -
So happy that these boys have been able to come together and start to move beyond some of the anguish they've experience. Their intimacy is sweet and loving, and well worth having waited for.
---
Fall to Ruin One Day
by Sleepyvalentina
AH, B/E, WIP
---
Jen -
I'm pretty sure
Sleepyvalentina
is trying to prove that spontaneous combustion is possible via the written word alone. When Edward and Bella first meet, she is inexperienced and naive--and hopelessly attracted to him. Sleepyval's got the UST dialed up as high as it will go, and though they don't go very far, the kissing and physical intimacy they do share is going to light you on fire.
Jess -
So, I've had this story open in one of my tabs for a while now, meaning to read it whenever I got the chance. Seeing Jen rec it here was just the push I need. She is so right. The UST is unfreaking real, being the addict I am, I need more... like now! I love the split time of telling their story. Bella's lack of filter cracks me up, and I'm very intrigued with this Edward. Lots of fun and UST to be had.
---
Deep Dish
by Starfish422
AH, WIP, OCs- Jack & Jacey
---
Jen -
Unless you've been living under a rock, you have heard of
Starfish422's
Edward/Jasper story, Over the Top.
Deep Dish
is a sequel of sorts, telling the story of two original characters we first met in OTT, Jack and Jacey. I love these characters and the world Starfish has created. Jacey is finally living in the same city as Jack, and the two are working through the issues that led to the splintering of their relationship. They've both grown in their time apart, and trust has been slowly and steadily rebuilt. There's been lots of kissing, some grinding on the dance floor, and now, finally, they are back in bed together. It's oh-so-good--sexy as hell and moving all at once.
Teal -
How happy was I to see this update in my box? SO HAPPY! Jack and Jacey do magical things to my heart and my girly parts, and they totally make me want to be a gay man. That's how much I love them. I want to take these characters and love the shit out of them and then watch them fuck all night long. Finally seeing their reunion -- of love, of coupledom, of hap-hap-happy times in the pants -- it was utterly perfect. I shall hereby name all my future children Katie in honor of the UNFtastic Ms. Starfishy *squee*
---
by bmango
E/J, Slash, O/S
---

Chele - Edward is a reluctant participant in his best friend Emmett's bachelor party camping weekend. Jasper is Emmett's best man, has connections in the park service, and the body of a Grecian god. A little sun, lot of beer, and a warm campfire and we have true love found under twinkling stars. Oh, and a bit of Swoon and Unf. Adorable. Loved this.

Jess - After seeing the description for this, I just had to read it. It was so lighthearted and fun, and shirtless boys sitting around a campfire being themselves... yeah, unf!

Emmy - You know me by now don't you? I just had to scamper off & read this fic, after my girls gave it such a glowing write-up above... And well, I am very very glad that I did! Cute and sexy with a lovely setting. Its a perfect one-shot. This might have been my favourite couple of lines. (yes I did snigger!)
"Well, I didn't bring them specifically for this," I explain, feeling the blush color my cheeks again. "It's, you know, dirty in the woods."

He chuckles, shaking his head slightly as he pulls his shorts back up. "That it is, Edward."
---
Written in Stone
---
Jess -
As I was reading this, I felt so many different emotions, and to be honest, it's hard to put into words how I truly feel walking away from this. There's so much love, desperation, and fear built in, and the way
TruceOver
paints their relationship, the lovin' and sexy times, is so subtle and yet vivid. I really loved this.
Jeanne -
I have been haunted by this story, and I read it several days ago. Actually, as soon as it posted.
TruceOver
won my heart with
A Tale of Two Cities
, and not I will not hesitate to read anything else that she writes.
Written in Stone
did not disappoint. While it's tone is darker than
A Tale of Two Cities
, the relationship between Ed and Emmett is even more intense in this one shot.
---
A Tale of Two Cities
by TruceOver
Emmett/Edward, AH, Slash, WIP
---
Kitty -
Alrighty, I know this fic has been fawned over already by my lovely pervs but I'm a new passenger on the slash train so I'm catching up. I can't begin to tell you how ridiculously stupid happy this fic has made me! Oh how I'd love to just watch Emmett and Edward interact because I love them so effin hard! I'm a huge Emmett fan anyway and I adore him to the enth degree. I love how he is in here, so sweet and so...Emmett, just one big giant ball of cheesy goodness. This one is most definitely now on my alerts list and I'm sure I'll squeal like a little piglet when it updates next!
Jeanne -
I'm joining in just to gloat. This is one of those fics that I will reread the latest chapter just to savor it while I wait for an update. I'm also savoring the hotness that is Felix. *shivers with delight* Oh yes, Felix.