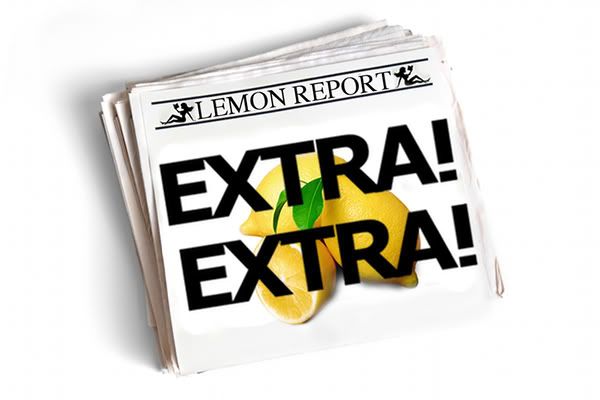 The Lemon Report - Fancy finding out what is on the FF bookshelves of the Pervy Girls of the PPSS? The lemon report lets you know our personal favorite updates of the week, and why you should give the fic a try.... It's a great place to trawl for new recc's and don't forget to share your favorite update with us by leaving us a comment.
B/?/? Threesome F/M/M
Chele -
You know I am a love of plot and intricate characters. Well, sometimes I like things a little quick and dirty. This is exactly that. Bella has a crush on a mystery man. Mystery man's boyfriend invites Bella home with them. Unf. Enough said.
Jen -
Mmm, quick and dirty. After reading what Chele wrote I had to read this. Yum. So, go! Carpe Diem and enjoy this sexy o/s!
E/B AU Angstyish Complete (with Sequel)
Emmy -
Well I am well tardy/behind/late-arse with this story that was written and completed in 2008. EEEEP! You are all probably laughing at me for just how behind I am on this one. But I read this and really enjoyed it this week. I saw it on someone's favorite list and took a gander. It was written before the travesty that was BD was published, so its quite interesting to look at an authors take on the honeymoon and married life pre Isle Esme & Nessie.... Instead Edward takes Bella on a 'Grand Tour' of sorts through Europe, with some mishaps along the way, until a big spanner-in-the-works appears... What I really like about this story, apart from the interesting and different storyline, is the sex. Hahaha. Yes I AM a perv! What Coquette does differently is makes both Bella and Edward overwhelmed with the sensations they experience with one-another. I feel Bella's reactions to Edward are much more natural for a sheltered girl who isolates herself from her friends as she is so consumed by her love for her supernatural boyfriend/fiancee/husband. With not experiencing sex before marriage, anything Edward and his supernatural skills can do to her - leaves her whole body and mind in extreme shock. Fabulous story & fabulous reading. The sequel is brilliant too - I am gonna shut-up now before I write a page on the sequel! ;)
by various authors
All are E/B O/S's, a mixture of genre's
Emmy -
Most of what I have read for the last few weeks, apart from the marvelous entries for my
Pervy Picspirations
, have been for this contest. For a pathetic and tragically canon WussPervTM such as myself, this contest is a dream come true. The pairings HAVE to be Edward and Bella popping their cherries with one-another. So they are sweet, for the most part, and sexy but some are more poignant than others. I have LOTS of favorites, but I do not want to sway the votes, so will not reveal what I am going to vote for, but I might feature a couple of my faves at a later point. There are many I hope are continued or ahem expanded. :D If like me you are a true WP or you are looking for a fluffy boost, its worth having a wee scoot through this contest....
Jess-
Emmy is so right on this! There are soooo many great little oneshots in this contest. Go check them out!
AH, E/B + C, WIP
Jen -
I was checking out the submissions for Emmy's Pervy Picspirations and decided to poke around in the authors' profiles. I couldn't resist
Sadtomato's
summary for Between Pleasure and Pain: Edward, Bella, with a side of Carlisle? Please. And. Thank You. Edward and Bella are a young married couple, very much in love. They enjoy sex, but Bella is feeling that Edward treats her a bit like a porcelain doll. She has some ideas of things she'd like to do with Edward in the bedroom, but worries that he would be disgusted that his wife could have such prurient thoughts. Edward struggles with desires and fantasies that he deems too dirty, too demeaning to share with his wife. Edward comes home a little early one day, and finds Bella reading erotic stories while getting herself off. They read the rest of the story together, and then have the best sex of their lives. Unf!
There are rumors about Dr.Carlisle Cullen's kinky proclivities at the hospital where Edward is a resident. Circumstances lead to Bella and Edward getting a tour of his playroom and they begin both an education in Dom/sub play and an exploration of their sexuality. It's sexy and delicious, yet it's also realistic in its portrayal of Edward and Bella figuring out how to share their fantasies and desires with one another.
AH, E/J, slash, WIP
Chele -
These boys have been in a bit of an emo funk lately, and it's been taking it's toll. So freaking happy that Jasper has figured out what the rest of us have been screaming for the last few chapters: He needs Edward, and he needs to go to him, like RTFN. Our poor, tortured boy is setting things right, and his reward is, well... go find out. Unf.
Jen -
I love Inksper, even when he's all emo and confused. But this update? This update made me happy in my heart and happy in my pants. Jasper has had some major epiphanies, and despite his tough exterior, he was able to be open and honest about his emotions. I would have been happy if the chapter had ended with Jasper being emotionally vulnerable; having a lemon put me over the moon happy, for the rest of the day, and tbh, every time I've thought of it since!
Emmy -
Another great chapter from A. Jasper has been on a real journey throughout this fic, so glad he's finally getting to the place he's needed to be at. Both Jasper & Edward have held back a weeny bitty on their sexual explorations of one-another. The pace that A has set for this fic is completely believable, and its nice to see a slash fic where they aren't debauched, free & lose with one-another on impact. Very nicely done and such an important chapter for both our lovely boys.
AH, E/B, WIP
Kimpy -
Did anyone else hear the Squee Heard 'Round The World this weekend? Yes, Full Disclosure posted, AND THE PARKA WAS REVEALED (and felt!!), and I squeed over it like no one's business!! While I would love this story no matter what, the fact that FDward is British AND sports a parka makes me flail for it even harder (twss). Betty dealt with Edward's reveal beautifully; when he was dating Tanya, she was grossed out by his parka, but Bella is a smart girl and thinks it is win. Their make out sessions have been hot and heavy the past few chapters, but Betty really outdid herself in chapter 10, and it was all kinds of fuckhot. Really, people, do not delay--this story is a treasure. I should also point out, since it is only fair, that this Edward belongs to me, so don't even think about borrowing him--the flag on top of his head is clearly embossed with the Kimpyland insignia. Just saying.
Emmy -
I have to admit full 'disclosure' here - I am one of Betty's brit-team. So I know more about where this story is headed and what's in store. But I thoroughly enjoy each chapter - each chapter is a genuine exploration of the characters, and last chapter, whilst very (bitter)sweet (emphasis on sweet) was also very sexy as these two learned more about one-another prior to separation.
AH, E/B, WIP
Kimpy -
While Chele is to blame for bringing this fic to my attention, I feel it is only right to put it in the lemon report, because it is definitely tart and tangy. It is absolutely, positively one of my best guilty pleasures. Kris_Salvador's Edward and Bella have wild crazy sex, and it is pretty much PWP--Porn With a Plot. I gobble each installment up readily. UNF.
Jen -
The most recent chapter was beyond squirm inducing. The lemon is hot of course, but I think that Edward's thoughts of how he sees Bella that evening were what made it particularly sexy for me.
AH, E/B, WIP
Teal -
Sadly, there wasn't a lot of time for reading in my world this week, and most of what I did read was either for other PPSS features or didn't have smut (gaspshockhorror!), but feathersmmmm certainly made up for it with this hot hot hot and HILARIOUS update of Bang Bang. We finally got to see not-so-confrontation between Edward and Bella after he showed up on her doorstep, home early from Spain, and it all turned out well. Very, very well. And there was food foreplay. And kitchen sex. And lots of other craziness. Mixed up with feathersmmmm's signature brand of nonsense, humor, and sweet E/B love, this was completely worth the wait.
Jess-
It's not secret that I love Alice! Her first fic, I Love LA, was the first story I read in this fandom. So, when I saw Wallbanger, I had to give it a go! It does not disappoint. It's hysterical and truly makes my day whenever I read it. This update was so freaking hysterical! I was cackling as I read the pure delight of Bella finally finding her "O." This is such a breath air amongst all the angst-ridden (which I love) fics. And even better yet, Alice promises us lots and lots of yummy lemons in the next update!
---
A Tale of Two Cities
by TruceOver
AH, Slash, WIP, Emmett/Ed
Jeanne -
I quite literally stumbled across this fabulous fic on twitter (thanks to @Twisurfgrl for recc'ing it). I'm always looking for a great non-Jasper/Edward slash fic, and holy fucking shit have I found one.
A Tale of Two Cities
isn't just a non-Jasper/Edward slash fic, or just a slash fic. It's nothing so simple and easily defined as a fan fiction even. It's a beautifully written, heartfelt story of two men in love in a very real world. They both have past heartbreaks and current family obligations that weigh on them, but this is not
OMFG I'm gay and it's ruined my life
angst fest. This is a story about two people falling in love, and all the very real complications that come with that. Emmett is so in character that at times I feel like
TruceOver
has a better grasp of the character than SM ever did and then there's Edward. Sweet Jesus, this is the Edward that we know and love and bleed for. He is intense, tortured and oh so fucking earnest.
These two just make so much sense that by the second chapter I was trying to figure out how to carefully compose an email to
TruceOver
to politely threaten her life if these boys doing get a HEA. Yeah, the original evil bitch, President of Team Evil is and sopping fucking mess over these boys. This story has a simple, but lovely magic that will enchant you. Give it a chance, I promise you won't regret it. Oh and for the Volturi lovers out there (I love you dirty whores) Felix has appeared in the latest characters of the story. He is very in character, extremely fucking hot, and could spell trouble for our sweet boys. I'm deeply conflicted, as you can imagine. *FLAILS*
Jess -
So, when Jen and Jeanne rec'd this to the Pack, I thought I'd branch out of my comfort zone - which a theme for me for this week's Lemon Report - and give it a go! I am SO glad I did. I love love love Emmett in this story. He's just absolutely delightful and sweet and yummy. Edward is so tentative and cautious and I love that about him, but I also love that he's starting to take chances. I do sense that there will be some HF in this, but it'll all be good. Felix... um yeah, need a moment, because he is just all ego and sexy. Gah!
---
A Year With A Wolf
by robpat
AU, Slash, One Shot, Jasper/Paul, Fire & Ice
---
Jeanne -
I fucking LOVE Fire & Ice (aka Vampire/Wolf) fics! There are rife with conflict, passion and often give us a creative re-imagining of the Twilight saga.
A Year With A Wolf
is a wonderful example of the amazing stories that can bloom from the simple question.
What if a wolf and a vampire fell in love?
This painful, and artful story is told from Jasper's POV, which only serves to punctuate the heartbreaking reality of a pairing of this nature. As we watch Jasper struggle with his own feelings we see Paul's pain evident in his actions and lack of words, but through all this you see the love outshine it all.
This fic is NOT WussPerv safe in any way shape or form. It's dark, and at times heartbreaking, but the connections (both sexual and emotional) between Paul and Jasper are fucking gorgeous. There's no other way to put it.
Jess -
So Jeanne and the girls have been great as I've tried to branch into new stuff. So, when I saw this little one shot on here, I thought I'd brave the waters... wow! Heartbreaking, dark, and so sad, and yet also beautiful. The emotions and feelings Jasper has are so visceral and real. Very intense.
AH, E/B, Complete
Jess-
As a member of Team Wussperv, I adore sweet stories. Green was that and so, so much more.
Bratty Vamp
crafted such a lovely high school fic about an Edward who knew who he was and never really wavered from it. It was so refreshing; I even loved this Bella. The whole story was full of subtle tension and buildup to the most delightful little lemon. It was understated and absolutely PERFECT for this story. ::Sigh::
---
AH, Slash Jasper/Peter, Complete
Jess -
I adore Subtlepen. She a MoHo with me, and I've had the privilege, on several occasions, to squeeze her neck. So, when I saw that she had a poll on her profile asking which of her one shots should be continued, I decided to check them. OH MAH GAWD! I am in love with so many of her little bits. Cardboard, was the first of two that I'm going to rec here. I know they aren't new, but they are to me, and for the love of God, get yourself to reading. You will NOT be disappointed.
Cardboard is a Jasper/Peter slash fic that will blow (hehe) you away. Jasper works at a bike shop, and Peter comes in looking for a box to ship his bike home. Things progress from there to one of the hottest makeout scenes I've read in a while. I'm going to stop talking now. Just go read it. Go!!!!
---
AH, Edward/?
Jess -
There are NO words for how much I adored this little bit! Chapter 1 is full of surprises with a surprise pairing that will leave you reeling. It was SO unexpected, especially from SP. It's the second chapter, though, that literally left me speechless. I was touched beyond words at how SP was able to capture the intimacy and trust in this relationship. Seriously, you will LOVE LOVE LOVE this story. Do yourself a favor and read this! ::Runs to read it again::