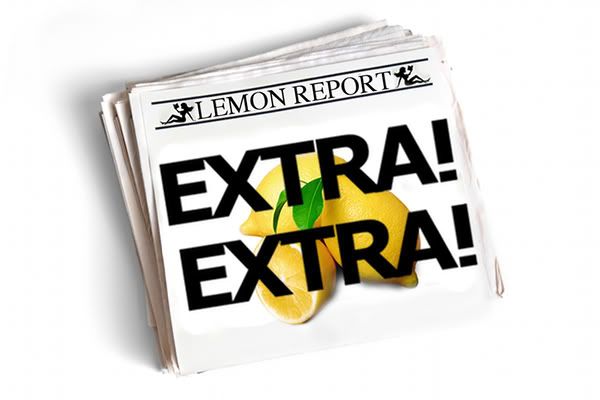 The Lemon Report - Fancy finding out what is on the FF bookshelves of the Pervy Girls of the PPSS? The lemon report lets you know our personal favourite updates of the week, and why you should give the fic a try.... It's a great place to trawl for new recc's and don't forget to share your favourite update with us by leaving us a comment.
---
B/C Complete
---
Chele -
If you're feeling like you want a little Carlisle/Bella, but don't want to agonize over the current awesome Ust-laden WIP's, behold,
First Night
is here for us. It's quick, well-written, smut-laden, and unique. Did I mention smut-laden?
When Bella married Edward, she was really taking on as a spouse every member of the coven. The right of "First Night" with the bride is given to the coven leader, *swoon* Carlisle. The implications of the poly relationship are handled well, and lovingly, and the way that
Zoya Zalan
describes Carlisle and Bella's wedding night only cements for me that Carlisle should be the only vamp responsible for taking one's virginity.
It's sweet, smutty, and complete with a mere five chapters. Perfect for an evening's worth of reading.
Jen -
Ditto to everything Chele just said. It's so delicious. Zoya Zalan has started a new story so that she can continue to explore the idea that marrying into the coven means marrying them all. Be sure to put
For All Eternity
on alert.
---
AH WIP E/B
---
Jess -
So, I meant to put this in last week's lemon report, and with the holidays, it just slipped my mind. This was the update we had all been waiting for, and good heavens it did NOT disappoint. We finally got EPOV of the opening chapter's lemon - the thing that started this whole story.
Nolebucgrl
filled in all the missing pieces and left me panting. I'm sure those of you who read this little gem have already done so, but if you aren't reading this yet, get on it.
And she just posted an update that is so full of fun and win! Yay!
Emmy -
JESS!!! I am gonna have to read this fic now.... How hadn't I heard of this before now????? It sounds fabbo... :D
---
AH E/Jasper O/S
---
Jess -
I think it was Emmy that turned me on to
Lou-La's
lovely work. So, when I got this little gem in my inbox, I did a little happy dance of joy. This is the story of what happens in a relationship when people no longer communicate, when expectations are unstated and unmet. Jasper has reached the point where he is done. He is done with Edward's broken promises and done with always being the one to push for things to happen in their relationship. He has made assumptions about what is keeping Edward away, and when Edward walks into their home on late on Christmas Eve (another broken promise), Edward realizes that something is off. Things come to a head (heh), and eventually through much talk and action (yay for action), these two find their way home.
I was on the edge of my seat as I read through this, desperate to see how, and more importantly, if, things would be resolved. This is a beautiful piece of reality. Give it a shot.
Emmy -
I have confessed this before. I have a serious girl-stiffy for
Lou-La's
writing. She bloody rocks my socks off!!! AND we were blessed with TWO gorgeous slashy offerings from her this week! Gah. As ever her writing was sensual and top notch. But the theme of communication in the one that Jess has highlighted is so well done. It shows how easily two smitten kittens can go from having a wonderful relationship to a wintery empty one... Beautifully portrayed and explored, and as ever
Lou-La
delivers.
Teal -
Ohhh, this one is so heart ouchy and clenchy, but in the end, it's just so nice to see how things play out. I loved the way the build of angst in this o/s made the lemon squeezy all the more emotional and important for these characters. I'm totally digging on these "Randoms"!
Jen -
I found this o/s completely gripping. When I heard Jasper's side of things, through his memories, I was pissed at Edward. how could he do this to poor sweet Jasper? I should have known that you can't always trust the narrator, and then I was pissed at Jasper. Like Jess said, it's beautifully realistic, and the sexytimes are the icing on the cake.
---
E/B WIP
---
Chele -
Cesca Marie has given us another brilliant chapter which so perfectly incorporates smut with plot and character development that I feel completely schooled in the subject. I cannot say how thrilled I am that Bella is not allowing Edward to recoil from their intimacy because of his recent health scare.Reading these two, perfect in their flawed way, makes me indescribably happy.
Jess-
I echo Chele's comments above. I was working out and reading this chapter and literally had to stop. The scene between the two of them was so intimate and intense. Bella pushed; Edward pushed back, and together, they reached new heights that were so consistent with this story and the plot. It was so well executed and absolutely beautiful. I can't wait for more between these two. All I can say is if the hotness factor between them is this hot when he's still sick, I can't imagine what it will be when he's really healthy. Unf!
Kimpy-
My love for Cesca Marie's incredible story is no surprise to anyone who reads the Lemon Report, but she has exceeded all my previous expectations with this chapter. What I love about this Edward and Bella is that their connection isn't just about sex--although that is definitely part of the package. It's more that she delves into the very nature of what makes people sexual in the first place. She knocks down huge walls that haven't been widely touched upon in the fandom. Her lemons are all about sensuality, the spectrum of human sexual response, and what it means to be connected to another person in every way imaginable. I wanted to hug DOMF Bella after the last chapter and thank her for pushing Edward, because he needs this, and her, so badly. To be an adolescent male, and to have experienced not only losing the ability to have erections and all your body hair--the very things that are supposed to make guys sexy--but he's also experienced incredibly painful orgasms. It's enough to turn you off of sex forever. Lucky for him, Bella is there, and together, they tackle this huge elephant in the middle of the room. She handles the subject matter with such honesty and insight it literally takes my breath away.
---
E/B WIP
---
Kimpy-
Cesca Marie gifted us with something very special yesterday, and for any fan of Dead On My Feet, you MUST read this. Having teased us several weeks ago with a chapter where Bella recorded an erotic playlist for Edward, she followed it up by--wait for it, wait for it--a TRANSCRIPT of her monologue. Oh, holy hell, it is SMOKING hot!! To make things even better, she approached it using Edward's POV, so we get to hear his internal reactions to Bella's erotic words. I think what made me even more delighted than just having a transcript to read at all was the fact that Edward was looking forward in his relationship with Bella, and it was so satisfying to read his thoughts. If you are enjoying the story, please, please, please, read this outtake. You will be so glad that you did!
---
Slashy fun - multiple slash & femme slash pairings, a mix of AH and AU all SLASH
---
Emmy -
I first heard about this collection, albeit belatedly, when
Lou-La
posted her two one-shots, as swooned over above! ;) So I clickity clicked on the community and discovered all manner of delights and goodies contained in this exchange.... Not just the standard Edward/Jasper fics. There was Garrett with Riley, Bella and Jane and Edward and Alec... Quite the smörgåsbord no? Looking for some new Slash or femme slash? this is a great place to have a rummage around.....
Jess -
I've just started reading these and love love love them! Make sure you check them out. There are definitely some great ones in there, and even a few that might push your boundaries. I know they are making me explore some of the more unique pairings out there. Fun times.
---
E/B Fluffy AH WIP
---
Emmy -
I owe my darling Nina the thanks for turning me onto this lovely delight. She told me when she recc'd it that it was "fluffy but I love it" and I completely agree. Due to me duffing my arm in a freak Christmas accident, I have struggled to read this week, but this was super easy to read, and super fun. There is no angst in this story. Yet the 20 odd chapters of this fic are not superfluous. Its a sweet and warming tale of a woman who never had had a home, and a (HOT) southern gent looking for his happy ever after and how they manage to find both. If you are the kind of person, to whom family matters then you will love this story, as Edward's family have a starring role in this fic too. Its charming and cute, with yummy lemony action and oodles of love. A perfect pick-me-up and winter warmer. Thanks Nina for the recc! ;)
---
AH, J/Peter, WIP
---
&
---
Carlisle/Riley, AH, WIP
---
Jen -
Drabbles can be a wonderful way to tell a story, and both
OnTheTurningAway
and
Conversed
are using the form with great impact. A story via drabbles is not simply a o/s divided into 100 word segments. When each drabble is very deliberately crafted to include just so much information to ramp up the UST or to keep us guessing, it's like a flourless chocolate cake. Each tiny bite is delicious and oh so rich.
OnTheTurningAway and Conversed definitely satisfy what I crave in a drabble story. In
Imperfect Timing
Jasper is a college student working over break before heading to Italy for his study abroad program. Life doesn't heed our plans and schedules, and Jasper finds himself attracted to and falling for coworker Peter. It's amazing how much emotion Otta can squeeze into 100 words. And when Jasper finally realizes that no matter how poor the timing is that he must explore the way he and Peter seem to feel about each other? Unf, unf, and more unf. They haven't quite gotten to the deed yet, but getting nekkid sure has been a fun read.
Coversed is killing me with Age Gaps, killing me in the best of ways. She's been sharing two chapters a day (and sometimes more), each chapter made up of two drabbles. Carlisle and Riley are online friends, and Carlisle is definitely attracted to Riley's online persona. Riley's flirty pm's and texts seems to imply that he's interested in Carlisle too. When Carlisle realizes how much younger Riley is than himself, he cuts off communication. Fortunately, Carlisle's interns are on the job and manipulate a situation where the two are brought together, although Carlisle doesn't realize he's interacting with Riley. It's so adorable and I was quite the spazz waiting for Riley's identity to be revealed. Now it's all hands and lips and groping and biting, and again, it's amazing what a skilled author can tell in only 100 words.
Both of these stories are nearly over and should be marked complete in the next few days. They're both quick, sexy reads.
Chele -
ZOMG -
Age Gaps
is completely adorable! I zipped though it all on about 20 minutes and it felt like I'd gotten the same punch of plot as 10 full-length chapters. The range of emotion in these drabbles is amazing, and I found myself speed reading trying to absorb it all as fast as I could. Riley and Carlisle's chemistry is soooooo fucking hot, and Conversed isn't messing around with the intimacy, either. It. is. so. on. Got 20 minutes? There's an orgasm in your box waiting for you.
---
Bella/Paul, AU, WIP
---
Jen -
In this NM AU Paul imprints on Bella when he finds her at the La Push cliffs, ready to jump. Bella doesn't understand why touching Paul makes her feel whole again, or why she feels safe being completely vulnerable before this man who has barely said two words to her previously. They have crazy hot sex before jumping off the cliffs—Bella in Paul's arms. I'm totally willing to suspend belief for Bella's amazing first-time sexing, after all this is a supernatural relationship.
Paul eventually explains everything to Bella, but he decides that because it will hurt Jake so badly that they should do what they can to break the imprint. Bella's bereft and once again feels that she's been abandoned because she's 'not enough.' I'm hoping that Paul comes to his senses soon—not only to mend Bella's fragile heart, but for more smexy good times.
---
E/B, AH, WIP
---
Jen -
I really wish I could remember who rec'd this on Twitter so I could properly thank them. I'm pretty sure the tweet said 'if you like the Mirrors by adorablecullens you should try Through the Oak Door.' It's wonderful--sweet and mysterious. I LOVE Bella; she's smart and a little sassy and all around adorable. I love the voice that
Struckatthesky
has given her. She's mature, yet not so much that she sounds like an adult playing at high school. Edward and Bella are so very adorable together. The development of their physical relationship is just the right blend of sweet and sexy. There's just something about this story that makes me giddy each time there's a new chapter.
Jess -
I've just started this and LOVE LOVE LOVE it!
Emmy -
Damnit, this is on my TBR list and I haven't got to it yet....! can't wait to now...