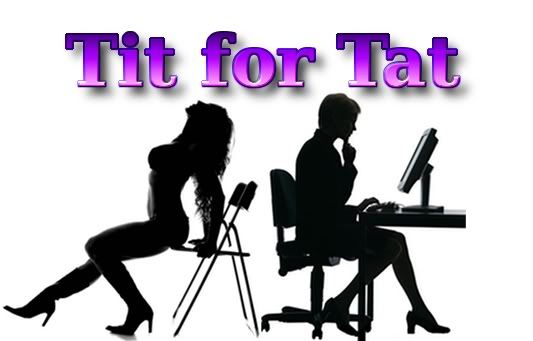 We here in the Shack love reading smut and looking at pretty porny things, but we also love you. Yes, each and every one of you -- reader, writer, blog follower, and Twitter pal. That's why we feel it's important to take pause every once in a while and get serious.
---
Today we want to address a decidedly unsexy topic: Cancer. We've talked about breast cancer, but now it's time to talk about testicular and prostate cancer. According to the American Cancer Society in 2009 there were 192, 280 new cases of and 27, 360 deaths from prostate cancer.
We all have a man that is close to us, be it our significant other, father, brother or friends. If you love a man, you owe it to him and yourself to encourage him to get his prostate checked, and to perform regular self checks on his testicles. You married and dating ladies can even take matters into your own hands by assisting your partner in checking himself. Make a flirty game of it. Show him how to assist with checking your breasts and then help him check himself. Who knows what sexy fun can arise from watching out for each other's health.
*Be sure to check out the bottom of this post, for instructions on performing a
Testicular Self-Exam
.
The pictures in today's post are from the
Everyman Campaign
. A group that is dedicated to raising awareness for the prevention of testicular and prostate cancer. They did a photo shoot with hot male celebrities (mostly from the UK) to lend their support, and get men to Nut up and get themselves checked.
In the face of illness, it's easy to forget humans are sexual beings. While it's natural to let sexuality take a backseat during the acute phase of cancer treatment, it can be a very important part of the healing process to regain a positive body image, feel intimate connections with others, and reaffirm a personal sense of sexual desirability.
There are many things you can do to support a loved one on this journey, something as simple as helping them find awesome headgear can help retain a sense of personal identity while waiting for hair to re-grow after treatment.
Click here
to see some cool patterns.
If it is a more intimate partner, the first step is to become informed about how their body is affected by the illness, or the treatment, and be open and patient as you explore what feels good, which may be very different. Some really great tips can be found here:
Sexuality and Cancer
Above all, let love and patience be your guide.
Click the image to download a free pdf of the book.
-->
As a special treat today, our Pervs are going to tell you about a very special Twilight fan fic that shows that even in the face of illness, love can blossom and heal.
---
Teal -
What originally struck me about
Dead on My Feet
was how different it was from other fanfics. Yeah, we say stuff like that all the time, but this story is
truly
unique. The pace was rather quick in progression, yet at the same time, every chapter felt like torture waiting for the next to come. Lucky for those of you who are just getting ready to read it now, it's finally complete =)
What I really love about this story is the amount of time
CescaMarie
spent setting the stage for Edward and Bella's eventual romance. It took a really long time to get there, both in the plot and the number of chapters, but it was completely worth the wait. The way the love/hate/antagonistic/caring relationship developed needed time to unfurl, and along the way, a deep bond was formed between the characters. Amongst it all, readers learned many gritty details about living with disease, as well as being the person who shoulders the burden of a loved one's caretaking.
When it finally came down to the love (and lust) between Edward and Bella, it was all the more intense and fulfilling, even when they had to take special measures to be intimate. Bella's patience and understanding of Edward's need for affection and reassurance became her redeeming grace, and for Edward, jaded and without an ounce of self-esteem, Bella helped bring him back to life in so many ways. Just reading Edward's reactions to Bella's confessions of love or moreso, her (often animalistic and unabashed) attraction to him, even while too-skinny and without hair, made her a character hard not to love . . . even with her ugly past.
This story was a wonderful addition to our fandom for so many reasons, and I'm so grateful that
CescaMarie
provided us with so many new perspectives through her writing, even some of the nontraditional methods of intimacy.
"Life gets mighty precious when there's less of it to waste." - Bonnie Raitt
Chele -
Every once in a great while, I come across a story that changes something for me. Gives me something I was missing, even if I didn't know it.
Dead on My Feet
is one of those stories. It takes you by the hand and walks you down a path you never saw, and shows you sights so beautiful and frightening that you almost can't stand it. When it is done? You've seen love in a whole new light.
Some of you might be thinking, "Oh Chele? Dead on my Feet isn't a sexy, smutty, story." But, oh, my little pervs, that's where you're wrong. True, is is not the type of story wherein Edward and Bella spend all of their recreational time fucking. Instead, it's a story of two people who find healing through love, touch, intimacy and acceptance. It's so much more than sex, and yet, it is also that simple.
There's a ton of UST that crackles between them, but even more so is that there is resolution in each intimate touch so that despite the lack of actual penetration, it definitely feels as if their physical intimacy in on par with any "lemon" in it's intensity and level of release. When the lemons arrive, it's like rain to the desert.
Bella and Edward have each faced monumental hardships and challenges, and because of those circumstances, completely complement each other.
CescaMarie
writes them as if they are puzzle pieces fitting together. Only Bella could handle Edward, understand his challenges, and be what he needs, even when that includes pushing him. The reverse is also true. Bella's jagged, broken edges only fit with Edward's.
It's like someone tore a piece of paper down the middle and cast it to the wind, only to have both pieces land in a puddle of rain with their torn sides meeting seamlessly.
CescaMarie
treats the characters in this story with a holistic approach, weaving sexuality and sensuality in all the right places in a way that is gritty, real, and without artifice. It is erotic because she makes the reader want it SO badly for them. By creating passionate attachment to the characters first, she elevates the removal of a hat to the unveiling of a virgin on her wedding night. Even a hard-core perv like myself can appreciate the use of subtly here. Several updates had me gnawing my lip and gasping while feeling all tender and raw and broken open.
This is an amazing journey. It made me feel every possible emotion. I had a visceral response to characters that were so well-written it felt like I knew them. In short, I believed it. Every word.
Dead on My Feet
is a story about living.
"The greatest good we can do for others is not just to share our riches with them, but to reveal their riches to themselves." - Swahili proverb
Jen -
At the beginning of
Dead on My Feet
it's hard to imagine that Edward and Bella could ever be anything other than antagonistic towards each other, let alone share an intimate relationship.
CescaMarie
manages to take them from their rocky start to being in love in a way that isn't straight out of a fairytale. There's a lot of heavy stuff in this story, and nothing that Edward and Bella go through--alone and together--is easy.
Edward and Bella have both been to hell and back over the past few years. Edward has fears that he's never wanted to give voice to, and Bella has some ugly skeletons in her closet. They both have a lot of growing they need to do in order to love themselves, and by extension each other. Because they've truly bared their innermost selves--the good, the bad, and the ugly--they're able to be vulnerable with one another. It's not always easy, but if we could ask them I know they'd both say it was worth it. One of the hardest (twss!) hurdles for them to overcome was the effect that cancer treatment had on Edward's sexuality--both mental and physical. Bella shows Edward how to like himself again through the way she cares for him and prepares his special foods, as well as through her physical affection. She also shows Edward how they can work around the physical effects of his treatment and be intimate. I'm not a teenage boy, despite what my brain thinks most of the time, but I can't imagine the horror of being an adolescent boy who was unable to jerk off without pain.
CescaMarie
really beautifully displays Edward's vulnerability and Bella's love and concern for him without making it seem contrived or even 'icky.' They are not your typical lemons. They are a wonderful depiction of human sexuality in illness and recovery, and the tenderness shown all around makes
Dead on My Feet
an all around wonderful read.
"That it will never come again is what makes life so sweet." Emily Dickinson
Jess -
When I first started reading
Dead on My Feet
, I wasn't sure where it was going. That isn't say
CescaMarie
didn't have a plan or that it showed in her writing, but rather, it's a testament to how real and visceral this story really was.
I don't think I've ever read a story quite like this - fanfic or otherwise. We are introduced to a sickly, reclusive, and weak Edward and a broken, unforgiving Bella. But as time passes and they find each other, they are forced to move through the pain and baggage that just comes with life. Together, they fit--even if it took them a while and some uncomfortable and painful situations to realize it. At some points, I wondered how they would get through things; would Edward die? Would he forgive her for making out with his friend? Would he...? Would she ever forgive herself? Would she ever allow her own walls to be broken down? To be vulnerable, and to care?
Perhaps the most unique thing about this story was how
CescaMarie
managed to build up the UST in such a way that left me aching for them to be together but not wanting it to be some random romp in the park. With Edward still in recovery, they found ways to be intimate without all the fanfare and glamour. It was raw and passionate and so, so real. Together, they face and Bella helps Edward overcome his insecurities - particularly around body image (little to no body hair, central line port) and function (inability to have/hold pain-free erections) - like we all do... slowly and with a growing level of trust and intimacy, and a little pushing or massaging when needed.
Watching these two fall in love and find their way through remission and healing was truly a gift, and I'm grateful to have gotten the chance to read it.
"Love looks not with the eyes, but with the mind. " - William Shakespeare
Kimpy -
Dead on My Feet
was recommended to me by a good friend who has never steered me wrong. To make sure that I'm using full disclosure here, I want to iterate that A) I am a pediatric ICU nurse in RL (for those who might not be aware) and B) I consulted a time or two on the medical aspects of the story. To be honest, my input was minimal--really, the magic all belongs to
CescaMarie
*end of disclosure*
When I started reading a
Dead on My Feet
, I wasn't sure what to expect. I mean, Edward Cullen as a cancer patient? Without his famous sex hair and bushy eyebrows? I admit; I was skeptical. On top of my skepticism, I'm incredibly particular when it comes to medically-based fic. So often, writers get it all wrong, because they haven't lived in that world--the kind of situations that happen on TV are so far from reality as to be laughable, and fic is no different. I knew at once, however, after digging into the story, that
CescaMarie
's story was different. She gets all the nuances of chemo and recovery just right. Her writing is powerful, descriptive, and can be incredibly funny, given the subject matter.
While I could go on for days about the quality of her writing, what I really want to emphasize is what an amazing job she does tackling the tough issues of human sexual response and behavior, intimacy, and sensuality. Because of his chemo and medication regimen, Edward stopped having erections, and orgasming has become an incredibly painful process for him. As in, it feels like he was kicked directly in the junk kind of pain. In general, men tend to be very attached to their sexual responses--like the ability to have erections, to jerk off, or to sex it up with a partner. As a 17 year-old male, to be hairless, thin, and barely alive is a huge insult to one's psyche. But to be all those things and then not be able to be sexually responsive? I can't imagine attempting to salvage one's self-esteem from something like that.
CescaMarie
pairs up an Edward and a Bella who are crafted uniquely for each other--there is no other person on the earth who could possibly help them overcome their personal demons than one another. They bumble their way into a relationship that slowly, gradually, builds steam. Their sexual tension is intense, some of the best I've ever read, anywhere. Their mishaps and fumblings are very real and awkward, which makes it even more compelling and unique. There are no magical orgasms in this story, but there is intimacy and sensuality that build into something special and exquisite. Edward is incredibly self conscious, afraid to show any part of his physical self to Bella. Bella is sexually experienced, and wants badly to have a sexual relationship with him. Over time, small step by small step, she wins Edward's trust and he opens up to her. When they are finally able to progress beyond kissing, the outcome is one of the sweetest, most powerful lemons I've ever read. What makes it so fulfilling is that Edward could never have conquered these hurdles had it not been for Bella's unconditional love and acceptance of him.
The story shows us the value of deep love and an abiding connection to another human being.
I think my favorite part of
Dead on My Feet
isn't the lemons (although don't get me wrong--they are sublime), it's the fact that
CescaMarie
gets the complex nature of human relationships spot on. Edward and Bella fall in love with each other far sooner than either one even realizes. They believe that they're trying to salvage some kind of friendship, but the reader can see so clearly that they are creating a love that is bone deep and lasting. The beauty and, at times, the pain, of the story is to watch them unfold into new people right before your eyes. It's an interesting, engaging story full of drama, heartache, grief, and love. More than anything, this story illustrates the triumph of love, and it is extraordinary. So, dear reader, I highly recommend that you sit your bunners down and get reading--I
dare you to put it down. It's one hell of a read.

"What lies behind us and what lies before us are tiny matters compared to what lies within us." - Ralph Waldo Emerson
If you're interested in getting your own Fuck Cancer t-shirt. Check out
Fuck Cancer
.
Or decorate your Twitter account with a
Fuck Cancer avi
from the Perv Pack's special stash. ;)