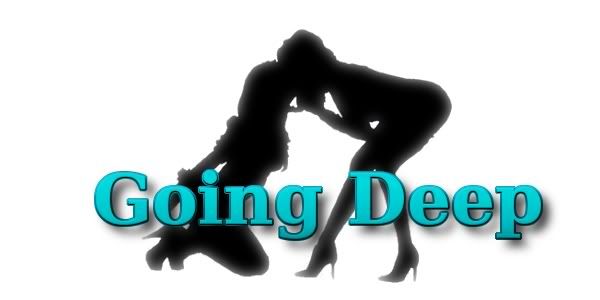 The Equal Opportunity Whores, Chele and Teal, are going to explore some of the naughtier and more unusual trends, kinks, and pairings in the Twific universe. We'll be discussing what intrigues us, why it's sexy, and where we can find it. As upstanding members of Team Anything Goes, you can expect the unexpected.
---
We weren't surprised that a number of you pervs who wanted more Harry Potter recs after our recent
Fandom Hopping feature on The Love You Take
, so in honor of the upcoming release of the final film installment of the Harry Potter series, we're Going Deep into the magical realm of the Potterverse to bring you the biggest variety of good smut we could dig up. Teal had to tag-out on this one, but a couple of pervs, Emmy and Jeanne, are veteran HP fandom hoors, and so they're stepping up.
Put on your robes, grab your wand and don't forget your safe word. We're about to give you a quick and dirty tour of Harry Potter fan fiction smut.
---
Het Canon
Harry/Ginny
- They are simply meant to be.
Heart of Fear
by
FalseImagination
Wow, this fic makes me believe in the canon pairing in a way that so many fics fail to achieve. Its a short one-shot, set immediately after the battle. Harry has given so so so much. Now its his time to heal, to just be and to take.... Ginny is there for him, in exactly all the way he needs. As its set straight after the great battle, its very raw. But its sweet and sexy.
Newlyweds
by
Basilm
This is ridiculously fluffy and completely adorable. Ginny surprises Harry with a bit of post-honeymoon afternoon delight. Canon lovers will adore this little happily ever after vignette.
If you're interested in more Harry/Ginny fic check out
Sink in Your Eyes
and
Ginny Potter
.
Hermione/Ron
- When friendship blossoms into love.
In Solemn Stillness Lay
by
ladytory
The war has left all of our heroes a bit damaged, but Ron's nightmares haunt him desperately, and the only one who can help him heal is Hermione. It is so touching that Ron's worst fears are of his inability to protect her, and that through her reassurance and touch she is able to drive away those demons. This fic really gets to the heart of Ron and Hermione's connection, and made me believe in a pairing that, although canon, I never really understood. Their bond has been forged by fire and their intimacy here expresses that beautifully.
If you're are craving more Hermione/Ron fic check out
Post Deathly Hallows Fan Fiction
.
Find fic for Harry/Ginny and Hermione/Ron at
The Harry/Ginny Ron/Hermione Fanfiction Community's Journal
.
Miscellaneous Canon Pairings
What Happens In the Changing Room
by
little0bird
An unrelated bunch of one-shots. All canon.
All rude (aka lemony action in each). H/G; R/T; Neville/Hannah; Arthur/Molly
Characters in the HP-verse need to blow off some steam...
Come on! Everyone need some love. So its great to see other characters getting some love. Neville, in one and the elder Weasley's getting theirs in another. Oh and some cute Harry/Ginny and Remus/Tonks too!
Het Non-canon
Hermione/Snape
- If ever there was a 'ship that should have been canon, it is Hermione Granger/Severus Snape. Hermione was always light years beyond her peers intellectually, and her dedication to learning and steadfast loyalty is only matched by her Professor, Severus Snape. They are equal and opposite and perfect for eachother.
Care of Magical Creatures
by
mia_madwyn
Could not put this down once I started reading. Hermione proposes to Snape to satisfy the Ministry of Magic's degree that she must partner with a pure-blood wizard. The tension between their spot-on canon personalities thrums with a visceral heat, and makes for some red-hot smut, but it is unexpected tenderness on both of their parts that won my heart.
Practical Solutions
by
Aurette
Wickedly awesome spin on the friends with benefits theme. This has some of the best humorous dialog I've read in any fandom. Snape is sharp-tongued with sardonic wit. It's sexy,snarky and sweet.
Improbable Felicity
by
Subversa
Despite his heroism during the war, Severus is trapped in Askaban until Hermione takes advantage of a loophole which allows inmates to be released to their spouses; and proposes to him. Subversa brilliantly reveals the complimentary nature of these two characters and their gradual but inevitable change from mutual respect to unbridled desire for one another. So rare that Hermione gets to be the rescuer, but her determination first to see Severus free, and later, to build a true marriage with him, really showcase her strength. If you want an excellent fic with fuckhot sexytimes, you need look no further.
Want more Hermione/Snape fic? Check out
Ashwinder
,
HG/SS
and
SnapeyLuvsHermy
.
Here is a
master list of HG/SS rec list
.
Hermione/Draco
- Arguably one of the most sought after non-canon pairings in this fandom, there's just something about their intellectual rivalry that makes this pairing work beautifully. It's not just about wanting the bad boy, it's about Hermione meeting her match and sometimes he can knock her off her feet.
The Wrong Man
by
snegurochka_lee
A misunderstanding, polyjuice potion and an unspoken attraction lead Hermione into make the biggest mistake of her life. This is a hot, nasty and thoroughly wrong smutty one shot. Draco is just the right balance of sexy and arrogant. It will leave you panting and wanting more.
Draco's Distraction
by
Shellydkitty
This is a quick and dirty little one shot that perfectly embodies the hotness of the opposites attract dynamic of Hermione/Draco. He is as smug and arrogant as ever. She is angry, and outspoken. The clash and explode with sexual tension. The end left me smiling and loving this pairing a little more.
Uncharacteristic and Strange
by
nightfalltwen
This one shot is told in a very distant 3rd person, but it plays well with the pairing and the slow revaluation of their feelings. I love the soft, intensity and the searing passion of the sex and emotions. Very beautiful and a little fluffy.
Want more Hermione/Draco? Check out
Hawthorn & Vine
. There is also a HG/DM rec list on FFnet:
Here
and a post to rec HG/DM LJ communities:
Here
.
Hermione/Viktor Krum
- It's practically a canon couple and many of us are dying for Krum!smut.
After All This Time
by
idea of sarcasm
This story fits right into canon, using the letters that Hermione and Viktor sent to each other during the series as the inspiration for a long burning, never-before revealed feelings between. As adults they come together in a sexy, sultry scene that can only be described as mind blowing.
More Hermione/Krum fic can be found at
Viktor Hermione
. Or just Viktor Krum fic in general? Check
here
.
Hermione/Sirius
- This is a difficult pairing to sum up, due to the diversity and range of fics with this pairing. In some fics, Sirius fell through the curtain and comes back as a young man, or as a pupil of Hogwarts, in others he is the bitter, twisted, baying-for-blood escapee we meet in POA. But to me the best fics manage to combine all sides of his persona. The cheeky, daring and VERY charming Marauder aka Padfoot along with the vulnerable and scared adult, who suffered without deserving it. The man who was abandoned by his entire family, and then loses everyone who then became his true family. In other words an extremely devastating, handsome, charming, world weary and world wise man. This is the perfect foil for Hermione. Hermione who despite DH has a reputation for being books rather than street smart. Hermione who everyone thinks should and will live her life by the book and to the letter. PS: I am a Sirius slut. :) I do not picture him as Gary Oldman. Instead I picture him as Viggo Mortensen - in a similiar look to his Aragon from LOTR. Rarrrrr!
A long & Winding Road
by
Ceredwen
This pairing might not seem to work on paper... Hermione who lobbies for House - elves to be free and Sirius who believes they are there to serve him as tradition states. Sirius who takes, and Hermione who gives and yet personally demands so much of herself. They play off of one another perfectly and Hermione's slightly prudish and rule-abiding reputation are the perfect foil to rule-breaker extraordinaire Sirius. I have to be honest and say that I used to despise this pairing, only at the thought of them. A dear friend made me read an author (who focuses on this pairing) and I am SO very glad I did. Once I read some I was hooked.
This fic is so beautifully written. This author writes this pairing with pure heart and soul. All her Sirius/Hermione fics are pure gold. In this fic? Sirius and Hermione are the only ones who can provide what the other needs. But Sirius is bitter and resigned and Hermione? Hermione is indifferent and repressed. This fic has AMAZING UST. Sizzling. Great tension and such good writing! Please give this author and pairing a try.
Are you excited by the idea of more Hermione/Sirius fic? Check out
Reason & Passion
and this epic FFNet list of HG/SB fic:
Here
.
Harry/Tonks
- 'Cause some of us whores love the idea of Harry with an older woman.
Throwdown
by
twilightsorcery
Tonks is Harry's new combat instructor. He's having trouble concentrating on lessons when he keeps having illicit dreams about his instructor. Oh how I love playful, humorous smut! This is hilarious and adorable. Harry's inner monologue had me cracking up and the fact that Tonks is a strong, sassy, confidant woman that keeps kicking his ass in combat training is just a fucking bonus. *happy sigh*
Harry/Luna
- What quirky girl didn't want to be the hero's girlfriend?
The Party Game
by
almagitana
Holy House-elves' dirty pillowcases, this is so ridiculously awesome. One of the things I love about this smutty little fic is it has the spirit of Luna's whimsy, that so perfectly compliments Harry's intensity, is ever present in this story. From the unique decorations on her Christmas tree to the carefree way she dances when they go out to clubs. We view the unfolding of Luna's little party game from Harry's nervous POV and experience much of his confusion. Still we are able to see Luna's subtle, clever humor and unflappable confidence that shows why she is the epitome of a Ravenclaw. We see how Luna would be the perfect partner for post-war Harry, because she would give him peace and teach him how to have fun again. Also, the foreplay and sex if fucking insanely hot.
Tonks/Snape
- The epitome of Opposites Attract. There aren't many fics for these two, and what a shame, 'cause with all the potential for witty/snarky banter and ridiculous clumsy accidents the romantic comedy fic would write it's self.
Rosemary and Blue Heliotrope
by djinnj
Tonks and Snape have a one night stand that doesn't stop there. Fucking fantastic! This story is so well written, so plausible that I wish it was canon. These two starkly different personalities complement each other nicely. Also the sex is fucking awesome. Love it!
Want more Snape/Tonks fic? Me too. The only site dedicated to this ship hasn't been updated in over three years. Feel free to search through
Snape Tonks
or write some yourself.
Poly/Threesomes
- Because we are dirty hoors in the Shack and we love, love, love multiple loving.
Harry/Ron/Hermione
- Cause this really is practically canon. Seriously, there are several people in the fandom that believe that Ginny fucked the whole dynamic up. They believe in the power of three and bless them for their vision. UNF!
The Plan
by
simons flower
Okay, this is porn, but it is delicious, glorious threesome porn. While, there is little to do with the wizarding world, there characterization of The Three is spot on. The contrast between Hermione's cerebral, borderline-control freak personality, to Ron's strong, relaxed nature and Harry's quiet intensity combine to amp up the sexual tension to a dizzying degree.
Hermoine/Fred&George
(no incest)
More Fun Than Studying
by olivers ace
Who doesn't fantasize about twins? When the twins in question are the Fred and George, well you know that there's going to be some mischief going on. This naughty little one shot just touches on all the
possibilities
that come from having two identical twins for boyfriends. UNF!
If you're interested in more fic featuring Hermione? Check out
Granger Enchanted
.
Slash Canon
- After all, JK Rowling said it is canon.
Dumbledore/Grindelwald
- These were two of the greatest wizards of their time. In the case of Dumbledore, maybe ever. Together they represent both sides of the wizarding world, human nature even. Their love is so much more than an analogy on human nature, but a truth about us all. Their love, doomed though it was, shows that a heart can break, but it never forgets how to love.
For Blood and Wine are Red
by penknife
This is one shot slides right into canon, giving the background that we've all wondered about after Rowling revealed the true nature of Dumbledore's
association
with Grindelwald. The style of writing makes you feel the HP universe, but also has an old world quality that allows you to easily believe that we are seeing Albus' past. The interactions between these two whether it's debating magical theory, poetry or in the middle of sex is perfectly in character. Two sides, equal and opposite, like the sun and the moon having a love affair. *swoon*
Slash Non-canon
Harry/Draco
- The most popular slash pairing in the HP fandom. While there are easily hundreds of sexy well written fics, right now we're just going to give you a taste.
On a Clear Day
by Sara's Girl
This is a beautiful post war fic, that shows us the price of redemption and the unlikely future of a hero. Draco's internal monologue is at once hilarious and so fucking endearing that you fall in love with him in a matter of a few paragraphs. We see the story entirely from his point of view, making us follow along while he sorts out the mystery of Harry's self-imposed isolation. The banter in this is priceless and lends to the subtle, slow build of sexual tension. This story is more a romance, but trust me when they
finally
come together it is in-fucking-tense.
Hexed!
by Randominity - A hex gone awry on the train to Hogwarts leaves Draco pregnant and Harry soon to be a father. I love the way that Randominity handles this as it made Mpreg seem not only possible, but plausible. Magic is such a fun plot device like that. Hexed! explores the complications of the unexpected pregnancy, one of which is attraction between our main characters. Draco remains very masculine despite his vulnerability, which is a breath of fresh air in mpreg fic. Such a sexy, sweet read.
Kiss A Boy in London Town
by Femme
It isn't that much of a stretch to imagine Draco Malfoy turning to prostitution after all of this other prospects dry up after the conclusion of the war, is it? Willing to do anything to provide for his family and protect the Malfoy name, Draco is unapologetic for his choice in careers, and as his nature dictates, has simply decided to be the absolute best in his field. A couple of well-practiced glamors and a false name hide his true identity from his clients, and when Harry shows up for "Toby's" professional services, Draco is able to see a side of Harry he never expected.
Harry's inexperience with men gives Draco ample opportunity to teach him a few things, making for some dirty exploratory smut while these two try to avoid their burgeoning feelings. Such a unique setting to bring these two together in, and a showcase for Draco snark.
Are you craving more Harry/Draco fic? Check out
Complex Love
,
The Hex Files
and
Harry <3 Draco
.
Snape/Harry
- A very popular, if sometimes controversial slash pairing. You can find fic set during Harry's time as a student in Hogwarts and after the war. Much of it predates the final book (Deathly Hallows), but the fangirls were not deterred by canon and keep writing for this unsinkable ship.
Dirty Talk
by bysshe
There is something about an adult, dominant Harry talking dirty. Add in an older, wanton Severus giving a blow job and I'm in a puddle on the floor. This short smutty one shot is just a taste of all the that vast diverse catalog of Snarry fics have to offer.
More Snarry fic can be found at
The Essential Snarry Reader
and
Greasy old git and impertinent brat
, among many other sites.
Ron/Draco
- If Harry and Draco are enemies, then Ron and Draco are something so intensely beyond that it cannot even be named. When the hate is this strong you just know the slash is going to be fucking intense. Good Ron/Draco smut is hard to find, but when you find it you treasure it.
Blackout
by gypsyflame
Not only does this one-shot contain one of the most awesome introductions ever, it has some startlingly hot fucking between two of the "least likely to be caught fucking" characters ever. It so perfectly sums up what it would be like if the person you despised the most made you come so hard you passed out. The dirty sex banter is brilliant, and the sex itself is hot enough to leave us twitching.
You can find more Ron/Draco at
Fire + Ice
,
Perfectly Flawed
,
Ron/Draco 100
(an LJ Community for 100 word drabbles) and
Ron/Draco, as well as
Fire and Ice
(both are LJ Communities dedicated to this pairing.
Femslash
- It's rare in every fandom, but especially so in HP fandom, but when it's done it is done well.
Ginny/Pansy
- The sexy, lesbian take of enemies turned lovers.
The Ghost Game
by
starrysummer
A sexy glimpse into those who were left behind at Hogwarts while their friends were off deciding the fate of the wizarding world. The malaise of impending doom and a need to feel something other than inevitability and despair create the perfect storm to drive Ginny and Pansy together. Dark and rhythmic.
More femslash can be found at
HP Fem100
(an LJ community for 100 word femslash drabbles) and
HP Femslash
.
Marauder Era
- Because so much was left unsaid and unexplained. What were these crazy kids like back in the day? Who did they love and how close were these close friends. There are so many stories that have yet to be told. Even though we know how it ends, it doesn't stop us from wondering about how it all began.
James/Lily
- The ultimate love story. Boy is an annoying prat, who has it all - good looks, charm, talent, money, prestige, friends, reputation, intelligence but cannot get the girl he loves... Lily.
Lily is a muggle, new to the wizarding world, new to magic. Money and status mean diddly squat to her, so 'Potter' impresses her not. Instead Lily sets out to be the best Witch she can be. But somehow 'Potter' is under her skin. Boy woo's girl, making an even bigger tit of himself. Then when girls best-friend upsets her, he shows her just how caring and considerate he can be. Girl is won over. Their love is young, intense and epic - they fight together, they love together. They take a last stand together. Their loves lives on in Harry. ***sobs into handkerchief**
Deception of the Worst Kind
by
lalas
What happens when James finally gets exactly what he's always wanted; a chance with Lily. The only problem is they are both already involved with other people
James had been after lily for ages, and she's just not bothered. Then he gets a girlfriend and now she is.... Why has he suddenly given up on her, weren't they meant to be? Even if she doesn't give him any sort of nod.... So now he has moved on. Or has he? This is a great fic. LOTS of fun, with tension and UST. Oh and my favourite - LOTS of sneaking off to dark castle corners....
There are lots of fics in this pairing. Some major angsty that I have not featured. Some set amongst the order, during their auror days, early on in their marriage and some set in school.
You can find more Lily/James fic at
Lily and James
. There's a regular Lily/James fic fest at
Lily/James Games
.
Remus/Sirius
- This pairing? This pairing, could so easily be canon... Just reread/rewatch POA. That scene in the Shack? Their reunion. Yeah right. There is more history than their shared loss in that exchange. And come-on! You know what public school boys in boarding school are like... The exploration, the experimentation. But more than that. These two had a special animal marauder bond. Nuff said.
It Was Only A Kiss
by
remuslives23
This is a classic fic that could be canon. Sort of. Its also a rare thing. Its a happy slash fic. For this pairing, there are MANY MANY rip-your-heart out type fics - due to the plight of The Marauders and the time in British Society the boys 'come-out'. But in this story, the angst is minimal. This fic captures the humour of The Marauders, whilst touching on really important factors for the four of them. In particular, Remus's 'furry problem', Sirius's dark-hearted family, and how the four boys have their special transformations. Additionally though it has a beautiful love story stemming from an important friendship. Plus I LOVE how in this Remus's transformation affects his libido and his dominance in bed!
You can find more Remus/Sirius fic at
remusxsirius
. If you're interested in Marauder slash in general you can find it at
Marauder Slash
and in the
Marauder fic section of Fiction Alley
.
The Darkside
- When we say Darkside we mean it. In the HP fandom there are very few places author's won't go. There are some edgy, posibily squicky fics that will give you a taste of the darkness that awaits in some HP fics. WARNING: THESE ARE NOT FOR THE FAINT OF HEART! HP fan fiction author's don't mess around and they don't take prisoners...unless they plan to torture them. Read these fics at your own risk.
The Darkness and the Light
by
inell
Pairings:
Neville/Bellatrix, Neville/Luna
Warning:
Sexual Dominance, torture, dubious consent.
Bellatrix is the person who is responsible for destroying Neville's family. She is the Voldemort to Neville's Harry. They are so much more than enemies, but despite the dark, sinister aspects of their connection there is no denying that they have a connection. The Darkness and the Light explores, in visceral details the horrific after effects of sexual torture and how love can start to mend the wounds. This is not a sweet story. It is twisted, sinister one show that leaves you feeling uncomfortable, but hopeful for Neville's future.
Under the Prickling Stars
by
redshoeson
Pairings:
Ginny/Tom Riddle (kinda)
Warnings:
Rough play, dubious consent. Very light BDSM (emphasis on the 'light').
This story touches on one of the darkest relationships in the Harry Potter book series. Few authors explore how Ginny's relationship with journal!Tom effected her, or what exactly went on between them. UtPS shows a possible after-effect, in Ginny being plagued by erotic dreams brought on by her pregnancy. This story borders on romanticizing non-consensual sex, but turns the situation aroun
d in the most surprising way that had me cheering at the end.
Nothing Like the Sun (needs must when the devil drives)
by
musesfool
Pairing:
Hermione/Draco
Warning:
Angst, dubious consent.
Dark and angsty as fuck! Ron has been taken prisoner by the Death Eaters and Draco is put in charge of him. Draco and Hermione strike up a deal: information & sex to keep her fiance alive.
---
The fics that we have listed are only to wet your appetite for HP smut. There is a world of fan fiction waiting for you out there and I do mean a world. There are sites for just about every conceivable pairing, some specifically for slash or smut, and a ton of sites just to archive HP fan fic. Simply Google away or search for your interests on Live Journal.
Here is a list of a bunch of sites that archive HP fan fic for you to explore on your own.
Unknowable Room
Fiction Alley
Harry Potter Fan Fiction
The Quidditch Pitch
The Silver Snitch
(for slash only)
HP Fan Fiction
(an LJ community for HP fic)
HP Vampires
(an LJ community dedicated to fic about HP characters as vampires)
HP Fic Exchanges
Smutty Claus
is a smutty HP fan fic exchange. Their archive can be found
here
.
The Harry Potter Springtime Rarepair Exchange
is an exchange for rarely written about pairings. It is on hiatus, but you can find the fics from previous challenges in the pairing tags on the side of the page.
HP Squick
is a HP fan fic exchange for squicky wrong fic (if that's your thing).