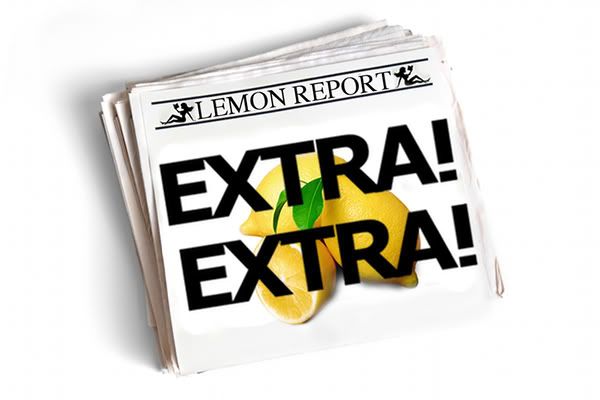 The Lemon Report - Fancy finding out what is on the FF bookshelves of the Pervy Girls of the PPSS? The lemon report lets you know our personal favourite updates of the week, and why you should give the fic a try.... It's a great place to trawl for new recc's and don't forget to share your favourite update with us by leaving us a comment.

In some cases, the Lemon Report may contain spoilers. Please read with caution
Acronym Guide
AU - Alternate Universe
AH - All Human
WIP - Work in Progress
O/S - One Shot
OOC - Out of Character
WP - Wussperv
Slash/Femslash - Features homosexual characters and romance.
---
AH O/S E/B
---
Jess -
This one-shot is so made of win. It's got humor, sexy times - like unfy hotty with water rolling down his body sexy times - and romance. So, so good... and angst free!!!!
Trin -
Oh this is just the perfect summer read. It sweet, sexy and so damn funny. I love Alice with her wit and well lifeguard Edward is swoon worthy.
Jen -
Fun and sexy and fluffy. Also, wet Edward = win.
Emmy -
Rarrrrr. This was everything a perfect O/S should be. Bella was complex and in control, and younger Edward was earnest, wet and horny. Perfect! Read it for summer.
---
WIP, AU, Bella/Jacob
---
Chele -
I love this little tale of Jacob/Bella love. The Big Bad Wolf is getting his proper stage in this adaptation of Little Red Riding Hood meets Twilight. The narrative is very mysterious, and the different character point of views and excellent depth to the story. The chemistry between Jacob and Bella is delicious from their first meeting, and this Edward will make even the most die-hard canon shippers beg Bella to run to the safety of the wolf in the woods.
---
AH, WIP, Slash, E/J
---
Chele -
Loving the slow progression of the physical and emotional connection between Edward and Jasper. Also loving all the hot sexing. Unf.
Jen -
This chapter was amazing on all levels. I am feeling more optimistic that Edward is not totally going to break Jasper's heart. There was some delicious dirty talkin' Jasper in this chapter. Unf is right.
Emmy -
What was lovely to read (at least for me). Is how Edward now consciously and unconsciously regards Jasper as his bloke. As his boyfriend. And all that entails. Delicious lemony action and deliciously sweet connections. Adorable and hot.
Teal -
Well, fuck me sideways. This chapter was amazing. Edward uses the phrase "balls deep" in the first sentence. They're sweet and adorable. Jasper dirty talk. Yes and please and UNF and GIVEMEMORE. I can't even... aldshfglahgopwhg
---
AH WIP E/B
---
Jess -
I seriously love everything about this story. It's fun, quirky, and so just so damn funny. The "you show me yours and I'll show you mine" bit in this update left me all sorts of swoony... and good mercy, we have a cliffy! I'm imagining what I want to happen. So please,
Abstract Way
let it be, okay?! Mwah, xoxoxo
Trin-
I echo Jess's request...PLEASE LET IT BE OKAY!! I love these two and this story is just so fantastic you should all be reading it.
Jen -
This fic keeps leaving me equal parts turned on and scared. Edward is just such a sweet guy, I really hope this fine line he's walking doesn't completely backfire. Bella's little game of you show me, I'll show you had a very happy ending for Edward, but will the cliffy have a similar resolution?
Emmy -
This story doesn't let us down update, after update - instead it gets better and better! Loved this - Edward gets hotter (& sweeter!). I hope Bella is realising this - things certainly seem more complex and erm closer between them?
---
AH O/S ?/?
---
Jess -
This one shot, originally written for
Squeeze My Lemon
writing challenge, is a bit of fluffy, unfy goodness. This pairing, unstated in the official description, was unexpected and absolutely amazing. Porn stars turned underwear models find themselves looking at each other in a whole new light once the cameras stop rolling, and what ensues is some very serious lovin'. Read and then send
dellaterra
some much earned love. Yum!
Jen -
How does
dellaterra
write a one-off smut-shot about two porn stars and still make you go, awww at the end? Love the surprise pairing, and damn is the lemon--and their emotional connection--HOT!
Jeanne -
Emmy came through yet again! This one shot is hot, as well as surprisingly sweet. Two unlikely lovers come to see each other in a different light. This is the kind of story that steals your heart while it fucks you hard. I love Love LOVE this pairing. No I'm not going to spoil it for you. Go read and fall in love too.
Emmy -
When I got the alert for this story, and as soon as I started reading it, I
knew
that Jeanne and other birds of the pack would love this! And I was correct! As always
dellaterra
writes with class and beauty, and its packed full of unf and more deliciousness than a crate of golden delicious apples! Oh and do give
dellaterra
's juicy and poignant slash pairings a try too. Unf indeed.
---
AH WIP E/B
---
Jess -
This story is a little different than most other stories I've read. The drama happens early... and we're now watching Edward and Bella's relationship heal and flourish. It's got a super swoony Daddyward and a pretty spunky Momella. The supporting characters are well done, and the kids are adorable. This chapter finally brought their first full blown lemon and a little bit a backstory about their very first time. WPs... this story is definitely for you!
Emmy -
Excuse me dear Pervlings... I am going to have to take Jess down to our
special
basement to kick her arse for not telling me about this fic!!! I have it bookmarked to read now.... Daddyward is my very special weakness..... Don't worry I won't punish Jess,
too
hard...
---
AU, WIP, Bella/Jake
---
Jen -
What better way to get ready for the Volturi coming to town than a fast, hard fucking over the couch? This line should give you an idea of the urgency involved
You've got about five seconds to open that door before I fuck you with the neighbors watching," Jacob warned.
Demanding! Jake FTW.
---
AH, Complete, Slash, Edward/Carlisle
---
Jen -
I adore this o/s. Absolutely adore. Sweet, shy boy Edward is scared to share his sexual fantasy with older, confident Carlisle. Besides the insanely hot boysecks, I swoon from Carlisle's patience and sweetness with Edward. Definitely a o/s that I will return to again and again.
Emmy -
I think its safe to say that I adore
Sadtomato
. I think you all also know by now that I love Edward/Carlisle fics. What a pairing!!! I also have to say that thanks to some epic stories of late, I am really embracing the DaddyKink fetish! This story is done oh-so-so-well. Its not crass or bawdy. Instead its beautiful and tender and fecking hot as hell. We see how Edward needs this type of release and how it could or couldn't work in a relationship. We see Edward's fears and Carlisle's need to make Edward feel ok, to give hime the love and reassurance. This Edward and Carlisle work so well together - due to the tender touch of
Sadtomato
and how she has breathed life into them. At times it almost feels like we are interfering or trespassing on private and intense moments between them. This two-parter is seriously intense and steamy hot. Its divine.
Jeanne -
When I first opened this fic I wasn't sure if I was going to get into the DaddyKink play in it, but there is something about Edward's vulnerability and Carlisle's loving acceptance that got me where it counts. This is a sexy one shot, that leaves you achy and blushing, but part of why it works even if you don't like Daddy play is the genuine love between these two.
Jess -
I echo Jeanne's thought. I wasn't sure how I was going to handle the Daddykink thing... and in truth, it's completely not my thing, but what I loved about this story was how vulnerable Edward could be, and how accepting and loving Carlisle was. It was truly breathtaking.
---
AU, O/S, Carlisle/Esme
---
Jen -
I know some people don't want to think about Carlisle and Esme fucking *cough* lyricalkris *cough*, but damn, you know they can get down to business just like the rest of the Cullen clan. Isle Esme and some beach reading leads to some sexytimes.
Jess -
I have a secret love for Carlisle/Esme fics, and this one was just fun and all sorts of dirty.
---
AH, O/S, E/B
---
Jen -
Sexing well is the best revenge, and Bella's sexy new neighbor helps her forget all about ex Garrett. Cute and yum!
Emmy -
I could have sworn that I recc'd this to you all already. But it looks like not! Hopefully by now you have read
aftrnoondlight
's other works of genius that I have recc'd you! If not then for shame on you! They write beautiful, slightly bittersweet stories full of real emotions! This story still had that edge, but also is more flirty and fun! I love it! I know you will too!
Jess -
This is just all sorts of fun and yum and unf!
---
AH, O/S, Slash, Ed/Carlisle
---
Jen -
I've never really been a fan of fics where forced feminization is involved, and I took that to mean that I wouldn't find a story about a man enjoying women's lingerie hot. But when
Silk & Satin
showed up in my inbox, there was no way in hell I wasn't going to read something
sadtomato
wrote. I'm so glad I gave it a chance; it's fucking hot, and yet tender at the same time.
Emmy -
I think you all know by now that I adore Edward with blokes other than Jasper, yes? So I was well chuffed when
Sadtomato
(who I adore - as her writing is fabbio!) tweeted that she was going to have an Edward in knickers fic.. (well she used panties, but you know what I mean!) (& NO, I do not mean he wore
used
panties!). Anyways. Edward in women's lingerie. Yes you read that right. How will his new beau take to Ed's predilection for lacy, silky and frilly things? Mmmmmmmmmmh.
Jeanne -
I fucking love how
sadtomato
can take a kink and show the human side of it. Edward's fear and apprehension about sharing his naughty little secret with his lover feels so real, which makes Carlisle's loving acceptance that much sweeter and hot! I think it's the care she takes in her characterization that allows us to be just as turned on when these boys play out a kinky fantasy. I never thought that idea of men in women's lingerie would turn me on, but holy shit did I get into this story.
---
AH, Drabbles (Part 3 of 3), Complete, SLASH, Riley/James
---
Emmy
We have featured the other adventures of Punk & Perv in the Lemon Report before. But as this story completed this week, I felt that this was an opportune moment to talk about part three of their adventures. This was a treat to get updates for daily. It always made me smile. Riley is so immature and horny. But truly loves James. James obviously adores Riley, even if Riley is the definition of high-maintenance and loves to complicate his life! All the adventures of Punk and Perv are feel good and this part is no exception. But there is also sexy shenanigans and naughty goings-on. A perfect, quick and light romp - with a genius pairing. I want more please!!!
Jen -
My love for Punk & Perv runs ridiculously deep. There's just something about Riley with his everlasting horniness and accompanying pout and James' crusty exterior that I can't get enough of. For all their crazy adventures, they do really care about one another, and it's fun to see how they express that. In closing, I turn to the immortal words of the Punk: YUM!
---
AH, O/S, E/B
---
Teal -
I love that Tumblr & other photo blogs have become such a fun, involved part of our fandom. Just think of all the great stories that have come from picsperations! This is an example of one of them. I love carsecks pictures, and this one was shared with me on Twatter, along with a sex pic to accompany it. Can't say I have any complaints about this dirty little ditty...