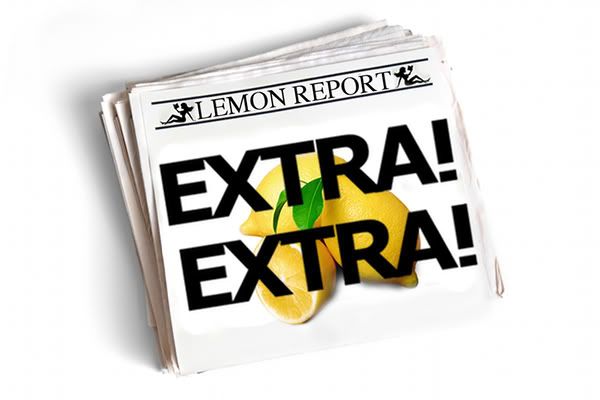 The Lemon Report - Fancy finding out what is on the FF bookshelves of the Pervy Girls of the PPSS? The lemon report lets you know our personal favourite updates of the week, and why you should give the fic a try.... It's a great place to trawl for new recc's and don't forget to share your favourite update with us by leaving us a comment.

In some cases, the Lemon Report may contain spoilers. Please read with caution.
Acronym Guide
AU - Alternate Universe
AH - All Human
WIP - Work in Progress
O/S - One Shot
OOC - Out of Character
WP - Wussperv
Slash/Femslash - Features homosexual characters and romance.
---
AH WIP E/B
---
Jess -
OMG! Finally... that's all I have to say.... and yay and unf!
Emmy -
So worth the wait.... Well done son! Well done.
---
AH WIP E/B
---
Jess -
This story is the sequel to
Fridays at Noon
and is currently bearing the tinge of sadness as it appears Bella died. It's very unclear, but watching Bella through Edward's memories - good and bad ones - has been so good. And the lastest update had a super hot, lay on the desk lemon... go, read. I'm dying to find out what really happened!
Emmy -
As Jess says we don't know what the blazes is going on, but it does not look good! I am keeping my fingers and toes crossed for a hea... But not looking likely. However LOTS of precious Daddyward moments and a yummo memory desk lemon!
---
AH, WIP, Flangst, E/B
---
Emmy -
This is fluffy fun, with a slight edge. I adore the banter and the off the richter UST! I just adore this story, its a great wee treat. No full lemons, but oh so much tingly teasing that I am ready to pop - let alone Bella and Edward! This Edward? This Edward is a master of seduction....
Jess -
I adore this little story. Like Emmy said, it's full of all sorts of UST that had given way to some very sexy, intense moments. All I have to say is library and a hole in a pair of tights... unf!
---
AH, WIP -Drabbles, SLASH, E/Jas
---
Emmy -
Don't be alarmed by the number of chapters. This is well short! As each chapter is a brief drabble! So its SUPER quick to catch up on! A great tale of finding your true home and the healing power of love. Plus super slashy fun times!
---
AU, OOC, WIP, Mystery/Historical? E/B (plus others sorta)
---
Emmy -
I am super intrigued by this story! A brilliant and different AU tale, that is super quick to catch up on. There is a slight mystery involved in this tale - regarding Bella. But what is fascinating - is Edward battling to tame his inner beast - and mainly failing. The Lemony action is all Edward with OC's and very well done - its adds much to the story. This Edward has two faces and doesn't know how or if he can marry the two. Can't wait to read more of this!
---
AH, OOC, WIP, Angsty, E/B (plus others - sorta)
---
Emmy -
I have been meaning to recc this story for AGES!!! A very interesting premise is this one! Bella and Edward have a big past. And a very messy split. Edward certainly hasn't gotten over Bella. But Bella? Well Bella is now a submissive, to Jake. Now I don't know how accurate the BDSM stuff is - I am no expert, but the BDSM is not a major part of this story, in that the story is written around it. It is there to add to the story - not that it is the story! The main story is the love lost and the scars it has left behind. Also us finding out how it was lost... Oh and an interesting wee Alice and Jasper side plot. This fic is a wee bitty different to other fics I have read, I am dying to know what will happen next...
---
AH, WIP, SLASH, Riley/Jasper
---
Emmy -
It is rare to read this pairing. So this was a nice find. Riley is younger and much more innocent than world weary musician Jasper. After fooling around after one of Jasper's concerts Riley hopes for more than Jasper can give. But their story does not end there.....
---
AH, WIP, WP, E/B
---
Emmy -
I am loving this story! At first I thought it was a single mum Bella story, but then I realised that although it is to a point, its not! I adore this Edward, he is adorable and so yum. And oh so cute with four-year old Brandon. I enjoy the wee twist in this story (which I won't spoil!) and I love that there was our much waited for lemon in the latest chapter so I can finally feature it here! This is cute and at times fluffy - but there is some pain lurking within.. But deffo WP safe!
Jess -
I had the opportunity to preread this bad boy... and not only does it seem WP safe, it will make you all melty. La-La, aka Bella, is divine, as is Edward! So many delicious moments!
---
AU, Canon(?), O/S, James/Victoria
---
Emmy -
I CANNOT praise this story enough!! It is soooooo good.
DellaTerra
has given a new twist to the James and Victoria story. Long before Victoria became the relentless foe of Edward and the Cullens, she was an innocent girl at a 60's music festival. Bad boy vampire James wants to corrupt her in every which way possible..... You must read this fic!!!
Jess -
This is the first time I've ever read a Victoria story, and let me tell you, this is AMAZING! Emmy has been raving about it, and I took my cue and dove right in. Not only is it well written,
DellaTerra
gives us a very interesting tale that shows how very canon vamp traits are mixed into a a decade rife with drugs. It's intense and left me panting in all the right ways. Definitely read this! It is SO good!
---
AH, WIP, E/B
---
Teal -
I have loved every little bit of this short fic, from the beyond ordinary meeting these characters shared to the slow burn of their relationship. Finally, they've taken the next step, and it was so incredibly sweet. The words were short and simple, but the emotions ran strong. I loved every word.
Jess -
Swoon! Seriously, this story is so swoony, heartachokey, and sweet, it makes my teeth and heart hurt in all the best ways. I love the tentative and rightness of this relationship. So good!
Emmy -
I too am loving this tale. Rochelle always writes beautifully. As always her story has reality and love infused throughout and some beautiful tender loving!
---
AH WIP B/E
---
Jess -
FINALLY! I have been enamored with this story from the very first chapter and have been patiently waiting through Bella and Edward's different partners and for the hurt and sadness to leave us... and boy howdy did it! Thank you for the very unfy, citrusy update! Yum!
And to those of you who haven't started this, get on it. The chapters are short and
suzie55
updates a couple of times a week! Woot!