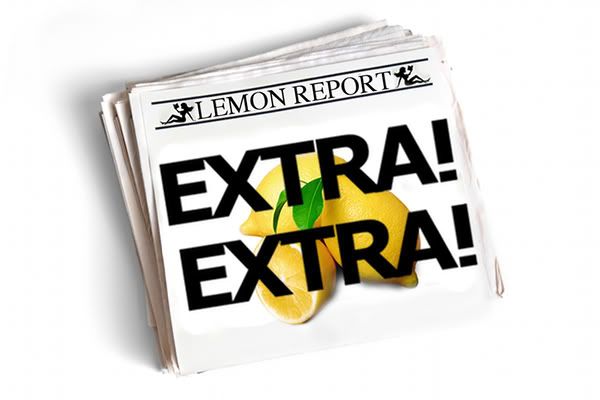 The Lemon Report - Fancy finding out what is on the FF bookshelves of the Pervy Girls of the PPSS? The lemon report lets you know our personal favourite updates of the week, and why you should give the fic a try.... It's a great place to trawl for new recc's and don't forget to share your favourite update with us by leaving us a comment.

In some cases, the Lemon Report may contain spoilers. Please read with caution.
Acronym Guide
AU - Alternate Universe
AH - All Human
WIP - Work in Progress
O/S - One Shot
OOC - Out of Character
WP - Wussperv
Slash/Femslash - Features homosexual characters and romance.
---
AH WIP E/Leah
---
Jess -
There is nothing as beautiful as watching the last wall of resistance crumble and a person give themselves completely to another. This update was unbelievable and beautiful and so, so freaking good. Just... yes.
---
AH WIP Spankfic E/J
---
Jess -
Sweet holy hotness... a fist fight in an alley behind a gay bar that leads to unlubed anal (ouch?) and a BJ... kill me now.
Emmy
Gah! I do love these two. SO ruddy much!!
tuesdaymidnight
writes them so beautifully and in such a delicious manner. To ever receive an alert for this story puts me in such a good mood... And when they are extra ferocious with one another, extra needy and desperate? Rarrrrrrr. Hubba, hubba. Just. Yum. Yes.
---
AH,WIP, SLASH, Jasper/Peter
---
Teal -
Yessssssssssssssss! My OTP! I'm always a sucker for some good Jasper/Peter action, and I am so squeefully happy about this. I loved the balance of power between these two, both in their discussions and sexual play. I couldn't be a happier girl than I am right now =)
Jen -
Jasper was a favorite of mine from
Parenthetical Love
and I was so stinking thrilled when
LyricalKris
posted this story. It's fabulous to get a look inside Jasper and Peter's relationship. Their conflict and ensuing discussion make for a meaningful and intimate lemon.
Emmy -
Team WussPerv recc'd the complete story this story is an offshot from,
Parentethical Love
. So I was thrilled when I saw that
LyricalKris
decided to give us more of Peter and Jasper and their relationship. I love how she is exploring what family and fatherhood mean to modern gay men. Plus they are adorable and very interesting characters.
---
AH, WIP, E/B
---
Teal -
How stinking SWEET was this update?!?! If you haven't been reading this fic, you need to go their immediately after you make your way through the Lemon Report! This story has been hot and drool-worthy since the beginning, but this chapter was enough to make even the biggest angst lover do a little jumpy clap.
Jen -
There was so much flailing upon reading this chapter. I could not wait for Teal and Emmy to read it. It was just the perfect way for these two to heal after a big blow-up. So perfect and swoon-worthy.
Emmy -
spanglemaker9
's writing is always perfection. I died over this chapter. Seriously it made me obscenely happy. There were some happy emails flying about the three of us regarding this chapter. There will be tough times ahead, but how
spanglemaker9
writes their bond and vulnerability is beautiful.
---
AH, O/S, Slash, Jasper/Jacob
---
Jen -
I tend to see Jasper as the dominant male in slash fics, so it's great fun to have Jacob calling the shots here. Unf.
Emmy -
I was chuffed to see this pairing. It does get boring reading Edward and Jasper fics. So I dived into this. I also like public sexing so this was great, sexy fun for me. Plus who doesn't like it when a gentle giant gives a good pounding? **grins**
Jeanne -
I always love to see Jasper get a little Non-Edward action. Pairing him with Jacob is just a bonus for me, die-hard Jacob fangirl that I am. The title of this story pretty much prepares you for the sexy
backdoor
backroom action.
---
AH WIP E/B
---
Jess -
I love cowboys... and I love intense, urgent, all-consuming need. Enough said.
Emmy -
I LOVE how
elusivetwilight
writes. I have loved each of her fics, but this Rancherward just melts my heart. He is adorable. So sincere, so earnest, so deep and so delicious. Urgent sexing in this chapter? Yum yes pleeeeease!
---
AH WIP Bella
---
Jess -
Demetri! Oh sweet European mercy... breakfast never tasted so good. And add Marcus and Jasper to the mix... and not in the way you're all now thinking either! Delicious!
Jeanne -
Now THAT is what I'm talkin' about. Thanks to Demetri and Bella's burgeoning sexual confidence I will never look at breakfast quite the same. Marcus and Jasper were a lovely bonus. I can't wait to see who is next.
Teal -
*drools all over keyboard* Nuff said...
Chele -
It's like she reached into my head and pulled out this dirty piece of awesomeness. Love.
Jen -
Every chapter of
Hedone Ranch
is like the best birthday surprise- you just don't know what you'll find inside, but you're sure it's going to be spectacular. Hot damn. This chapter does not disappoint.
---
AH WIP Em/R
---
Jess -
Jen rec'd this a while back, and I finally started it last night. This is truly great! I love the voices she has given to Rose and Emmett, as well as all the supporting characters. It has a very fun, easy flow, and the smut... well, get in line, ladies. It's freaking hot!
---
AH, Outtakes (complete), E/B
---
Emmy -
I loved the magical fic
Elemental
that this outtake is from, but I think you all know by now that I am a major Edward Slag. So an outtake of his pov is music to my ears! SPOILERS AHEAD SO GO READ ELEMENTAL FIRST IF YOU HAVEN'T READ IT YET!
We get an EPOV of the aftermath of their confrontation with the nasty thingie and the aftermath of Bella's realisation of her true feelings for him. And the physical way they came back together.... Yum yum yum. Their union meant oh-so-much to Edward - so to get his take on it was fabbio. Just what I needed.
---
AH, One-shot, Threesome, B/E/Jake
---
Emmy -
This is a great piece of smutty fun. You want a hot threesome? With some sexy male model on male model action? Mmmh yes please. I don't have a clue about the show or the scenario the author used as the set-up for the fic and I don't really care. Smutty threesome sexing FTW!
Jeanne -
I love threesomes and this fun PWP does not disappoint. Confession time, I have a little known kink for a certain something that happens in this fic and I simply LOVED how
Up2Late
described it without it sounding crass or painful. This little story is going into my special list for future rereading. UNF!
Emmy -
(PS: ETA: NOW I just have to know what J's kink is...)
---
AH, One-Shot, Historical, Fetish, E/B
---
Emmy -
I have no figgy as to how I stumbled upon this one-shot. But I am glad that I did! Its a historical fic, but although Bella is a pure maiden, come to seek shelter at the neighbouring palace, she has a naughty little habit that soon catches the eye of Prince Edward... Naughtiness ensues. Just a wee dose of naughty to brighten your day!
---
AH Complete Jasper/Edward
---
Jess -
It's been 18 months in the making, and this fic is finally complete! Let me just say, as far as epis go, I thought this one totally hit the mark. It left me feeling happy and complete, showed the pain and hurt that they both had to work through, LOTS of fun sexy times, and even gave us a peek into what had been going on with Riley and Peter. There are outtakes to come and a new story about Peter and Riley due sometime later this year! LOVE... that's all I gotta say.
Emmy -
So glad that this had such a sexy, and happy final chapter. Perfect for this story. I cannot wait for the Riley/Peter story. GAH. But importantly I loved seeing the life Edward and Jasper have made for each other, together.
---
AH, Outtake, Slash, Ed/Jake
---
Jeanne -
OMFG
Sadtomato
is spoiling us with a sex-o-licious outtake written for the very lucky
Emilyg80
's birthday. Jake and Ed get in a little hot, loud action. Gah! These two are so fucking sexy and sweet, my heart and pants explode every time I read about them.
Emmy -
Jesus feckity. This is fuck-hot and oh-so tasty... I will NEVER tire of these boys... Love how Edward has fully embraced his love for Jake, and adores owning his arse.... Rarrrrrrrrrrrrrrrrr x infinity. I will say it again. I adore ANYTHING
Sadtomato
writes.
Jess -
I am not kidding when I say I did a little happy dance when I saw this! These boys are absolutely adorable, and I just can't get enough. It's like I want to crawl into one of their pockets and just be a voyeur. Um, more please,
Sadtomato
.
Jen -
Damn, I love these boys. Thank you,
Sadtomato
for sharing this amazing piece of hot and sweet with us. Unf forever.
---
AH, WIP Complete (with additions), SLASH, E/C
---
Emmy -
MMmmmmmmmmmh, mmmmmmh, mmmmmm! I do adore this pairing. And I do adore this story.
Jen -
Tears of fucking joy people- that's what I had when I got this alert. I adore the way
avioleta
writes Carlisle and Edward, and particularly as they are written in
Stay
. Just delicious.
---
AH, WIP, E/B
---
Teal -
What's that you say? You love Rob fingerporn? I guarantee you'll love this chapter. And this story is a must read. Romance, angst, an unexpected supernatural twist - it's got it all.
Jess -
I have loved this story from the very first chapter. This update was intense and hot. I feel like we're on the verge of more sadz, but I'm hoping they'll be short lived!
---
AH, WIP, SLASH, E/C
---
Jen -
People! You have got to stop what you're doing Right. Now. and get started on this fic. Two chapters in and I'm so completely in love with Edward and Carlisle.
donnersun's
writing is absolutely gorgeous, and she's captured the time period and setting so well. These two men have very different personalities and the result makes for a volatile relationship--sexually and otherwise.