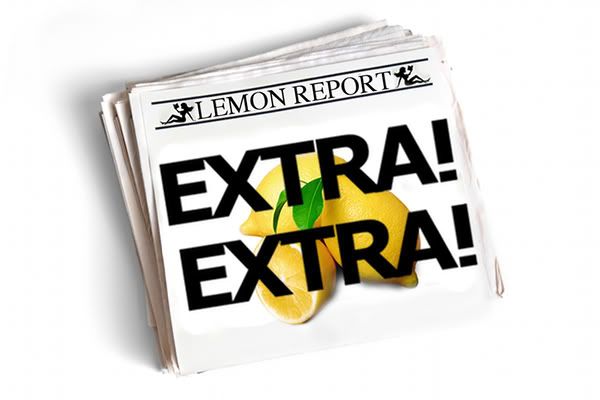 The Lemon Report - Fancy finding out what is on the FF bookshelves of the Pervy Girls of the PPSS? The lemon report lets you know our personal favourite updates of the week, and why you should give the fic a try.... It's a great place to trawl for new recc's and don't forget to share your favourite update with us by leaving us a comment.

In some cases, the Lemon Report may contain spoilers. Please read with caution.
Acronym Guide
AU - Alternate Universe
AH - All Human
WIP - Work in Progress
O/S - One Shot
OOC - Out of Character
WP - Wussperv
Slash/Femslash - Features homosexual characters and romance.
---
AH, Complete, Rose/Ed
---
Jeanne -
This short, but awesome story was
Evilgiraffe82
and
Domysticated
's entry for the
Twilight Girls Next Door 12 Days of Christmas Writing Challenge
. It starts out with a bang, or should I say banging. The intense, emotional sex that Edward and Rose have on a late, snowy night in London is breathtakingly powerful. Part of makes this fic so gripping is how real Rose and Edward are. I was riveted as I read and you will be too.
---
AH WIP Edward/Carlisle
---
Jess -
As soon as I got the C2 notification for this, I was like... oh yes! I have a feeling this is going to be a very fun read... seriously can't wait for her next update!
Emmy -
I do love me some Carlisle/Edward. Rarrr. Love angry, forecful (& yet happy!) sexing... Double rarrr. LOVE the dynamics between the two of them. This is a Carlisle and an Edward I have not read before! Really good.
---
AH WIP Bella/Carlisle
---
Jess -
Well... this chapter was all sorts of hot, unfy goodness... that turned into the roller coaster at the end. It needed to happen, but damn, it sucks the way it went down. Seriously can't wait for the next update. We're in for a ride.
Liz -
This fic is a guilty pleasure for me, with a barely-legal Bella and older, married Carlisle, but
Brits23
does such a good job framing the situation, I can't look away. The shit storm is about to hit, but at least we got a little clandestine couch-lovin beforehand.
---
AH Complete B/E
---
Jess -
So, I know this story (and its sequel,
Bear Valley Ranch
) have been around and complete for a while, but I just stumbled across them in my search for more Ranchward/Cowboyward/Rodeoward fics. You know I love me a country boy! Both of these stories were absolutely delightful and perfect for all the Wusspervs out there.
Lady_Gwyendd's
research and writing are spot on, and her lemons are absolutely perfect for this story. Just awesome.
Emmy -
Perfect for all Wusspervs you say? **ears prick**. **opens fic and saves** …. Summer reading, here I come! ;)
---
AH WIP E/Jasper
---
Jess -
I have been reading this saga with so much anticipation for the chapter we just got. I won't say anything here, as it's long and I'm sure some people haven't had the chance to read it. But it was intense, emotional, and there were lemons galore... absolutely dying for the epi and outtakes now!!!
Emmy -
POSSIBLE SPOILERS
Wanna know how lame Emmy is? I reread the end of the lst chapter of M&A, after reading this one. I wanted to see it all from both sides, after the last update ended with such a happy, hopeful but nailbiting cliffie!!! Gah. I SO want a HEA for these boys, oh & plenty of Riley//Peter loving. They are so perfect together. Do you think we could petition
Touchstone67
for Peter and Riley to get in on and fall in love?
Note from Jess -- pssstt! Guess what Emmy? Touchstone67 is going to be writing a sequel called The Whore and the Gentleman, a look at Riley's life... and his time with Peter, whatever that turns out to be!!!
Liz -
What started as a little contest entry sure turned into one helluva ride, and
Touchstone67
brought it all full circle in the final chapter. No less gutwrenching than we've come to expect, and every bit honest and right for her characters' growth. Can't wait for the epilogue.
---
AH, OUTTAKES, E/B
---
Emmy -
This is an outtake from the wonderful
A Quiet Fire
. The outtake is EPOV of a VERY pivotal scene between Bella and Edward. Good lord its delish and so intense. Completely spot on and perfect! But please read
A Quiet Fire
. first! Or you will spoil a FABBIO fic...
Teal -
A Quiet Fire
was a fic I was so sad to see end, as I had truly fallen in love with the characters and their plight, so when
Magnolia822
posted her outtakes, I was more than excited to get this small taste of them again. Sweetly and tastefully done, this one shows Edward and Bella's first time together from Edward's perspective. Where Bella was initially so nervous about what Edward would think of her body and her inexperience, getting a peek into Edward's head and a new understanding of how much he truly loves her and wanted her to know that her scars, both physical and emotional, were part of what he was worshipping. Simply beautiful =)
Liz -
A wonderful return to a story I miss very much. Everything we could have wanted from an outtake for this particular part of Edward and Bella's journey. Wonderful.
---
AH, O/S, Outtake, SLASH, James/Jasper
---
Emmy -
This is another outtake from two different series. The James from one and the Jasper from another... You don't need to read the other stories, but you probably should! Its sexy sassy fun. With James biting off more than he can chew...
---
AH, WIP, E/B
---
Teal -
Although this fic is drawing nearer to the end, I'm feeling fluff-ily happy about it, rather than the melancholy I normally do when I know I'll have to bid them farewell. But for Edward and Bella in
Secrets and Lies
, I know I won't be so sad. These two have suffered
so much
and it was a painful struggle for them to find their way back together, to learn to trust each other and themselves, and find a way to make a family in the midst of so many mistakes, lies, and misunderstandings. I'm incredibly excited to finally see them get their happily ever after, and this chapter was a lovely portion of their fairy tale ending. No, it's not over yet, but I'm so pleased to see them this joyful together!
Liz -
I couldn't agree more, Teal. For all they've been through, it feels wonderful to see them finding a beautiful piece of happy, and as much as I hate to see a great story close, I think this one will leave us with a smile on our faces when the end finally comes.
---
Jasper/Edward AH, O/S, SLASH
---
Liz -
Where to start? Roommates, unrequited love, aching jealousy, seeing the object of your secret obsession make out with your unwitting best friend... could it get any worse? Yes. It can. But you'll be glad Jasper gets his 'just once,' and you'll be hoping
RMHale
is inspired to give us more.
---
AH, WIP, E/B
---
Teal-
After all the emotional ups and downs these characters have faced in recent chapter, some hot, horny, trust-driven wild fucking was exactly what they need. And what the readers needed...js. (Or at least me.) It was fantastic because even with the boundaries they pushed in this chapter, it was still love. Otherwise, they wouldn't have been able to push things to the label they did. Sweet and sexy all around!
Jess -
Word, Teal. This chapter was just plain unfy hot! And backwards like the rest of their relationship. So, so good!
Emmy -
As always a tip-top chapter and a intense and delicious lemon. Everything Teal said so well for these two it always comes from their secure base of their love. Beautiful.
---
AH, O/S, Rose/Edward
---
Jeanne -
I love Roseward, and this fic demonstrates many of the reasons why. Rose is a vibrant, complex and conflicted woman, with a dark past working as a radio dj in Forks. Edward is a world famous reclusive artist, with a palpable air of intensity and a dark past of his own. These two resonate with each other on a deep level and when their feels surface neither one is prepared for how it will change their lives. The emotions, characters and sex is intense. Buckle up, ladies. These two are worth the rough ride. ;)
Jess -
This was intense and gorgeous. I ached for the pain
Domysticated
placed on their shoulders and rejoiced when they finally found some peace. Absolutely amazing.
---
AH, O/S, Slash, Ed/Emmett
---
Jeanne -
This is a quick, dirty and clever little romp featuring a flamboyant Edward with balls of steel and an inner monologue that will give you whiplash. Seriously, the style of writing in this story is so fucking slick and sexy it will turn you on just as much as that tattooed Emmett. That's right, girls, you heard me right TATTOOED EMMETT! Run, do not walk, to read this slice of hotness.
Jess -
This was an Emmett like I've never seen before.... tatts and so damn hot. Unf!