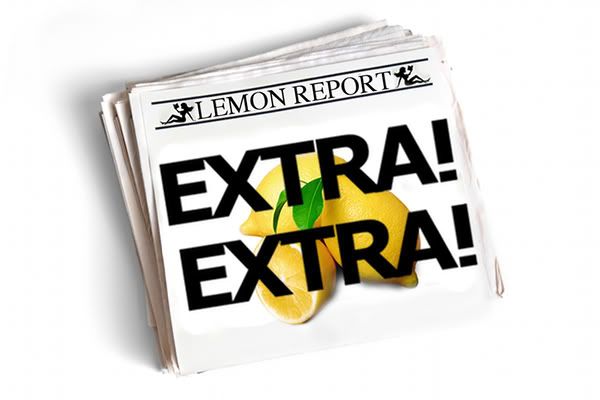 The Lemon Report - Fancy finding out what is on the FF bookshelves of the Pervy Girls of the PPSS? The lemon report lets you know our personal favourite updates of the week, and why you should give the fic a try.... It's a great place to trawl for new recc's and don't forget to share your favourite update with us by leaving us a comment.

In some cases, the Lemon Report may contain spoilers. Please read with caution.


Acronym Guide
AU - Alternate Universe
AH - All Human
WIP - Work in Progress
O/S - One Shot
OOC - Out of Character
WP - Wussperv
Slash/Femslash - Features homosexual characters and romance.
---
AH, WIP, E/B
---
Emmy -
This is a great bit of fun fic. Musician Edward and journalist Bella certainly cause the sparks to fly when they meet for an interview. Sexxxxxy chemistry, but can they survive the distance and the industry?
---
AH, WIP, SLASH, E/J
---
Emmy -
This was a spanking the monkey contest entry that has been continued, I love a wee bitty of teen angst, confusion and sexual tension.... Yummmm.
Jen -
These two boys are adorable. I love that Edward has fully embraced exploring his sexuality with Jasper now that he's come to terms with the fact that watching Jasper wank turned him on.
---
AU -NM/Eclipse, WIP, Angstish, E/B
---
Emmy -
I was delighted (& quite a wee bitty surprised) to see an update for this fic, which I had kind of given up for dead... lol (I won't remove fics from my alert list for this very reason!) So I was well chuffed to see a new chapter! After all the drama that Edward and Bella had to endure in previous chapters, they get some **busy busy** alone time. But their are still big issues to be addressed (& I KNOW that that sentence sounded like an euphemism, but really they have big issues! lol). I had to reread the ENTIRE story once I read the most recent chapter and the one before, as I needed to to remember everything!
---
AH, O/S Emmett/Alice
---
Chele -
Jeanne tossed this my way knowing my soft spot for a little Emmett and Alice action, and that's exactly what this was. Nothing sexier than Emmett McCarty, fuckhot doctor who's also a good dad. Emmett and Alice have been dancing around each other at the office for months, but it's time for some inappropriate employer/employee relations if you know what I mean.
Jeanne -
Of course I threw this piece of silly, sweet hotness Chele's way. She's the smart, sexy bitch that got me all hot and bothered for Emmett/Alice in the first place. Every since I've been searching for more fic for these two crazy kids. This one does not disappoint.
---
AH, WIP, E/B
---
Emmy -
This is a charming wee story. Bella is a fresh-faced, naive yet talented singer/song-writer. Is she strong enough to survive interest from and shenanigans with mega-successful singer Edward? Love their chemistry! This is a cute read.
---
AH, Outtakes (WIP), SLASH, E/J
---
Emmy -
Oh how I adore these two boys. I love how
tuesdaymidnight
wrote their transition, across her story, from aggression to passion to love. This latest outtake has another wonderful dose from the future - showing Edward and Jasper with yet more layers of complexity and emotions for one another! And of course its gah, lemony delish! A must read.
Jess -
I couldn't have said it better myself. Mmmmm.
Jeanne -
These boys never fail to leave me breathless and wanting. After reading this outtake I was ready to reread the whole fucking story. I never stop wanting more of Edward and Jasper. UNF!
Chele -
I'm in total agreement with my fellow pervs. Porn worthy of the complex personalities of it's participants. Love it.
---
AH, WIP, E/B
---
Emmy -
This is a truly lovely NerdWard story. Love his development and how cute Bella and Edward's relationship is. Love how Bella calms Edward and they finally get to experience
---
AH, WIP, Angsty, E/B (mentions of other pairings)
---
Emmy -
I've been really enjoying this fic. Although this Edward is torturing me. I love love love the chemistry between Bella and bad-boy Edward. This Edward might be a bad boy - but he is not a DoucheWard (I think we ALL OD'd on DoucheWard's for a wee whiley back there!). Instead he is very conflicted and very torn. I like how this is a realistic High School fic. It is realistic in portraying the fear that Bella has about daring to be who she wants to be in school and the repercussions of doing so. Rosalie in this fic is complex and multi-layered as is her and Bella's important friendship. In fact I find all the relationships in this fic - whether it be Bella's official BF of Jasper, or her relationship with her father - I think they are all well conceived and realistically conveyed. Basically I love this fic and the complex characters within it! Love getting updates for this! Oh and some sexy, firey chemistry and flashbacks. Unf.
---
AU, O/S, Emmett/Leah
---
Jen -
What a fun o/s! Emmett rubs Leah the wrong way, til suddenly it's oh-so right. Hilarious and sexy. Total fun.
Jeanne -
Okay, this is so fucking hot, funny and kinda adorable. I love that it is in Emmett POV and that it never takes itself too seriously. Emmett's internal monologue had me laughing almost as much as the sex interaction between he and Leah had me panting on the floor. Seriously, if you love that pairing or are even a little intrigued by the idea of them read this, it leave you wanting more.
Chele -
Hotness and humor. A perfect combination.
---
AH, Outtake O/S, Jasper/Bella
---
Jen -
I was so thrilled to see this alert. Underexposed is one of my very favorite Jasper/Bella fics, and in this
Outtake
we get to see the first time they make love from Jasper's pov. It's tender and lovely--just perfect and so right for them.
---
AU, WIP, Jake/Leah
---
Jen -
I have really enjoyed reading
Between Who We Are and Who We Could Be
. It's been a long and twisty road, but Jake and Leah finally have their heads and hearts in the same place, at the same time. What better way to celebrate than some hot sex in the car that Jake restored for Leah?
---
AH, O/S, E/B
---
Emmy -
I have a bit of a weakness for PornWard fics, this isn't one, but its the next best thing - a serious filmmaker, sexy director lusting over his leading lady. Yum. I love his inner monologue and his frustrations at having to film her first love scene with a leading man he detests. This fic is sexy and cute. A good fun read with lovely chemistry and yummy scenes.
---
AH, WIP, Bella/Everyone
---
Chele -
JesusFuckingChrist I may have nearly died while reading this update. The players, The Game, The Orgasms.. Oh MY God the Orgasms. I do not know how
JenJadeEyes
keeps bringing out ever-increasing levels of hotness with this fic, but I'm ready to BEG for the next chapter.
Jeanne -
If there is one talented motherfucker who never fails to bring the hot, sexy intensity it is
JenJadeEyes
. OH MY MOTHEFUCKING GOD! This latest chapter continues to up the ante for Bella's sexual discovery. Fans of the big O will not be disappointed. Warning: You will need to change your pants afterward. Might want to just lay down a towel to be safe. No, I'm not kidding.
Jen -
I don't think I could love
JenJadeEyes
more than I do after this chapter. Ditto ditto ditto to everything Chele & Jeanne said. Completely mind-blowing.
---
Transformers Fic, O/S, Optimus Prime/Ratchet
---
Chele -
Just a quick smut take full of two hot mechs trapped in a cave with nothing to do while they wait for rescue except exorcise their demons of Unresolved Sexual Tension. I swear,
Keelywolfe
does magic with this pairing. She could write 1k words of them in a meadow with fluffy bunnies and rainbows and still show their intensity and undeniable eroticism.
---
AU, WIP, Paul/Rachel
---
Jen -
I have been DYING for Paul to break down Rachel's defenses, and he finally makes it happen! So thrilled to see Rachel give in to what she's really wanted yet resisted--Paul's hot body.