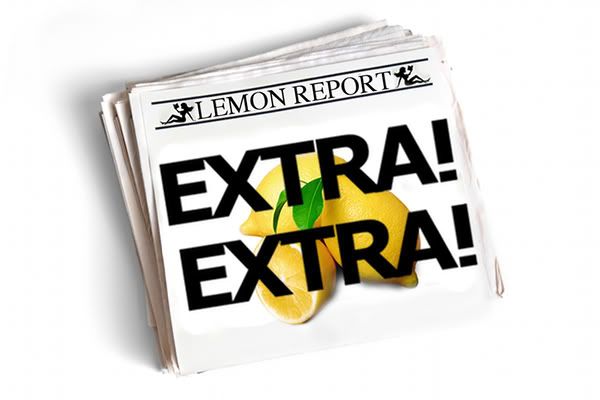 The Lemon Report - Fancy finding out what is on the FF bookshelves of the Pervy Girls of the PPSS? The lemon report lets you know our personal favourite updates of the week, and why you should give the fic a try.... It's a great place to trawl for new recc's and don't forget to share your favourite update with us by leaving us a comment.

In some cases, the Lemon Report may contain spoilers. Please read with caution.
Acronym Guide
AU - Alternate Universe
AH - All Human
WIP - Work in Progress
O/S - One Shot
OOC - Out of Character
WP - Wussperv
Slash/Femslash - Features homosexual characters and romance.
---
AH WIP E/B
---
Jess -
After much trickery on the part of Edward's enemy, we finally get some resolution and some much needed lovin'! So good.
Emmy -
Although this story started off gentle and subtle - the subterfuge and trickery added additional layers and tension! Thank heavens for this update!
---
Harry Potter Fic, Complete, Harry/Draco, Slash
---
Chele -
You Align My Stars
is a concise and brilliantly written story of love and healing, colored with passion and humor.
If you've read
Bsmog's
civil-war era Twific
The Long Walk Home
, then you already know she is uniquely talented when it comes to portraying the emotions of a soldier. In this case, it's Harry Potter, a soldier who has come home from war with scars that refuse to heal.
This is such a whole and masterful story, which shows The Boy Who Lived in a harsh, revealing light, but it's truly Draco, and the passion he evokes in Harry which make this story so entrancing. Through his humor, strength, and persevering character, Draco shows Harry that life is worth living, love is worth everything, and that sex with a Slytherin can make you lose consciousness.
I should have looked to
Bsmog
sooner for some wickedly emotional post-The Battle of Hogwarts fic, with beautifully erotic smut. For my own sake, and yours, I'm glad I finally did, because this story was wonderful and exactly what I needed.
Jeanne -
This is without a doubt my all time favorite Draco/Harry fic.
Bsmog
was able to give me the kind of heart-clenching, spirit lifting love that I've always wanted for these two. Harry is lost in so many ways, and it takes a grounded, mature Draco to pull him up by the bootstraps. I have a serious kink for redemption, and I got a serious fix from this fic. Draco's part of this story is a wonderful demonstration of how people can change for the better, then again so is Harry. Gah! Then there's the sex...I am both speechless and screaming at the top of my lungs at how fucking wonderful the sex is in this story. Hell, the kissing alone left me dizzy and giggling like an idiot. I'm lovedrunk on these two and this fic. *SWOON*
---
AH, Bella Riley Edward
---
Jeanne -
Ahh the emotional rollercoaster of love triangles. This story is NOT for WussPervs. It is for adventurous whores that like the idea of Bella getting her freak on with a sexy, player! Riley. He is the guy she's been crushing on since high school. We've all had this fantasy, some of us even got to live it. This one shot brings it home, and gives us a taste of the consequence too. Now, if
SingleStrand
would give us some more. PLEASE!
Jess -
Um yes and please and more like stat. Please? I love the idea of this... there's something magical about love triangles - the tension, the desire, the want. There's lot of that here and so much more.
Chele -
I spent this whole fic desperate to know whether Riley was as desperate for Bella as he portrayed, or if he had ulterior motives. The intensity of their interactions had me so hot I didn't care what his motivations were as long as he didn't stop. Sometimes it's so good to be bad.
Jen
So hot. There's so much more that I want to know about these three! Please,
SingleStrand
, please?!
Trin -
I'm usually an exclusive B/E kind of girl but when all the PPSS ladies kept talking about this I had to give it a try. It was hot and hell and so delicious. But I echo the other's thoughts. More, please.
Teal -
Damn. This is so perfect with its blunt, angstful ending, but the hotness, the tension, the shock make me wish we could watch the fallout of this situation.
---
AH WIP E/J
---
Jess -
So, I read this after
einfachmich
and
sadtomato
rec'd this last week, and I was blown away. The relationship between Edward and Jasper is so real, so intense, so full love. It's palpable and beautiful and hot. Read this.
Emmy -
I am smitten with this story. Its a real gem.
---
AH, O/S, Ed/Bella/?
---
Jeanne -
Here is a threesome fic that even a WussPerv can stomach. No lie. Part of what I love about this fic is how the realization of this threesome is a reflection of Edward's love for Bella. In everything he does and
doesn't
do, he shows how much he truly loves his wife. It's sweet, sexy and one of the most beautiful demonstrations of true poly. Loving someone so much that you can share their love or body with someone else to make them happy.
Emmy -
Jeanne has made me bump this fic up to the top of my tbr list - tricksy wee thing that she is!
---
WIP, Edward/Jasper, Slash
---
Chele -
This chapter starts us off with some playful, teasing, dirty smut, gives us a heart-clenching moment of angst, and left off with a sigh and overwhelming joy. Loving this story the whole way, and, as always, can't wait for more.
Jen -
This update pretty much rendered me speechless. Jasper has Edward on the edge for what feels like a really, really long time, and damn if every moment of it isn't the hottest thing you've ever read. Put it together with the amazing growth we've seen in Edward- perfection.
Emmy -
There was much multiple flaying amongst the pack at this update. I think both Jen and I had to reread the ending. Just to make sure. Gah x loads! Brilliant update and VERRAH sexy too! Tip-top!
Teal -
Heyyyyy now! Jasper is a dirty, nasty, skilled boy, and he sure does know how to make a man crazy. This update was so unbelievably hot that I read it twice! This fic will ALWAYS be worth the wait between updates!
Jeanne -
Holy fuck! I love these boys. Jasper's commanding. Edward's so open and willing to take some huge steps. I'm blown away by this story with each new update. Just WOW!
---
AH WIP E/B
---
Jen -
There is nothing cuter, and simultaneously hotter, than dear Amishward discovering how much he loves to have sex with his wife. Adorable and unfy and I can't get enough.
Jess -
I adore amishward and amishella. They are so sweet and tender, and the morning after their wedding night.... yeah!
---
AH, WIP, Jake/Emmett, slash
---
Jen -
I'm pretty sure
Conversed
could rewrite the telephone book and make it funny and sexy. Jake is so chill and swoony, and he seduces Emmett just by being himself.
Conversed
fits a lot of sexy goodness into just 100 words. You'll be squirming and begging for more.
Jeanne -
Emmett and Jake are one of my favorite slash pairings ever. They are strong, masculine men with a breezy carefree nature. Sex and love between wouldn't just be hot, it would be fun. Leave it to
Conversed
to school me on a pairing I thought I had figured out. There is so much to these two. So much passion, love and beauty. The most amazing part is it's in a series of drabbles. Consider my ass pwned HARD!
Emmy -
So Jeanne wouldn't shut up about this fic! ;) Normally I can't do Emmett - I really struggle with him (for reasons I won't go into here) But a long bus journey early this am, straight after more flailing emails from Jeanne made me reconsider it........ VERY glad that I did so. Yet another cracker of a collection from
Conversed
featuring a slash-tastic pairing and their adventures or misadventures. The strength of this piece is her characterisations of Emmett and Jake, Emmett in particular. His journey of exploration and discovery is at times moving and additionally very sexy. Great fic and a super quick read.
Chele -
Emmett? Jake?! Why am I not reading this yet?! *runs to read*
---
AH, O/S, E/B
---
Emmy -
What happens when the perfect night of sex and fun turns into one of your worst ever days? Was Bella really so wrong about the guy she ended up sleeping with? Or has he got her all wrong? I really loved this story, sexy, sassy and sweet. You know when you are willing characters on as you read? Yep that was me. :)
---
AH, WIP, Carlisle/Esme
---
Jen -
Nerdlisle is simply adorable. He's been taking advice from his brother Edward, and wooing his mystery girl. They've had a few innocent sleepovers after study sessions and bad weather, but it's not so innocent anymore. Carlisle's gonna have a great story to share with Edward. Carlisle and Esme are both sweet and utterly lovable; you just can't help rooting for them.
---
AH, WIP, E/B
---
Teal -
Oh my. A girl with a latex fetish. A man with OCD. Things are getting kinky in this sweet, humorous story, and I'm on board for all of it. Such a fun fic to read!
Emmy -
I really really love this fic. Bells has a latex obsession? What's not to love !?!!! Plus Edward is at his adorkable confused best. Bless him. I tell you they are made for each other. A super quick, super fun, super good read!!!
---
AH, WIP, E/B
---
Teal -
Teacherward. A seemingly taboo attraction. Secrets. Action. An explosion of desperate need and fear of an unknown future. I love that this fic is more than just a romance, and I can't wait for the reunion that just has to come because I want MORE of these two between the sheets. Or up against a wall. Or in the shower. Or however
VirginiaMay
wants to make it happen...
Jess -
This story has absolutely owned me from the very first chapter. I love the forbiddenness of this relationship - on many different levels. It's just soo good. We're in a bit of an angst patch but you know when it's over it's gonna get HOT.
Emmy -
I completely adore this fic after I think jeanne recc'd it a few weeks ago. It's very a tight fic. Amazing. A deffo PPSS fave as The sexual chemistry and UST is thermometer blowingly good!!!
Is there anything sweeter than forbidden fruit? What about love? This fic is not yet all happy ever after-ed. But I so hope it will be. But lots more drama and angst to come I fear. Super fic!
Jen -
This is like an action flick wrapped around a love story. Fabulous!
---
AH, WIP, luE/B
---
Teal -
Bella is dark and twisted, hiding more than we may ever know, but she seems to be cracking at her foundation. Things aren't going as she planned, and Edward isn't playing along in the way he used to. Maybe the woman so desperate for control and power needs to let someone else take the reins. I'm not sure if Edward can handle a woman he hardly understands, but I'm enjoying the ride as it unfolds!
Jess -
This story has owned me from the very first chapter... so many questions and what-ifs. Bella's manipulative dark, coldness translates to the bedroom... and it makes for some... interesting moments.
---
Description
---
Chele -
If you're in the mood for a smut-filled adventure featuring two sexy members of the wolf pack, look no further.
The Call Control
gives us Embry and Leah, reluctantly falling in love, and easily falling in lust, set against the backdrop of beautiful Hawaiian beaches.
Embry has a bit of a dominant side, and it's so great to watch as he breaks down Leah's defensive emotional walls with his blatant masculinity and comfortable self-assurance. This fic is chock full of smut, and just enough plot and personality to keep you turning pages.
Jen -
Embry and Leah? yes, please. I'll be reading this one asap.
---
AH, WIP, E/B
---
Emmy -
Woah things are heating up in these kitchens! I flove this fic - its one of those fics that makes me happy to read as I chill out or unwind. Its a pure joy giving fic! This Edward is a total fittie and the Bella is well done and interesting. Plus they have amazing chemistry and heat. Scrummy indeed.
Trin -
*Swoon* I love this story...it's sexy and fun and just so fantastic.
Jess -
I love Chefward. And kitchen lovin' that leads to more... bring it!