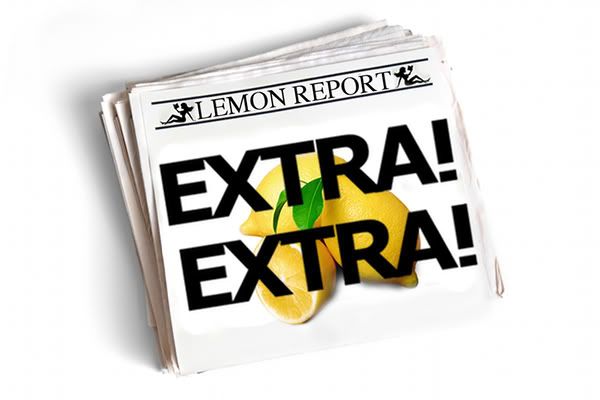 The Lemon Report - Fancy finding out what is on the FF bookshelves of the Pervy Girls of the PPSS? The lemon report lets you know our personal favourite updates of the week, and why you should give the fic a try.... It's a great place to trawl for new recc's and don't forget to share your favourite update with us by leaving us a comment.

In some cases, the Lemon Report may contain spoilers. Please read with caution.

Acronym Guide
AU - Alternate Universe
AH - All Human
WIP - Work in Progress
O/S - One Shot
OOC - Out of Character
WP - Wussperv
Slash/Femslash - Features homosexual characters and romance.
---
AH WIP E/B
---
Jess -
I love it when lemons in stories match the way in which the rest of the story feels. That is exactly the case in this delightful little fic. The feel, the tone, is so spot on, and it feels good watching these two finally come together. (pun intended, lol)
Teal -
This fic has been so sweet and charming, but I'll admit that I've been dying to see Edward and Bella take a more serious turn. Yes, they both needed the time to grow into their relationship, but it was tough to
not
want to let them let loose. WOWZA! Totally worth the wait for their romantic first time.
Emmy-
In case you don't know this yet. I have a serious weak spot for DaddyWard's, Its kind of my kryptonite. (along with Edward/Riley stories - but let's talk about that another time eh?). I love how Bella and Edward shuffled around each other a wee bitty, until they become official. I love how Edward's daughter is important to both Edward and Bella - (completely realistic from my experience parents won't let just anyone into their children's lives.) So the pacing was spot-on and delightful and the lemon lovely! Cute, cute, cute!!!!
Jen -
idpattthat
is the Queen of Cute.
Out of Captivity
is a darling little story--like Em says, if you love Daddyward you need this fic in your life. Bella's great- witty and sweet- and it's been fun watching these two move forward in their relationship. And of course their loving was delicious!
---
AU, Drabble, Slash, Seth/Jasper
---
Jeanne -
I almost blacked out while reading this fic. No, I'm not going to explain. Just read and make sure you have an oxygen mask near by to keep your self from passing out from the hotness.
Emmy -
I love
Seylin
's writing. I have been lucky enough for her to write for my
pervy picspiration entries
before! All her fics are slashfabulous and a treat to read!
Chele -
Must have more Seth/Jasper Now! *hyperventilates*
---
AH, WIP, Edward/Jasper, Slash
---
Teal -
UNFfffff...at last!!! The truth is out, campaigns are secured, and successes need to be celebrated. And celebrate they do! I get the feeling they're going to be up all night, and I don't think I"ll mind watching it all play out.
Emmy -
Just when you think you might be a bit tired of Jasper/Edward Slash, a brillo fic comes along that makes them interesting and sexy again! This is one of those fics. I loved this fic and got a bit weepy the last chapter. Such a good fic!
Jen -
I love this story! The presentation went so well, and now Edward and Jasper are claiming their reward-with one another. So, so unfy.
---
AH, WIP, E/B
---
Jen -
Edward and Bella give good woo!
Jess -
Talk about woo and swoon! So good.
Emmy -
I tell you one thing! Edward really knows how to woo! Bella's in the mood to be wooed. This leads to a perfect outcome!
Trin -
Oh goodness how I love AnimatorWard. As the ladies said Edward's wooing was fantastic. This update was just delicious.
---
AU, O/S, E/C, Slash
---
Jen -
I adore how spooky this is AU is. Edward/Carlisle sexytimes are a bonus! I would love to know what happens next!
Emmy -
Gah! One of my fave pairings (Ed/Carlisle!) but this fic is much more than the standard slashy slightly older blonde and younger, frisky Edward. There is a mystical and eerie quality to this fic. With a haunting plot and quite an angsty shadow. Beautifully done. Tender, sexy and involving.
I WOULD LOVE A SEQUEL. PRETTY PLEASE. PLEASE?! Maybe for FGB BD1? Please?
Jess -
This was one of the best AU one-shots I've read in a really long time. I loved the mystery of who Carlisle really was, how Edward responded to him, and how their relationship over the course of five days transpires. My heart is aching over the ending... and I just want more. So bad.
Chele -
So awesome to see a little mystery in the fandom, and I'm always up for a little Edward/Carlisle. So great.
---
AH, WIP, E/B
---
Jen -
Bella finally sees what everyone else sees: she and Baby Barista are a good fit. Sure, their initial one-night stand wasn't so great, but younger Edward more than makes up for it!
Emmy -
So I have completely missed this! But thankfully Jen put it in here, so I raced through the posted chapter tonight, caught up & now can add my tuppence!!! Really loved this fic. Good fun, and Baby Barista is adorable!!!!
---
AH, WIP, SLASH, E/J
---
Emmy -
I have really enjoyed this fic. As with the fic above, its an Edward/Jasper that I have enjoyed. A particular strength is the supporting cast. I particularly enjoy how Esme is Ed's fag-hag, a lovely one at that. Its unusual for Esme to get that role - its normally Rose or even Bella cast in that role. But more than anything, I love how Edward's fears and insecurities from his previous relationships are portrayed. And how although Jasper starts the fic off as being the Shag 'em and bag 'em type, he's the one that is left wanting when it comes to Edward.
---
AH WIP E/B
---
Jess -
This story pretty much owns me right now. Written in very short chapters and posting multiple times a day, we follow the life of Renee, abusive, bi-polar, and an alcoholic, and Bella, who is fighting to care for her. When Edward becomes their new landlord and the romance blossoms between him and Bella, you think it's going to be all fairy tales and love poems. But this story is so much more. The love between these two is palpable, even amidst the humor. We're in a touch of drama, but it too shall pass.
Emmy -
Loads of folk have recc'd it to me. Being a crappy WussPerv, I am gonna hold off till its safe to read! But I am really looking forward to getting stuck in.
---
AH WIP E/B
---
Jess -
I have loved this story from the very first chapter. Told through daily Fictionista Witfit prompts, this is the story of two neighbors who become friends and then more.
Landscape
is written in such an honest, real way, and it's one of the hallmarks of
jennde's
writing that I love so much. The lemon in the latest chapter (46, at the time of me writing this) was exactly what I had hoped for. You will love this story. So, so good.
Jen -
I love this so, so much. Bella's recovery from the death of her husband is painfully realistic, but it makes her improvement all the sweeter. Edward is so sweet, open, and supportive, of course Bella's falling for him. Like Jess said, the lemon was perfect for these two. Love.
Emmy -
I CANNOT tell you much I adore this fic.
Jennde's
writing is just wonderful as ever. So rich and honest. I love the realness of this fic, how bitter Bella's journey began, what a long road it is for her, and how adorably trustworthy Edward is. ( AND Edward is a yummy DaddyWard - my fave!!!) As ever
jennde
writes a perfectly pitched love scene. Bella and Edward's fears and insecurities melted into a beautiful, realistic and oh-so fitting lemon. Perfection. Just a wonderful fic.
---
AU, WIP, B/J
---
Jen -
This story is humorous- Bella is a grad student searching for Big Foot- yet somehow not completely far-fetched. Jasper's estranged from the Cullen clan, and living in peace in the very same mountains Bella's researching in. They're both surprised by the amount of sexual tension between them and an innocent *cough* massage leads them to explore where all this tension leads. Yum.
---
AH, WIP, E/J
---
Jen -
What's the best thing about being in a long distance relationship? The sex when you are in the same city. Hot boys fucking ftw!
Emmy -
I've recc'd this to you before! Whats not to love. Porn star Jasper, Computer whizz Edward! Do you need anything else? Throw in some long-distance loving and earnest, cute boys trying to do the right thing? Perfect slashy treat.
---
AH, O/S, E/B
---
Emmy -
This is an intriguing and engaging O/S. The split narrative means we don't know what is going on till the very end. We see Edward and Bella jumping back and forth as Teenagers to grown Adults with responsibilities and miles between them - both geographically and metaphorically. The Australian landscape add a gorgeous layer to this story. Its so evocative you can almost feel like you are there in the story. Loved this one-shot.
Trin-
Emmy suggested this O/S and I just devoured it. As she said the split narrative is really nice in a story like this becauseyou get more information and back story from both side and you feel like you are getting the complete picture. I'm a sucker for a long distance story and this one is just fantastic.
---
AH WIP E/B
---
Jess -
There's nothing like a little taste... a first taste of Bella that is (good grief this sounds crude). Edward finally puts his time in the English world and on the computer to good use. I love how in love these two are. So sweet!
---
AU, WIP, E/J, Slash
---
Jen -
This wonderfully written AU is a slow burn, in all the best of ways. This is the chapter we've all been waiting for, and oh does it burn so good.
---
AH WIP Jasper/Peter
---
Jess -
I love this story so much, and this update was absolutely delish. Family - love how that word means so much in this story - comes out big here... and the sexy times that ensue... yes!
Teal -
I will never tire of Jasper and Peter getting it on, especially when
LyricalKris
makes them do dirty, wonderful things. Nuff said.
Jen -
Desperate Jasper? Uh, yes please.
---
AH, WIP, E/B
---
Teal -
I've been a few chapters behind in this fic, and I really had a fun time catching up! Things are at an exciting turning point for these two, and I can't wait to see the fluffy, sexy HEA they'll have.