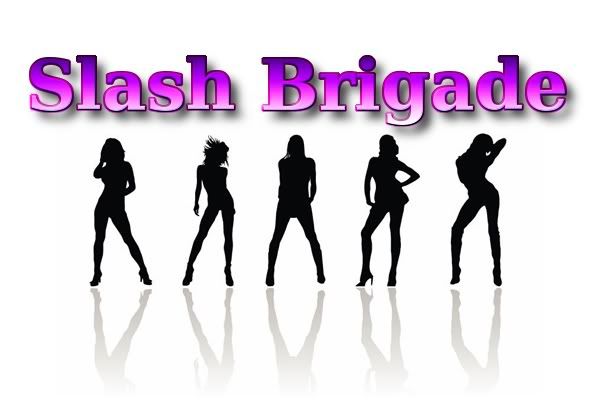 What Perv doesn't love sexy man on man action? The truth is so many of us Pervs love slash fic that we can't just be called a team. We're the whole damn brigade! Batten down the hatches, stock up on supplies 'cause the ladies of the Slash Brigade are here to rec some slash fic.
---
The Slash Brigade Pick is...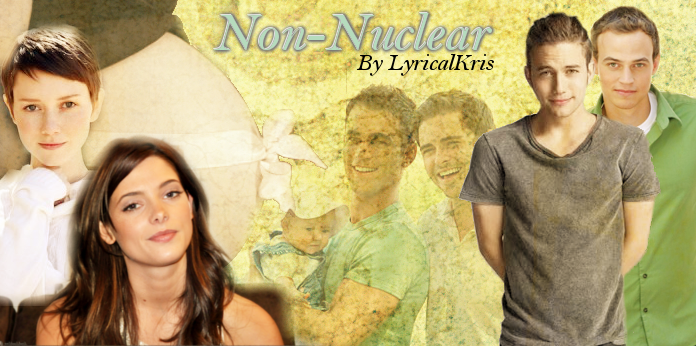 Title:
NonNuclear
Author:
LyricalKris
Chapters:
7
Words:
22,175
Reviews:
192
Summary:
A Parenthetical Love companion piece. In the dictionary, there are more than 20 definitions for family. It's finding what family means to you that makes all the difference.
---
Emmy
What I like most about this story, is the straight talking and down to earth way
LyricalKris'
addresses two people in love who want to have a baby together. The fact that they are both gay men, on one hand makes no difference to how the story is written, yet obviously
LyricalKris'
has to address the additional stresses these lovely two encounter on their journey to parenthood. I am not making much sense here - bear with me folks! What I am trying to say is that
NonNuclear
is not a sensationalist story. Instead its a story of two sexy men, deeply in love and how the desire to have a child of their own affects them. There is no crazy MPreg scenario here.
LyricalKris'
looks at all aspects of Peter and Jasper's lives that are touched by their quest to be fathers: Their relationships with their families, their friends, the surrogate mother, and with each other (including their sex life!!) are all affected in different ways. It's realistic, its fascinating, its very cute and Peter and Jasper are sexy bastards together!
Jess -
When I first read
Parenthetical Love
, the companion piece to
NonNuclear
, for a
Team WussPerv rec
we did in May, I fell in love with Jasper and Peter. Their relationship seemed so easy, perfect almost. Simply put, they were two men in love. And for a while that was good enough, but as they work through the complexities of life and love, it becomes increasingly clear that they want more...
NonNuclear
is their story of wading through the world of wanting a child, finding a surrogate, and waiting through the process to see what happens when that one sperm finds that one egg, and a miracle is born.
LyricalKris
does an amazing job of giving us a healthy dose of realism as Jasper and Peter both struggle with the desire for a child, the acknowledgement and plan for actually pursuing said child, and then how to inform their parents (especially since their families' acceptance of who they are to each other - even though they've been together for years - is lackluster) that a grandchild is on the way. You can see how both men long for their approval, and when it comes in broken ways, how they cling to and draw strength from each other. In some cases, I ached for them, for having to fight - even amongst their own family members - to be who they were meant to be.
The simple fact of the matter was that Peter didn't really have a leg to stand on. Jasper's preferred method of dealing with his parents was avoidance. It was a safe bet that if he and Peter were going to visit the Whitlocks, there was going to be at least one fight about the issue. But, in the same vein, when they moved on to the Damon household, Jasper would doubtlessly be the one red faced and whisper-screaming about Netty Damon - Peter's mother - constantly talking about Santiago Salazar - Peter's ex. That Peter feigned sudden deafness rather than come to lover's defense, the spark of irritation lit Jasper's temper.

What both men knew was that they couldn't change their parents, and so they naturally fell into other methods of blowing off steam.
And I'm not gonna lie - the blowing (heh) off steam was straight up hot. A little laundry room sexy times, anyone? You're going to have to read it if you want to know what happens. I'm not giving you a sneak peek here.
Okay, you know I'm not that mean. And who can resist watching these two come undone after a dry spell amidst all of life's chaos? I know I can't, and
LyricalKris
brings the heat in spades.
"Yes. Jasper, please," Peter moaned as the blond man teasingly moved his tongue deeper. He would circle the sensitive flesh, plunge in slowly and flick Peter's walls with his tongue until his lover was writhing and pleading.

Jasper straightened up, stroking his cock as he lined himself up with Peter's body. "Is this what you want, babe? You want me here?"

"God. Fuck. Yes. Now. Please."
There's so much more where that came from. But let me say this - everything about this story felt real to me, and I loved that. At some points I felt like a voyeur looking in on their struggles - the ups and downs of bringing a baby into a "non-traditional" family - and the many, many happy moments of love and laughter. This is heartfelt, and I can't wait to see where
LyricalKris
takes these two beautiful, sexy as hell, men.
Teal -
I will admit that I'm naturally inclined to love Peter and Jasper together because they are my OTP, but there is just something so special about the way
LyricalKris
writes them together.
This fic, being a spin off, or side story, if you will, of another story, begins with these sexy boys already in an established, deeply loving relationship. They've worked through the hurdles of getting to know one another and first time experiences, and now they're comfortable. They're also realizing that a lot of "grown up" life is happening around them - life and lives they've been and integral part of creating - and they reach a point in their relationship when they know they want more. They don't just want the love and the home and the friends; they want to have a family and experience the joy they see in their friends' lives.
I obsessively love this story because it is such an awesome blend of serious character growth and experience, paired with hot, hot, MFing hot boylove that also serves to show the intensity of Jasper and Peter's connection. There are quiet moments and frantic need; there is surrender, give, take, and shut-the-fuck-up distraction sex. It's gritty and sexy and completely irresistible.
Trust me when I say that I want to take these characters and snuggle between them in bed. Or maybe just sit aside and watch them. This is the story of two beautiful men - inside and out - who love but still struggle, disagree but know when to compromise, and hesitate but still have hope. Life may never be perfect or fit into a neat, tidy package for them, but it will be exciting, and they seem to find their strength not only in one another but also in the impenetrable network of friends who surround them.
Jen -
NonNuclear
is the story of two men in love finding their way to parenthood. Set in the same universe as
LyricalKris
'
Parenthetical Love
, this story is funny, sexy, and moving in equal parts. If you haven't already read
Parenthetical Love
and fallen in love with Jasper and Peter, no fear, you'll fall in love with them here.
I'm always in awe of
LyricalKris'
ability to make a character's mental journey and growth realistic, while at the same time infusing her stories with humor. Having been an inadvertent sperm donor for Alice and Rose, Jasper is conflicted about his role and place in Dash's life. He loves the child, but does not feel like he's Dash's father. On the other hand, he feels the weight of societal expectation that he is Dash's father when he is in public with Alice, Rosalie, and their son. Alice helps him get a little perspective on the situation, and a conversation with Peter helps remind him of what he and Peter have always wanted together.
It's often said that having a baby assisted by reproductive technology can be cold and unfeeling. Somehow
LyricalKris
manages to make sperm collection freaking hot. The boys made their own romance in that clinical room--possible because of how well they know one another. Peter senses his partner's discomfort and gets Jasper to look him in the eyes. The world fades away, and the men are able to focus on one another and why they are in this clinic: because of their love and desire to have a family together. You feel their love, and are then treated to an amazingly hot double wank. Seriously, jerking off into a collection cup has never been so hot. There's lots of sweet, sweet lovin' in this fic, but this scene is my absolute favorite.
Like Teal says, there's something just inherently hot about Jasper and Peter together.
NonNuclear
is good, sexy fun, with a healthy serving of love and deep emotion. I can't wait to see the culmination of their dream as they become fathers together.