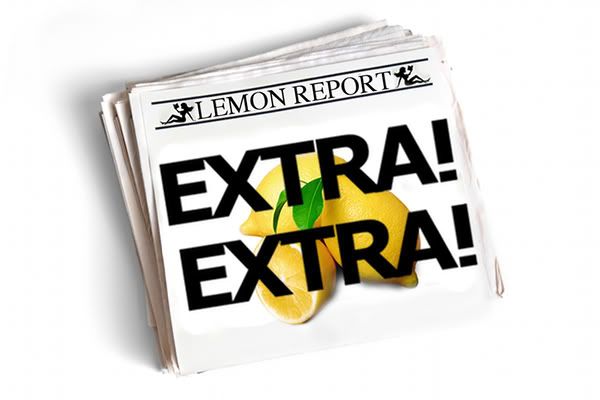 The Lemon Report - Fancy finding out what is on the FF bookshelves of the Pervy Girls of the PPSS? The lemon report lets you know our personal favourite updates of the week, and why you should give the fic a try.... It's a great place to trawl for new recc's and don't forget to share your favourite update with us by leaving us a comment.
---
AH E/B WIP
---
Jess -
I love a good dry hump... there's just nothing like them. So, when this update of
Last Tango in Forks
came through, I went gaga over this little ditty. An extremely sexually charged game of pool, DH on the table... kill me now. This is what it's all about.
---
AH E/B WIP
---
Jess -
I love reunion scenes, and
Lalina
did this one right. She could have dragged out the pain of Edward and Bella's separation, but she didn't. She had them both vulnerable, needy, and desperate for reconnection. This wasn't soft, romantic lovin'; this was hot, desperate, "I need you" sex. Of course, we all know sex, in whatever form it comes (hehe), doesn't fix broken relationships, and in this case, it didn't either.
Lalina
---
AH E/B Complete
---
Jess -
Semper Fidelis
was originally written for and won the PPSS's An Officer and a Gentlemen contest.
IlSuoCantante
wrote chapters 2-4 for Team Semperfiward as part of FGB Eclipse. Good Lord, I'm so glad she did, and they were willing to share it.
When I got the notice for chapter 2 of this story, I was immediately curious why I hadn't read Chapter 1. So, sitting on my bathroom floor (don't judge me, I needed privacy), I immediately dove right in. I read and read and read until I got through chapters 1-3 and was about to die when i realized there was still another chapter to come... and that it wasn't going to come (hehe) until next week. Thank God again that Team Semperfiward was willing to let her post it early.
This is the story of Major Cullen, a medic in the USMC and his experience dealing with one of the many tragedies that our military men and women deal with every day - roadside bombs and a life altering injury. The writing is rich and visceral, and in many ways, I felt the pain he and Bella both feel so acutely it physically hurt. The sexy times in this whole things are HOT HOT HOT and what follows in chapter 2 and then in 3 is overflowing with emotion, love, control, pain, hurt, and so many other emotions. Chapter 4 left me feeling so warm, despite the very real resolution. I cannot say enough about this little four-shot.
Trin-
Jess has already said so much about this amazing story. SemperfiWard owns me. I cannot lie my marshmallow-y heart was clenchy and worried but the love and emotion in the story cuts you right to your core (no , not like a dripping core) and you want to devour every word. It's no secret I am a huge fan of
IlSuoCantante
's lyrical writing style and this does not disappoint.
---
O/S Jake/Emmett Slash
---
Chele -
It is so very cool when writers do brave and unusual things. It is even better when these things are immensely pervy. This is one of those things.
Darkira
has written Jake and Emmett as a loving committed couple, who are still tinged with a touch of volatile masculinity-something I long for in slash. After a particularly rough day at the office, Emmett treats Jake to an erotic experience that is new for them. Read the warning... that's all I can say. Unf and woah.
Jen -
Trust and knowing a partner so well that their needs are anticipated is sexy as hell. Perviness aside--and it is hot perviness--Em's love for Jake, and Jake's trust in Em are what shine through in this o/s.
---
AH, E/B/J slash, One-Shot
---
Kimpy-
Apparently, my
Theladyingrey42
love is still in full swing. I didn't read many lemony updates this past week, but it hardly matters, because I *did* read
The Greatest Gift of All
, and it was uber-lemony. For me, it was the kind of fic that, after reading, I wanted to shout about it for all to hear. You can ask the Pervs--I basically screamed about it in all caps in an email thread. It is the hottest, best, most satisfying three-way that I've ever read. EVER. *insert fangirl squee here*
The story opens with Edward lusting after Jasper, who is unknowingly driving Edward to distraction via the dance floor. Edward is bisexual, but married to Bella, and he is completely committed to her. He can't control his body's responses, however, and it is very evident that Jasper's presence makes Edward one very hot and bothered man. UNG. You can literally cut the UST with a butter knife, it's so hot and electric.
To go any further in describing the plot would positively ruin it, and I would never do that to another reader. I don't want anyone to have to open their holiday gifts early, after all! However, I will go on to say that what I love the most about this one-shot is that it felt real. I believed that it could happen. I could literally feel how much Edward loved Bella, and how badly he wanted Jasper. The very best part, however, was the absolutely compelling love that made up the heart of this story. It's the best example of unconditional love I think I've ever read. I owe the Southern Fan Fiction Review and their Holiday Lemon Extravaganza a HUGE thank you for inspiring
Theladyingrey42
's amazing and touching story. UNF, UNF, UNF.
Kitty -
Yes!! And ZOMG! I swear, I'm really REALLY loving this whole slashy thing, especially when it's soooooo yummy like this.
Trin-
Flibbidity Gibbits! I am not a full on slash lover...I usually like FemSlash a little more but wholey moley this is AMAZING! I think the aspect of a husband and wife sharing this very special "gift" with each other just made it even more erotic for me. In the story Jasper comments on how beautiful their love for one another is...and it is. This is hot and sweet and a good start for someone dipping their toe in the slash-pool.
Jen -
Like I said about
Darkira
's o/s
Trust Me
, trust is fucking hot.
Theladyingrey42
supports that in spades with
The Greatest Gift of All
. You can never go wrong with anything written by
Theladyingrey42
, and this o/s does not disappoint. Unf!
---
E/B, AH, WIP
---
Jen -
There's something very endearing about this E & B. Despite his religious upbringing, he's more experienced with intimacy than Bella. However, he's a bit clumsy when it comes to interpersonal relationships. Bella, on the other hand, was shielded from many things in her upbringing, and is quite naive about a lot of matters. Leave it to wise sister-in-law Rosalie to clear some things up for newlywed Bella (insert waggling eyebrows here) . The couple's first foray into oral sex--initiated by Bella--is a sexy and fun read, especially
ItzMegan73's
description of Bella's first time experiencing cunnilingus. I love Bella's new confidence and hope there's more of it next chapter!
---
Transformers AU - Sam/Bumblebee
---
Teal -
If you read the LR last week, then all I have to say is, yes, I
am
talking about this Transformers fic again! Pervlings, this story blows my fucking mind. If you like slash, if you've seen at least the first Transformers movie, or claim to be a geek, just GO and read this fic RTFN! As I've spent the past week devouring this WIP, I've continuously been amazedballs by the author and the complicated, delicious, captivating story she's created. Somehow,
Keelywolfe
has managed to humanize these characters, giving them depth and heartbreaking backgrounds in many cases. There is plot, there is love, and YES there is smut . . . in ways you never dreamed possible. Honestly, this is one of the best stories I've read all year, and it's not Twific. So please, give it a chance, and if you do, tell me and Chele!!! If you're anything like us, you'll want someone to gab about as you fan yourself from all the hotness =)
---
AH, E/J, slash, WIP
---
Jen -
I've already expressed how much I love Inksper and Green Eyes a few Lemon Reports ago. It was an unexpected treat to get a new chapter in my inbox late last night. There was no way I could sit on it and wait til morning to read it. And I'm so glad I didn't, because it sent me to bed with a smile on my face. Their declarations in last chapter intensify their physical relationship and it's oh so good.
Ahizelm
doesn't feel the need to spell out every last, small detail in their lovemaking (ok, ok, fucking); this makes the words that she does use to portray the sexytimes that much more delicious!