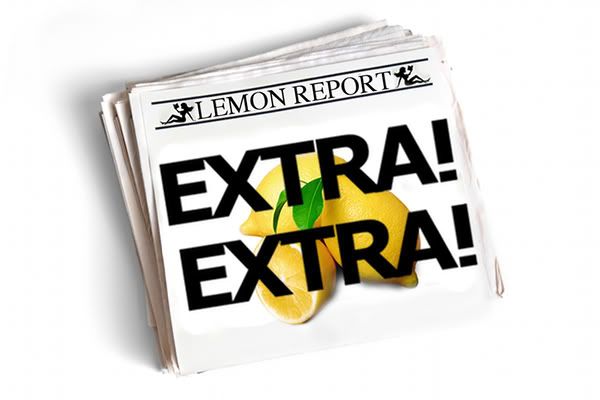 The Lemon Report - Fancy finding out what is on the FF bookshelves of the Pervy Girls of the PPSS? The lemon report lets you know our personal favourite updates of the week, and why you should give the fic a try.... It's a great place to trawl for new recc's and don't forget to share your favourite update with us by leaving us a comment.
---
AH, B/J, WIP
---
Jen -
I'm not sure I can sum up this adorable story in a succinct manner, so you're just gonna have to trust. In this chapter there's UST, a hilarious fantasy involving chocolate chip cookie dough from the tube and fingers, and kissing and desperate we'll-never-get-to-do-this-again quasi-forbidden sex. And it's just delicious.
Chele -
I do so adore love in impossible situations. When Bella offers to do a favor for her friend, Alice-taking divorce papers to be signed by Jasper- she has no idea that her world is about to be turned upside down. The chemistry between Bella and Jasper is palpable from the start, though they begin at odds with one another. There is a steady build between the two of them, a magnetic force and obvious compatibility that eventually even they can't ignore.
This chapter we see that pull overcome their ability to resist it, and as predicted, it was incendiary. I'm hoping that LyricalKris can give us a little more happiness for these two before the harsh light of day brings reality with it.
---
AH, E/J, WIP
---
Jen -
Sure, Jasper's kind of an asshole, but he's sexy and damn can he fuck. This time he's engaging in jealousy driven, angry sex in the hopes of getting his mind off of the boy who's gotten under his skin. Boys never get under Jasper's skin, and he's completely out of sorts. And when said boy comes to his apartment to say he'll take whatever piece of Jasper he can get, you'd better believe there's forceful, possessive sex, and the possessor isn't who you think it might be. As if Jasper weren't already both a fucking (verb) animal and a fucking (adjective) animal, he once again tries to distract himself with sex, this time with his friend Maggie. Whatever flavor of sex he's having, it's UNF!
---
E/J, Slash, AH, Multi-Chap Complete
---
Emmy -
So I was quite the chuffed bird when I got an alert for this today! I miss this wee slashy smut fest. So it was nice to see an extra outtake! Lou-La tagged it as PWP. But if you've read the whole story her characterisation of these two love-birds was spot on and hilarious again in this chapter. Edwards having a bit of road-rage... How is Jasper going to calm him down? In a moving vehicle no less? heheheh. Ps, in case you cannot tell. I have serious girl crush on Lou-La & her stories....
---
AH, E/B, One-Shot
---
Kimpy -
So, I read the latest update of theladyingrey42's "Our Lives Unbound," and noticed she had written another story recently. Naturally, it is presently in a contest, so I cannot pimp it here. However, it did entice me to delve further into the fantastic files of our lady, and OMG, have I been living under a rock? How did I not know that she has been so prolific? Since I love her work in OLU so much, I gave a few one-shots a go, and UNG, I'm so glad I did! This woman writes vulnerability with a capital V, and god almighty, does she give these lovely, vulnerable creatures some fuckhot sexing. Just saying.
I love "Virtual Intimacy" because I agree with its premise about online communication, and because I myself has been prone to hiding behind my laptop monitor in lieu of actually talking to someone. To say I closely identify with thelady's characters is an understatement. In this vignette, however, Bella actually puts herself out there, and Edward takes the bait. Oh dear, does he take the bait. You like tatts? Check. Piercings? Check. Fuckhot geekiness? Check. Edward's peen of magnificence? Check, check, check. Please, give this one a go, because it is such a lovely, guilty pleasure. Just schedule some alone time afterwards, or a cold shower, because you will be needing it.
Jess -
I seriously could not have said it better!
Trin -
I think Kim totally hit on everything already but I mean did you hear her...TATTOOS, PIERCINGS and GEEKINESS. READ IT NOW!
Emmy
Read it, if for some reason you have not read this before (throws stern look at Kimpy) READ IT NOW!!!! Hot, brillo and hot.
---
AH, E/B, One-Shot
---
Kimpy -
Thelady had three entries in the infamous Tattward and Inkella contest. Yes, you read that correctly--THREE. She'd never written FFn before, but yet, she had three entries. They were all incredibly delicious, but "Over the Twisting Line of His Spine" was the perfect marriage of elegant words and unresolved sexual tension. While this Edward and Bella do have sex, it's the connection between them that becomes sexual. There is a very New Moon theme running through this little masterpiece, and it nearly killed me, so much more than the actual book did. The way she even describes the tattoo process for these two, it is so unique within FFn. It's hard to explain, except for the fact that the tattoo becomes an extension of themselves, and their internal damage. It's as if, through the tattoos, they're showing the world their battle wounds, but the wounds are only meaningful to the two of them.
When they do connect sexually, it's almost like something involuntary, that must be done, like breathing. It's natural, absolutely necessary, and unquestionable. They become one body for hours on end, twisted so tightly together. It's engaging and haunting at the same time, yet utterly beautiful. This is definitely a must read.
Emmy -
Again. Do not dilly-dally! Go read. Off you go!!! Go on, shoo. READ it. Magnificent.
---
E/J O/S
---
Chele -
This is a quick, intense, holiday-themed slashtastic read. Edward and Jasper are best friends with little in their lives to bring them joy except each other. They're in love, and firmly trapped in the closet.
They have an argument while hanging decorations on Christmas Eve, and while making up (in the bedroom- unf!) they decide that they're ready for more than hidden high-school trysts. It's completely adorable, and the potential angst is transformed into hope and warm fuzzies.
Jen -
what's not to like? angry bordering on aggressive teenage boy make up sexing- yum! I especially love that they really do sound like teen boys, and not like adults who go to high school. A yummy treat!
Emmy -
I echo Chele & Jen. This is a total slashy yum-fest. But it is also very adorable. The characterisations are accurate and believable and the story is hot Christmas win! Read it.
---
E/B WIP
---
Jess -
I love the concept behind this fic. You get a glimpse of what happens every Friday (and some other little bits, as needed) with each update. This Edward is a billionaire, CEO and runs across a snarky, common waitress, Bella. Together, they wreak havoc on each others' worlds. Their first bit of sexy times was in a tent in a thunderstorm. Need I say more?
Emmy -
I think this is one of the best Bella's I have read for a while. She is NOT one-dimensional, she has sass (& class!). She is constantly challenging Edward, who I think we have still a lot more to learn about. But is as sexy as hell. They even make camping hot and sexy. Great fun fic, but also a great read, with lots of sexual tension and interesting characters.
---
J/E O/T
---
Jess -
I was just thinking the other day how much I missed Raw and Rosy. I fell in love with this fic when I was just a mere Honorary Perv. This outtake was straight up HAWT! A video of shimmy of Edward's hips and the dropping of skinny jeans all caught on video for Jasper's enjoyment... yeah.

Jen - *passes fancy PPSS lighter and cigs around to the Pervs*

Emmy -
Sigh. Like when How to Turn a Straight Guy Gay (See my entry above) updated this week with an update, I was so chuffed when this pinged with a new slice of slashy thrills. Have I mentioned before how much I love it when they play with videocamera's in fics? I love it when they put on a show. This was a fabbio peek into their summer apart. I will always welcome more of these boys. ALWAYS (hint hint)
---
Transformers AU - Sam/Bumblebee
---
Teal -
Yes, that does say
Transformers
. I have no idea how Chele found this story, nor do I care. All I know is that Bumblebee is already sexy in my eyes, what with the whole Camaro thing going on . . . but make him a humanoid hologram who bears quite a resemblance to Jasper, and my attention is piqued. Then take the connection between Sam (that's Shia LeBeouf's character, for those who aren't familiar) and his car/best Autobot buddy and slash the fuck out of it . . . Oh dear fuck. *flails* Really, I don't even know what to say about this all, just that my mind is blown by the entire concept, and even though I'm only one chapter in, I'm hooked. Let me just give you this spoiler: when Bumblebee comes, he has to reboot. REBOOT! Like I said, mind=blown. If you geek out for Transformers (and I know many of you do), this is slash worth trying. RaUNFwr.
Chele -
Yes!!! I have been flailing on Twitter about this story for weeks, and finally my Lovie Teal took a chance on my crazycakes find and gave it a shot with me. I will admit, that I read this with my Twi-AH goggles on. I totally picture Bumblebee's human form as Jasper, I have no shame. While I am certain that this is not the author's intention, you can totally do it along with me.
This has all the best of slash: deep friendship, underlying love, begrudging acceptance of circumstance, just the right amount of graphic description. Total Yum.
I
know
there are some other geeky girls out there who have mad love for the Transformers and want to see it all boyloved up. Join us. It's SO fucking good.
---
AH - Edward/Leah
---
Teal -
Under most circumstances, Edward/Leah is a hard limit for me. In fact, when I first saw this story pop up in my inbox from CherBella, I passed it right along to my fellow Pervs without hesitation, even though I couldn't bring myself to read it. This week, however, I took a chance, and boy am I glad I did! Though Leah is still strong willed and tough in this story, I felt that CherBella created a softer, but no less captivating version of her. The love scenes are not overly descriptive, but they more than make up for it through the romantic crafting of words. This is an excellent blend of sweet, touching, and UNFy all in one!